*Bourbon Culture is reader-supported. When you buy through links on our site, we may earn an affiliate commission.
It's an odd sort of thing when a brand suddenly ends production of a product that was a fan favorite. Sometimes this is done because the stuff the thing was made out of simply ran out. Sometimes the creator of it passed away or moved on. And sometimes the reason has to do with cold, hard cash. Pay attention to that last part, because I'm going to show you why I believe that it was money that killed off the Wood Finishing Series.
The end of an era: No, I'm not talking about Maker's Mark Wood Finishing Series, I'm talking their prices
It was surprising to hear that Maker's Mark has decided to end it's highly successful Wood Finishing Series after just 7 releases. What is the reasoning behind it? We weren't told. I have followed this line for a number of years and have noticed it only growing stronger in the eyes of enthusiasts. One of the main reasons is that it was one of the few limited edition bottles that the average enthusiast actually had a chance of finding (at retail price) year after year. This has made it a darling to my friends and I. But what does money have to do with it?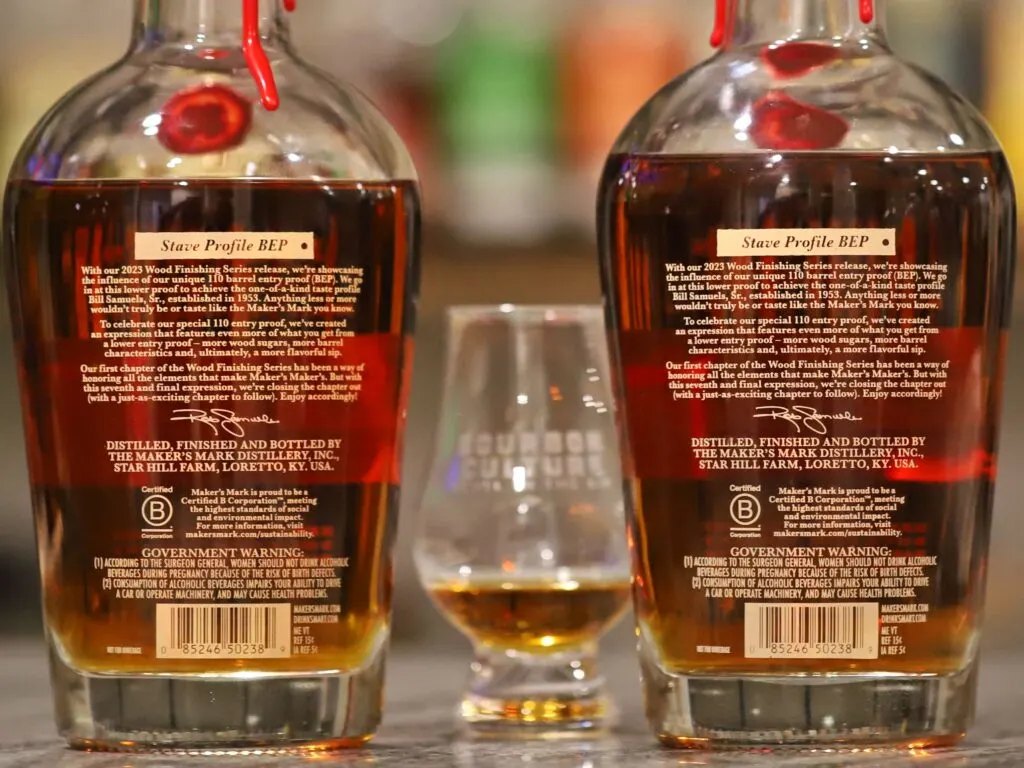 I think it's because Beam-Suntory, the company that owns Maker's Mark, has realized that they're probably leaving a lot of money on the table with each $70 bottle they sell. To be fair, this is basically the price that you'd pay for a Maker's Mark Private Selection or a Maker's Mark Cask Strength 46. And that makes sense because those products require the same labor, time and resources to create each barrel that the Wood Finishing Series has.
What process is that? The labor and time dumping out matured bourbon into a vat, then disassembling the top half of the barrel to remove the head followed by the resources of inserting 10 additional staves into the barrel. And once that's done, it's sealed back up and refilled with the bourbon that was taken out. Maker's 46 CS and Private Selection's are already priced at $70 (retail), so why not make that the minimum of what the Wood Finishing Series is priced at? For years it had been only $60, but the 2023 release sees a price bump of $10. In my eyes, it was just playing catch-up.
Still, $70 is a steal for a limited edition bottle these days. Most producers have ensured that their LE's go for at least $100 with most slowly inching their way to $200 these days (I'm looking at you, Michter's 10 Year). Surely these low prices can't last forever. So if they wanted to make more money, why not just keep raising the price? What's the end game of killing off a beloved line so early? Keep reading because I'm almost there.
An overview of Maker's Mark Wood Finishing Series Barrel Entry Proof
Maker's Barrel Entry Proof (BEP for short) breaks no new ground with stave type or heat treatment. In fact, a better name for this release may as well be "Maker's Mark Toasted Stave Limited Release." What stands out as different from the previous releases is that the 10 staves that were used were simply Toasted American Oak. Not fancy French Oak like Maker's 46 or staves that had exotic heat treatments (like infra-red or roasted treatments) – just plain, simple American Oak… that's been toasted. Think of it as the poor-man's "Toasted Barrel" finish.
Now look, I'm not trying to discount what Maker's has done here. I genuinely like their stuff and what they've put out. I think it's supremely under-rated too. But even Maker's seems to be unenthusiastic about this product. Howso? Because it's the first Wood Finishing Series that doesn't even focus on the wood staves. Instead, it draws attention the Barrel Entry Proof. The thing is, their 110 barrel entry proof has never changed for 70 years so it's not anything new. Every product uses the same liquid, so why draw attention to it now?
My theory is that I think we're witnessing a covert PR campaign done by the purists at Maker's Mark against Beam-Suntory. What am I talking about? I have heard rumors that Beam-Suntory has been pressuring Maker's Mark to cut costs and raise efficiencies for their products by raising the barrel entry proof to 125 (the maximum allowed by the law). This way, they could proof down and stretch the liquid out more with each barrel.
Maker's doesn't want the entry proof to raise because it will change the whole profile of the bourbon. In fact, this is one of the reasons why Maker's made and released their DNA series (see my review on those here). Not because they were genuinely curious what the results would be, but because they were told to. And guess what they said the results were? That their 110 BEP was superior to the 115, 120 or 125 variants. Hmmm…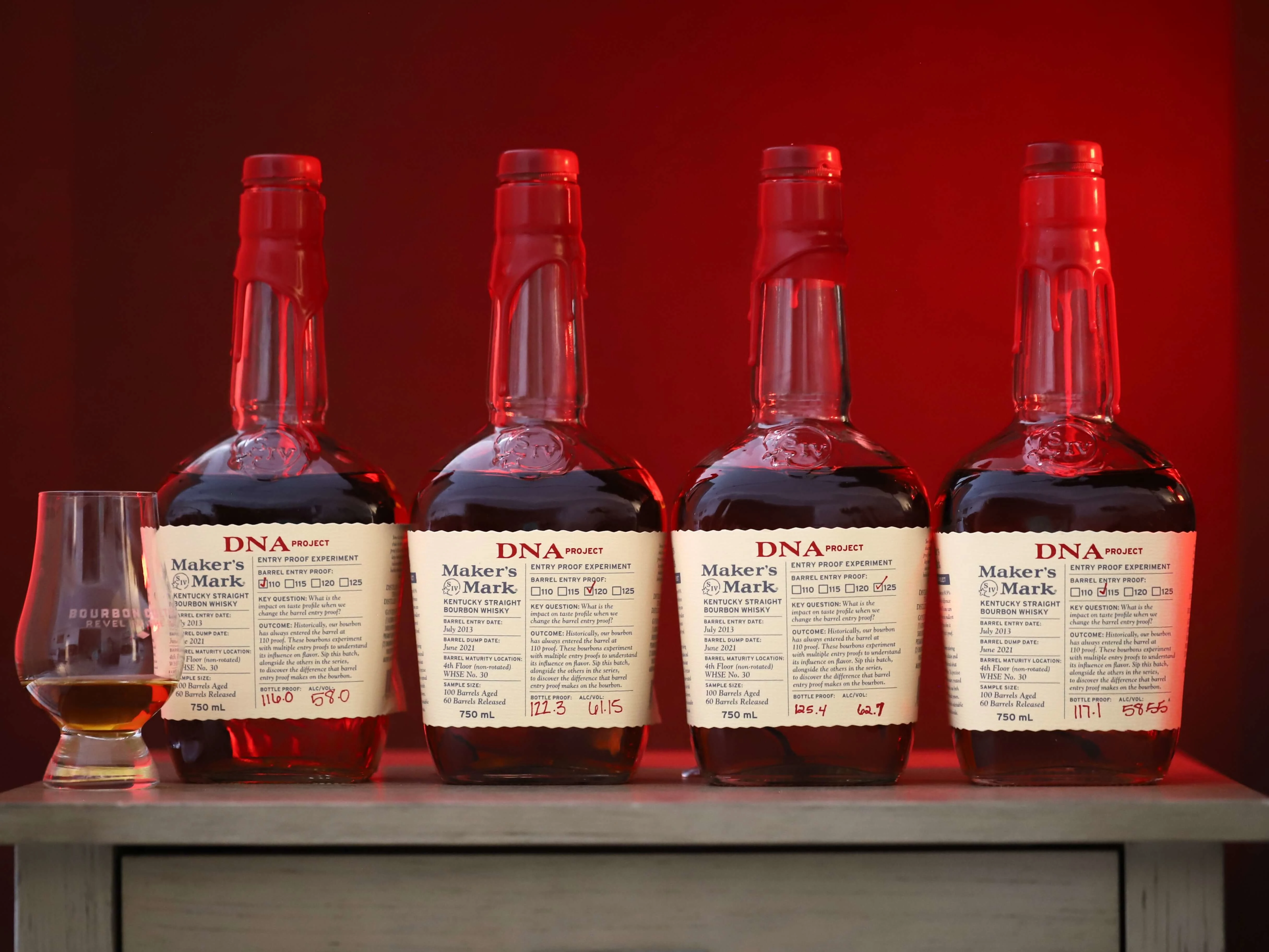 And this leads me back to the big conclusion about the "Series Finale" of Maker's Mark Wood Finishing Series. I think the reason they're ending it is because Beam-Suntory has told them that they're not making enough money per bottle. So why not just jack up the price for the next one? Because Beam probably has a bad taste in their mouth from their own attempt to raise the price of Booker's many years ago. Back then Booker's used to cost $50. But overnight, Beam tried to raise it to $100. Enthusiasts revolted. Beam acquiesced… kind of. They eventually got their $100 Booker's price point, but it took them almost a decade of slow price bumps. Beam probably wants their Maker's-money faster. So they've resorted to killing off their current cash cow and probably release something similar in a year or two (after they think we've all forgot) and put the price tag they want on the bottle. And it sure ain't gonna be $70.
Just shut up and review the bourbon already!
Okay, okay! I was getting there, I promise. Today I'm going to review BOTH batches of Maker's BEP. I don't think everyone has fully caught on that there were two released. It seems kind of silly that they have two, but that must mean the batching tanks aren't as big as we think they are. Are there any differences? Well read on and let's find out. As usual, I drank these neat in a glencairn.
Tasting Notes
Maker's Mark BEP 109.6 Proof
Nose: The initial scents are sweet with a heavy presence of tart citrus fruit rinds I can find fairly heavy oak notes along with toffee and chocolate. The toasted staves no doubt are also behind a heavy marshmallow note that I can find too. Man I love that scent. But the nose has another side to it that I rarely have found in Maker's products – this tangy almost "Flintstones Multivitamin" scent to it. It's very strange – almost like a barrel of whiskey from George Dickel was dumped into the batch. Am I imagining this?
Palate: Strong oak wood notes contain a touch of barrel char with every sip. There's some decently spicy cinnamon and a bit of allspice. Vanilla notes are abundant (probably because of the toasted oak) and caramel sweetness is found throughout. The cherry notes remind me of lozenges but then I'm hit with more of those tangy features I found on the nose. It's kind of like a cross between tamarind paste and chewable vitamins. So strange!
Finish: The spice mellows out a lot on the finish but a touch of cinnamon still remains. A new dessert flavor reveals itself and is similar to French Mendiants (just like the stave that replaced French Mocha in the Private Selection program). There are lots of cherries and red fruit preserves that give nice fruit notes at the end. They are mixed well with flavors of a flat vanilla Dr. Pepper note. Does that kind of thing exist?
Score: 7.9/10
Maker's Mark BEP 110.7 Proof
Nose: Fruity scents of plums, raisins and cherries give a more traditional – yet slightly older – feel to the nose on this batch. There is plenty of caramel sweetness that accompanies the scent of flat vanilla cream soda. Finally, the oak has the power to stand out from the crowd and be noticed. I know my description doesn't sound like much, but this is probably one of the best noses on a Maker's product I've had since a Private Selection which had all 10 staves as French Mendiant. Wow!
Palate: Flavors of chocolate, cherries, plums and oak create a rich and powerful sip. Most bourbons only have 2 or 3 of those flavors, but this one seems more special because it has all 4. There are contrasting flavors that serve to provide even more depth in the sip like fennel, citrus rind and vanilla. Extra tannins come by way of new leather and additional sweetness comes off like a French Éclair.
Finish: A little coffee grounds note pops up on the finish – something that I hadn't noticed up to this point – and pairs nicely with lingering notes of cherry and oak. Additionally, the finish is just as complex as the rest of the dram up to this point with flavors of chocolate, French vanilla latte and toasted orange zest
Score: 8.4/10
As you can see with the scores, I heavily favored the 110.7 proof Maker's BEP over the lower-proofed batch. They taste almost like two different distilleries made them. I was sipping on both with my buddy Brad and he summed up the 109.6's profile as "imagine if a barrel of Dickel made its way into the Maker's Mark blending tank." I have thought about that exact description a lot as I continued to do my notes for this review.
Am I saying that the 109.6 proof BEP is bad and should be avoided? Not at all. In fact, I really like it based on how unique it is. I don't often like to drink the same tasting stuff time after time and this one helps me with that problem. I will also admit I am fond of George Dickel's profile because it's so different too. So if you want to doubt my credibility, there's a good reason to do so right there.
Final Thoughts
In the end, the 110.7 could not be beat. Even though it's barely 1 proof point higher than the other batch, the richness and intensity of every sip was unquestionable. It's one of the more flavorful batches I've tasted to have come out of Loretta, Kentucky. To sing it even more praise, this bottle punches above its weight so well that it could embarrass any bottle of Weller Full Proof any day of the week. I have that much faith in it.
So join me as I wish a fond farewell to the Wood Finishing Series. I'm sad I may never see as many great releases year after year – but if I know Beam-Suntory – I know that this goodbye may not actually be goodbye. So we'll just agree to say "see you later" to each other and I'll look forward to your return – probably as a $150 Extra-Limited Release.
Featured Products
Description:

The Aged & Ore Neat Traveler is a complete travel kit for spirits. We combined our widely praised Neat Glass with one of our 3oz Flight Bottles and housed them together in a custom EVA travel case. Perfect for a night away with your favorite pour. The tie
Description:

The Aged & Ore Bottle Flight is a premium set of 4 custom silicone wrapped glass bottles designed to transport and share samples of your favorite spirits. The flight bottles come in a custom EVA travel case that fits perfectly in any small bag. An Aged &
Description:

This Bundle combines two of our crowd favorite products, creating the ultimate travel bundle to bring along your favorite spirits and glassware. Bundle Includes: Neat Traveler (Gray) Bottle Flight (Gray) Note: This bundle is only available in gray and col
*Bourbon Culture is reader-supported. When you buy through links on our site, we may earn an affiliate commission.