*Bourbon Culture is reader-supported. When you buy through links on our site, we may earn an affiliate commission.
The past 12 months have seen momentous changes at Barrell Craft Spirits. Everything from their facilities (they bought their own warehouse!) to their prices (Gray Label is now going to cost $150 instead of $250) to their new products (Private Release Rye, Amburana Finish and a return of their batched rye whiskey line) are changing. Even their bourbon batches, which we used to count on having four releases per calendar year, now seem like it's been pared down to just two.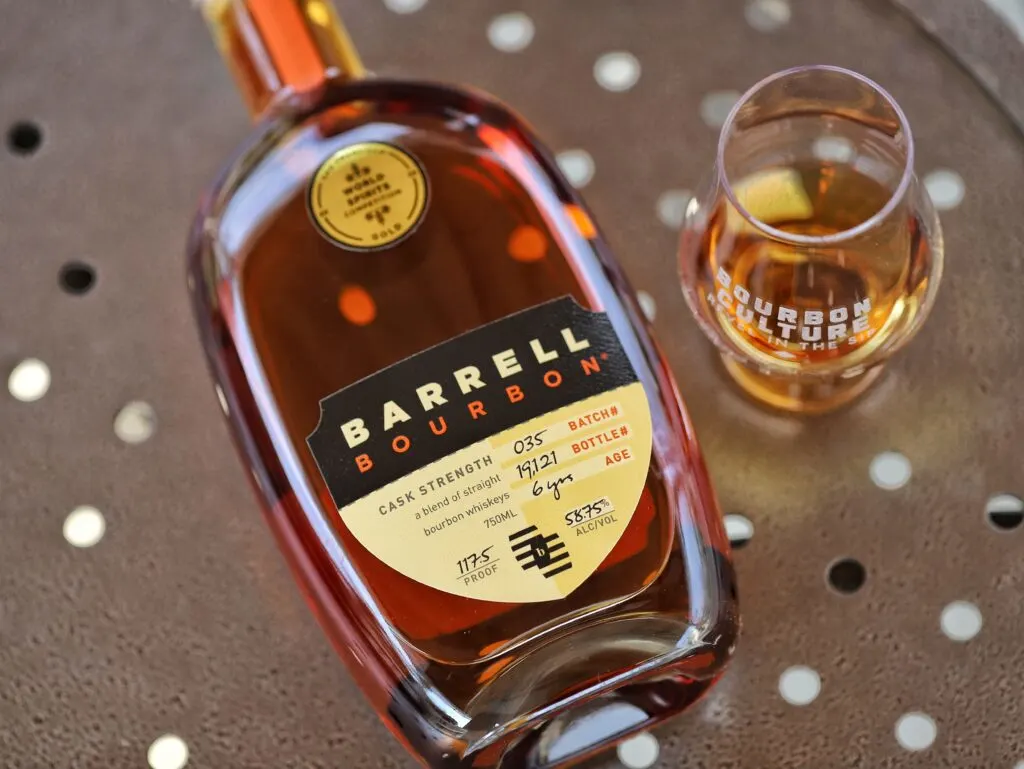 The bourbon batches seem to be going through a period of change in how they taste, too. What I'm about to say is not official or anything, but I group the last 37 releases (remember, there were Batches 007b and 008b) into four different evolutionary periods. It goes goes something like this:
Batch 001 to 012 – The "single distiller" period
This period of time is defined by Barrell sorting and blending their batches according to distillery. If you're new to Barrell, you may not have realized that they didn't always blend together multiple distilleries. There were 9 (but really 11 if you count 007b and 008b) batches of all Dickel, 2 batches of "Kentucky" bourbon (which was probably from Barton) and 1 from Indiana. The proofs on all of these bourbons were exceptionally high compared to today's releases.
Batch 013 to 024 – The "blended to an exact flavor profile" period
This period of time was defined by Barrell (usually) blending together bourbon from Tennessee, Indiana and Kentucky with a certain flavor profile in mind. Batch 016 was supposed to be the "orange-forward" batch while Batch 018 was distinctly "cinnamon-forward." It was capped with Batch 024 which was supposed to be very rye-heavy because they used barrels that contained only high-rye mash bills.
Batch 025 to 029 – The "wheated and fruity bourbon" period
Batch 025 broke new ground by being the first Barrell Bourbon batch to outwardly claim to use wheated bourbon in the blend. This resulted in Barrell batches becoming much more fruit-forward. And even though Batches 026 and 028 did not contain wheat, something about the way Barrell was blending still made them taste much more fruity than previous batches.
Batch 030 to present – The "craft bourbon and 99/1" period
Batch 030 was unique in the fact that Barrell officially used a bourbon that did not originate from Tennessee, Indiana or Kentucky in the blend. Barrell got their hands on some bourbon from Wyoming Whiskey (by way of Spirits of French Lick… it's a long story) and added it into the batch. And while they did not publicly say so, Batches 031 to 034 have all had hints that they contained bourbon from craft distilleries in the blend. On top of that, Barrell began to use more and more of MGP's 99/1 bourbon (99% corn, 1% malted barley) which was originally intended for blending. Barrell refers to it as "high corn barrels" in their descriptions, but this is the bourbon they're talking about. I believe it's more of a cost-cutting measure to use these over the low and high rye bourbon mash bills they used to source from MGP. Most modern batches have a more youthful and bright profile as a result.
Barrell Batch 035 – What's in it?
Barrell is doing a new thing as of mid-2023. They're including a "Derived Mash Bill" on their bottle labels starting with Batch 035 and their new Rye Whiskey Batch 004. The concept of a derived mash bill is easy to understand – it's the average of all the grains used in all of the different whiskies they blend together – but they don't clarify how it's calculated.
For instance, if they used three mash bills, say, Dickel's 84/8/8, MGP's 99/1 (there is no rye) and Barton's 74/18/8, then the derived mash bill from those would be somewhere around 85% corn, 9% rye and 6% malted barley. But what if I used 3 barrels of MGP's 99/1 to every 1 barrel of the Dickel and Barton? What if the Dickel barrels were half as full as Barton barrels? My point is, it's nice that Barrell is giving us this derived mash bill, but it would be even nicer if they told us how they're calculating it.
For Batch 035, Barrell tells us the following stats:
BLEND COMPONENTS:
Indiana: 6, 7, & 8 years old
Tennessee: 7 & 13 years old
Kentucky: 8 years old
DERIVED MASH BILL:
Corn: 78%
Rye: 18%
Malted Barley: 4%
I would expect all of those are the usual suspects with a heavy dose of MGP 99/1 barrels bringing down that Derived Mash Bill (the % malted barley gives it away). What this means is that the Dickel and Barton bourbons are going to do the heavy lifting when it comes to creating more depth an complexity. So are they up to the task? Let's find out.
Tasting Notes
Nose: The opening of the nose is tropical fruit-heavy with the likes of mango, coconut milk, banana and dates. Sweetness comes by way of caramel and saltwater taffy. There is a sort of damp earth scent that I can't get past either. I don't think I've ever found that in a bottle from Barrell. Sharp, somewhat youthful notes of acetone and citrus-based acid are just a tiny sliver of the things I find in the nose, but should be mentioned here. They don't ruin the dram, they're just interesting to find.
Palate: Each sip comes off as somewhat young, yet full of peppery spice and fruit. Cinnamon and anise are amplified while cornbread soothes things over. Sweetness and fruit come by way of raisins, dates, grape juice concentrate, and citrus flesh. Tannins don't taste entirely integrated because a young-ish oak flavor along with new leather sticks out. Cocoa powder adds a chocolate and somewhat alkaline profile too.. Overall mouthfeel is syrupy. It's a fascinating blend of flavors that make each sip challenging, yet rewarding to pick apart.
Finish: Youthful and bright fruit notes come from citrus zest, cherries, coconut flesh linger after the sip is complete. But don't let yourself think that this is a mild finish. There's plenty of wild and unruly spice notes – both likely stemming from the rye in the combined mash bills. It's a finish that will remind you that this is a 117+ proof bourbon you're drinking. The oak gets drier as the session goes on and the spices evolved into more of a black pepper tone.
Score: 8/10
With every release, Barrell takes various bourbons and blends them into something almost unrecognizable from their base components. This one was more confusing than ever to me. The tropical fruits no doubt come from the Dickel in the blending component. The tannins aren't overwhelming either because Dickel, young Barton and MGP's high-corn mash bills aren't known for being particularly oak-forward. That means that all of the rye spice and fruit notes get to run wild. That's very evident with every sip.
Still, Barrell continues to bottle up a bourbon that tastes nothing like the hundreds of other bottles that all contain the same bourbon -albeit in a different package – on the shelf today. Batch 035 keeps that tradition alive by not being like the others. And for that, enthusiasts looking for something new should flock to it.
Final Thoughts
To wrap this all up, I'm going to concentrate on the last sentence from the previous paragraph. Will enthusiasts be quick to snap these up? That's debatable. Every store I go into has a large amount of Barrell ready and available on the shelf. I just walked into a liquor store the other day that still had Batch 029 on the shelf (which was a great one! But it's also from 2021). I know that most people getting into bourbon aren't aware enough to know that they have to look out for particular batch numbers yet. But they also know that they don't want to drop hundreds of dollars on getting every batch they see. This leaves many struggling to make a decision.
Barrell needs to establish a way to differentiate each batch from each other more than just putting a number on them. Maybe give them all unique names (which they're already doing with their Stellum line). Maybe put different graphics and colors on each label (like Whistlepig is doing with their Pit Viper, Traeger and Roadstock ryes). My point is that after the last 10 years of the same style of label, customers of the label might need something more to go on rather than an internet reviewer telling them to buy Batch X over batch XX. It can get confusing.
Otherwise, this is another great release that still shows us that Barrell excels at making the sum of its components greater than they are individually. And if you're into lots of spice and fruit, then this one is for you.
Featured Products
Description:

The Aged & Ore Neat Traveler is a complete travel kit for spirits. We combined our widely praised Neat Glass with one of our 3oz Flight Bottles and housed them together in a custom EVA travel case. Perfect for a night away with your favorite pour. The tie
Description:

The Aged & Ore Bottle Flight is a premium set of 4 custom silicone wrapped glass bottles designed to transport and share samples of your favorite spirits. The flight bottles come in a custom EVA travel case that fits perfectly in any small bag. An Aged &
Description:

This Bundle combines two of our crowd favorite products, creating the ultimate travel bundle to bring along your favorite spirits and glassware. Bundle Includes: Neat Traveler (Gray) Bottle Flight (Gray) Note: This bundle is only available in gray and col
*Bourbon Culture is reader-supported. When you buy through links on our site, we may earn an affiliate commission.