*Bourbon Culture is reader-supported. When you buy through links on our site, we may earn an affiliate commission.
Although I am not a Hoosier by birth, Indiana has become a sort of adopted state for me. When my family and I moved here in 2013, I wasn't yet into bourbon. Instead, I was a rabid foodie. I eagerly drove around finding the best restaurants in the area. Friends and neighbors would often give me tips about what I needed to try. For a truly fancy experience, one name kept popping up: St. Elmo Steak House.
The odd thing about St. Elmo Steak House was that almost everyone recommended that if I went there, I should get the shrimp cocktail. Why were people recommending a shrimp cocktail at a steakhouse? Only later did I find out why – their signature shrimp cocktail sauce. If you've never had it before and if you're not a person who regularly consumes horseradish, then watch out. One bite and your mouth will be on fire while your nose simultaneously evacuates all of its contents. Personally, I can't stand the stuff but it was so popular that St. Elmo eventually began to have it bottled and sold commercially.
St Elmo Foods launches in 2018
Cocktail sauce wasn't the only thing St Elmo had going for it. The owners soon realized that their brand was becoming more than just a local sensation. They were being featured in everything from the TV Show Parks & Recreation to College Gameday broadcasts to Peyton Manning singing it praises in press conferences. This led them to create their own commercial offshoot that specialized in the packaging and distribution of their various sauces, seasonings and alcoholic beverages. It's the latter item that took their specialty cocktail – called Elmo Cola – to a whole new level.
Elmo Cola originally started as an exclusive cocktail available at the restaurant. The bartenders (presumably) created it by blending bourbon together with cherry vanilla liqueur. Then they would fill the glass with ice, top it off with cola and garnish it with two cherries.
When St. Elmo Foods decided to bottle the concoction, they settled on using 3 year old bourbon sourced from MGP. They blend the bourbon with dark cherry vanilla liqueur and add natural food coloring to it for that signature dark look. Then they proof it down to 88 proof. The Breaking Bourbon website claims the mash bill used for the bourbon is a rather odd 54% corn, 36% rye and 10% malted barley. MGP makes over 30 unique mash bills that most enthusiasts aren't aware of and this might be one of them, but I'm skeptical.
Sometime between the initial release of St Elmo bourbon in 2019 and this bottle – which was purchased in 2023 – they changed the label to be a little more truthful. The original label read "Straight Bourbon Whiskey with Dark Cherry and Bourbon Vanilla Beans." I imagine that there was too much focus on the words "Straight Bourbon Whiskey" that it was viewed as misleading. Granted, the color of the liquid should be enough to alert most consumers that additives have been used. Now the label is more accurate by stating it's "Cherry Vanilla Infused Bourbon." I still think that's a bit misleading because on the back label it doesn't mention that the bourbon has been infused at all. Instead it alludes to it being mixed with cherry vanilla liqueur. Just call a spade a spade, St. Elmo!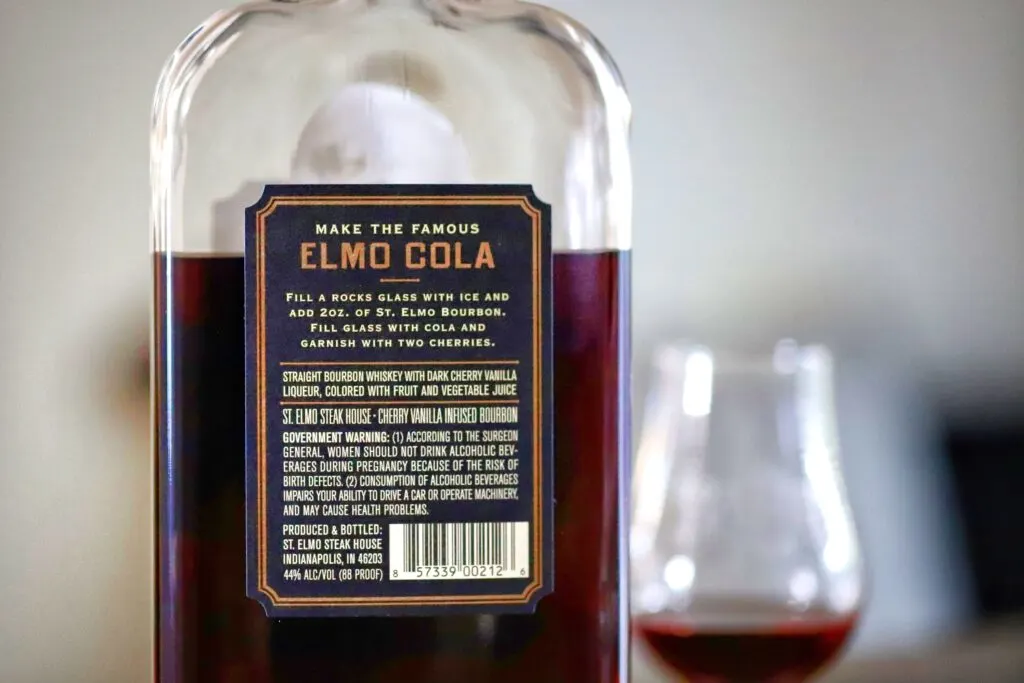 But for under $40, this bottle knows its audience. That audience is not necessarily the purists who are demanding straight, unadulterated, highly matured bourbon. This is for the easygoing social situations where a sweet drink that's served cold is more welcome than a room temperature pour in a glencairn. With that being said, I'm still going to drink it neat out of a glencairn anyway just to get the full sensory experience.
Tasting Notes
Nose: The vanilla is very strong on the nose. It's almost like liquid vanilla bean candle wax was poured directly into my nostrils. It's nice, but it's a lot! Coming up next is the sickly sweet scent of black cherry syrup. Then there is the sensation of a perfectly browned marshmallow. That scent is basically worth the price of admission right there!
Palate: Every note from the nose – the vanilla bean, the cherry syrup and the toasted marshmallow – all transcend onto the tongue. I only find a true "bourbon" note when I concentrate fully. Otherwise, this tastes entirely like a flavored whiskey rather than an infused bourbon (but honestly, what's the difference?!). I'm an experienced bourbon drinker and figured the 88 proof would be imperceptible on my tongue, but surprisingly this does have a slight kick to it. This is not a complaint.
Finish: Whereas the nose saw the vanilla as the most dominant trait, the finish flips the script with the cherry note becoming king of the mountain. The finish remains sticky and syrupy and honestly, won't go away fast enough. This is the weirdest sentence I've written in a while, but I wish the finish wouldn't last so long on this one. Maybe the addition of cola and ice would've helped washed away all of this residual sugariness, faster.
Score: 5/10
As a self-own, I'm perfectly aware that this was not the preferred method of drinking this. St. Elmo would even say as much and probably point to their Ready To Drink (RTD) canned Elmo Cola cocktail as proof this bourbon exists to be mixed.
So I'd like to clarify that my rating of a "5" isn't meant as an insult, it's only based on my level of enjoyment that I got from drinking it. In this case, it was perfectly average. That toasted marshmallow note made me smile every time I found it. Otherwise, it was too sweet overall. However, I'm sensible enough to acknowledge that it's good at what it is supposed to do and nothing more.
Final Thoughts
St. Elmo has a solid reputation as one of the best places in Indianapolis for an all-out food sensory experience. They should be proud that their name spans across a wide range of things designed to make your at-home experience feel as close as it can to the experience of their restaurant. In that case, St. Elmo Cherry Vanilla Infused Bourbon nails it.
Now you can enjoy the experience of their famous cocktail while attempting to grill your own steak as close as possible (gotta find a way to get that Weber up to 900 degrees though!). But sometimes, that's half the fun anyway. We might not be able (or want) to dine on expensive steak and shrimp cocktail every night of the week, but the chance to have a part of that experience inside your home gets you close enough. And that's good enough for me.
Featured Products
Description:

The Aged & Ore Neat Traveler is a complete travel kit for spirits. We combined our widely praised Neat Glass with one of our 3oz Flight Bottles and housed them together in a custom EVA travel case. Perfect for a night away with your favorite pour. The tie
Description:

The Aged & Ore Bottle Flight is a premium set of 4 custom silicone wrapped glass bottles designed to transport and share samples of your favorite spirits. The flight bottles come in a custom EVA travel case that fits perfectly in any small bag. An Aged &
Description:

This Bundle combines two of our crowd favorite products, creating the ultimate travel bundle to bring along your favorite spirits and glassware. Bundle Includes: Neat Traveler (Gray) Bottle Flight (Gray) Note: This bundle is only available in gray and col
*Bourbon Culture is reader-supported. When you buy through links on our site, we may earn an affiliate commission.