*Bourbon Culture is reader-supported. When you buy through links on our site, we may earn an affiliate commission.
Lux Row Distillers announced in August 2019 that they were going to be releasing a special edition "Double Barreled" Bourbon that would have a 12 year old age statement and would commemorate the distillery's Grand Opening in April 2018. Why this is being released in September, however, is a mystery to me. But what I learned shortly thereafter is just how hard and time consuming of a process that the double-barrel bottling can be. First of all, it's not what you're thinking with aged bourbon being put into another new barrel to add more flavor.
Double Barreling Bourbon
The concept of double barreling is essentially tasting your way through barrels to find 2 that would compliment each other very well if they were blended together. So you get all of the work of finding great single barrels, with none of the ease of dumping large amounts of barrels that will probably correct each others inadequacies like what occurs in many small batch blends out there. Double Barreling becomes even more difficult and expensive once you realize that all this work you do to take only 2 barrels to blend together now has to have limited bottle runs with hand-written tags and equipment cleanings between batches. It does sound like a giant pain.
Stepping away from that for a minute, for those of you who don't know who Lux Row is yet, they've primarily been in the sourcing business for the last few years or more. Their primary brands are the David Nicholson labels, Rebel Yell labels, Blood Oath labels and the Old Ezra labels. It's widely accepted that they primarily source their barrels from Heaven Hill, but just last year they've started to distill their own juice. We'll probably have to wait a number of years to get our first sip of those.
When I was lining up my bottle the picture you see, I realized just what great sourced whiskey that Lux Row puts out. I have done other side-by-side comparisons and whenever a Lux Row product has been a challenger, it has won. So while we all may talk about the other major distillers out there and how much we love them, Lux Row has quietly been working in the background to source some really great barrels and put out some extremely reasonably priced products that quite frankly, kick ass and take names.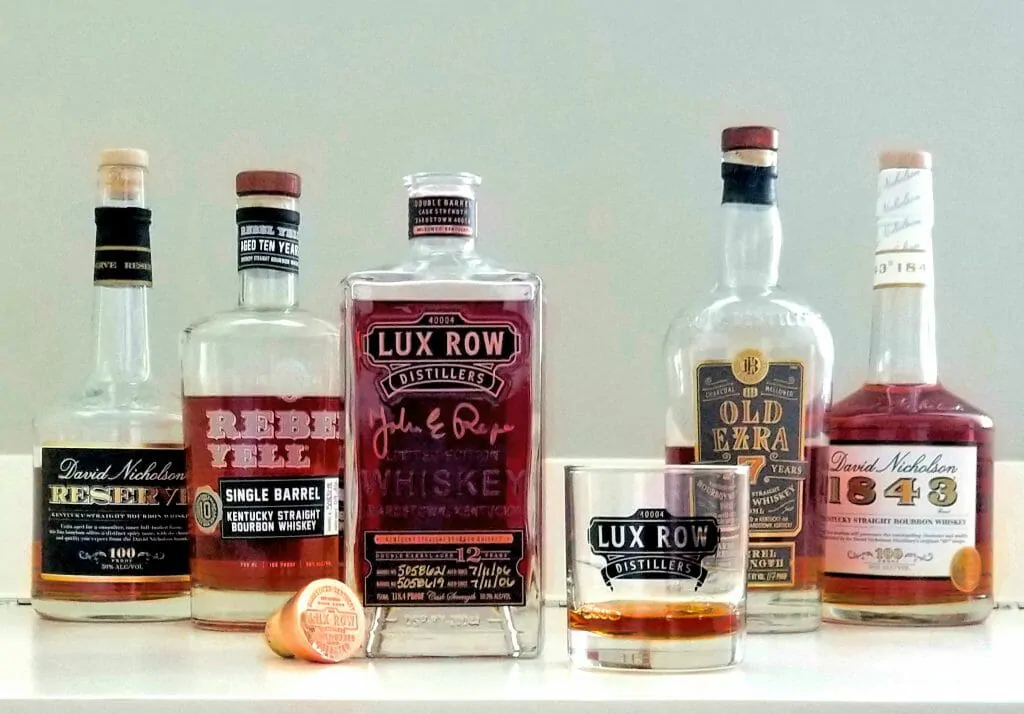 As far as I know, this bottle of LRD Double Barreled is only being released at the distillery itself and John Rempe, the master distiller and blender, was on hand to sign your bottle the day I went. The bottle is extremely beautiful with real metal labels and a beautiful copper top that easily challenges a Peerless or Wild Turkey Master's Keep topper for weight and beauty. So is this $150 bottle truly special? Well let's crack open this beautiful, heavy, copper topper and pour a dram into a glencairn.
Tasting Notes
Nose: A honey dipping stick, sweet incense, wooden cigar box filled with Padron 1926 Maduro cigars (known for chocolatey scents), caramel chips, a new leather-bound book
Palate: Barrel char, toasted almonds, 80% Cacao chocolate bar, fried apples, orange crème candies
Finish: Peppery rye burst with well-seasoned oak and dry leaf tobacco. A little bit of buttered burnt toast, pops of citrus oil
Score: 8.2/10
To sum up this bourbon, I'd have to say that the experience is like drinking straight from a whiskey thief that was dipped into barrels that were pulled at the exact moment they were about to become over-oaked, all while smoking a cigar. The tannic beauty of this blend of 2 barrels cannot be overstated. It is very close to becoming too oaky and tannic, but it did not reach that point. And while many would point at the source (Heaven Hill), the age and the proof and say "oh, that's just lower proofed Elijah Craig Barrel Proof" there's something this has that ECBP does not.
For starters, I want to speculate that ECBP has been filtered through a little bit of charcoal while dumping the barrel (not chill filtered, but it does produce a clarity of the liquid). This Double Barreled bottle has the appearance that this step was skipped, and you can see it has a very slight cloudiness to it that I believe my camera captured in the picture. This leaves in much of the delicious tannic notes like the leathers, cigar/tobacco and seasoned oak notes that ECBP is known for, but it allows for a much deeper profile.
Is it priced right?
With all that being said, is $150 a good price? Well it depends. The market these days is going this way and there are many high-end sourced whiskies out there that are already at or exceed this price point. Cream of Kentucky, Old Carter and Kentucky Owl come to mind. But in the case of $150, I'd say this whiskey gets pretty damn close for being a bottle that I would recommend that you spend your hard earned $150 on, and I don't say that about bottles too often. Next time you're in Bardstown, seek this one out.
Ratings Breakdown
1 | Disgusting | Drain pour (Example: Jeffers Creek)
2 | Poor | Forced myself to drink it
3 | Bad | Flawed (AD Laws 4 Grain BiB, Clyde Mays anything)
4 | Sub-par | Many things I'd rather have (Tincup 10 year)
5 | Good | Good, solid, ordinary (Larceny, Sazerac Rye)
6 | Very Good | Better than average (Buffalo Trace, OGD BiB)
7 | Great | Well above average (Old Ezra Barrel Proof, Old Weller Antique)
8 | Excellent | Exceptional (Michter's Barrel Proof Rye, Four Roses Barrel Strength)
9 | Incredible | Extraordinary (GTS, 13 Year MGP or Canadian Rye)
10 | Insurpassable | Nothing Else Comes Close (William Larue Weller)
Featured Products
Description:

The Aged & Ore Neat Traveler is a complete travel kit for spirits. We combined our widely praised Neat Glass with one of our 3oz Flight Bottles and housed them together in a custom EVA travel case. Perfect for a night away with your favorite pour. The tie
Description:

The Aged & Ore Bottle Flight is a premium set of 4 custom silicone wrapped glass bottles designed to transport and share samples of your favorite spirits. The flight bottles come in a custom EVA travel case that fits perfectly in any small bag. An Aged &
Description:

This Bundle combines two of our crowd favorite products, creating the ultimate travel bundle to bring along your favorite spirits and glassware. Bundle Includes: Neat Traveler (Gray) Bottle Flight (Gray) Note: This bundle is only available in gray and col
*Bourbon Culture is reader-supported. When you buy through links on our site, we may earn an affiliate commission.