*Bourbon Culture is reader-supported. When you buy through links on our site, we may earn an affiliate commission.
Lux Row has a history of sourcing whiskey for a quite a while now. Most of their products are all relatively easy to identify which Heaven Hill mashbill they come from because they fit neatly into Heaven Hill whiskey profiles. Their Rebel Yell and David Nicholson 1843 series uses the Heaven Hill wheated bourbon recipe, the Old Ezra Line is a dead ringer for the old Heaven Hill label Bottled-in-Bond bottle and the new Lux Row Double Barreled bottle is a pleasantly similar to a blend of William Heaven Hill and Elijah Craig Barrel Proof offerings.
David Nicholson Reserve
But the one bottle that leaves me scratching my head has been David Nicholson Reserve. Bottled at 100 proof, the label claims to use a "high rye" bourbon mashbill to give it a more spicy character. And although mashbill percentages are never listed, there stands a chance that this is not a Heaven Hill product because Heaven Hill only has 1 bourbon mashbill. So where would this be sourced from? Maybe if I take a drink, the truth will become more apparent. Let's get started. I sampled this neat and in a glencairn.
Tasting Notes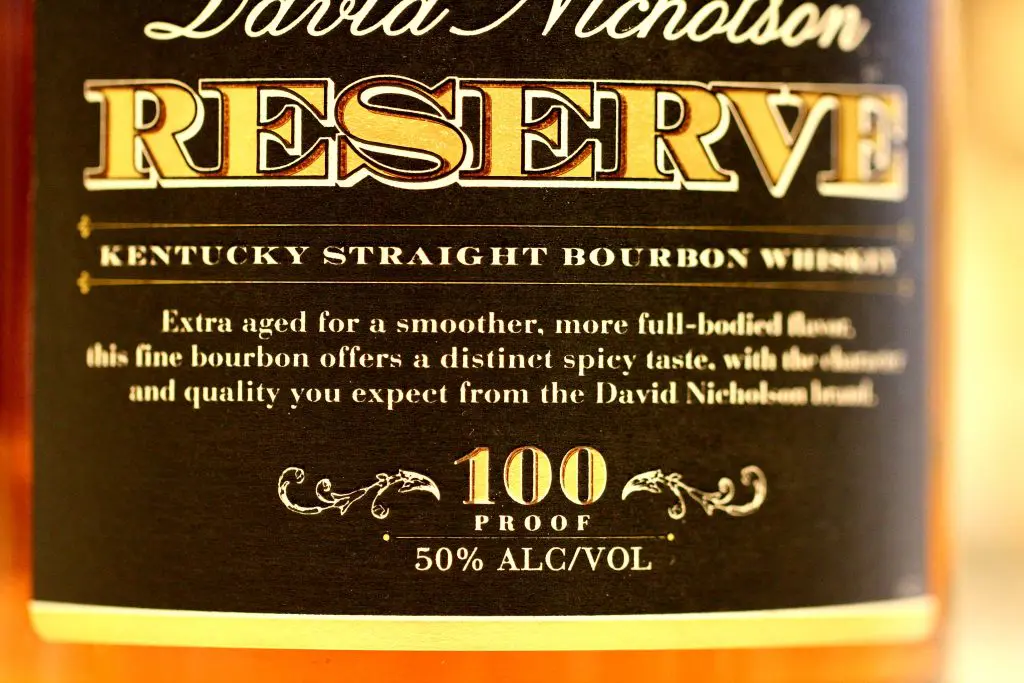 Nose: The nose starts off with a slight peanut funk that could be any number of distilleries that have a distinctive peanut note. There are also sweet cherries, baking spices and a faint floral note similar to rose petals.
Palate: The palate showcases some spice and sweetness traits with flavors of cinnamon raisin bread, pecans and a slight note of banana. There are also some telltale traits of high rye in the mashbill with some noticable rye spice that pops with a peppery burn on your tongue. Not a lot, but just enough to get your attention.
Finish: The rye spice begins to fade away to a very mild spice. Perhaps the extra kick of sweetness is keeping everything in check, but it's close to a semi-burnt brown sugar. A small amount of astringency comes out at the end (almost like this bourbon isn't quite 4 years old, but it fades away soon enough.
Score: 5.9/10
This bottle is pretty good for the price. I found it just slightly under $30, which puts it in a hotly contested price range. The flavor profile seems to be a touch more interesting than a Heaven Hill bourbon, which makes me wonder if it came from them. I would almost venture to guess this could be Barton or Old Forester juice. In fact, with the slight banana trait on the nose (but not palate like Brown Forman products) and the fact Barton is located in the same town as Lux Row, I am convinced this should be a Barton (1792) product. This would also explain why Lux Row is labeling this as a "high rye" product. Barton's bourbon mashbill has 74% corn, 18% rye and 8% malt compared to Heaven Hill's bourbon mashbill of 78% corn, 10% rye and 12% malt. 8% more rye is considerably more in that regard, which makes me think I'm right.
Final Thoughts
The source is only a small part of the equation on how I feel about this bourbon. It's generally very good all around, but not in a way that you're going to find it winning a lot of whiskey of the year competitions. It delivers a great sip neat and would probably be fine to mix in a cocktail because it won't break the bank. And now that I've uncovered the potential secret of where this is sourced from, it's time to put this up against a 1792 BiB to see which one deserves your $30. Stay tuned.
Rating Breakdown
1 | Disgusting | Drain pour
2 | Poor | Forced myself to drink it
3 | Bad | Flawed
4 | Sub-par | Many things I'd rather have
5 | Good | Good, solid, ordinary
6 | Very Good | Better than average
7 | Great | Well above average
8 | Excellent | Exceptional
9 | Incredible | Extraordinary
10 | Insurpassable | Nothing Else Comes Close
Featured Products
Description:

The Aged & Ore Neat Traveler is a complete travel kit for spirits. We combined our widely praised Neat Glass with one of our 3oz Flight Bottles and housed them together in a custom EVA travel case. Perfect for a night away with your favorite pour. The tie
Description:

The Aged & Ore Bottle Flight is a premium set of 4 custom silicone wrapped glass bottles designed to transport and share samples of your favorite spirits. The flight bottles come in a custom EVA travel case that fits perfectly in any small bag. An Aged &
Description:

This Bundle combines two of our crowd favorite products, creating the ultimate travel bundle to bring along your favorite spirits and glassware. Bundle Includes: Neat Traveler (Gray) Bottle Flight (Gray) Note: This bundle is only available in gray and col
*Bourbon Culture is reader-supported. When you buy through links on our site, we may earn an affiliate commission.