*Bourbon Culture is reader-supported. When you buy through links on our site, we may earn an affiliate commission.
Joint Review with Adam from the San Francisco Whiskey Bourbon and Scotch Society
After the great feedback from the last joint review I did on here with Scott from atxbourbon.com , I figured it'd be fun to keep the ball rolling and find some other reviewers that would like to team up and review a bottle. I've been friends with Adam from the San Francisco Whiskey Bourbon and Scotch Society for a little bit now and we often trade bottles through the mail. He recently announced a group of guys he's friends with are looking to start a bourbon review website soon, so stay tuned for me posting a link to it. Adam recently stumbled upon an incredible deal thanks to another Reddit member, u/FuzzyWildcat, who hooked him up with this bottle you see before you: a Single Barrel bottling of High West's Campfire Whiskey finished in a Cognac Barrel.
If you're familiar with High West, you know of their robust single barrel program where they typically take their Double Rye! or American Prairie Bourbon and finish it in one of literally dozens of casks. Occasionally, the distillery will release a very special single barrel of Rendezvous Rye that gives it even more depth and flavor. But I have never even heard of their Campfire Whiskey receiving a barrel finished treatment until now. I was skeptical as hell and jealous as hell when u/airwalker told me he had a bottle in his possession. In fact, I literally told him "Dude, I fucking hate you" when he told me what he had, so that's what he labeled the sample bottle that he sent me. Funny guy!
So I sat down with him and we started to chit chat about all things whiskey and what we thought of this unique High West bottling…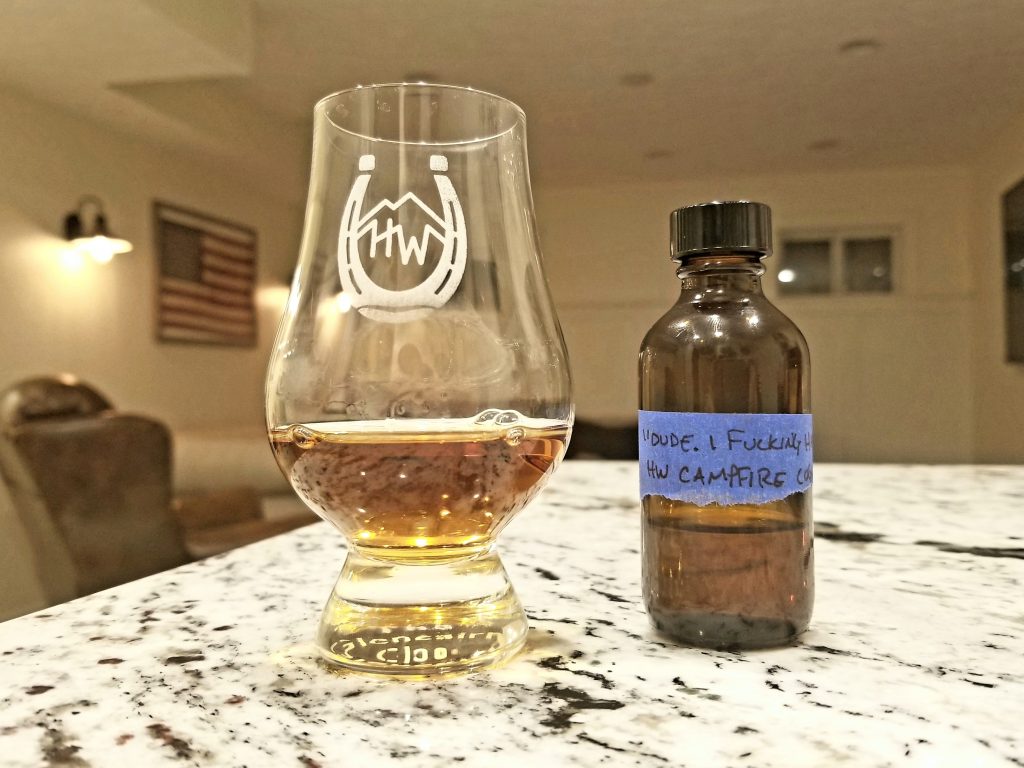 Mike: So we're drinking High West tonight, but you and I have talked about so many more bottles that we like and dislike. What are your top 3 favorite brands for bourbon and/or rye these days?
Adam: Brand or Distillery? Because Four Roses is going to be first either way. But Barrell Craft Spirits, Smoke Wagon and Woodinville are way up there. That Woodinville Cask Strength release that's floating around the west coast is interesting.
Mike: I've heard a few really good things about those Woodinville releases and I'm really wanting to try one out sometimes. But you mentioned Four Roses and I always have to ask, out in the Bay Area, what recipes do you find most often and least often?
Adam: I find OBSV all the time, but least often would be any recipe that ends in "O"
Mike: I think we all get shafted on finding any O, so I feel ya. So obviously you're really into bourbon these days, but what was the bourbon or whiskey that you first remember trying and how was it?
Adam: Probably Jack Daniels and I probably hated it!
Mike: I bet JD was over 75% of people's first drink of whiskey on here! It's just everywhere. So speaking of hating it, what was a bottle that you really anticipated in 2019 that ended up being the biggest letdown when you finally drank it?
Adam: For me, Baker's 13 was so disappointing. I was looking forward to it and excited ever since I saw it was coming out. Then when I had it, I thought it's not bad, but just average.
Mike: That's bad to hear man! But were there any releases in the past year that blew your socks off that you had no expectations for?
Adam: Definitely Four Roses Small Batch Select. I thought it'd be slightly better than Four Roses Small Batch, but whoa. It's way better.
Mike: I definitely loved that one too and I remember writing a review on how great I thought it was too. Speaking of reviews, what bottle do you think gets reviewed too much over on Reddit?
Adam: Fucking Blanton's. And also Buffalo Trace and all of the stuff they make. I want more high proof (as in ECBP, Stagg Jr. and EHTBP) reviews!
Mike: Some of those are hard to get though! But speaking of hard to get, what bottles have came out that you want to try but have yet to see?
Adam: Maybe Heaven Hill Green Label? I've literally never seen it.
Mike: Oh, I've got an extra bottle I'll send you. It's a Kentucky-only release anyway.
Adam: Is it any good?
Mike: It's not as good as a Buffalo Trace product by any means, but I'd describe it as Elijah Craig, only slightly thinner and it runs $9.
Okay! Time to dive into this bottle and see what lies in store! Bottoms up!
Mike: I fucking love this peaty smoke right away. I heard that they claim the Scotch that's in here isn't from an Islay distillery.
Adam: Yeah, I heard that too, but WTF? The nose is confusing right off the bat.
Mike: I suppose if we look up all the Scotch brands that Constellation owns, we'd be able to figure out which Scotch this is.
Adam: So I think the cognac finish serves to just blend everything all together. My mouth is going right to the bourbon notes, not Scotch and not rye.
Mike: I stopped liking Campfire because it became so sweet to me. But I'm not detecting that huge amount of sweetness here. How about you?
Adam: I'm not sure, but there's no sweet MGP "punch" here (note: It is believed that some MGP bourbon and rye still make up a decent percentage of Campfire's 3 whiskies)
Mike: I agree with you that if there is any rye whiskey in here, it's very minimal. The bourbon is also really nice in here and I'm thinking there's gotta be some MGP because the Dickel funk isn't lurking.
Adam: I get no vitamins, so maybe. But the finish is all Cognac and Scotch. As for the nose: I do get something spicy, perhaps it's dill that I'm picking up?
Mike: There's a note on the finish that's almost like corn on the cob that got put on a grill and burnt a bit. And you're right! It could be dill. Now that you're saying that, I can find it!
Adam: Oh my god, I totally get that corn note on the back of the palate.
Mike: There's some cinnamon on the nose that I'm wondering if that's also another spice you were picking up on. But I keep getting some sort of unidentifiable herbal notes on the nose as well.
Adam: The nose is a lot of flowers and herbs but we're also forgetting the cognac. I find it's really fucking sour.
Mike: Sour? Like citrus sour or…?
Adam: Like sour grapes.
Mike: Sour grapes? I almost wonder if that could be the Dickel vitamins in disguise.
Adam: Oh god, now that you say that… but I don't get vitamins on the palate, so there still might not be Dickel in it. But the Cognac definitely adds a nice mouthfeel.
Mike: Yeah, the Cognac is like the missing ingredient to what regular Campfire Whiskey probably needs… it kinda… dries it out a little?
Adam: I 100% agree. It tastes like just bourbon mixed with Scotch and the Cognac fills in all the gaps. There's also dusty notes hiding in there.
Mike: Yeah! I can totally see that dusty note! Reminds me a bit of that National Distillers OGD that we've both tried from fellow Redditor, u/dr0me!
Adam: Agreed. The nose is really really nice.
Tasting Notes: Adam
Nose: Scotch, dill, sour grapes, tannins like wood char with some peat.
Palate: Brown sugar, caramel and vanilla come through on the front of the palate and then it balances nicely with cognac and BBQ'ed corn. There's also burnt cookies and baking spices. Some "dusty" bourbon notes are also present
Score: 84.5/100
Tasting Notes: Mike
Nose: Peaty-Scotch, cinnamon stick, dill, unidentifiable herbal notes, confectioner's sugar,
Palate: Grilled Corn-on-the-cob, grape nuts cereal, barrel char, vanilla, a sweet BBQ sauce, dusty bourbon notes of either white grapes or blueberries.
Score: 8/10
Joint Thoughts
Adam: If I had one nit to pick, it would be that this could be higher proofed… and older.
Mike: I agree. If you gave me this in the 118-120 proof range and let the heat from that proof open the rest up, I'm sure this would be an 8.5 on my scale. This was just such a unique bottle though, I'm really impressed.
Adam: Me too. And this is already so impossible to get, thanks to u/FuzzyWildcat's friend for not wanting it. I got so lucky.
Mike: So let's rapid fire my last 3 questions real quick before we end this.
Adam: Let's go!
Q & A
Mike: What's a bottle out there that you've been dying to try and can't find anywhere?
Adam: Parker's Heritage Collection 11 Year
Mike: What's the best city you've ever been in for bourbon hunting?
Adam: the Greater San Jose area. There are just so many options down there!
Mike: What future release are you the most excited to come out this year? Real or one you just want to see happen.
Adam: I have one in mind that everyone is already talking about, but I don't want any more hype on that one!
Mike: Thanks again Adam! It's been a blast! This High West was awesome and I can't wait for us to review our next bottle!
Featured Products
Description:

The Aged & Ore Neat Traveler is a complete travel kit for spirits. We combined our widely praised Neat Glass with one of our 3oz Flight Bottles and housed them together in a custom EVA travel case. Perfect for a night away with your favorite pour. The tie
Description:

The Aged & Ore Bottle Flight is a premium set of 4 custom silicone wrapped glass bottles designed to transport and share samples of your favorite spirits. The flight bottles come in a custom EVA travel case that fits perfectly in any small bag. An Aged &
Description:

This Bundle combines two of our crowd favorite products, creating the ultimate travel bundle to bring along your favorite spirits and glassware. Bundle Includes: Neat Traveler (Gray) Bottle Flight (Gray) Note: This bundle is only available in gray and col
*Bourbon Culture is reader-supported. When you buy through links on our site, we may earn an affiliate commission.