*Bourbon Culture is reader-supported. When you buy through links on our site, we may earn an affiliate commission.
Elijah Craig Barrel Proof Bourbon has a long history of delivering batches of bourbon that the enthusiast community has a soft spot for.
But watch out because some of those batches will burn a hole through that soft spot with their high proof (sometimes approaching 140 proof!).
And while those high proof barn-burners are certainly delicious, some of the more renowned ones don't actually approach those high ABV levels.
In 2017, Elijah Craig had retired their old squat-bottle shape in favor of a taller, more narrow shape. The age statement was moved to the side of the bottle and instead of a bi-annual release, the batches would now be released 3 times a year (A, B and C followed by the month and last two numbers of the year).
Batch B517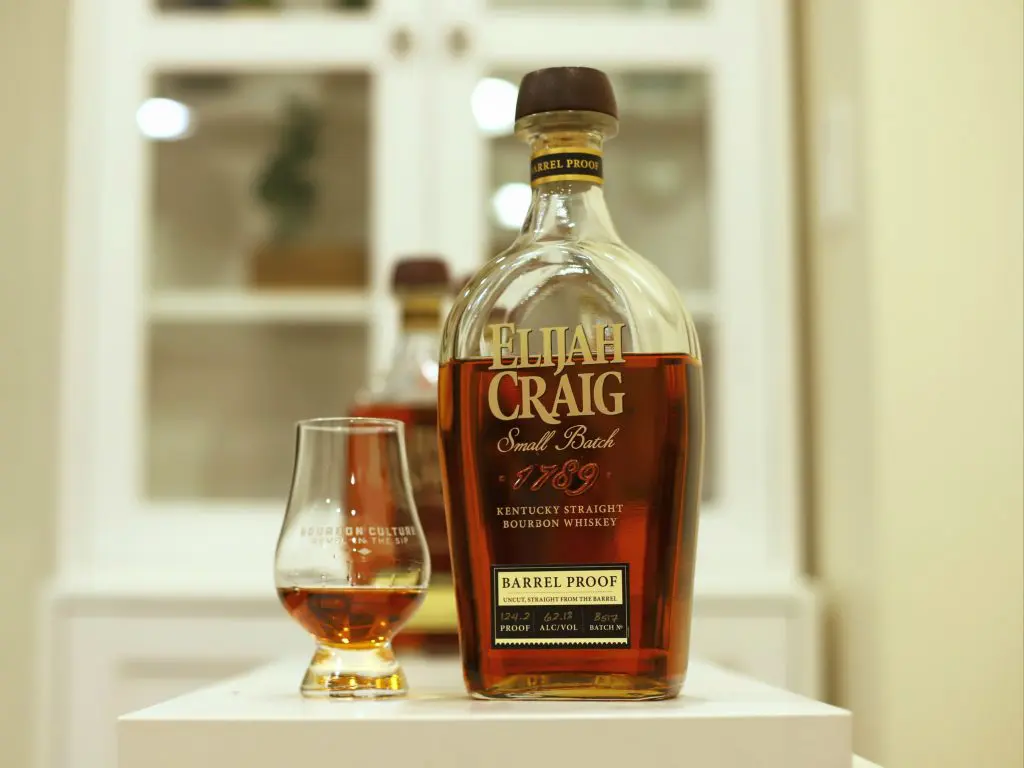 Batch B517 was released in May of 2017 and sold very well. But in January 2018, Whiskey Advocate magazine awarded that specific batch with their "Whisky of the Year" award. The frenzy was just beginning.
Over the next several months, even more awards would be bestowed upon B517 and enthusiasts gobbled up every batch that they could find.
Even to this day, ECBP is a "must-have" release for the bourbon community. Luckily it's one of the more easy to find allocated bourbons across the country.
On a personal note, ECBP B518 was the first allocated bourbon that I found when I started into this bourbon hobby. But that's showing how short a time I've been into bourbon, haha.
Every batch of ECBP since then rides on the coat-tails of batch B517 (for better or worse). But what this review hopes to find out is: Was there a little bit of Heaven Hill Magic that was sprinkled into this particular batch?
Or is it just a slightly better batch of ECBP? There's only one way to find out. I sampled this neat in a Glencairn.
Tasting Notes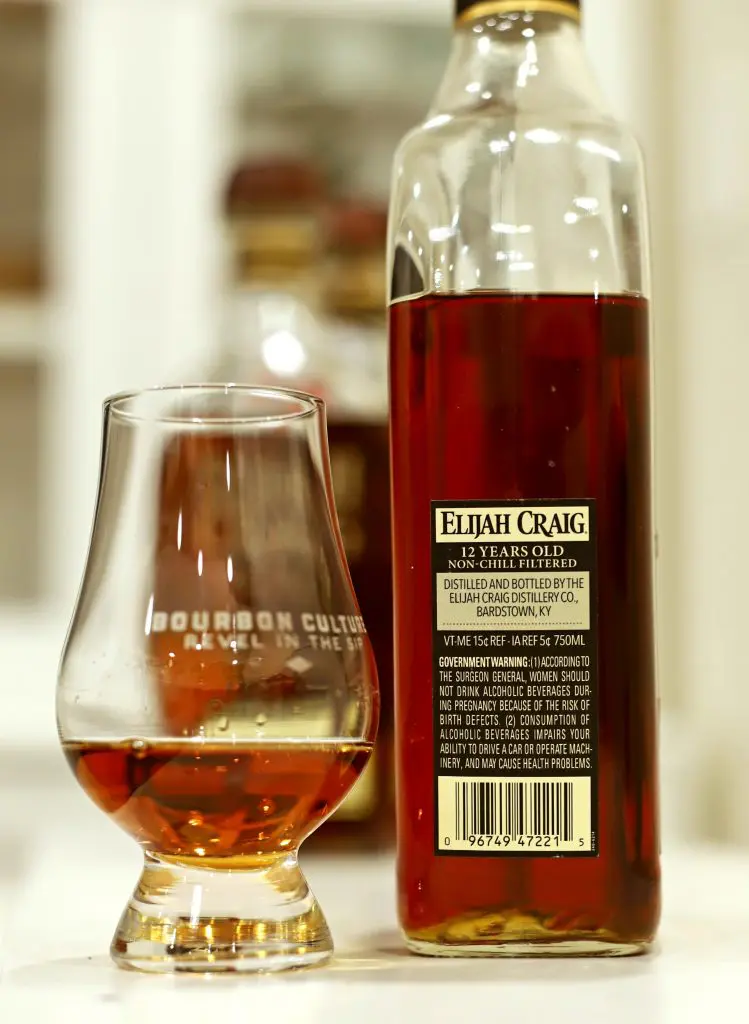 Nose: Dark caramel, intense vanilla and some peanut shells are the first scents that hit my nostrils. The tannins are perfect and not overbearing.
Wet tobacco, seasoned oak and a hint of charred wood give this nose a deep and inviting scent. There's also some melted chocolate and a hint of gingerbread if you keep smelling the glass. It's all perfectly balanced for such a high proof.
Palate: Sweet caramel, semi-sweet chocolate chips and a bit of nutty toffee give the palate a sweet candy bar impression.
There's lots of toasted and seasoned oak flavors as well as a tiny bit of butterscotch. I even detect a bit of toasted orange peel. Not much in the way of fruit, but that's not what Elijah Craig's are usually known for.
Finish: The oak actually softens up on the finish instead of intensifies. This leaves room for some bitter chocolate and caramel to take a larger roll.
Cinnamon and some rye spices interact to give your tongue a bit of a lingering afterburn, but it's nothing a novice whiskey drinker should squirm at.
Score: 8.2/10
I will admit, this is one of the higher scores I've given a new-label Elijah Craig Barrel Proof bottle. It's delicious with candy bar sweetness and plenty of great tannins.
Nothing overwhelms and all of the flavors play nicely. However, it's not necessarily head and shoulders above the other releases.
ECBPs generally hover within a .5 point difference of each other on my ratings scale. None have ever been bad and none have ever been beyond excellent. They are just consistently fantastic pours.
At $60/bottle, these are still a steal to this day. Granted, your chances of finding B517 at retail prices are essentially nil, but if you do find one you can be guaranteed a slightly better experience than 90% of the other batches.
I would like to point out that this is a relatively low proof in the grand scheme of ECBPs (the third lowest proof in the first 25 releases).
But that may be a secret to its success. Many brash bourbon drinkers will brag about the high proof offerings that they enjoy the most, but the older and wiser drinkers will quietly disagree.
They know that there is more balance when barrel proofs have lower ABVs. This is what B517 is all about; a lower proofed, higher concentration of that classic Elijah Craig taste. It's some of the best bang-for-your-buck bourbon you can expect to find today.
Ratings Breakdown
1 | Disgusting | Drain pour (Example: Jeffers Creek)
2 | Poor | Forced myself to drink it
3 | Bad | Flawed (AD Laws 4 Grain BiB, Clyde Mays anything)
4 | Sub-par | Many things I'd rather have (Tincup 10 year)
5 | Good | Good, solid, ordinary (Larceny, Sazerac Rye)
6 | Very Good | Better than average (Buffalo Trace, OGD BiB)
7 | Great | Well above average (Old Ezra Barrel Proof, Old Weller Antique)
8 | Excellent | Exceptional (Michter's Barrel Proof Rye, Four Roses Barrel Strength)
9 | Incredible | Extraordinary (GTS, 13 Year MGP or Canadian Rye)
10 | Insurpassable | Nothing Else Comes Close (William Larue Weller)
Featured Products
Description:

The Aged & Ore Neat Traveler is a complete travel kit for spirits. We combined our widely praised Neat Glass with one of our 3oz Flight Bottles and housed them together in a custom EVA travel case. Perfect for a night away with your favorite pour. The tie
Description:

The Aged & Ore Bottle Flight is a premium set of 4 custom silicone wrapped glass bottles designed to transport and share samples of your favorite spirits. The flight bottles come in a custom EVA travel case that fits perfectly in any small bag. An Aged &
Description:

This Bundle combines two of our crowd favorite products, creating the ultimate travel bundle to bring along your favorite spirits and glassware. Bundle Includes: Neat Traveler (Gray) Bottle Flight (Gray) Note: This bundle is only available in gray and col
*Bourbon Culture is reader-supported. When you buy through links on our site, we may earn an affiliate commission.