*Bourbon Culture is reader-supported. When you buy through links on our site, we may earn an affiliate commission.
Barrel finishes are here to stay. There, I said it. Whether you're on the side of "good bourbon shouldn't need to be finished in another barrel" or the side of "barrel finishing is great because it gives us flavors that normal bourbon would not have" it is becoming more popular. Barrell Craft Spirits owner Joe Beatrice has declared that whenever a spirit is finished in another barrel, that he will label it "whiskey" even though there are plenty of other companies out there that stick still call their finished bourbons, "bourbon."
His Barrell Whiskey line expanded to include finishes in various wine, rum, rye and even brandy casks. As the line grew, the finishes became more varied and more barrels were used per batch. Eventually, Dovetail was born whereby he doesn't even really call it a "whiskey" anymore because of all of the barrel finishes that go into it. Yes, the front label does contain the small statement "whiskey finished in rum, port and Dunn Vineyards Cabernet Barrels" but that's the last time whiskey is mentioned.
So what to make of Dovetail then? Is it a sort of monstrosity? Or is there any merit behind this many finishing techniques. I sat down with my bottle and tasted it neat and in a glencairn.
Tasting Notes
Nose: Immediate sweet, fruity notes. Bananas Foster, canned cherries, lemon meringue pie, vanilla bean pod. There's some heat with a healthy dose of cinnamon and then the barrel influence is in the distance with a faint wood varnish scent.
Palate: The wine finishes shows itself with lots of sweet plums along with buttery pie crust and cherry pie filling. There's also the sweet touch of golden raisins and the tart bite of lemon curd. There are various baking spices that ramp up intensity and heat, but always to a manageable level.
Finish: The tartness of lemon drops appears next to some very sweet notes of mulled wine, brown sugar, and then some leather and a drying oak. There are 10 year old barrels in this mix and it does show.
Score: 8.5/10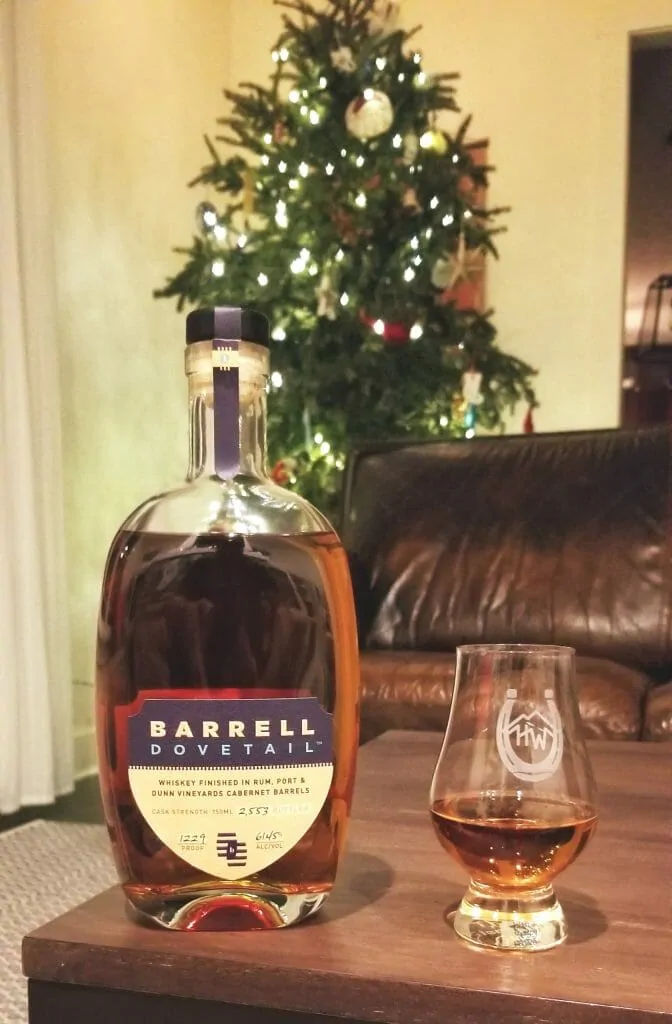 Absolutely fantastic. I am stunned by what an incredible dram this is and continues to be. It was the first time I immediately went out and sought a second bottle of something from Barrell. I've gave samples of this to various bourbon friends and I have actually had a few of the more die-hard finish-haters admit that this is really tasty. I think that's all that matters in this regard.
Bourbon lovers will always have their unadulterated straight bourbons to come back to, but to step out of that realm every now and then can offer us a unique look at what happens when flavors that you probably would never see can come into the direct spotlight. Barrell has created a truly unique sipping experience that has me on the edge of the seat for whatever comes next.
Ratings Breakdown
1 | Disgusting | Drain pour (Example: Jeffers Creek)
2 | Poor | Forced myself to drink it
3 | Bad | Flawed (AD Laws 4 Grain BiB, Clyde Mays anything)
4 | Sub-par | Many things I'd rather have (Tincup 10 year)
5 | Good | Good, solid, ordinary (Larceny, Sazerac Rye)
6 | Very Good | Better than average (Buffalo Trace, OGD BiB)
7 | Great | Well above average (Old Ezra Barrel Proof, Old Weller Antique)
8 | Excellent | Exceptional (Michter's Barrel Proof Rye, Four Roses Barrel Strength)
9 | Incredible | Extraordinary (13 Year MGP or Canadian Rye)
10 | Insurpassable | Nothing Else Comes Close (William Larue Weller)
Featured Products
Description:

The Aged & Ore Neat Traveler is a complete travel kit for spirits. We combined our widely praised Neat Glass with one of our 3oz Flight Bottles and housed them together in a custom EVA travel case. Perfect for a night away with your favorite pour. The tie
Description:

The Aged & Ore Bottle Flight is a premium set of 4 custom silicone wrapped glass bottles designed to transport and share samples of your favorite spirits. The flight bottles come in a custom EVA travel case that fits perfectly in any small bag. An Aged &
Description:

This Bundle combines two of our crowd favorite products, creating the ultimate travel bundle to bring along your favorite spirits and glassware. Bundle Includes: Neat Traveler (Gray) Bottle Flight (Gray) Note: This bundle is only available in gray and col
*Bourbon Culture is reader-supported. When you buy through links on our site, we may earn an affiliate commission.