*Bourbon Culture is reader-supported. When you buy through links on our site, we may earn an affiliate commission.
Bib and Tucker is a bourbon that is sourced from the company 35 Maple Street Spirits. They do not distill any of their own products that I know of, but they have a portfolio that contains gin, rum and a rye whiskey that you may be familiar with called Matterson's (which is sourced Canadian Rye). If you have a bottle of Bib and Tucker in your cabinet right now, chances are that you may have purchased it based solely on the bottle's appearance.
Bib and Tucker
Even my wife, who was looking down the bourbon aisle with me one day, commented that out of all of the bottles there that Bib and Tucker was the one she would buy because of how it looked. Needless to say, and regardless of how this review goes, the fact that this bottle is such an attractive shape means that it has probably secured the future of this product for years to come.
So what's inside of the bottle? The general consensus on the internet is that it's sourced Dickel juice. But the mashbill is apparently 70% corn, 26% rye and 4% rye, which does not sound like the standard Dickel mashbill of 84% corn, 8% rye and 8% malt. However, this mashbill was apparently used in Barrell Bourbon's Batch 005 which was sourced from Dickel, so we may be on to something here.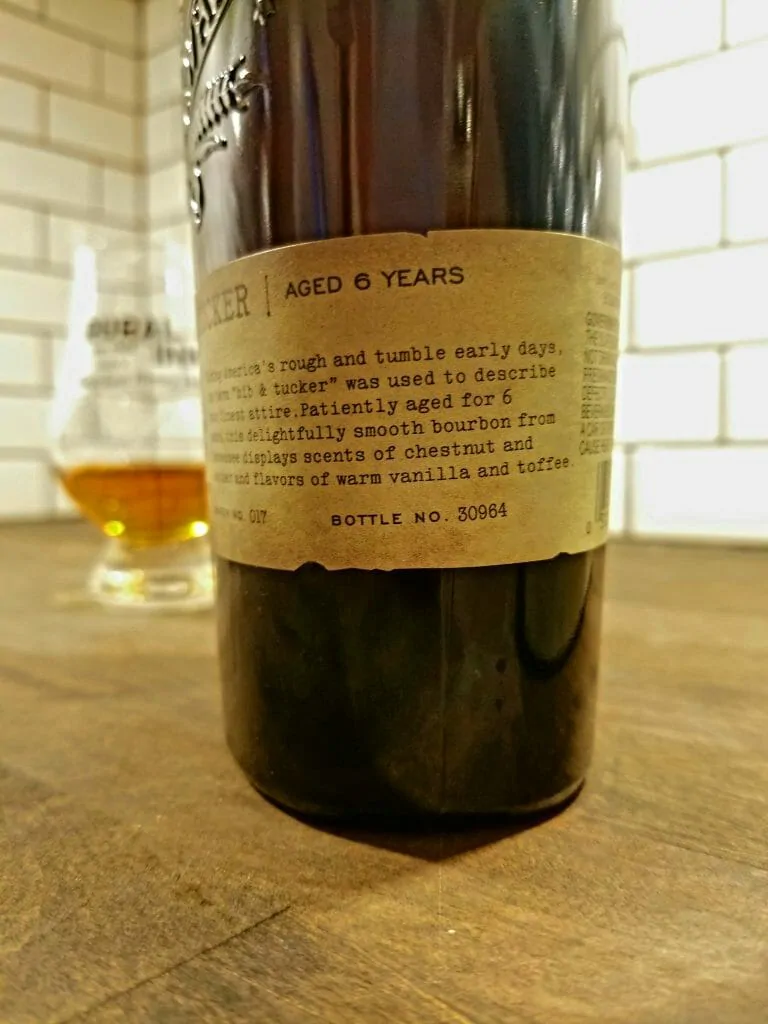 There's also an age statement of 6 years, which is nice to see. But one really odd trait stands out on this bourbon is the fact that it was aged in barrels that were only fired to a char level 1. Even though char levels aren't standardized between distilleries, we can all agree that a char level of 1 sounds like it was barely charred at all. How does that effect the taste then? There's only one way to find out. Let's dive in and taste it for ourselves. I sampled this neat and in a Glencairn.
Tasting Notes
Nose: The nose, although inoffensive, is not very deep. I'm detecting a little bit of cherry blossoms and some traditional notes like caramel and vanilla, but mostly I'm detecting a lot of cereal grainy-ness which I usually get with young bourbons or high corn mashbills.
Palate: A thin and watery mouthfeel. There's notes of corn flakes and sugarcane. Would that make it Frosted Flakes then? There is some black pepper flake notes to indicate some heat, but it wouldn't drive away a new whiskey drinker. There's also the smallest hint of fruit on the palate too, but not enough to detect what kind of fruit it is.
Finish: This is no exaggeration, but this finishes like an 80 proof whiskey (bottle says 92 proof). I can literally feel the flavor washing out and away from my taste buds with each sip. It's almost as if this bourbon has a built in palate cleanser. If there is any tastes that remain after each sip, it's a very thin amount of mint, cherry and that sugarcane sweetness.
Score: 4/10
This whiskey is definitely for the new whiskey drinker. There is very little depth and flavor. It's perfect for the person who wants to have something in their glass at a party, but not wince while sipping it. More experienced drinkers will find this to be boring and one-sided. One interesting tidbit is that the lack of barrel char actually hinders the development of rich, sweet liquid notes like caramel and maple syrup that are found in heavier charred barrels. Instead, it just comes off like gnawing on a raw piece of sugarcane.
Final Thoughts
While there were no wretched flavors and no weird mouthfeel, this $50 bottle showcases that nothing matters in bourbon as much as marketing does. This is one of those products whereby the bottler's dedicated all of their time, money and effort into the packaging and then spent whatever was left over on looking for a decent juice to put in here.
If you're a new whiskey drinker, I can think of 10 different bottles that taste even better than this and come in around $20. Do not let the pretty bottle fool you, this one should be left on the shelf.
Rating Breakdown
1 | Disgusting | Drain pour (Example: Jeffers Creek)
2 | Poor | Forced myself to drink it
3 | Bad | Flawed (AD Laws 4 Grain BiB, Clyde Mays anything)
4 | Sub-par | Many things I'd rather have (Tincup 10 year)
5 | Good | Good, solid, ordinary (Larceny, Sazerac Rye)
6 | Very Good | Better than average (Buffalo Trace, OGD BiB)
7 | Great | Well above average (Old Ezra Barrel Proof, Old Weller Antique)
8 | Excellent | Exceptional (Michter's Barrel Proof Rye, Four Roses Barrel Strength)
9 | Incredible | Extraordinary (GTS, 13 Year MGP or Canadian Rye)
10 | Insurpassable | Nothing Else Comes Close (William Larue Weller)
Featured Products
Description:

The Aged & Ore Neat Traveler is a complete travel kit for spirits. We combined our widely praised Neat Glass with one of our 3oz Flight Bottles and housed them together in a custom EVA travel case. Perfect for a night away with your favorite pour. The tie
Description:

The Aged & Ore Bottle Flight is a premium set of 4 custom silicone wrapped glass bottles designed to transport and share samples of your favorite spirits. The flight bottles come in a custom EVA travel case that fits perfectly in any small bag. An Aged &
Description:

This Bundle combines two of our crowd favorite products, creating the ultimate travel bundle to bring along your favorite spirits and glassware. Bundle Includes: Neat Traveler (Gray) Bottle Flight (Gray) Note: This bundle is only available in gray and col
*Bourbon Culture is reader-supported. When you buy through links on our site, we may earn an affiliate commission.