*Bourbon Culture is reader-supported. When you buy through links on our site, we may earn an affiliate commission.
Manifest Distilling out of Jacksonville, FL is a relatively new craft distillery that's been putting out spirits for a few years now. Even with a quick visit to their website, it becomes apparent that they want you to know that they are a full scale organic distillery which is something that only a handful of distilleries are concentrating on these days.
From their website, it looks like they distill a potato vodka, citrus vodka, gin, barrel aged gin and a rye whiskey. I even uncovered that a couple years ago, they sourced some 12 year MGP distillate and enlisted the help of Blake Riber from bourbonr.com to select some of those single barrels. Unfortunately, it does not appear that they source MGP barrels anymore.
Manifest Rye Whiskey
But the focus of this review is on their rye whiskey which they make themselves. The rye whiskey mashbill is somewhat strange: 70% rye and 30% wheat. Additionally, they also use a combination of 30 and 53 gallon barrels for their batches. At the time of this writing (November 2019), they had released 4 editions of small batches. However, the bottle I bought was marked "BB5" and says it's a single barrel and comes in at 100 proof.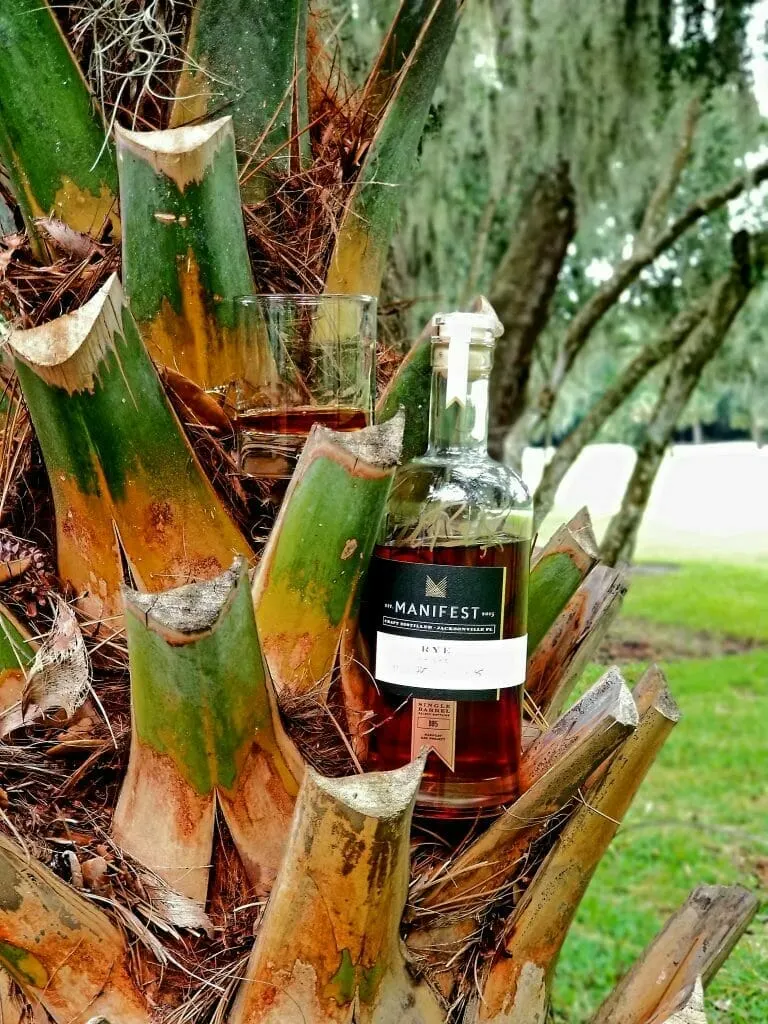 When I found this at a store in Amelia Island, I noticed a gold signature on the top of the bottle that I just assumed was the master distiller's signature. But the shop owner told me that it was autographed by Blake Bortles (former Jacksonville Jaguar player). After some internet sleuthing, I believe I have found out that the "BB5" stood for a single barrel that is connected with the Blake Bortles Foundation, which is a charity. At $40 for all of that information and a free signature, I figured I should go ahead and buy it.
So now I had a bottle of the local rye to sip on while I enjoyed my vacation. It seemed like a great match for the warm Florida weather. The fact that the back of the bottle listed tasting notes like pineapple and caramelized banana made me certain that this was going to be the right choice for the warm weather that lie ahead. So let's see how it did. For this review I sampled it neat and in a glencairn.
Tasting Notes
Nose: Floral and earthy is an ongoing theme – wet flowers after a summer shower. Mushrooms in damp dirt. Fresh sawn wood, parsley (?!), allspice, clove. The nose is lacking in sweetness, but isn't astringent or ethanol heavy. The wheat may be covering that up.
Palate: Sure enough, there is dried pineapple pieces as well as dried apricot pieces, then a sweetness that's like chewing on a stalk of sugarcane. The sweetness continues with notes of King's Hawaiian Bread. There's also some black pepper flakes that add some spice. There's mouthfeel is pleasant, bordering on "velvety" but there just isn't that many bold or interesting flavors to complete the experience.
Finish: Rye notes start to amp up on the finish with some rye spice and mint gum. Then some vegetal notes of peppery papaya and squash blossoms start developing. The squash blossoms really seem to hit home the "earthiness" of this rye that I don't encounter too often.
Score: 4/10
Just like Blake Bortles, this rye whiskey had great promise, but ended up a let down in the end. The rye promised a uniqueness from the crowd, which it did deliver because I've never had some of these flavors before, but it was just so off-kilter and lacking in richness that there was no saving it.
The experience of drinking it became a drag with thoughts of "when will this be over?" halfway through the dram once I realized it's not opening up. It needs more time in the barrel for sure. Also, my completely unprofessional opinion is that the wheat is hurting the rye flavors from opening up by covering them up. Maybe it will transform in 4-6 years, but I'm not exactly sure that Manifest is looking to age their products that long.
Final Thoughts
It is no fun to take a bottle that benefits charity organizations and say it's not good, but here we are. Manifest has a lot of cool things going for it, and perhaps there are die-hard fans out there, but rye whiskey lovers should look elsewhere.
Rating Breakdown
1 | Disgusting | Drain pour (Example: Jeffers Creek)
2 | Poor | Forced myself to drink it
3 | Bad | Flawed (AD Laws 4 Grain BiB, Clyde Mays anything)
4 | Sub-par | Many things I'd rather have (Tincup 10 year)
5 | Good | Good, solid, ordinary (Larceny, Sazerac Rye)
6 | Very Good | Better than average (Buffalo Trace, OGD BiB)
7 | Great | Well above average (Old Ezra Barrel Proof, Old Weller Antique)
8 | Excellent | Exceptional (Michter's Barrel Proof Rye, Four Roses Barrel Strength)
9 | Incredible | Extraordinary (GTS, 13 Year MGP or Canadian Rye)
10 | Insurpassable | Nothing Else Comes Close (William Larue Weller)
Featured Products
Description:

The Aged & Ore Neat Traveler is a complete travel kit for spirits. We combined our widely praised Neat Glass with one of our 3oz Flight Bottles and housed them together in a custom EVA travel case. Perfect for a night away with your favorite pour. The tie
Description:

The Aged & Ore Bottle Flight is a premium set of 4 custom silicone wrapped glass bottles designed to transport and share samples of your favorite spirits. The flight bottles come in a custom EVA travel case that fits perfectly in any small bag. An Aged &
Description:

This Bundle combines two of our crowd favorite products, creating the ultimate travel bundle to bring along your favorite spirits and glassware. Bundle Includes: Neat Traveler (Gray) Bottle Flight (Gray) Note: This bundle is only available in gray and col
*Bourbon Culture is reader-supported. When you buy through links on our site, we may earn an affiliate commission.