*Bourbon Culture is reader-supported. When you buy through links on our site, we may earn an affiliate commission.
10 year old Wheated Bourbon
In 2016, Luxco moved up their sourcing game to the next level by sourcing a 10 year old wheated bourbon from an unnamed distillery (almost certainly Heaven Hill) and bottling it as single barrels and at 100 proof. The price they put on this was very attractive at roughly $50 (which soon increased to $60 or more after it became popular). It would also pave the way for Luxco to have yearly releases of it starting in 2018. To put this Rebel Yell into perspective, Heaven Hill's Larceny brand is estimated to be around 6 years old and bottled at 92 proof and goes for $20. Would an increase in another 4 years and 8 proof points justify an almost 3 fold price increase? Let's find out. I sampled this neat and in a glencairn.
Tasting Notes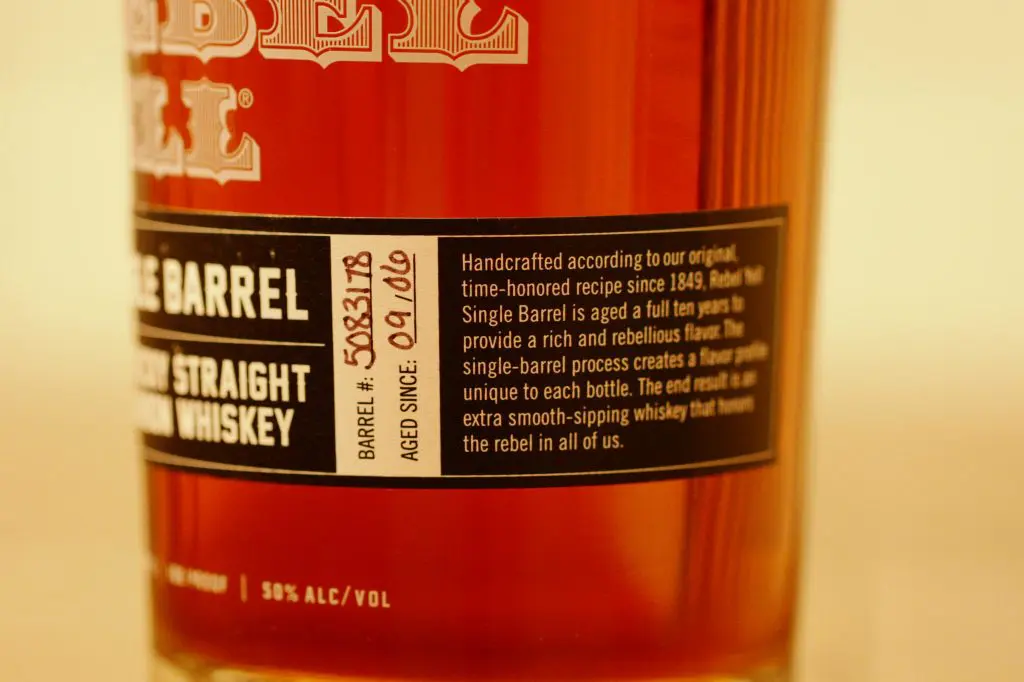 Nose: A pleasant aroma of fruit starts off this wheated bourbon with apples, cherries and lime zest all popping up. There's some classic bourbon notes like caramel, cinnamon and a little bit of cornbread that check the box. What's interesting is how much of an underlying floral character this seems to have. It's light enough to detect, but not strong enough to identify individual traits. The floral traits are something that I was unaware of during a couple of my early tasting sessions with this bottle.
Palate: A nice hit of ground cinnamon starts off on my tongue followed by maraschino cherries and candied orange peel. From there, the 10 years spent in a barrel start to show up with a decent amount of oak, black pepper and caramel. Overall, the fruit serves as the focal point of the taste, which isn't a bad thing at all.
Finish: More of the same on the finish as cherry notes and a pleasant amount of citrus continue. It's almost like I just sipped some Hawaiian Punch. The oak on this gets closer to perfection because it's still letting me know its there without becoming bitter. The spice continues for a while and never gets out of hand. Speaking of spice, it never left, but now mellows out and transforms with some clove and nutmeg joining in.
Score: 7.9/10
Overall, I think that this single barrel of Rebel Yell did everything very well. The interesting thing I noted in my notebook was that there was an odd "proof bite" that stalked me throughout the whole dram. It never detracted from my pour and I was able to easily identify the characteristics that I wanted to, but normally I can look past essentially all alcohol or spice for a 100 proof bourbon. If I had tasted this blind and knowing about that bit of proof bite, I may have actually guessed this to be a couple years younger than it is labeled at. This is of no consequence, this is still a very approachable and likeable bourbon, but it's missing a bit of depth and richness associated with other whiskies that score and 8 or above.
Final Thoughts
One last thing I must mention: if you have other whiskey before drinking this in the same tasting session, there is a decent amount of peanut that shows up. But if you're having Rebel Yell by itself, that peanut taste doesn't really show up. This is common with a lot of Heaven Hill bourbon for me. I recommend if you're going to enjoy this, start with a glass of it first before moving on to something else… it really helps fruit notes shine through. In the end, finding this at $60 makes it worthy of your money to try. It won't be as sweet as a Maker's Mark Cask Strength, but it's a nice change up in flavor and it's also easier to find than Weller Antique 107 and is positioned just right to compete with them on an equal playing field.
Rating Breakdown
1 | Disgusting | Drain pour (Example: Jeffers Creek)
2 | Poor | Forced myself to drink it
3 | Bad | Flawed (AD Laws 4 Grain BiB, Clyde Mays anything)
4 | Sub-par | Many things I'd rather have (Tincup 10 year)
5 | Good | Good, solid, ordinary (Larceny, Sazerac Rye)
6 | Very Good | Better than average (Buffalo Trace, OGD BiB)
7 | Great | Well above average (Old Ezra Barrel Proof, Old Weller Antique)
8 | Excellent | Exceptional (Michter's Barrel Proof Rye, Four Roses Barrel Strength)
9 | Incredible | Extraordinary (GTS, 13 Year MGP or Canadian Rye)
10 | Insurpassable | Nothing Else Comes Close (William Larue Weller)
Featured Products
Description:

The Aged & Ore Neat Traveler is a complete travel kit for spirits. We combined our widely praised Neat Glass with one of our 3oz Flight Bottles and housed them together in a custom EVA travel case. Perfect for a night away with your favorite pour. The tie
Description:

The Aged & Ore Bottle Flight is a premium set of 4 custom silicone wrapped glass bottles designed to transport and share samples of your favorite spirits. The flight bottles come in a custom EVA travel case that fits perfectly in any small bag. An Aged &
Description:

This Bundle combines two of our crowd favorite products, creating the ultimate travel bundle to bring along your favorite spirits and glassware. Bundle Includes: Neat Traveler (Gray) Bottle Flight (Gray) Note: This bundle is only available in gray and col
*Bourbon Culture is reader-supported. When you buy through links on our site, we may earn an affiliate commission.