*Bourbon Culture is reader-supported. When you buy through links on our site, we may earn an affiliate commission.
With the news that Heaven Hill is adding another permanent product to their ever-expanding lineup, lots of us are very excited about Larceny Barrel Proof finally being released on a national level and available for a very reasonable MSRP of $50.
But for at least 2 or 3 years now, Heaven Hill did very small releases mainly around Derby time to a handful of stores in Kentucky. These ran almost $120 per bottle and were bottled from single barrels.
Little did I (we) know, that Heaven Hill was probably using these first few releases as a testing bed for public reaction to their wheated bourbon mashbill being bottled at barrel strength. So after getting a bottle, I decided to compare it against another single barrel offering that also used a wheated mashbill: Maker's Mark Private Select bottles.
This one comes from a store pick done by Big Red Liquors in Indianapolis and was marked down to a very reasonable $55 when it was released. It was a terrific deal when you compare the fact that other stores typically charge north of $75 for their own picks.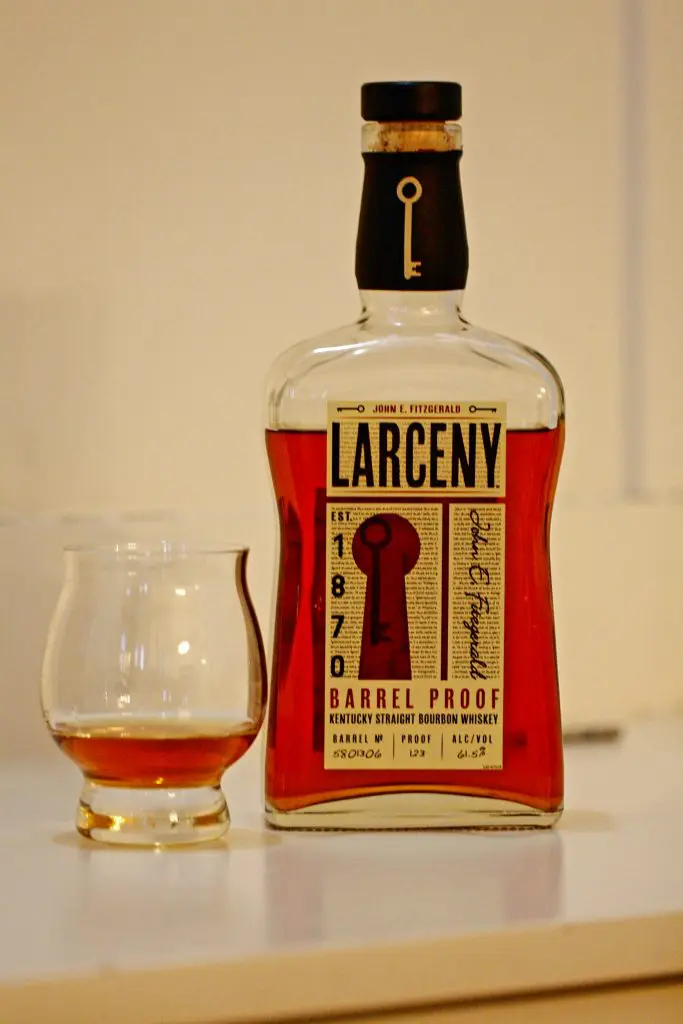 Both of these bottles are probably aged right around the 7 year mark (rumor has it the Larceny BP may be as high as 9 years old) and only 13 proof points separate them, but I wanted to see if the flavors truly warrants an increase in price of almost 100%. To be as fair as I could, I sampled these semi-blind, neat in a glencairn.
Blind Glass #1
Nose: Aromas of raspberries, cherries, oranges and lemons. There is a literal flood of fruit-heavy scents. The additional sweet notes of butterscotch and a light peanut aroma are pleasant and sweet. There's virtually no sign of aged traits like oaks or other tannins.
Palate: Sweet fruit notes dance across my tongue. Peaches and apricots meld with lemon curd to continue the fruit-forward theme. Further sips show a semi-sweet chocolate sweetness (and bitterness) along with black pepper pings to show the heat. This one tastes strong, but is (luckily) restrained and doesn't cause heat issues that are common with a younger, higher proof bourbon like these two.
Finish: The palate begins on a dry note with black pepper, cinnamon and anise all showing their spicy side as well. But as the session goes on, pomegranate juice, cherry licorice and fresh sawn oak make an appearance. It's overall a great finish because of the intensity and because of the general lack of unpleasant notes.
Score: 7.9/10
Blind Glass #2
Nose: Initially, I'm greeted by a scent much like Cinnamon Toast Crunch cereal. There's some nice fruit notes like tart cherry, ripe Bartlett Pears and dark brown sugar. Although I can identify these scents, the nose is definitely lighter than the notes suggest. It's about 1/2 the power of Glass #1.
Palate: The proof appears less than Glass #1 after the first sip. I'm getting more pear and cherry notes, light cinnamon and clove andsome leather and more semi-sweet chocolate notes. They're all very pleasant, but not as deep or rich as Glass 1.
Finish: Cinnamon Red Hots (but they're restrained), tart apples, caramel and blanched almonds. The finish is easily the weakest trait of this glass.
Score: 6.5/10
Reveal:
Glass #1: Larceny Bourbon
Glass #2: Maker's Mark Private Select Big Red Liquors
In an earlier review, a Maker's Mark Cask Strength beat Weller Antique 107 in a semi-blind tasting. This was a shock to me and easily made me a fan of Maker's Mark. However, with this Private Select pick, I'm now going to play it safe and make sure I'll taste any future bottles prior to purchase. I have read this to be the general consensus online as well.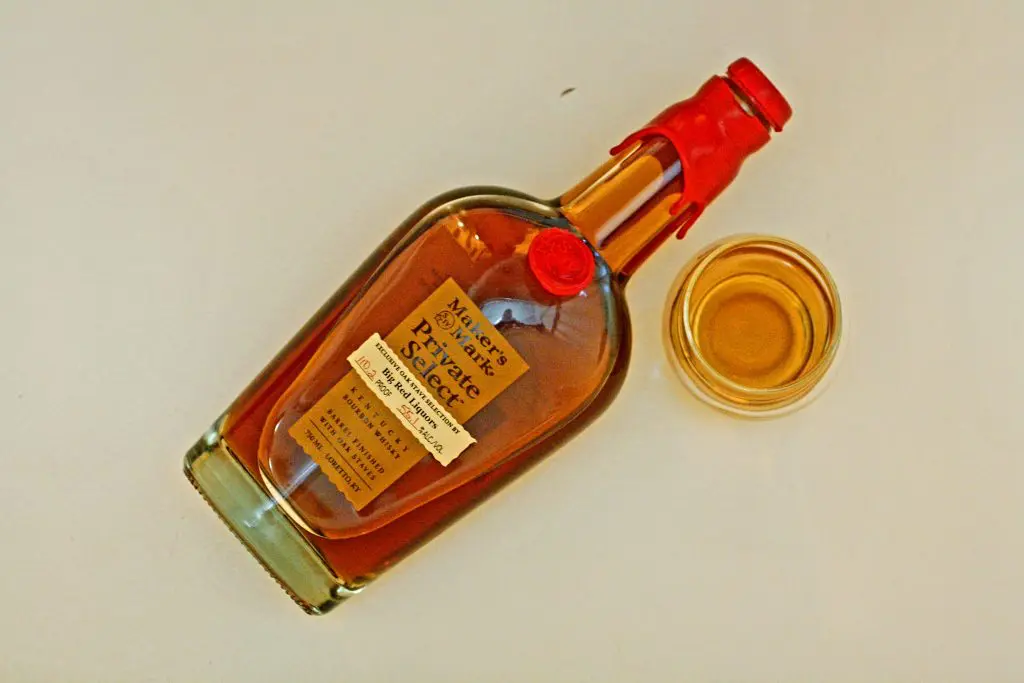 It's not that Maker's Mark is a bad bourbon, but the toasted stave combinations won't always yield good results and it's maybe not the best thing to leave those flavors in the hands of a customer that may not know what they're doing. I think Maker's Mark did get this right when they launched their RC6 label nationwide because they found some stave combinations that generally appealed to a wide audience.
The Larceny Barrel Proof on the other hand, was much deeper and richer than I would've expected. While still not at the level of Buffalo Trace wheated mashbills, I liked this one quite a bit. For what it is inside of the bottle, the price was absolutely atrocious. But this will soon be rectified as the new batched releases come in at a much better price.
Final Thoughts
For now, if you ever run across any of these Single Barrels, don't fret about the possibility of the juice inside not being worth it, because it's still very good. Stay tuned for the next semi-blind review when I get ahold of the Larceny Barrel Proof A120 and compare it to this. It should be fun!
Rating Breakdown
1 | Disgusting | Drain pour (Example: Jeffers Creek)
2 | Poor | Forced myself to drink it
3 | Bad | Flawed (AD Laws 4 Grain BiB, Clyde Mays anything)
4 | Sub-par | Many things I'd rather have (Tincup 10 year)
5 | Good | Good, solid, ordinary (Larceny, Sazerac Rye)
6 | Very Good | Better than average (Buffalo Trace, OGD BiB)
7 | Great | Well above average (Old Ezra Barrel Proof, Old Weller Antique)
8 | Excellent | Exceptional (Michter's Barrel Proof Rye, Four Roses Barrel Strength)
9 | Incredible | Extraordinary (GTS, 13 Year MGP or Canadian Rye)
10 | Insurpassable | Nothing Else Comes Close (William Larue Weller)
Featured Products
Description:

The Aged & Ore Neat Traveler is a complete travel kit for spirits. We combined our widely praised Neat Glass with one of our 3oz Flight Bottles and housed them together in a custom EVA travel case. Perfect for a night away with your favorite pour. The tie
Description:

The Aged & Ore Bottle Flight is a premium set of 4 custom silicone wrapped glass bottles designed to transport and share samples of your favorite spirits. The flight bottles come in a custom EVA travel case that fits perfectly in any small bag. An Aged &
Description:

This Bundle combines two of our crowd favorite products, creating the ultimate travel bundle to bring along your favorite spirits and glassware. Bundle Includes: Neat Traveler (Gray) Bottle Flight (Gray) Note: This bundle is only available in gray and col
*Bourbon Culture is reader-supported. When you buy through links on our site, we may earn an affiliate commission.