*Bourbon Culture is reader-supported. When you buy through links on our site, we may earn an affiliate commission.
Wheated bourbons are some of the hottest bourbon mashbills out there. I won't get into exactly why this is, but I think a lot of it has to do with a wheated bourbon's profile generally leans towards the sweeter spectrum without developing some of the flavors that most people find off-putting with rye.
Sometimes rye in any distillate can give off an antiseptic, medicinal or overly sharp notes that can make people wince with the first sip.
Wheated bourbons most offensive trait would maybe be a bready-ness that isn't off-putting, but could cover some major flavors. They also typically can be aged for much longer times without becoming over-oaked for reasons that I'm still not educated enough to know just yet.
But with those longer ages comes a certain mystique that makes taters drool.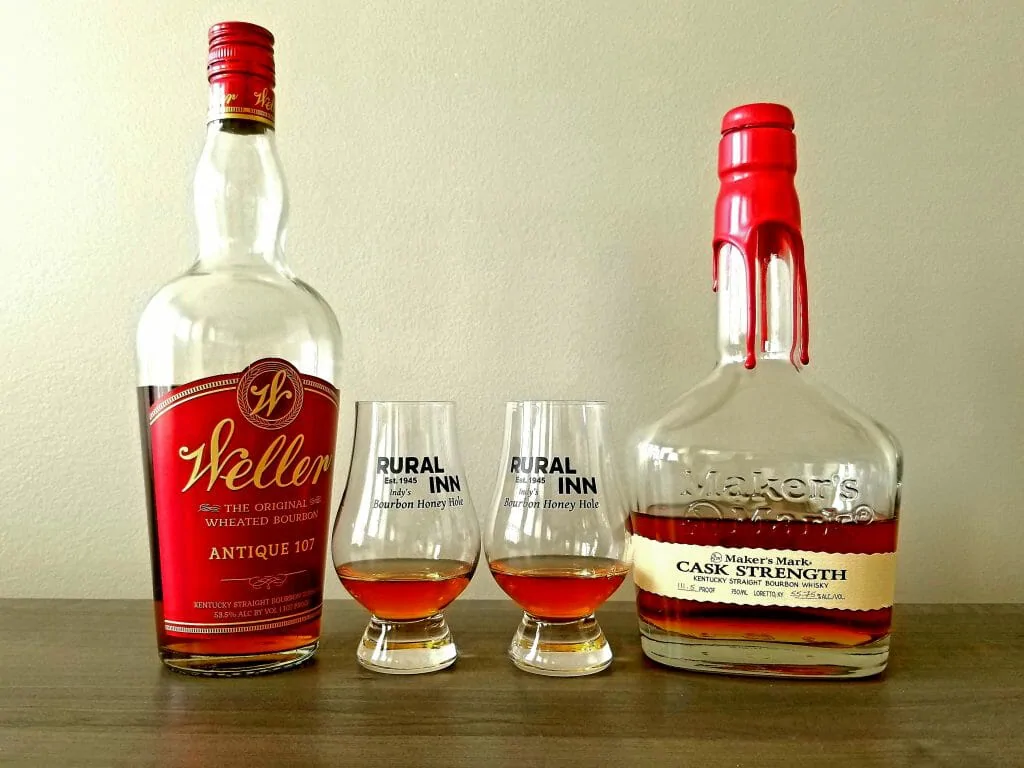 After Pappy mania blew up, all of Buffalo Trace's wheated mashbills (to include 1792's Sweet Wheat) vanished off of shelves. Nowadays, it's a rare site to even see Weller Special Reserve on the shelf. But there is one wheated bourbon that's always on the shelves: Maker's Mark. In the past years, Maker's Mark has released a Cask Strength version much to the applause of enthusiasts everywhere.
The cost is right where you'd expect it to be: about $50. But that's also where Old Weller Antique 107 is priced at these days.
Granted, I don't think somebody would pass up the chance to grab an OWA if they saw it on the shelf for retail, but should you walk around life, sulking, that you don't have an OWA in your collection if you have a bottle of MMCS? Let's dive in and see how they stack up against each other.
This review was done semi-blind (I know which bottles I'm drinking, but do not know the order), poured neat and in a glencairn.
Tasting Notes
Blind Glass #1
Nose: A terrific sweet scent of buttered Cinnamon Raisin Toast, Fig Jam and a slight cherry blossom note.
Palate: A medium level of heat shows this has some proof behind it. Not the hottest I've had in the ~110 range, but for two well-established wheaters in the 7 year old range, I am a little surprised. I find a very deep Werther's Original Candy and some melted semi-sweet chocolate chips. It is a delightfully sweet drink all the way through.
Finish: The sweetness morphs into some semi-burnt brown sugar aftertaste. Some additional heat comes by way of cinnamon and black pepper flakes as the finish begins to fade away
Score: 7.6/10
Blind Glass #2
Nose: Cherry Pie Filling, Cinnamon, faint seasoned oak and a hint of orange
Palate: Sweet cherries and cinnamon. Not as much heat as Glass #1. There seems to be slightly less sweetness overall compared to Glass #1. It seems a tad thinner in mouthfeel as well
Finish: Cherry cough syrup, some baking chocolate, white pepper and a small amount of oak at the end.
Score: 7.4/10
Reveal:
Glass#1: Maker's Mark Cask Strength
Glass #2: Old Weller Antique 107
Winner: Maker's Mark Cask Strength!
In a move that I promise is not a trolling post, I actually found the Maker's Mark Cask Strength to be the better of the two wheated bourbons. It was sweeter with a richer and fuller mouthfeel.
The OWA, whose notes sound better than they actually were, was slightly less appealing (Slightly though!) due to the loss of sweetness and for not being as rich and deep as the Maker's Mark. Granted, I'd never kick the OWA out of bed, but the only flaw I can find with the MMCS was that there was slightly more heat, which does dissipate after a while.
Count me impressed at the MMCS's strengths winning the day on this semi-blind tasting and also making me genuinely curious as to their other recent releases that have been dropped (RC6, Cask Strength 46 available outside of KY, etc).
Ratings Breakdown
1 | Disgusting | Drain pour (Example: Jeffers Creek)
2 | Poor | Forced myself to drink it
3 | Bad | Flawed (AD Laws 4 Grain BiB, Clyde Mays anything)
4 | Sub-par | Many things I'd rather have (Tincup 10 year)
5 | Good | Good, solid, ordinary (Larceny, Sazerac Rye)
6 | Very Good | Better than average (Buffalo Trace, OGD BiB)
7 | Great | Well above average (Old Ezra Barrel Proof, Old Weller Antique)
8 | Excellent | Exceptional (Michter's Barrel Proof Rye, Four Roses Barrel Strength)
9 | Incredible | Extraordinary (GTS, 13 Year MGP or Canadian Rye)
10 | Insurpassable | Nothing Else Comes Close (William Larue Weller)
Featured Products
Description:

The Aged & Ore Neat Traveler is a complete travel kit for spirits. We combined our widely praised Neat Glass with one of our 3oz Flight Bottles and housed them together in a custom EVA travel case. Perfect for a night away with your favorite pour. The tie
Description:

The Aged & Ore Bottle Flight is a premium set of 4 custom silicone wrapped glass bottles designed to transport and share samples of your favorite spirits. The flight bottles come in a custom EVA travel case that fits perfectly in any small bag. An Aged &
Description:

This Bundle combines two of our crowd favorite products, creating the ultimate travel bundle to bring along your favorite spirits and glassware. Bundle Includes: Neat Traveler (Gray) Bottle Flight (Gray) Note: This bundle is only available in gray and col
*Bourbon Culture is reader-supported. When you buy through links on our site, we may earn an affiliate commission.