*Bourbon Culture is reader-supported. When you buy through links on our site, we may earn an affiliate commission.
Russell's Reserve Bourbon Single Barrels come in two forms: Barrels that are selected by the Russell's for exuding characteristics common with what Wild Turkey is known for and barrels that stray from the norm and have profiles not normally associated with Wild Turkey offerings. I have had both good and bad RRSiB store picks in the past, but have started to refer to the warehouse profiles that appeal to me that Wild Turkey fanboy, David Jennings has laid out on his website.
Rural Inn vs Vine and Table vs Elite Beverages store picks
When I saw a Warehouse D pick from local store Elite Beverages in Indianapolis, I decided that it was a pretty sure bet. I also had picked up a CNF (Camp Nelson Warehouse F) pick from Rural Inn that was getting a lot of buzz for how good it was. In fact, the local bourbon super-group, the Indy Degenerates, purchased half of the barrel and slapped their own sticker on the bottle calling it "All Star."
Finally, I found yet another bottle from the local liquor store Vine and Table which indicated it was from "Warehouse F." After confirming with David Jennings, he said that it likely is also from CNF, but that many neck tags were just labeled "Warehouse F" in 2018 instead of CNF.
I have two CNF bottles and one Warehouse D bottle, roughly from the same floors (Floor 5 for CNF and 4 for Warehouse D) and decided to pit them against each other to see if I could find what differences and similarities they would have in my search for my Wild Turkey warehouse of choice. Let's dive in. These were sampled semi-blind, neat and in a glencairn.
Blind Glass 1
Nose: Deep, buttery, syrupy French Toast, raspberry and raisins, very sweet wood, vanilla frosting.
Palate: Cherry juice, cinnamon and nutmeg, seasoned oak, black tea leaves, caramel candies and more raisins
Finish: Very nice oak, table syrup, cinnamon stick, sweet mint, cardamom that boils down to a very good rye finish.
Score: 7.8/10
Blind Glass 2
Nose: Fruitier than glass 1 with Raspberries, maraschino cherries, cantaloupe wedges, raisins, vanilla blossom, brown sugar and cedar wood
Palate: Oh wow! This is incredibly creamy. It's like whipped cream shoveled into my mouth. There's some cherry and a slight pepper flakes but it's mostly immersed with this sweet cream flavor.
Finish: Crème de Menthe liqueur, bright floral notes, rose water, lemon/lime zest, a finish almost like a sherry cream liqueur as well.
Score: 8.1/10
Blind Glass 3
Nose: Big time baking spices, a very fun and unique "must" (but not peanuts?), sour cream coffee cake, toasted nuts (almond, pecan and a little bit of peanuts), vanilla custard
Palate: Peanut Butter Fudge, beautiful fruit flavors like apple and pear cobbler, light brown sugar and a nice creamy texture somewhat similar to Glass #2, but not as much.
Finish: Tannic! Seasoned Oak, pipe tobacco, a sweet, peppery finish with spice honey and some menthol. Everything is in perfect balance and nothing is overdone.
Score: 8/10
Semi-Blind Reveal:
Glass 1: Rural Inn
Glass 2: Elite Beverages
Glass 3: Vine and Table
Winner: Elite Beverages (Warehouse D)!!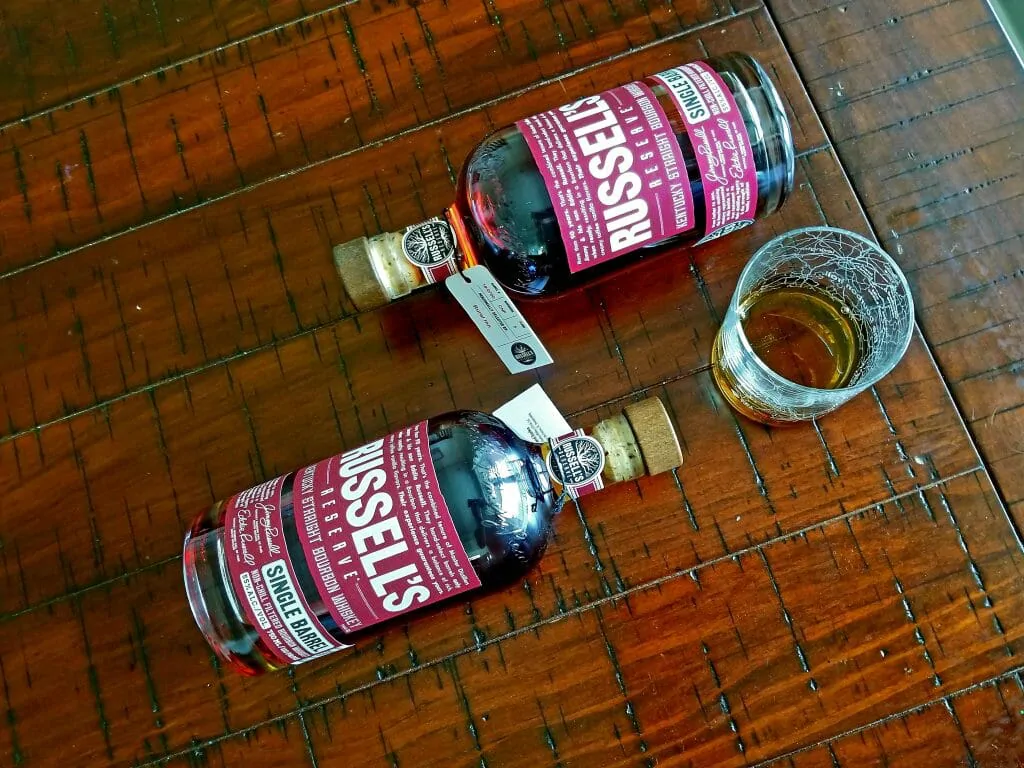 I must say how impressed I am with these 3 Turkey products. I normally associate Turkey juice with having a decent amount of peanut funk, but that did not appear (or in large amounts) here. It really allowed me to concentrate on all of the great notes that these bottles have going on. If you read my notes closely, you may wonder to yourself why I did not pick Glass 3 as the winner (the Vine and Table Warehouse F pick).
The notes sound absolutely delicious. But flavors are only part of the puzzle on these and the creaminess that I got with Glass 2 was so polarizing, I could not put it down. The notes that these bottles displayed do not necessarily line up with what Jenning's website says that they will, but they are more of a guide and less of a hard truth. In the end, I loved the uniqueness that each bottle showed and will happily seek out another Warehouse D whenever I see one. But for today, the Elite Beverages pick gets my nod as the most unique and satisfying dram here. Well done.
Rating Breakdown
1 | Disgusting | Drain pour (Example: Jeffers Creek)
2 | Poor | Forced myself to drink it
3 | Bad | Flawed (AD Laws 4 Grain BiB, Clyde Mays anything)
4 | Sub-par | Many things I'd rather have (Tincup 10 year)
5 | Good | Good, solid, ordinary (Larceny, Sazerac Rye)
6 | Very Good | Better than average (Buffalo Trace, OGD BiB)
7 | Great | Well above average (Old Ezra Barrel Proof, Old Weller Antique)
8 | Excellent | Exceptional (Michter's Barrel Proof Rye, Four Roses Barrel Strength)
9 | Incredible | Extraordinary (GTS, 13 Year MGP or Canadian Rye)
10 | Insurpassable | Nothing Else Comes Close (William Larue Weller)
Featured Products
Description:

The Aged & Ore Neat Traveler is a complete travel kit for spirits. We combined our widely praised Neat Glass with one of our 3oz Flight Bottles and housed them together in a custom EVA travel case. Perfect for a night away with your favorite pour. The tie
Description:

The Aged & Ore Bottle Flight is a premium set of 4 custom silicone wrapped glass bottles designed to transport and share samples of your favorite spirits. The flight bottles come in a custom EVA travel case that fits perfectly in any small bag. An Aged &
Description:

This Bundle combines two of our crowd favorite products, creating the ultimate travel bundle to bring along your favorite spirits and glassware. Bundle Includes: Neat Traveler (Gray) Bottle Flight (Gray) Note: This bundle is only available in gray and col
*Bourbon Culture is reader-supported. When you buy through links on our site, we may earn an affiliate commission.