*Bourbon Culture is reader-supported. When you buy through links on our site, we may earn an affiliate commission.
Regular 9 Year vs Rural Inn Store Pick vs Elite Beverages Store Pick
With allocated bottles becoming more expensive and harder to find than ever, bourbon enthusiasts are starting to refocus their efforts on store picks of their favorite brands in an effort to find something rare and with great value. Most store picks are still right around the price of their non-store pick counterparts, so this makes it enticing. Additionally, if enthusiasts are looking for store picks that offer something different from what they normally like, a single barrel is the way to do it.
Knob Creek Single Barrel Bourbons
One of the more impressive store picks these days are Knob Creek Single Barrel Bourbons. Proofed to 120 proof and aged at a minimum of 9 years old, most people paid little attention to them until a label redesign early in 2019 brought their true age statements too light. For the first time, people could see that their store pick was more than 9 years old as a flood of 13, 14 and even 15 year old bourbon was being unleashed throughout their single barrel program. For right around $45, it has easily been a deal of the century.
The Downside of Old Aged Bourbons
But old aged bourbon comes with a downside, namely that some of these barrels have became over-oaked and one dimensional. And this should comes as no surprise to the people who know a lot about bourbon, because the sweet spot of bourbon tends to be somewhere in the 8-10 year old range. This may be why Knob Creek SiB was supposed to be bottled around 9 years old.
So today, I'm going to compare the regular 9 year old age stated Knob Creek (old label) to two store picks from the Indianapolis area. The first one is a Single Barrel from the Rural Inn (just shy of 14 years old) and the other one is from Elite Beverages (14.25 years old). What advantages will the extra age give against the *younger* version of this Beam juice? All 3 were sampled semi-blind, neat and in a glencairn.
Blind Glass 1
Nose: Warm maple syrup, toasted oak, over-ripe apples, cinnamon, a toasted vanilla candle
Palate: Maple drizzled waffles, faint Payday candy bar, raisins, the oak begins to get a bit too tannic the more you drink.
Finish: Seasoned oak, espresso beans, caramel candies, pipe tobacco
Score: 7.2/10
Blind Glass 2
Nose: This is strange, but this nose smells noticeably younger. I'm getting more dark red fruits, more sweet and aromatic dark brown sugar, just-picked red delicious apples, loads of vanilla bean and some light cedar wood. There are no heavy tannic or spice notes here.
Palate: More tannic than the nose suggests with some cigar box and cracked dry leather. But there is also peanut brittle and spice pear cobbler with orange zest. Speaking of orange zest, I'm tasting the citrus note in this one more and more as the dram goes on.
Finish: The dark red fruits from the nose reappear on the finish and then some clove and anise show up along with a bit of drying oak.
Score: 7.3/10
Blind Glass 3
Nose: Warm cinnamon cake, vanilla bean, figs and seasoned wood
Palate: Peppermint! Interesting for a lower rye bourbon of this age… then black pepper flakes, rich caramel, chunky peanut butter and lightly *lightly* salted popcorn
Finish: Still more black pepper flakes, peppermint and a small amount of green jalapeno (green because I can taste a small amount of astringency, but it also packs some heat). Then caramel, roasted peanuts, seasoned oak and tobacco leaf rounds out the finish that settles down and becomes a little more sweet after a bit.
Score: 7/10
Blind Reveal:
Glass 1: Rural Inn Store Pick
Glass 2: Regular 9 year old SiB
Glass 3: Elite Beverages Store Pick
Winner: The 9 year old Single Barrel!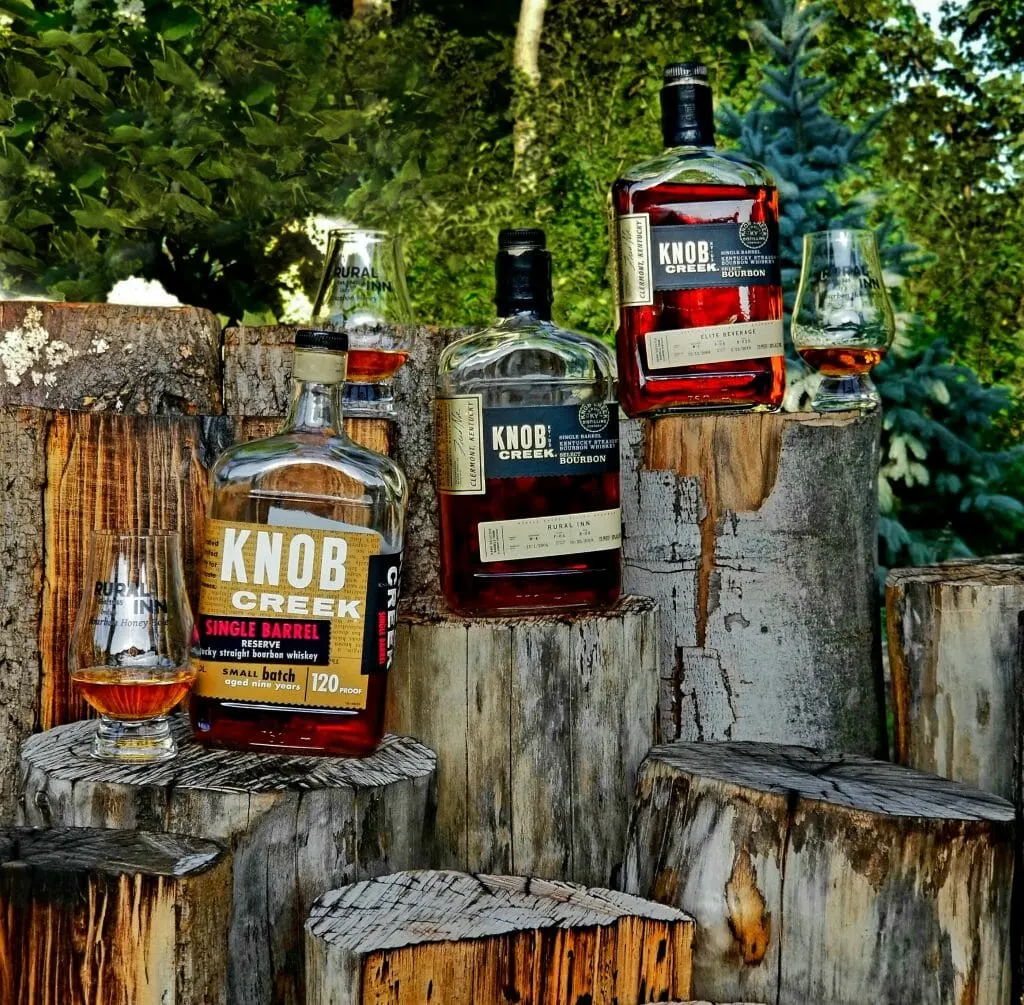 It was interesting to see just how much "younger" the 9 year bottle of Knob Creek tasted compared to the other 2. And just because the profile tasted younger, doesn't mean it was in need of more age. In fact, it felt the most complete and well rounded of the three. There were actually some fruit notes to help layer in the tannins and spice… it was just really well done.
Final Thoughts
That's not to say that the two store picks were terrible. They were both quite good and took on all of the qualities I'd normally associate with a Jim Beam product. The tannins and Jim Beam Peanut notes were all there, making it enjoyable and classic. But in the end, I have picked the 9 year as my favorite and I have no regrets about it. These old barrels have great value as I mentioned (roughly $3/year aged) and they're drying up at the time of this writing, but if you want the full experience, I challenge you to serve a regular 9 year SiB to your friends along with a teenage store pick and see which they prefer. The results might surprise you!
Rating Breakdown
1 | Disgusting | Drain pour (Example: Jeffers Creek)
2 | Poor | Forced myself to drink it
3 | Bad | Flawed (AD Laws 4 Grain BiB, Clyde Mays anything)
4 | Sub-par | Many things I'd rather have (Tincup 10 year)
5 | Good | Good, solid, ordinary (Larceny, Sazerac Rye)
6 | Very Good | Better than average (Buffalo Trace, OGD BiB)
7 | Great | Well above average (Old Ezra Barrel Proof, Old Weller Antique)
8 | Excellent | Exceptional (Michter's Barrel Proof Rye, Four Roses Barrel Strength)
9 | Incredible | Extraordinary (13 Year MGP or Canadian Rye)
10 | Insurpassable | Nothing Else Comes Close (William Larue Weller)
Featured Products
Description:

The Aged & Ore Neat Traveler is a complete travel kit for spirits. We combined our widely praised Neat Glass with one of our 3oz Flight Bottles and housed them together in a custom EVA travel case. Perfect for a night away with your favorite pour. The tie
Description:

The Aged & Ore Bottle Flight is a premium set of 4 custom silicone wrapped glass bottles designed to transport and share samples of your favorite spirits. The flight bottles come in a custom EVA travel case that fits perfectly in any small bag. An Aged &
Description:

This Bundle combines two of our crowd favorite products, creating the ultimate travel bundle to bring along your favorite spirits and glassware. Bundle Includes: Neat Traveler (Gray) Bottle Flight (Gray) Note: This bundle is only available in gray and col
*Bourbon Culture is reader-supported. When you buy through links on our site, we may earn an affiliate commission.