*Bourbon Culture is reader-supported. When you buy through links on our site, we may earn an affiliate commission.
Mellow Corn is a unique and somewhat polarizing whiskey that is a staple in liquor stores across America. Being a corn whiskey instead of a bourbon, there are several unique things about it that don't adhere to bourbon's somewhat high standards. First off, it can use second-fill barrels. Heaven Hill has actually commented that they use bourbon barrels that used to contain Evan Williams as the barrels that they fill Mellow Corn's distillate into.
Mellow Corn's Distillate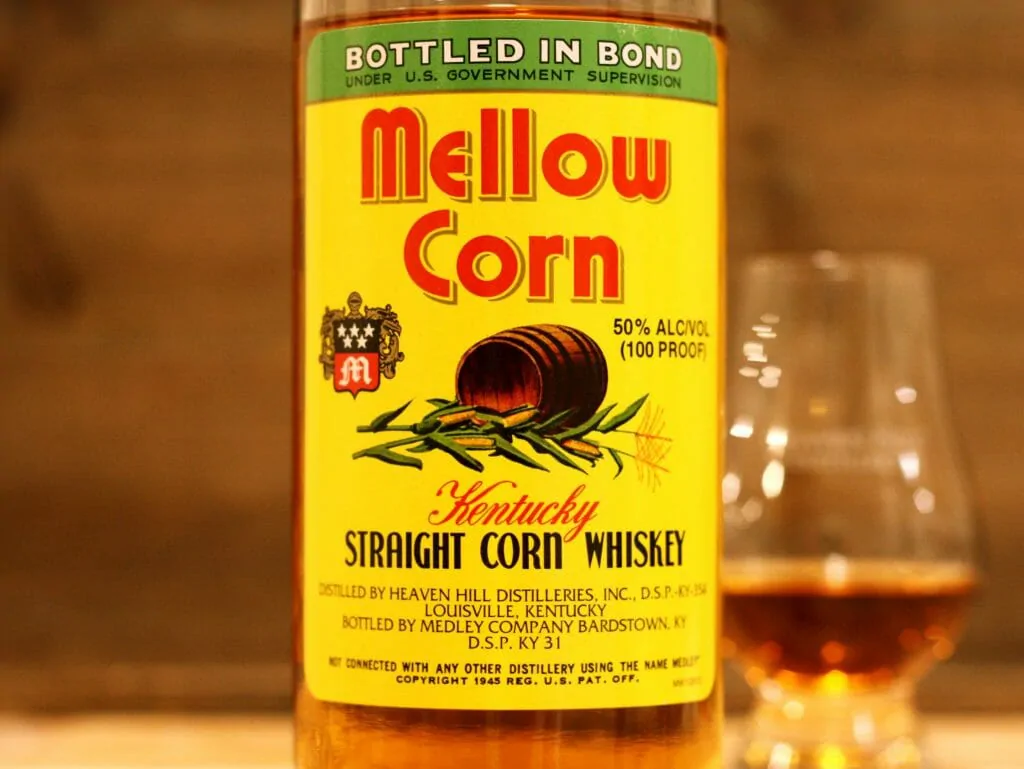 And speaking of distillate, there is an ongoing fight as to what Mellow Corn's mashbill is. Breaking Bourbon lists the mashbill as 90% corn and the remaining 10% is rye and malted barley. But in reality, the Heaven Hill Website claims that Mellow Corn's mashbill is 80% corn (the minimum for a corn whiskey) and 12% malted barley with 8% rye. This makes the mashbill almost exactly what the standard Heaven Hill bourbon recipe is (78% corn). So what this product really is, is Heaven Hill Bourbon aged in used barrels.
So what's up with used barrels? Well first of all, it does not impart such strong characters of oaks and sweets during typical aging times. You're tasting more of the nuances of the wood that the bourbon didn't pull out. Second, you're tasting more of the raw distillate itself. So corn whiskey is normally more raw and harsh.
But Mellow Corn has quite the following, so I decided to see what makes this such a popular bottle for the diehards
Tasting Notes
Nose: Creamed sweet corn, caramel, lots of sweet vanilla dances around your nose as well. There's some caramel lurking about to keep the nose sweet as well and every now and then I get a passing whiff of something close to how cognac smells (where a little bit of grape skin and floral notes come out). Overall, for the sweetness that still is very present on the nose, it comes off as weaker than the average 100 proof bourbon. No doubt this is a result of the second-use barrels.
Palate: A little bit of lowfat vanilla yogurt, some very slight caramelized sugar and a bit of rye spice that carries mint and pine needles with it. There is some raw, milled corn that adds a touch of grainy-ness to it all, but overall, it's not terribly harsh.
Finish: Believe it or not, a little bit of rye spice on the finish really stands out at the beginning of the finish. The vanilla that's been in the nose and palate are still pleasant, which really saves the whole drink because of how much of it there is. There's also a bit of butterscotch pudding cup at the end too, which I tend to get a lot in high-corn mashbills. I'd be lying if I didn't mention that there is a decent amount of raw ethanol that you can taste between each sip. This might turn off a novice, but more experienced drinkers won't notice it too much.
Score: 5.9/10
Final Thoughts
I've had about 4 sessions with this bottle of Mellow Corn dating back to the first time I opened it about 9 months ago. I didn't study it that well the first 3 times I had it. All of those times it came off as harsh and ethanol forward. But today when I really sat down with it, studied it and took my time with it, did I notice all of those nuances that must captivate the 'Corn-heads out there. This is not a bad dram at all. Maybe a little misunderstood and certainly not your first choice to just set down and enjoy in a glencairn, but it does have the ability to satisfy and reveal it's inner beauty. Overall, I'm happy enough to recommend this bottle with it's ridiculous $12 price tag even if you only get it once.
Rating Breakdown
1 | Disgusting | Drain pour (Example: Jeffers Creek)
2 | Poor | Forced myself to drink it
3 | Bad | Flawed (AD Laws 4 Grain BiB, Clyde Mays anything)
4 | Sub-par | Many things I'd rather have (Tincup 10 year)
5 | Good | Good, solid, ordinary (Larceny, Sazerac Rye)
6 | Very Good | Better than average (Buffalo Trace, OGD BiB)
7 | Great | Well above average (Old Ezra Barrel Proof, Old Weller Antique)
8 | Excellent | Exceptional (Michter's Barrel Proof Rye, Four Roses Barrel Strength)
9 | Incredible | Extraordinary (13 Year MGP or Canadian Rye)
10 | Insurpassable | Nothing Else Comes Close (William Larue Weller)
Featured Products
Description:

The Aged & Ore Neat Traveler is a complete travel kit for spirits. We combined our widely praised Neat Glass with one of our 3oz Flight Bottles and housed them together in a custom EVA travel case. Perfect for a night away with your favorite pour. The tie
Description:

The Aged & Ore Bottle Flight is a premium set of 4 custom silicone wrapped glass bottles designed to transport and share samples of your favorite spirits. The flight bottles come in a custom EVA travel case that fits perfectly in any small bag. An Aged &
Description:

This Bundle combines two of our crowd favorite products, creating the ultimate travel bundle to bring along your favorite spirits and glassware. Bundle Includes: Neat Traveler (Gray) Bottle Flight (Gray) Note: This bundle is only available in gray and col
*Bourbon Culture is reader-supported. When you buy through links on our site, we may earn an affiliate commission.