*Bourbon Culture is reader-supported. When you buy through links on our site, we may earn an affiliate commission.
I personally can't stand all of the trickery and half-truths that distilleries try to pull on us these days. After all, we're the enthusiasts that keep them in business. I know that we bring a lot of it on ourselves by continuing to buy their products even though the age statements keep disappearing or barrel strength versions are priced 4 times higher than the standard version of a particular product. But we don't do that because we're dumb, we just have no other choice.
Knob Creek 18 Year Old Bourbon
Jim Beam may be one of the worst offenders (outside of Buffalo Trace) with how much trickery they cook up. They're like the grifter on the street corner trying to con passerby's to play his shell game. Only instead of rigging the game by distracting you with all of the cups moving around, you also get your wallet stolen while you're standing there. Beam kind of does both. Bourbon not selling the best? Change up the bottle and make it a single barrel. Does the bourbon not seem special enough? Jack up the price until we start to feel how special it is.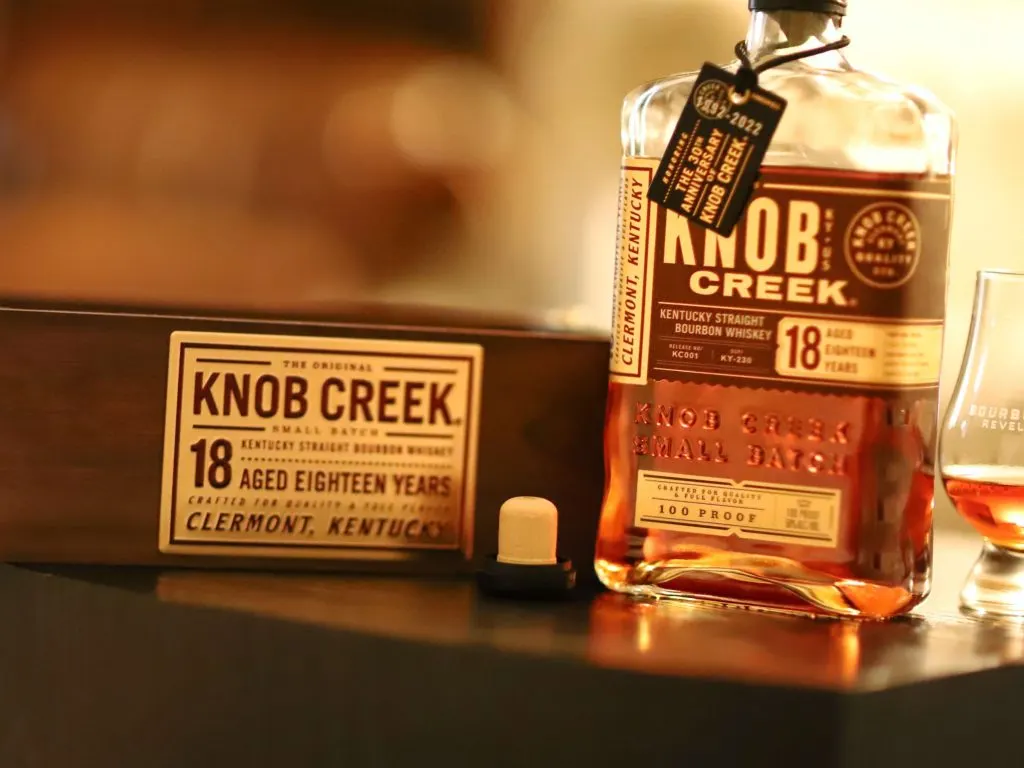 Maybe I'm just salty that Beam took away one of the best deals in bourbon a while back. Knob Creek store pick single barrels gave us age statements almost double what they would normally be (anywhere between 13 and 16 years old) and left the price untouched at around $50. That happened by the middle of 2020. But Knob Creek bottles wearing a 15-year age statement returned later that year with a much heftier price (now $100) and less proof (from 120 to 100). It also became a limited-edition annual release. Beam got most of us to pay the new price.
That's not to say we did it willingly. Most of us simply missed the amazing combination of oak and barrel flavors onto the sweet and nutty bourbon that they're known for. I've had the 15-year red label edition that I'm reminiscing about and it was very good, excellent even. But a lot of us can't fathom it being worth so much money after what we paid in the past.
Knob Creek Price Range
Now Jim Beam puts out an 18-year-old version of this bourbon. There's no doubt in my mind that they didn't plan this from the start when they took away the older Knob Creek bourbon single barrels. They've also raised the price again. Instead of $100 for the 15-year red label version, this one is around $150.
Actually, I don't know what the MSRP is supposed to be as I've heard it going for anywhere between $140 and $190 at stores. I am reluctant to say this, but I suppose in some way the price does make sense sincethe next closest competitor, Elijah Craig 18 Year Old Bourbon, also has a price around this range (but 10 less proof points). However the Knob Creek bourbon 18 Year delivers the better looking packaging of the two and damn if it doesn't look impressive. It wears a nice neck tag and the box it comes in is second to none.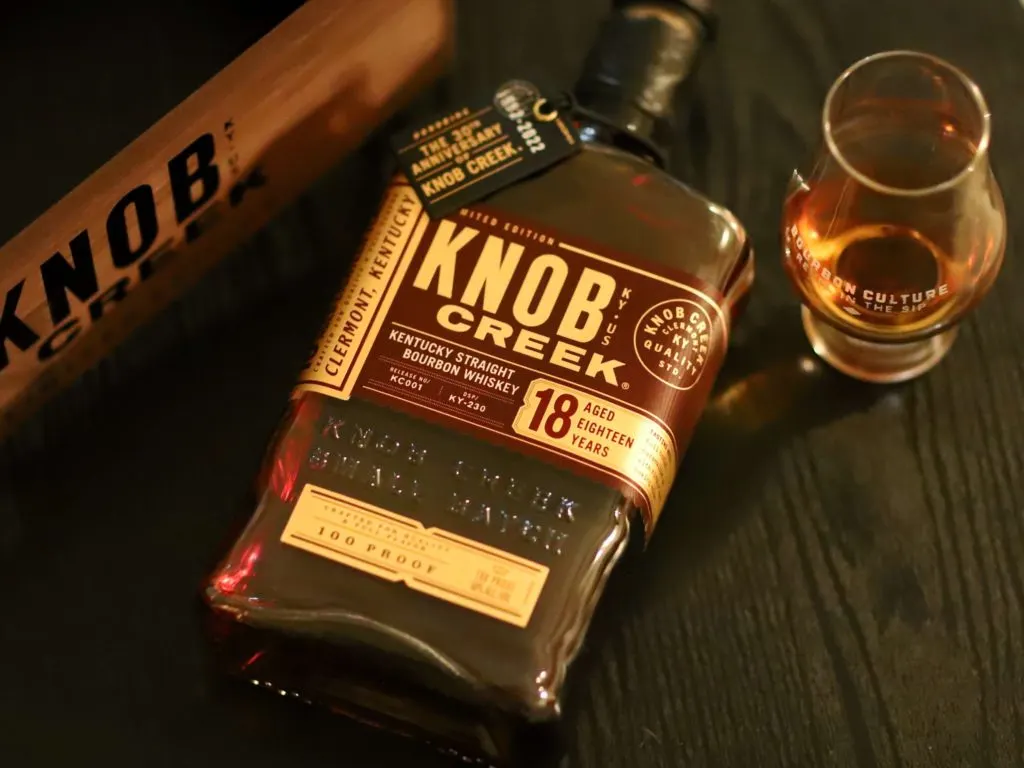 Let's talk about that packaging for a minute. The box is one of the coolest parts and makes this special release that much more special. It has a brass locking device on the back and a hidden wooden piece that keeps the integrity of the lines all flush with each other. It's a whole process just to get the bottle out of the box. But once you get it out, is the whiskey inside worth it? Let's find out. Thanks to two generous friends I was able to experience this firsthand. I sampled it neat in a glencairn.
Knob Creek Tasting Notes
Nose: A first for me with any Beam product, but I get scents of butterscotch on the nose. Those are accompanied with toffee, blackberry, toasted orange zest and crème brulee with extra vanilla. Color me impressed with finding so much fruit on the nose of an 18-year-old bourbon. But it's there and it's spectacular.
The nuttiness that Beam is known for mixes with a bit of chocolate to come off like Nutella hazelnut spread. And because I know you're all waiting to hear about this, yes, there is lots of oak. Antique smelling oak is an amazing feature that doesn't come off as bitter or over-oaked but damn if it doesn't ride on the edge. It's perfectly balanced although I will admit that I was hoping it would be a bit more impactful than it was.
Palate: Layers upon layers of oak. Some of it sweet and some of it drying, they hit all at once but are very pleasing. There's also tobacco. Some of it is stale and some of it is freshly dried. If only every bourbon started out like this. Clove, cinnamon and allspice are some of the flavors I can find along with the fruity flavors of cherry, blackberry and fig.
It's astonishing how they managed to coax so much fruit out of such old barrels. I even find a decent amount of toasted orange zest (which becomes more noticeable as the drink goes on). Sweet notes like peanut brittle and a touch of spiced honey ensure each sip is well-rounded and balanced. The flavors are bold and alive for only being 100 proof. I do envision this being much more dry and bitter if it was allowed to be bottled at 110+.
Finish: A sweet ending for sure. Cigar box, old leather, oak staves, barrel char and a bit of furniture polish, this tastes as old as it can probably get without feeling like you're sucking on a tree branch. Those fruit scents that I've been so impressed by return with grenadine syrup and Luxardo Cherry Liqueur. There nuttiness turns into smooth and drinkable almond oil and vanilla extract. It's a great way to end the sip.
Score: 8.5/10
A big complaint I have with younger Knob Creek products is how much nuttiness I get in them. I've described more than one as tasting and smelling like a melted candy bar (i.e., Snickers). What KC18 seems to accomplish is that the extremely long time in the barrel has lessened the nutty notes in a way that makes me think that I couldn't tell if this was a Beam product if I had it in a blind.
However, the biggest mindfuck is how much fruit I found in this bottle. Never mind that I'm finding multiple fruit notes in a bottle of something Beam made (a brand that I traditionally get next to no fruit notes from) but how does this happen with 18-year-old bourbon? By then all of the younger, brighter notes like fruit tend to disappear in favor of flavors like old books and ash. It's really quite amazing.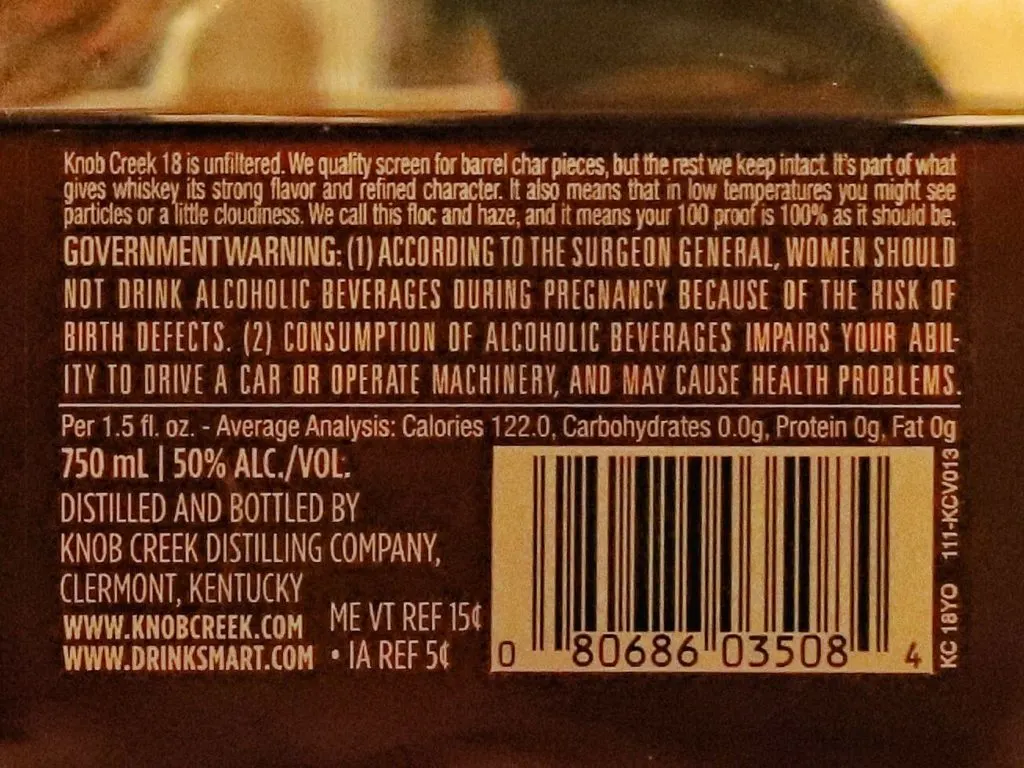 Final Thoughts
Taken altogether, this is really a surprise hit for me. If you're a person who says "well duh, it's 18 years old" then I would say you don't know bourbon that well. This many years in a barrel could mean a disaster for most products unless they're carefully watched over.
I was skeptical about a Knob Creek bourbon bottle getting it right because I view it as more of a "for the masses" type bottle, meaning quality could be questionable. My inner cynical side told me the only reason Beam released this was because of money. In the same train of thought, I guarantee they wouldn't lose any money on this bottle if it was priced at $75.
The fact that Beam put out a bottle of this caliber and age shows me that they took the time to get it right. Trust me, I've been trying to find fault with it because I don't want it to be good and I don't want enthusiasts to tater over it. But the truth is that it is worth the price. This might not mean that I rush out to buy one, but if I'm in a store looking for something special, have the money to spend that day and I see one of these, it's a no brainer.
There are a lot worse bourbons on the market at this price point (looking in your direction, Kentucky Owl Confiscated, St. Patrick's Edition and Takumi Edition). As a final note, I'm going to call it now… in the next couple years, we're going to see a Knob Creek 21-year-old bourbon come out. Stay tuned for that review when it happens!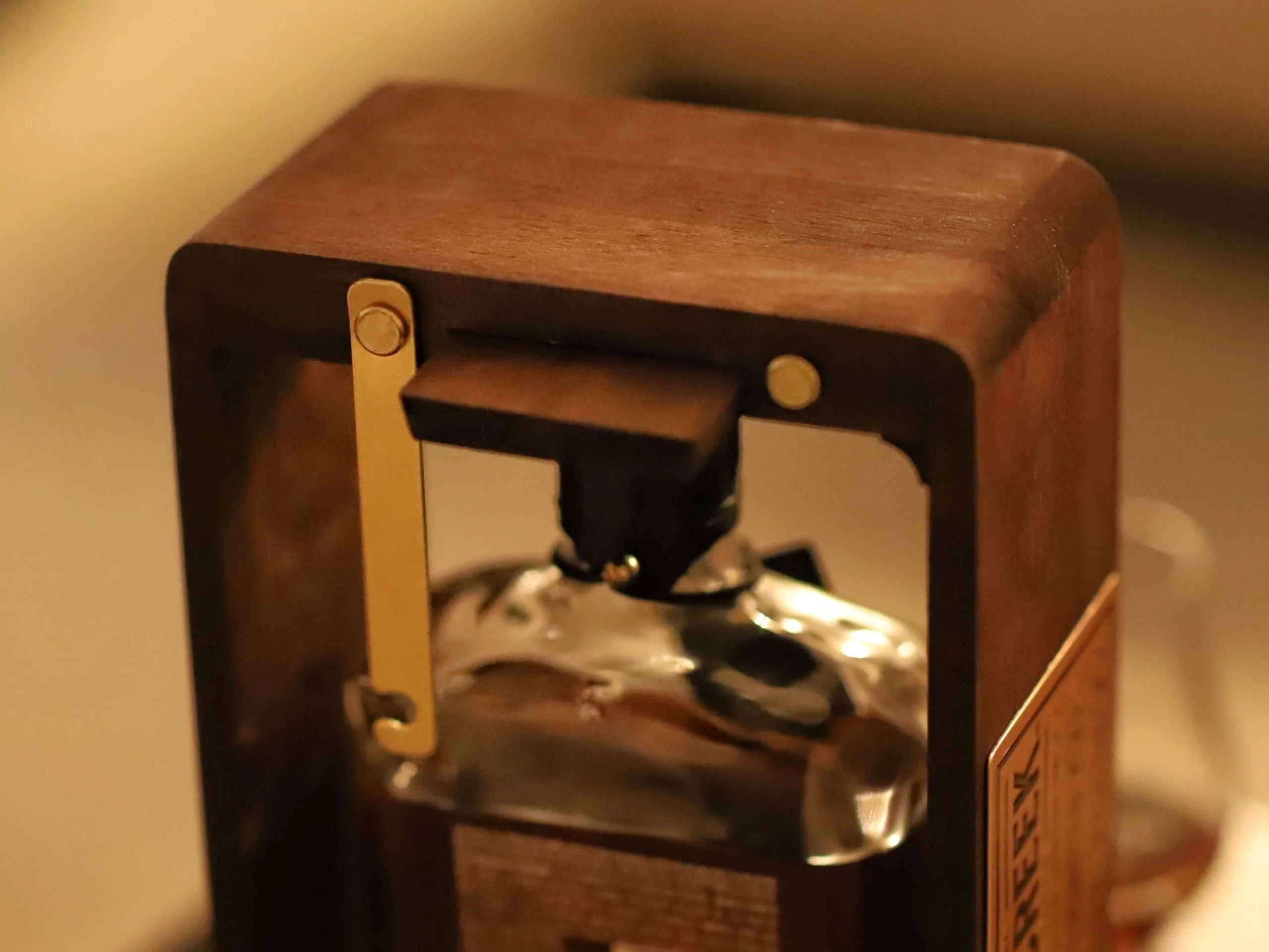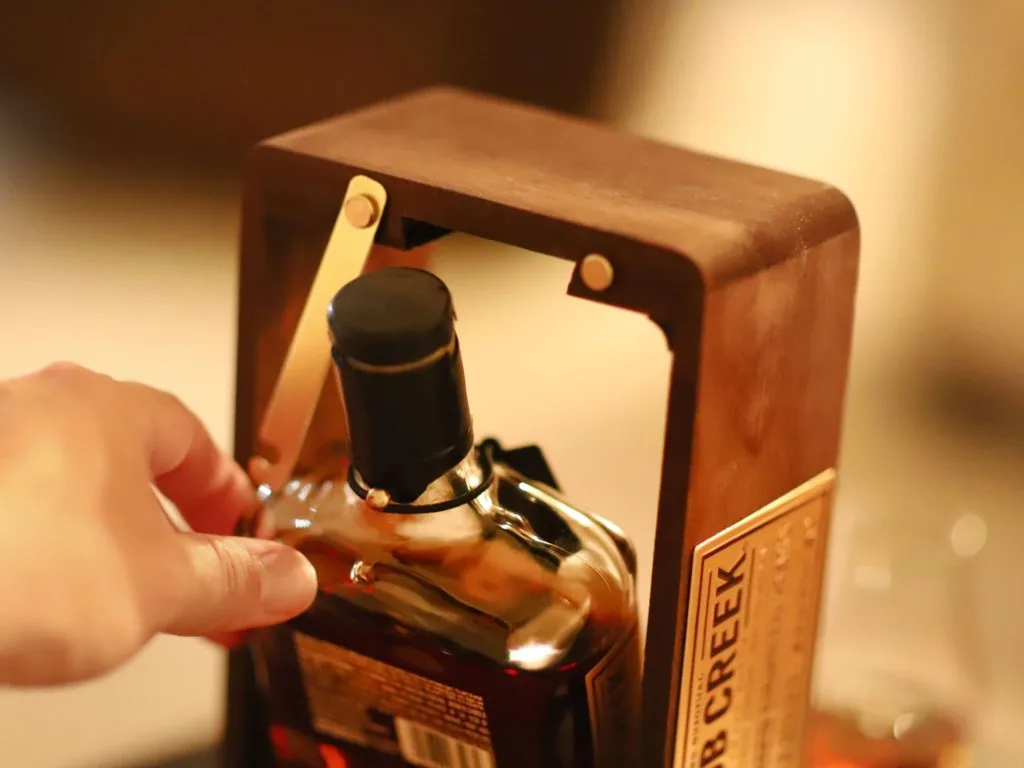 Featured Products
Description:

The Aged & Ore Neat Traveler is a complete travel kit for spirits. We combined our widely praised Neat Glass with one of our 3oz Flight Bottles and housed them together in a custom EVA travel case. Perfect for a night away with your favorite pour. The tie
Description:

The Aged & Ore Bottle Flight is a premium set of 4 custom silicone wrapped glass bottles designed to transport and share samples of your favorite spirits. The flight bottles come in a custom EVA travel case that fits perfectly in any small bag. An Aged &
Description:

This Bundle combines two of our crowd favorite products, creating the ultimate travel bundle to bring along your favorite spirits and glassware. Bundle Includes: Neat Traveler (Gray) Bottle Flight (Gray) Note: This bundle is only available in gray and col
*Bourbon Culture is reader-supported. When you buy through links on our site, we may earn an affiliate commission.