If you're a longtime Jack Daniel's No. 7 drinker, it may surprise you to know just how much effort they've put into creating products to lure bourbon, rye and even malt whiskey drinkers away from their go-to brands. Sure, Jack will always make their standard black label product for the masses, but their time and energy is being committed to changing their public perception to a distillery that makes it all. That's how a product as wild as barrel proof rye whiskey from a brand like Jack makes sense.
The first example of Jack Daniel's Barrel Proof Rye Whiskey came to us in early 2019 in the form of a "Tennessee Taster's" experimental release. Later, in 2020, it was bottled under the "Special Release" label. It was a huge success. But it's taken 3 more years for Jack to finally decide to release hand-picked single barrel versions of it onto the market. Rumor has it that only 50 barrels were set aside for groups to pick from the 2023 calendar year. Based on the number of stores or groups I personally know that are getting one, the number seems closer to 100.
I found myself having access to these two barrels thanks to David Levine – the blogger and podcaster of Whiskey In My Wedding Ring. He took along members of the New Jersey Bourbon and Yacht Club – a group we've both been in together for a couple of years – to help him select those barrels at the Jack Daniel's Distillery in Lynchburg, TN. One would ultimately be selected based on his preference alone and the other would picked based on what the NJBYC members voted on. Both were made available on his online store to his listeners. There were even a few cases sent to Hudson Wine Market and Hackettstown Wine & Whiskey Cellars for purchase to the public.
Jack Daniel's Rye Whiskey specs
Jack Daniel's uses its own unique mash bill for their rye whiskey. Surprisingly, it uses more rye in the recipe than any other currently-produced Brown-Forman rye whiskey: 70% rye, 18% corn and 12% malted barley. After it's distilled, it goes through only 3 feet of sugar maple charcoal. This is different from Jack Daniel's traditional 10 feet of sugar maple charcoal used for their Tennessee Whiskey. The reason is that Jack found it helped preserve the taste of the rye grain more if they used less charcoal. The rye whiskey then goes into the barrel at 125 proof like all Jack Daniel's products are known to do (with the exception of the Heritage Barrels).
I've already written an article exploring just how old the barrels of rye whiskey are that are selected for this program. While David was there in June, 2023, his pictures showed that the barrels ranged from 6 1/2 years old to 7 1/3 years old. The two barrels seen here today were 6 1/2 years old.
Comparison
The two barrels have more similarities than just that. Not only were they distilled on the same day, there is only .1 proof separating them. That's basically as equal as you can get; making this a truly even matchup. The guys in the group have already picked their favorites from the two and now it's my turn to weigh in. These were sampled blind and I have recorded their score below. So without further ado, let's find out which one is better.
Tasting Notes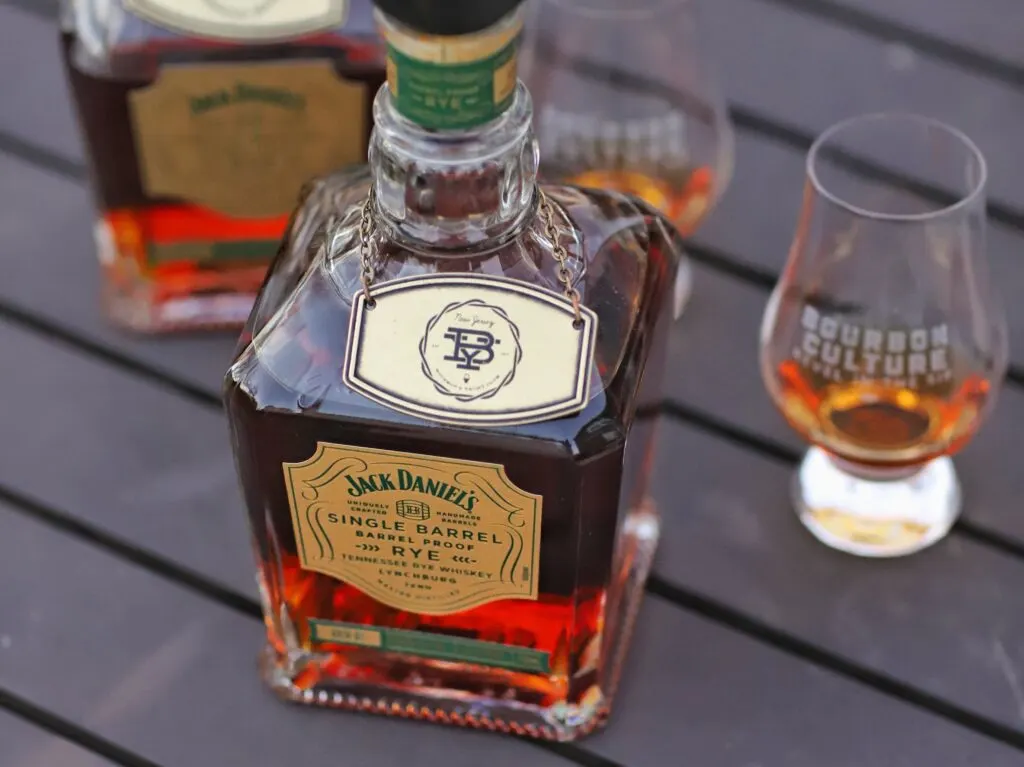 New Jersey Bourbon and Yacht Club Single Barrel
Nose: The scent of toasted pecans mingles with heaps of brown sugar and graham cracker pie crust. From the first sniff to the last, it's obvious to see how rich and decadent this rye whiskey is. An herbal note struggles to poke through the cloud of sweet, but it's there to remind you that this isn't your daddy's Jack. Fruit notes come courtesy of – you guessed it – freshly peeled bananas. I love it.
Palate: The herbal notes are much more apparent on the tongue. Rolling the liquid around in my mouth shows me just how viscous and thick it really is. Peppery spice and hot cinnamon candies ricochet off my tongue and onto the insides of my cheek. A hint of baker's chocolate is unusual, but nice to find. A small amount of lemon offers the only fruity contrast to more of that famous Jack banana note.
Finish: Cinnamon, drying oak and a bit of brown sugar hold their own all the way to the end. The finish is a much more tannic affair than the rest of the dram has been. A sort of pine needle and cedar wood flavor also creeps in after the sip is complete. This is not your typical Jack experience!
Score: 7.9/10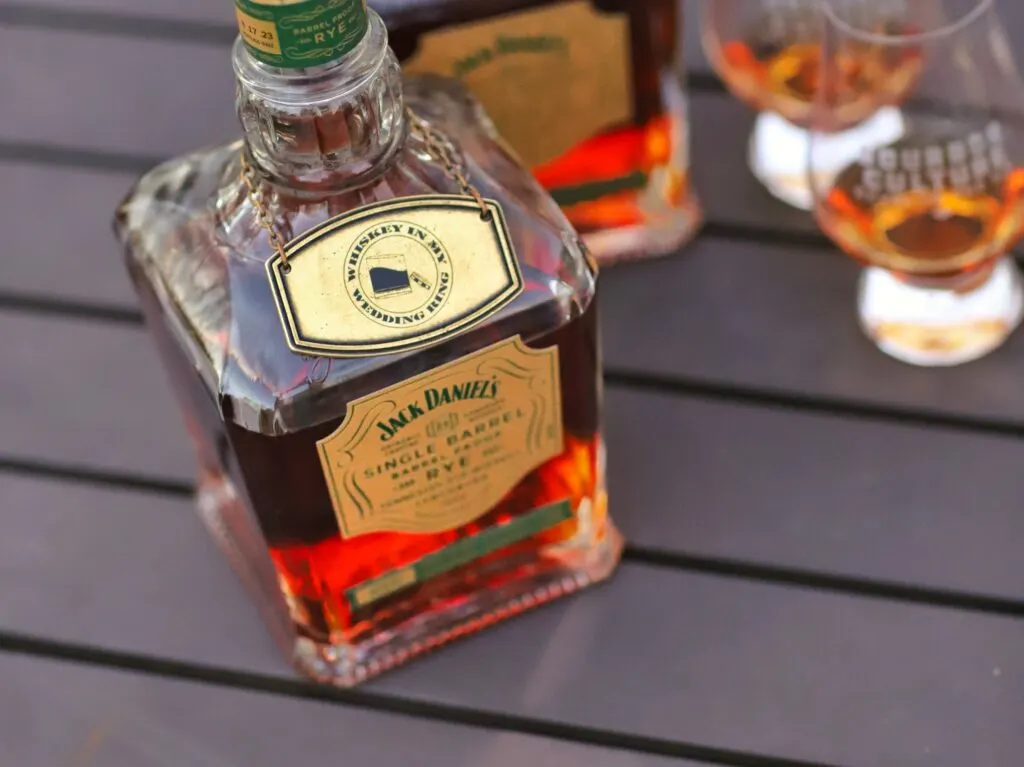 Whiskey in my Wedding Ring Podcast Single Barrel
Nose: What's strange is how much fruitier the WIMWR barrel smells compared to the NJBYC one. Of course there is a banana scent that's present, but I'm also finding cherries and raspberries too. Sweet notes come courtesy of honey-drizzled French Toast. There's also a fair amount of ground cinnamon. The oak and tannins are less noticeable on this barrel than the NJBYC one.
Palate: From the first sip to the last, I find this single barrel to be a bit hotter than the NJBYC barrel (they're only .1 proof points apart from each other). The mouthfeel is thick and syrupy. Sweet notes are similar to crème brulée. Oak staves and a hint of charcoal play nice with syrupy stone fruits. For the most part, the tannins are very mild.
What's interesting is that I find more rye-forward herbal notes in this bottle than the NJBYC barrel. Jack makes a very good rye, but sometimes it doesn't always taste like an Indiana or Kentucky rye whiskey. This one comes the closest, though.
Finish: The fruity nature of the nose and palate continues on the finish. Lingering notes of cherries, bananas and apricots hold their own against heavier oak and cedar wood notes. Spice comes courtesy of cinnamon and clove. The balance on the finish is excellent.
Score: 8.3/10
If you've been an avid reader of mine, you already know that Jack Daniel's Barrel Proof Rye has finished first in my Most Memorable Whiskies of 2023 Roundup. These two bottles I just reviewed went a long way in helping me decide that. For the price (Retail is around $70), flavor and complexity, nothing else really comes close. I made a comparison to Buffalo Trace where I asked the question, what if they did what Jack did with their Thomas H. Handy Rye Whiskey label? Enthusiasts would go absolutely wild.
But Jack is the one that did what other distilleries have failed to do by giving us access to something that seemed so limited in the past. For that, they should be applauded. I can't think of a single instance where if you find a bottle for retail on a shelf that you should skip it. Even people who claim to not like rye whiskey can find a lot to like inside because it's so similar to their barrel proof Tennessee Whiskey.
Final Thoughts
It feels like the whole review has summed up my feelings so far. Buy a bottle or track one down. Seriously, they're that good. Jack Daniel's rye whiskey doesn't have a direct competitor because nothing else really tastes like what they make. This should be enough to lure in rye whiskey aficionados who already know that different ryes hit different sweet spots on their palate. Jack's rye is the one you want if you like your rye to be on the sweeter side while also having a really rich mouthfeel.
So hunt one down as soon as you can, I think you'll find it is worth your time. And even if you're not a rye person because you haven't found one that suits your taste buds, I bet either of these bottles will make you a believer.
Featured Products
Description:

The Aged & Ore Neat Traveler is a complete travel kit for spirits. We combined our widely praised Neat Glass with one of our 3oz Flight Bottles and housed them together in a custom EVA travel case. Perfect for a night away with your favorite pour. The tie
Description:

The Aged & Ore Bottle Flight is a premium set of 4 custom silicone wrapped glass bottles designed to transport and share samples of your favorite spirits. The flight bottles come in a custom EVA travel case that fits perfectly in any small bag. An Aged &
Description:

This Bundle combines two of our crowd favorite products, creating the ultimate travel bundle to bring along your favorite spirits and glassware. Bundle Includes: Neat Traveler (Gray) Bottle Flight (Gray) Note: This bundle is only available in gray and col
*Bourbon Culture is reader-supported. When you buy through links on our site, we may earn an affiliate commission.