*Bourbon Culture is reader-supported. When you buy through links on our site, we may earn an affiliate commission.
Thanks for checking out my 5th Annual Most Memorable Whiskies of the Year Top 10 List! This list started back in 2019 after I spent a full year of reviewing various whiskies and saw how many publications put out a "top bottles of the year" list. I figured if I was going to spend that much money on bottles of brown liquid, I should probably have something more tangible to show for it rather than a mountain of empty glass bottles.
My Top 10 list is made up of the most memorable bottles I've drank over the previous 365 days. The one thing that makes my list different from other publications is that they typically lump every release together and give them all equal footing. That's unrealistic seeing as how a lot of those bottles will never make it into the hands of the enthusiasts that want them.
My list skips those bigger names like the Buffalo Trace Antique Collection, Pappy Van Winkle, Old Forester Birthday Bourbon/King of Kentucky, Four Roses Small Batch Limited Edition, Michter's 10/20/25 Year Whiskies and William Heaven Hill/Heaven Hill Select Stock/Heaven Hill Heritage Collection. Why? Because those are all the cream of the crop.
They practically carry a guarantee of being some of the best American Whiskey out there. And even if some online reviewer says they're trash, that's usually a minority opinion.
Requirements to be on the list
My list sets out to be much more obtainable. With that in mind, I've outlined a set of rules on what can and can't make it in my Top 10. They are:
No bottle over $180 suggested retail price. I adjusted this price last year to account for inflation that was affecting every bottle's price. It used to be $150. I realize that is still a lot of money to a lot of people. But read the list first and then come back and complain if you must – the majority of these bottles retail between $70 and $100.
No Single Barrels. I'll make an exception if it was a particular run of single barrels. Otherwise, I won't put a bottle on the list that only 130-220 people had access to.
The bottle must be MEMORABLE. To me, that means there had to be something about it that stood out from other commonly found bourbons. The one thing that makes this list different from others is that you're not going to see a re-hash of my highest scoring bottles. Instead, there had to be something special about them that stood out and made me come back for more. This is important to me because straight bourbon and rye whiskey can get monotonous after a while. If we want to stay interested in the bourbon culture, we need whiskies that keep our interest.
It has to be released in the last 365 days… give or take. My first Cake Day Roundup was a smorgasbord of bottles that I just really liked that year. Few of them were actually released from 2018 to 2019. I decided to add this rule while writing my second year 'Roundup because I wanted the list to be relevant to as many people as possible. Not everyone lives in areas saturated with liquor stores that could have very old bottles on the shelves. But if it came out in the last year, chances are you could still find it today.
Looking over the list, there are many familiar producers over the years. They should be applauded for keeping demand (relatively) fed and prices down. I went back and tabulated which producers made my list most often. Products from Barrell (and their offshoot Stellum) has shown up 6 times over the last 4 years while Wild Turkey has shown up 5. Coming in at 3rd place is Michter's.
The number one distillery on my Top 10 lists throughout the years has been MGP – with a total of 9 different labels that use some form of whiskey made from them. And just to show I'm not prejudiced against craft distilleries, 5 different ones have earned a spot since 2019.
There's one more thing I want to mention before I get started – it's come to my attention that people really want me to give a Top 10 List that includes allocated bottles. I will do that, but not until the end of the year when all of the allocated bottles have finally hit the shelf and I can experience them all.
So stay tuned for another list at the end of the year. Now that I've given you the rundown of what to expect, I present this year's Top 10 Most Memorable Whiskies!
Top 10 Most Memorable Whiskies
10. Sagamore Spirit 5 year Rye Whiskey
Many rye whiskey enthusiasts already know that Sagamore Spirit has sourced great rye whiskey from MGP for many years. They have also made a name for themselves with their finished rye whiskies too. But when Sagamore went full-speed into the world of distilling their own whiskey, many enthusiasts had their doubts.
We've seen so many distilleries try to ween themselves off of sourced barrels by using their own distillate (and failing) that it's practically sunk the company when their customers stop buying. This was the risk Sagamore faced when they began to release their own bottled-in-bond rye whiskey made with their own distillate. Now, with the release of their 5 year old bottled-in-bond rye whiskey, we no longer have to wonder anymore. They've nailed it.
A huge reason for their success is that they enlisted the help of Larry Ebersold and his consulting firm on how to make it. Larry was the brains behind the world's best-known rye whiskey (95/5) made in Indiana at what is now MGP Distillers.
He taught them his secrets and it looks like it paid off. I didn't have Sagamore's debut bottled-in-bond release (which was only 4 years old), but I was able to get my hands on a 5 year one thanks to my friend Andrew. Drinking it was a revelation into how well it has matured. It's perfectly sweet, spicy and has an impressive amount of complexity to it. I am confident that every year they release their BiB, it will grow in greatness.
They say imitation is the sincerest form of flattery and Sagamore Spirit shows us this still remains true by creating a rye whiskey that is every bit as good as the one it was molded after. The ghosts of Maryland's once-proud distilling heritage would be proud to see their state is back in the game.
9. Maker's Mark Wood Finished Series BEP
Maker's Mark Barrel Entry Proof was supposedly the last iteration of the distillery's Wood Finished Series. Outwardly, BEP seemed to have no tricks up its sleeves. No fancy oaks, no fancy processes, just toasted American Oak staves added into a barrel in the same way the other Wood Finished releases were. But the taste was just as good as it has been over the last 5 years. In fact, it was possibly one of my more favorite releases in the series.
Perhaps it's the nostalgia of the series going away, but there was something special in the 110.7 proof version of this release. And don't tell anyone I said this, but I liked it a little bit more than their Cellar Aged expression that was released this year. And for the money and accessibility, my mind tells me that Maker's BEP is the one I should be buying.
Maker's Mark BEP is one of the more simple whiskies on my list, but it was one of the more satisfying ones too. It was memorable in the way that everything was exactly as it should have been when I poured my first drink. Rich, satisfying and sporting a toasted-oak character that only add to the experience, this is my pick for best Maker's release this year.
Of note: I much preferred the 110.7 proof release to the 109.8 version. They're two very different experiences!
8. Silver Springs Sweet Rye
Here's a rye whiskey that literally came out of nowhere. The bottle it came in was so non-descript (and honestly, a bit ugly) that I walked right by it multiple times. But my friend Jamie convinced me to buy one and I'm so glad he did. While there is plenty of mystery surrounding who distilled and aged this bottle (my review explores the possibilities of New Riff or Rabbit Hole), the results speak for themselves.
This is a rye whiskey that's a bit on the younger side but doesn't drink like it. It has a very sweet profile while offering all the herbal and spicy notes that you would want in a rye whiskey. The absolute best part is its price. It's under $50.
This easily competes (and beats) rye whiskies two or three times the price. Additionally, the score this received – a 7.9/10 – makes it one of the highest rated bottles under $50 that I have ever reviewed. The only downside is that there appears to be only so many barrels that Keeper's Quest (an Ed Kohl company) had purchased, so once they're gone, they're gone.
Throughout the year, I keep an active log of which whiskies I'm considering in my Top 10 and Silver Springs Sweet Rye was the first one on the list. Since then, it's remained there as other whiskies have been added and removed. I have tasted a few different single barrels of Silver Springs and can confirm they are all just as good. This is truly one of the best values in rye whiskey at the moment and it's not even close. Whoever made this should be forced to make more. The people demand it.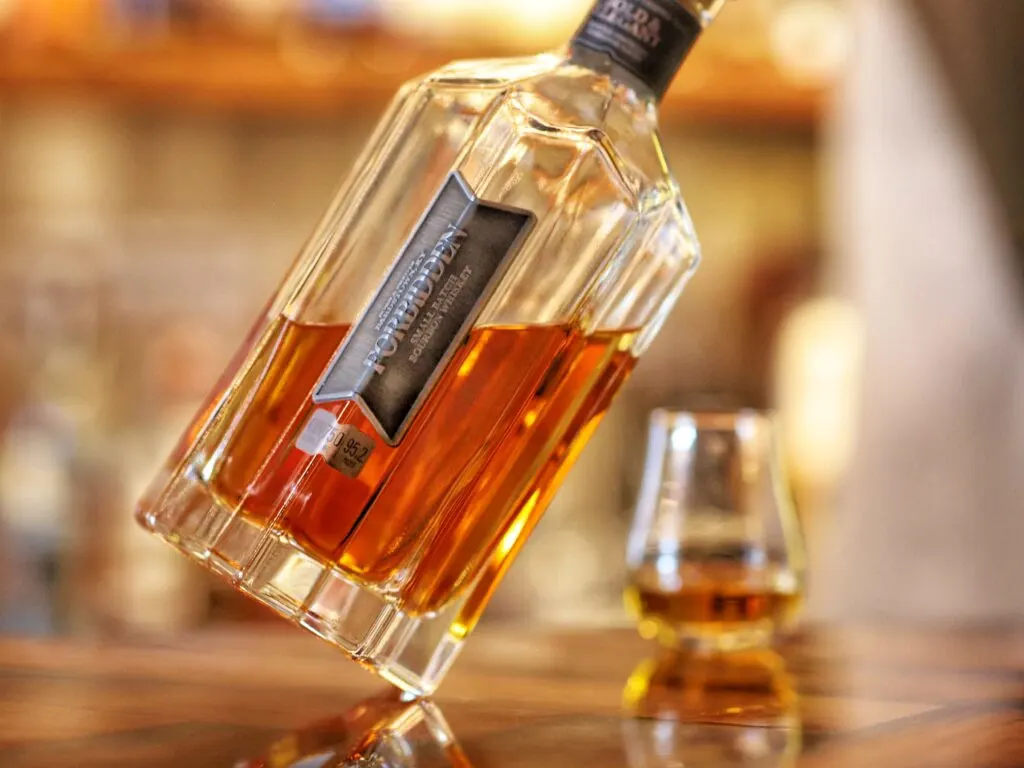 7. Forbidden Bourbon
One of the great mysteries in bourbon is "what wheated bourbon comes closest to Weller/Pappy?" I've seen enthusiasts try to pigeonhole everything from Maker's Mark to Old Fitzgerald to Wilderness Trail. I've tried them all and none really come close – except maybe Willett's 8 year wheated bourbon. The reality is that they all have a glaring weakness keeping them from the greatness that Buffalo Trace has somehow managed to bottle up.
Now I'm not saying that Forbidden is the next Weller – it has a long way to go. But what I am saying is that Marianne Eaves may have created the formula for a wheated bourbon that has the potential to become something close to the level of Weller (and who knows? Maybe even Pappy). After tasting the results of her 3- and 5-year-old blend (!?), I had an epiphany – this is a wheated bourbon with tremendous potential.
It has a mix of both spice and soft fruit notes all while being wrapped in a confoundingly creamy texture. There is a little bit of raw dough on the palate (something that most young wheated bourbons suffer from), but it's something it can grow out of. The lack of tannins means it just needs a little bit longer in the barrel, too. And yes, the value is terrible, but I'm going to chalk that up to the small scale of production and the fact that Forbidden is technically a Non-Distiller Producer.
All of these problems have solutions though. I think more time in the barrel will result in something great. But I encourage you to find a way to get a sample of this now to see the potential – the next 3 years should be the litmus test on if I'm right. One final note; I don't feel like Castle & Key Wheated Bourbon (which this is with a few minor differences) is at the level of Forbidden. This is something I'll have to explain more of in an upcoming review, but I felt it was important to clarify that I'm not recommending both.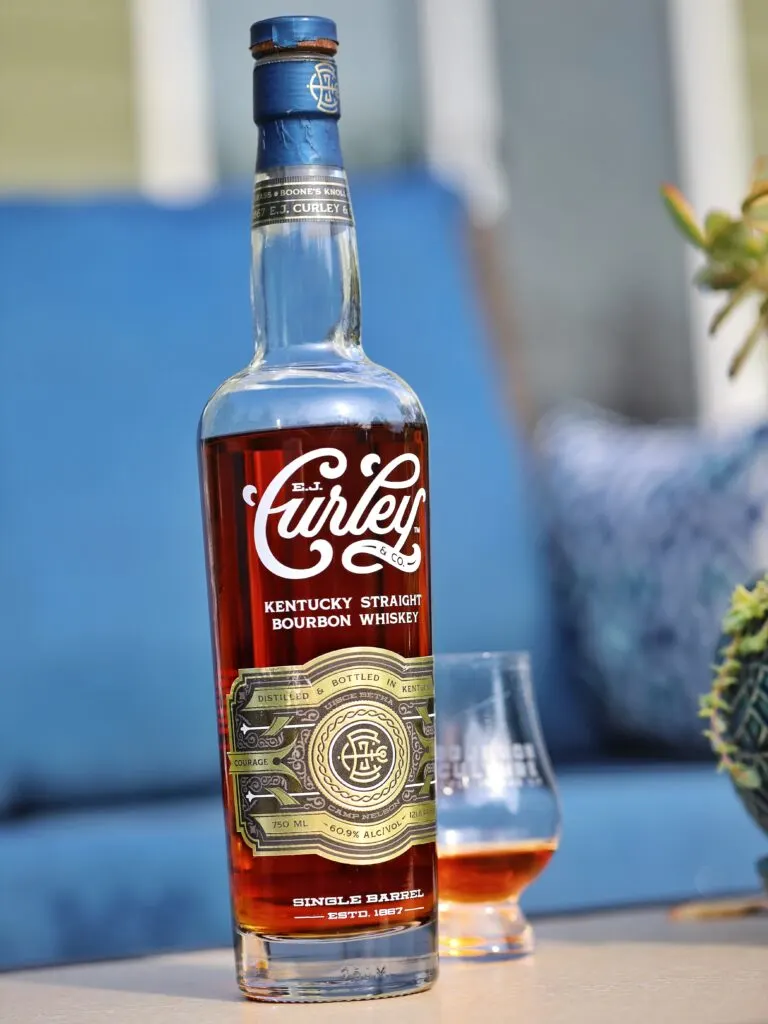 6. EJ Curley & Co Single Barrel Bourbon
Over the last 2 years, a Wild Turkey product has been ranked in my top 2 on this list. Last year, Wild Turkey 101 12 Year Export version was narrowly edged out by Stellum Black Rye and the year before Russell's Reserve 13 topped Barrell Seagrass. But there is one thing that is stopping any Wild Turkey label from making my list this year – all of the new releases have been priced above $200! So, while I'd love to put one of their bottles on my list again, they've just gotten too expensive.
However, a "Wild Turkey" product has found a way onto my list this year by hiding behind a different label – EJ Curley. Who is E.J. Curley & Co? A brand that is bottled by the same producer that makes Lucky Seven and Off-Hours Bourbon. They have managed to get ahold of some young, off-profile Wild Turkey barrels. These barrels are either sold as a small batch product or in single barrel form. The latter is what I've fallen in love with.
Be aware! The barrels are young, bright and unlike any Turkey you've tasted so far. There's vibrant fruit, prickly rye spice and flavors that you won't normally associate with Wild Turkey products. But that's half the fun of tasting it.
EJ Curley is the black sheep of this list because it's wild and not terribly refined. I also would totally be recommending this bottle even if I didn't find out that it was undercover Turkey. This is a wild, fun and exciting bourbon that I'm glad I was recommended to try. And now I'm recommending you try it too.
5. Bomberger's Declaration Bourbon
This is one of the rare times I've repeated a bottle on my Top 10 Most Memorable list. The last time I put Bomberger's on it was in 2021. For the record, I thought that the 2022 release was also excellent (and even a little bit better than the 2021), but since it was so close to the 2021 in profile, I didn't view it as "memorable." It was just a refinement of the previous year.
This year's Bomberger's is different. It incorporates a different mash bill into each batch. In my review, I go on to explain how the new malted rye component enhances the final product into something that tastes like a new product. The best part is the creamy mouthfeel that it gains.
All of the best parts about Bomberger's are still present – from the robust tannins that the Chinquapin Oak bestow to the chocolate and spice notes that also probably come from the high-quality barrels they use. The best part is that the price has remained well within the budgetary constraints to make this list. That's a win-win for everyone.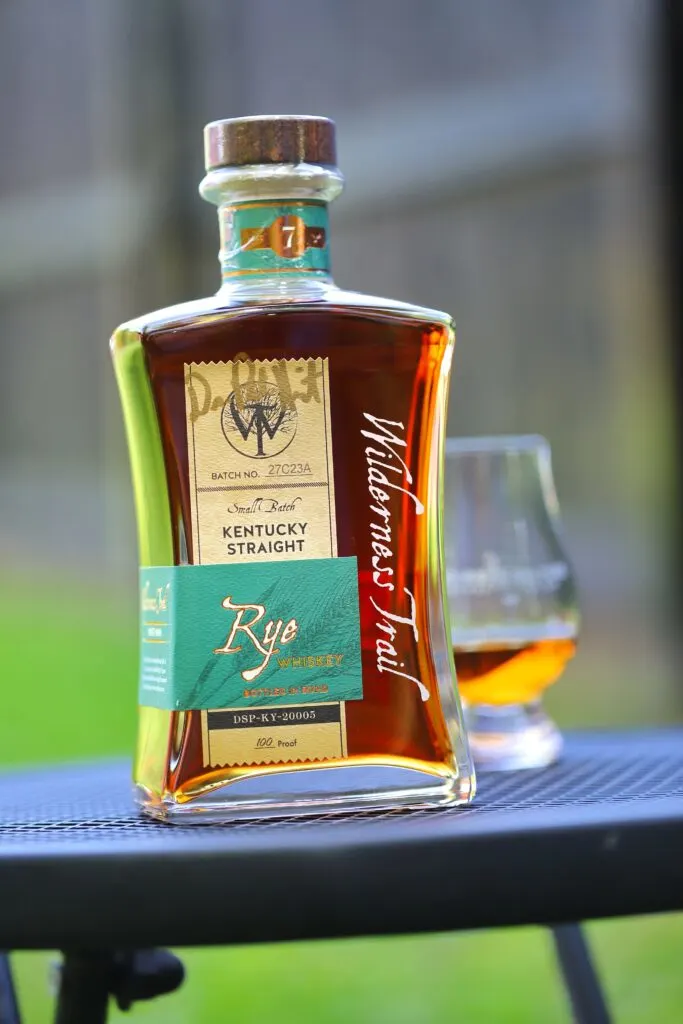 4. Wilderness Trail 7yr BiB Rye Whiskey
I fully admit that I have not been the biggest Wilderness Trail fan. Well, scratch that, I have not been the biggest Wilderness Trail BOURBON fan. There's something about their bourbon that's simultaneously doughy and astringent. As for their rye whiskey, I haven't bothered to try it. My rationale was that if I didn't like their bourbon, then I wouldn't like their rye.
But then my friend James convinced me to try their limited release that had reached 7 years old. I was hoping that the age would at least help the lack of proof (it was only bottled at 100 proof). To say I was shocked when the liquid hit my tongue would be an understatement. This ranks among one of the most impressive rye whiskies released this year.
I was not expecting the layers of fruit notes surrounded by chocolate, herbs and maple syrup. The complexity left a huge impression on me.
Unfortunately, the release was rather small. Pat Heist dumped only 15 barrels to make this batch and only sold them at the gift shop. So while I will admit this was a bit more on the exclusive side, I also know that these did not sell out very fast. If you were in the state of Kentucky during the late Spring/early Summer, you had a chance to get one for yourself. And wow was it worth it!
3. Old Forester 117 Series Bottled in Bond
I was certain that the moment that OF117 BiB (as it's known to enthusiasts) came out, that it would be impossible to find. But thanks to my friend James and the fact that they offered a shipping option, I was able to scoop up two bottles. Even if I hadn't had the extra help to secure them, the distillery had these bottles up for sale for a few weeks after they first came out.
To me, this is a fantastic bottle worthy of a fantastic score. I still think people sleep on this release because its secondary value has remained stagnant. Do people not see the uniqueness of 9-year-old Old Forester? Virtually 99% of Old Forester on the market is between 4.5 and 6 years old. What we're talking about here is a bottle that's 2/3 the age of a typical Birthday Bourbon release.
I'm fine with talking about this bottle and hyping it up a bit because nobody seems to be listening. Putting it on this list probably won't either, but I'll die on this hill. Extra-aged Old Forester is one of the few whiskies that can deliver tropical fruits and antiqued oak notes – and this bottle is no exception.
It's not as in-your-face as a barrel proof version would be, so it requires you to take your time to study it. It pays off with extraordinary complexity and refined maturity. What boggles my mind is how many people seem to fawn over the other 117 Series releases like Extra Old, Extra Extra Old or even the Warehouse H and K while completely ignoring this one.
As for me, I'll just be over here quietly nursing the small amount I have left from my bottles and trying to buy a backup just in case.
2. Barrell 10th Anniversary Bourbon
Barrell has been branching out into so many new expressions lately that it seems like they've kind of forgotten that it was their bourbon batches that earned them their street cred. As a result, the total number of bourbon batches has decreased from 4 to just 2 per year. Meanwhile, their barrel finishes and Private Release program has grown exponentially.
I was pretty happy with how Batch 034 and 035 turned out – and would recommend them to anyone looking for a very good $90 bottle – but their formula has changed. Batches taste more bright and youthful and seem to be a mad rush of flavors instead of a cohesive thought. Back in the day it seemed like Barrell made matches according to a specific note or a theme. I don't find that to be the case as much anymore.
For the first time in the last 5 years, I was thinking I wouldn't have a Barrell Product on my list. Then the 10th Anniversary edition dropped.
Even after the first sip, I could sense that the magic of past batches was back. It turns out that was more true than I knew. Barrell admits to using leftover barrels from previous (highly-awarded) batches. If you've ever had Batch 011 and 021, you'll know what I am talking about. Suddenly, the same tropical fruit and oxidized notes that made those batches famous were back!
And while the 10th Anniversary bottle may have been an extremely limited offering (I believe I heard only 3,000 bottles were released), it is absolutely worth your time to track down.
1. Jack Daniel's Single Barrel Rye Whiskey
Imagine, if you will, that Buffalo Trace decided that they were going to start releasing 50 to 100 barrels of Thomas H. Handy Rye Whiskey as single barrel store picks every year. That's just a pipe dream, right? I mean, how cool would it be if a major distillery took a product that was already a limited release and allowed stores to pick out their own barrel in an attempt to spread the wealth around? Wonder no more because that's exactly what Jack Daniel's did here.
In 2020, the Jack Daniel's "Special Release" was a bunch of single barrels containing their rye whiskey at barrel proof. The bottles were only around $70 retail but the secondary market quickly marked them up. They continued to be highly sought after for years after the initial release. All the way up to Spring this year, prices remained high on the secondary (about $300).
What Jack Daniel's did next surprised the entire enthusiast community – they actually decided to make those same barrels of rye whiskey available in their single barrel program. Everything from the age (6.5 to 8 years old) to the proof (barrel proof, with some being bottled at HAZMAT levels!) is just like it was for that Special Release.
Some naysayers will say that the barrels selected for the Special Release were more, errr, "special," but I beg to differ. Since they're single barrels, some will be studs and some will be duds. But you're mostly going to have the former. Having sampled 3 of them, I have found the quality to be negligible between these new single barrels and the 2020 Special Release making these an awesome value on top of being awesome to drink.
Jack Daniel's may not be what comes to mind when you're considering rye whiskey, but they have dialed in a winning formula. They use about 1/3 the normal amount of sugar maple charcoal to filter it through so that the subtle herbal and floral notes don't get stripped away and the high heat of Tennessee produces a whiskey that is thick and rich and bursting with flavor. The experience of drinking it is one where you buckle up and hold on tight but find yourself walking away saying "that went smoother than I thought it would."
So go on, Jack Daniel's, have yourself a day. And keep producing some of the best rye whiskey on the market that enthusiasts actually have a chance to get for themselves. After all, what's the point in recommending a whiskey that nobody else find, let alone afford to buy? That is why this year's Most Memorable Whiskey goes to Jack Daniel's. I hope that other distilleries take note, sometimes the best idea is to find a way to get more bottles into the hands of the enthusiasts.
But wait, there's more…
Thank you for reading my list! Now if you want to see the flipside to this Top 10 List, visit my Most Disappointing Whiskies of 2023 article to see which ones could have made it, but failed. Some of the names may surprise you!
Featured Products
Description:

The Aged & Ore Neat Traveler is a complete travel kit for spirits. We combined our widely praised Neat Glass with one of our 3oz Flight Bottles and housed them together in a custom EVA travel case. Perfect for a night away with your favorite pour. The tie
Description:

The Aged & Ore Bottle Flight is a premium set of 4 custom silicone wrapped glass bottles designed to transport and share samples of your favorite spirits. The flight bottles come in a custom EVA travel case that fits perfectly in any small bag. An Aged &
Description:

This Bundle combines two of our crowd favorite products, creating the ultimate travel bundle to bring along your favorite spirits and glassware. Bundle Includes: Neat Traveler (Gray) Bottle Flight (Gray) Note: This bundle is only available in gray and col
*Bourbon Culture is reader-supported. When you buy through links on our site, we may earn an affiliate commission.