*Bourbon Culture is reader-supported. When you buy through links on our site, we may earn an affiliate commission.
For the past few months, Michter's 10 Year Old Bourbon, which had a secondary market value of $275 around this time last year, exploded to around $400. That kind of price hike for an established brand with an established secondary value is only seen when something tangible has changed. Usually the age statement increases or the proof increases or the bottle receives a facelift.
But Michter's 10? None of those changes have occurred. So what is going on here?
The Tale of Michter's 10 Year Single Barrel Bourbon
Michter's 10 Year (or M10 as the enthusiasts call it) has been around since Joe Magliocco revived the brand in 1999. This is the bottle that started it all after Joe and his friend Dick Newman came to Kentucky in the late 1990s looking for barrels to buy for their new brand. They ended up getting a good deal for a large lot of barrels from United Distillers.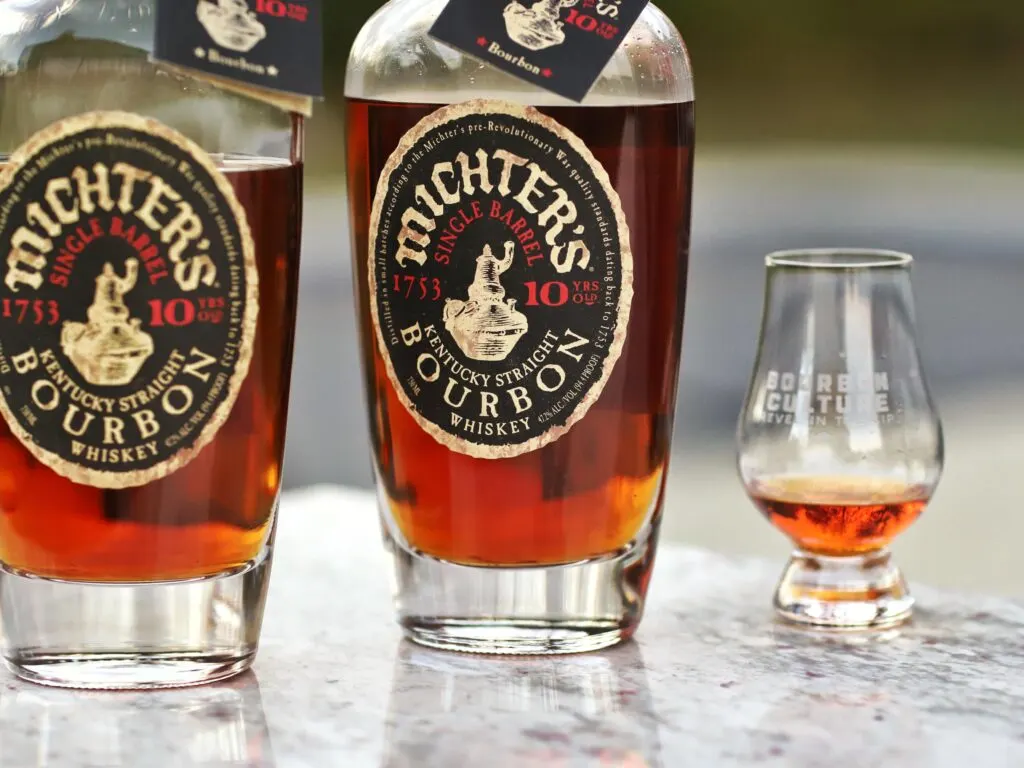 With so much whiskey in their possession, they needed someone to bottle it up. As luck would have it, Julian Van Winkle III had a bottling line and a couple of under-utilized warehouses at his disposal at the Old Commonwealth Distillery in Lawrenceburg, KY. Joe contracted him to bottle up the barrels that he had acquired. This was short-lived (only about 2 years) until Julian closed down his operation and headed to Buffalo Trace to work with them in 2002.
Rumor has it that Julian may have sold Joe a few of his Stitzel Weller barrels during his time bottling for Michter's. This possibility has led to a lot of enthusiasts believing that every bottle of M10 bottled before 2012 could contain Stitzel Weller. It didn't help that Joe Magliocco later partnered with Even Kulsveen to source barrels from and bottle his M10 products. Willett was known to have some barrels of Stitzel Weller too. But they also had its close cousin – the wheated bourbon that was produced at Bernheim while it was still owned by United Distillers (who also owned Stitzel Weller). The two have been known to get confused for each other. Willett would continue bottling M10 for Michter's until 2012.
Michter's involvement with Brown-Forman
After that period of time, it's generally been assumed that the source of the bourbon inside of Michter's 10 Year transitioned to Brown-Forman. Michter's didn't have Brown-Forman begin producing bourbon for them until 2004. That means the earliest that M10 could have contained Brown-Forman produced bourbon was 2014. Technically, it was probably 2016 seeing as how Joe Magliocco has went on the record to state that no Michter's 10 Year Bourbon has even been bottled younger than 11.5 years old. Pay attention to that last fact, it's going to come up again.
When people hear that Michter's bourbon was contract-distilled by Brown-Forman, they usually think of Old Forester. But the word on the street is that Michter's liked the Early Times mash bill for their bourbon even more. The Early Times mash bill uses a different yeast and recipe that is said to be 79% corn, 11% rye and 10% malted barley. Michter's specified that they wanted it to enter the barrel at 103 proof instead of the typical 125 proof. This low barrel entry proof would allow the liquid to extract different wood sugars from the barrel, resulting in a different profile. So in a way, M10 is more of a "Baby King of Kentucky" than a "Old Forester Birthday Bourbon Jr."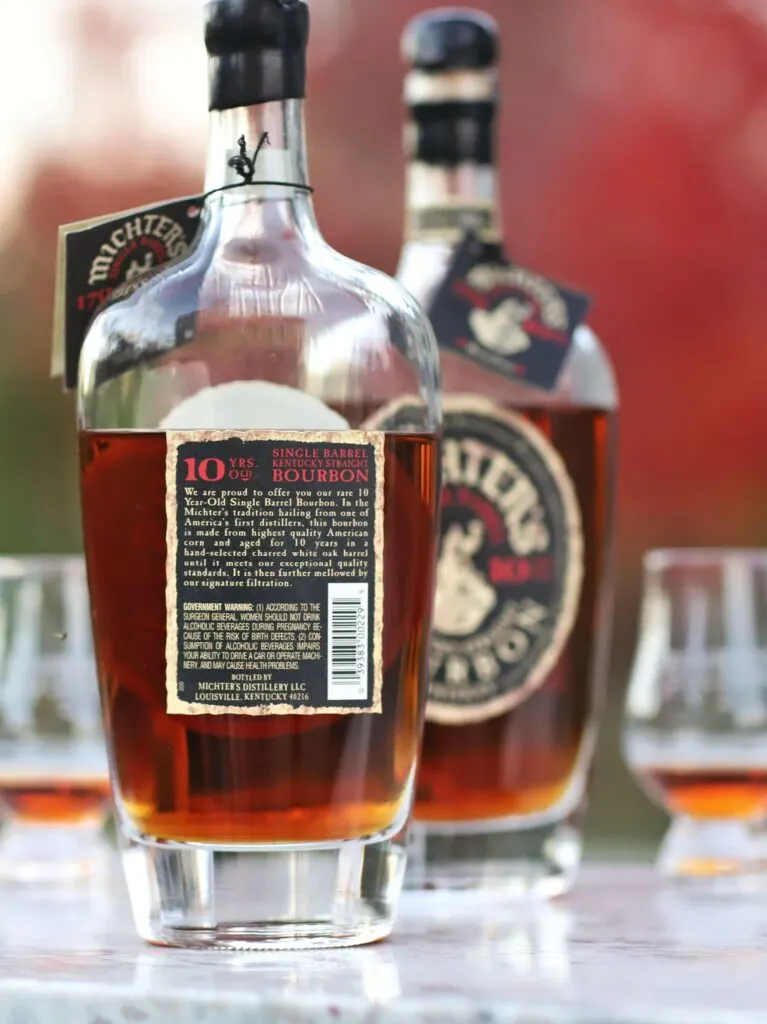 Even after Michter's and Brown-Forman began to divest from each other around 2015, they still adhered to all of the same procedures that they had learned from Brown-Forman. Specifically, how they heat-cycle their warehouses. So the barrels that make up M10 continue to undergo the heat-cycling process year after year, creating a whiskey that tastes older than its actual age suggests.
M10 explodes in 2023
Taking everything we know about M10 thus far, nothing would explain why the value of M10 has shot up on the secondary recently. What we're still drinking is contract-distilled from Brown-Forman. When prices are concerned, almost everything on the bourbon secondary market are generally falling this year. Yet M10 keeps increasing in price. Why?
I reached out to friends across multiple national groups who have obtained a bottle of this year's M10 to tell me their opinion. Many have told me "it just tastes older" or "it tastes better." But that's about it. Nobody knows why the secondary price on it has increased, but everyone seems to want a bottle. Is this what it feels like to believe in the Deep State pulling secret levers?
By the way, the consensus seems to be that bottles wearing a 23Axxxx neck tag are more desirable than other 23D, 23E or 23F bottles. Unsure what those numbers mean? The 23 denotes the year it was bottled and the letter denotes the month. The remaining four numbers identify the barrel number. So 23A barrels were bottled in January, 2023.
I couldn't wait any longer, I had to track down some of this year's release to see for myself. A big thank you to Bobby for helping me out. Can the price hike be explained by an unexplained bump in quality? Let's find out. I sampled two different bottles to find out. I also made sure that I was drinking them neat in a glencairn.
Tasting Notes
Barrel No. 23A0044
Nose: Wonderfully rich scents fill my nostrils from the first sniff to the last. Brown sugar sweetness accompanies warm toffee. Fruit notes are dark and forboding with scents of blackberry, fig and plum jams. The tannic notes are off-the-hook with dusty oak, pipe tobacco and a slight hint of barrel char. I want to wear this like a cologne.
Palate: This certainly tastes like it's a teenage barrel. The oak is unbelievably good and really stands out as the star of the show. Additional tannins like leather and tobacco leaf leave an intense old feeling. Some of the tannins are drying though, with one note sticking out that I liken to "ash."
But there are plenty of dense, jammy fruits that flirt with my tongue. Fig, toasted citrus peel and vanilla all accompany a nice honey'ed character. Every flavor I taste is slick and oily. There's something unique and special about this barrel.
Finish: The tannins stick out the most on the finish with drying oak, more leather and a little bit of cigar ash. The slick, oily mouthfeel keeps that dryness at bay for the most part. The fruit notes aren't as strong as they were on the palate, but the finish is still mostly impressive. I like this a lot if you couldn't tell.
Score: 8.5/10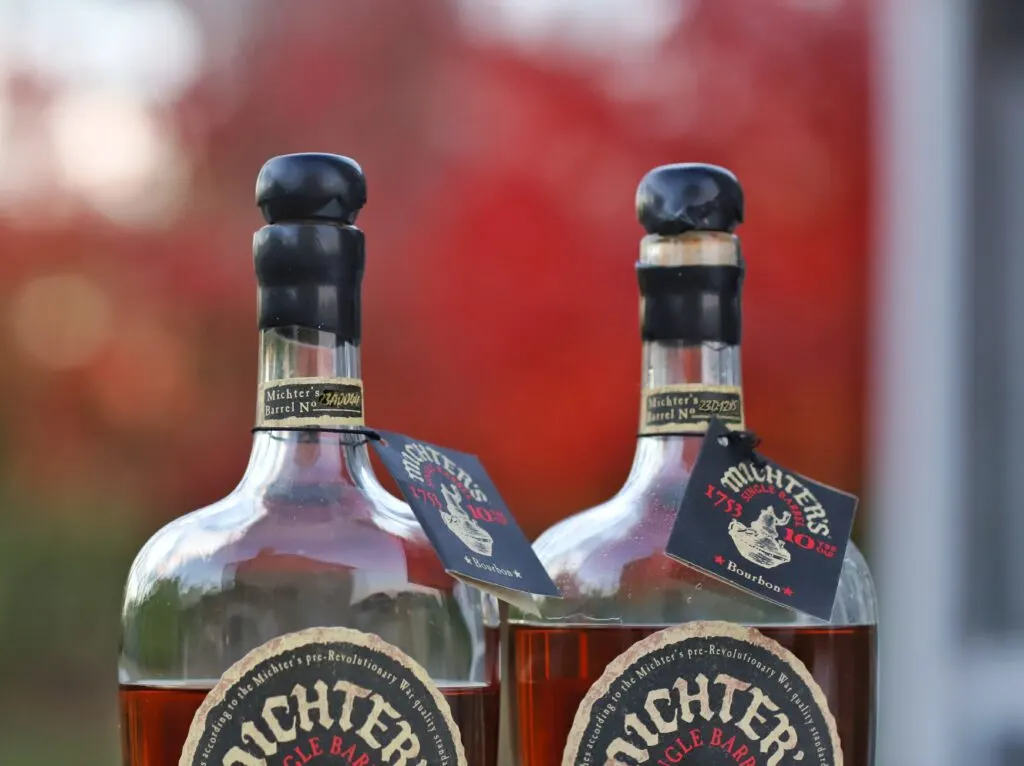 Barrel No. 23D1285
Nose: A lighter, less oak-influenced nose compared to Barrel No. 23A0044. I still find scents of old leather and a chocolate note that I didn't find in the other barrel. I also sense that this barrel contains a strong vanilla presence too. Caramel and ground cinnamon round things out, but sadly, very little fruit notes make themselves known.
Palate: The nose may have been lacking in fruit, but the palate isn't. I can taste flavors of blackberry, blueberry and strawberry jam. Even orange zest peaks out to say hello. There is a lack of body on each sip that the other barrel did not have and it tastes closer to a Barton product in my opinion. All is not lost though, interesting notes of black tea are always a treat to find. Sweetness comes from honey and a bit of caramel while spices such as cinnamon, cardamom and allspice play with your tastebuds. The lack of strong oak notes is curious. I wish there were more. Overall, this just isn't the same caliber as that 23A barrel.
Finish: A slightly more lively finish than the 23A barrel. Honey sweetness mingles well with lingering spices like cinnamon and cardamom. The tannins also make themselves much more known with seasoned oak and barrel char. The fruit notes that were nice to find on the palate seem to drop off just like the other barrel did too. Overall, a nice bourbon, but nowhere near as compelling as the 23A.
Score: 7.8/10
I went into this review with a heavy dose of skepticism that there was nothing truly different about these two single barrels of Michter's 10. It turns out there is – at least as far as the 23A0044 barrel was concerned. It oozed with oaky tannins and much more jammy fruit notes. It was the superior barrel. The 23D1285 barrel had more in common with previous M10s I've had in the past.
I don't know how these barrels ended up so different from each other or why Michter's had chosen the month of January to bottle the really good ones. All I know is that they're the ones to search for.
As for the 23D1285 barrel, there's not much that's special about it. It has some charm with the black tea and fruit notes, but it tastes "younger" – almost like it wasn't heat cycled at all. If I had to put a guess on the ages of both of these, I'd say the 23A0044 tastes like its 15 years old and the 23D1285 tastes 11 or 12 years old (and maybe was not aged in a heat-cycled warehouse).
Final Thoughts
Single barrel whiskey can be a total crapshoot. Sometimes you get a great one, sometimes you get a dud and most of the time it's just average. I caution everyone to try before you buy. But from what I've heard about these 23A barrels, there is something definitely different going on with them. If you were curious before, let me push you over the edge. Buy them in confidence.
As for the other releases this year, I feel like they're good – just not great. So if you are being offered anything other than a 23A for silly money, just say no. Flippers have a tendency of baiting uninformed buyers to spend big bucks on bottles that aren't the same.
Now that I know there's a difference, I'm going to have to put this bottle of 23A up against previous releases and see how they fare. But I can already tell you this, there was something special about those barrels they selected in January of this year.
Featured Products
Description:

The Aged & Ore Neat Traveler is a complete travel kit for spirits. We combined our widely praised Neat Glass with one of our 3oz Flight Bottles and housed them together in a custom EVA travel case. Perfect for a night away with your favorite pour. The tie
Description:

The Aged & Ore Bottle Flight is a premium set of 4 custom silicone wrapped glass bottles designed to transport and share samples of your favorite spirits. The flight bottles come in a custom EVA travel case that fits perfectly in any small bag. An Aged &
Description:

This Bundle combines two of our crowd favorite products, creating the ultimate travel bundle to bring along your favorite spirits and glassware. Bundle Includes: Neat Traveler (Gray) Bottle Flight (Gray) Note: This bundle is only available in gray and col
*Bourbon Culture is reader-supported. When you buy through links on our site, we may earn an affiliate commission.