*Bourbon Culture is reader-supported. When you buy through links on our site, we may earn an affiliate commission.
I've covered a lot of the history behind the Shenk's name in my previous reviews. But if there is one thing I want people to know about Shenk's, it's what exactly it is made up of. I firmly believe Michter's makes it by blending together a certain ratio of rye whiskey and bourbon. Doing this effectively negates the ability to call it one or the other. Therefore, it can only be called a "whiskey."
I've been sharing this theory with many of my friends for over a year now, but they still remain skeptical. My position comes from hours of photographic research online and on social media. I look at every barrel picture they have posted and never once have I seen a whiskey type other than "Bourbon" or "Rye" stamped on the barrel head.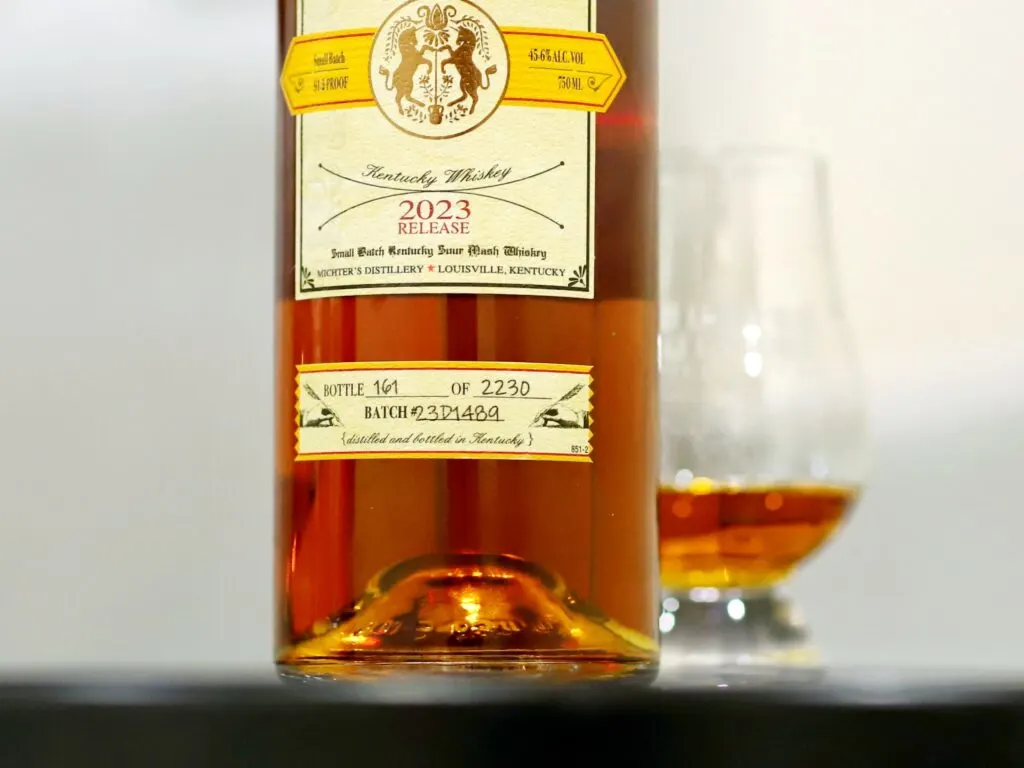 Why would they do it that way? I assume it's to get close to the original recipe found at the Bomberger's Distillery (before it was called Michter's, but after it was called Shenk's) by Louis Forman after he bought the place in 1942. That recipe used 50% corn, 38% rye and 12% barley. Since corn was not the dominant grain (must be at least 51%), it could not be called a bourbon.
What's new with the 2023 version of Shenk's?
Over the last 5 years, Shenk's has been a sort of test-bed for Michter's (along with Bomberger's). What I mean by that is that the blend utilizes different kinds of wood to either age or finish a portion of the whiskey in. In 2018, 2022 and 2023, Shenk's contained a portion of the blend that was matured/finished in French Oak barrels. From 2019 to 2021, a portion of the blend was aged in Chinquapin Oak. However, this year Shenk's (and Bomberger's) integrates a component of whiskey that uses a new mash bill that contains malted rye.

Going back to my opinion that "Shenk's is a blend of rye whiskey and bourbon," I have reason to believe that the new malted rye recipe is in the form of a bourbon. That would make sense seeing as how Shenk's and Bomberger's both use it this year and bourbon barrels would be the one trait they share. The question I asked myself in the 2023 Bomberger's review is whether or not the malted rye component is substituted in for the rye or the malted barley component. That's something that will probably never be answered.
So what will this malted rye mash bill do as far as taste goes? I'm predicting it will soften up some of the flavors since malted rye reduces a lot of the spice that unmalted rye is known for. It should also introduce flavors like chocolate and coffee beans. Those are two flavors I always seem to find in malted rye products. However, seeing as how malted rye will only be a portion of this blend, its impact may be tiny. This is something I intend to investigate. Thanks to my neighbor, Brad, I'm going to sit down with this bottle and find out what Michter's is up to. I sampled this neat in a glencairn.
Tasting Notes
Nose: The nose is distinctly different from previous years' Shenk's. I am finding much more telltale notes of the malted rye being used with every sniff I take. Scents like chocolate, mint and espresso beans are easy to pick out. More traditional notes like caramel, ground cinnamon and seasoned oak remind me of the Michter's roots underneath it all,
Palate: Sweet and inviting flavors greet my tongue after each sip. There's notes of toasted brown sugar, vanilla extract and cinnamon. Rye-forward spices like anise and clove seem to hint to the high-rye content. The malted rye reveals itself as more of an Andes after-dinner mint with a good balance of mint and chocolate. The tannins are a little more toned down than I was thinking they would. Did they cease to use the Chinquapin Oak barrels for a portion of this whiskey?
Finish: If you were thinking that the finish would reveal something different from what I listed so far, I hate to be the bearer of bad news. Lingering notes of chocolate and coffee hang around with some high-rye flavors like mint, cinnamon and mild white pepper. Oak and caramel seem somewhat mundane compared to the other notes I have found so far.
Score: 7.6/10
The 2023 edition of Shenk's sheds the previous balance it was known for. Now its profile leans much more rye-forward. But don't mistake this as me saying it tastes like a rye whiskey in the traditional sense – just that there are more rye notes than I've ever noticed in previous batches – let me explain.
The thing I have trouble with whenever I taste a whiskey that uses malted rye is the strange combo of coffee, chocolate and mint that always accompanies it. For me, I can never find just one of those without finding the other two. At first, it was a symbiotic relationship. I like coffee, chocolate and mint, therefore I liked whiskies that used malted rye. But the more I drink whiskies with it, the more I notice how it covers up the other flavors and scents that I enjoyed. Sometimes the malted rye contrasts with the other whiskey flavors, making the whole dram less enjoyable. I have this same feeling with Amburana-finished whiskey these days. In the beginning it was fun and different. Now every time I drink it, it's like chugging a gingerbread cookie.
I didn't have such a strong aversion to the malted rye content in this year's Bomberger's. Partly because I think that the higher proof allowed other stronger notes to cover some of it up. Partly because the lower rye content of the overall batch doesn't accentuate the malted rye portion as much. Regardless, my feelings for Bomberger's do not necessarily reflect my opinion on Shenk's.
Final Thoughts
It's tough to write an ending to this review. On one hand, I can recognize the parts of this whiskey that make it a very good product. The flavors are easy to find and are enjoyable across a wide-range of palates. Shenk's has always been a soft and sweet sipper with luxurious oak notes. Not much has changed on that front. But it's not the same Shenk's that I personally enjoyed the last five years running.
I know I'm in the minority of people who don't appreciate malted rye. It takes over too much. I think it's a one-trick pony that I wish to avoid whenever possible. But if you've liked it in the past, then pay no attention to my own objections. This year's Shenk's is going to be a treat for you. But if you're like me and find malted rye whiskies to be just a little bit off, then skip this release and wait 12 more months to see if Michter's decides to make a change.
Featured Products
Description:

The Aged & Ore Neat Traveler is a complete travel kit for spirits. We combined our widely praised Neat Glass with one of our 3oz Flight Bottles and housed them together in a custom EVA travel case. Perfect for a night away with your favorite pour. The tie
Description:

The Aged & Ore Bottle Flight is a premium set of 4 custom silicone wrapped glass bottles designed to transport and share samples of your favorite spirits. The flight bottles come in a custom EVA travel case that fits perfectly in any small bag. An Aged &
Description:

This Bundle combines two of our crowd favorite products, creating the ultimate travel bundle to bring along your favorite spirits and glassware. Bundle Includes: Neat Traveler (Gray) Bottle Flight (Gray) Note: This bundle is only available in gray and col
*Bourbon Culture is reader-supported. When you buy through links on our site, we may earn an affiliate commission.