This will be the first of three Castle & Key whiskey reviews I'll be doing over the next month or two. With that being said, I promise not to get into the weeds on the history and backstory of the brand. Besides, I've already went quite in-depth while covering the full story of Forbidden Bourbon which I've linked in case you want to read it.
In my Forbidden review, I brought to light how Marianne Eaves was hired by the financiers behind the resurrection of the Old Taylor Distillery to begin distilling operations. Her role was essentially that of a Master Distiller (which Fred Minnick later deemed her the first female one in Kentucky history) tasked with setting up all distilling equipment from soup-to-nuts while simultaneously preserving as much of the original structure of the old distillery as possible. Those two requirements seemed at odds with each other.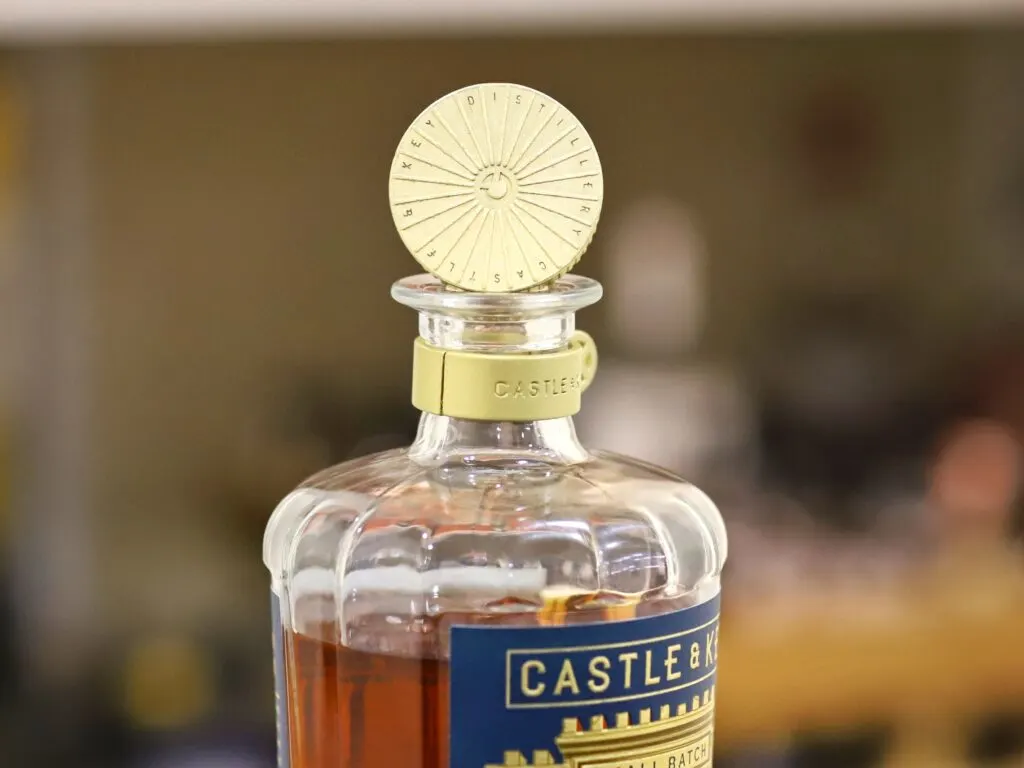 From the very beginning, she wanted to design whiskies that would take a more methodical, expensive approach to fermentation and distilling than what most other distilleries do. This was especially true with her approach to the wheated bourbon recipe you see before you today. Fermentation times would be twice as long (6 days compare to 3) and the grain selection would not be the typical varieties used for distilling. Instead, a special variety of white wheat and white corn were sourced from Walnut Grove Farms in southwestern Kentucky. While the yields for those grains might not be as high as traditional yellow dent corn or red winter wheat, the extra fermentation time and lower temp gained back some of the losses.
Castle and Key Wheated Bourbon Specs
The mash bill that Castle & Key Wheated Bourbon uses is 73% White Corn, 10% White Wheat and 17% Malted Barley. It comes off the still at 135 proof (which is somewhat standard) and enters the barrel at 107 proof (which is very low among today's distilleries). The 107 barrel entry proof is actually a very good thing to hear because common knowledge in the bourbon world says that wheated bourbon needs a lower barrel entry proof.
From there, the bourbon gets put into a 53 gallon barrels that have been charred to a #4 level before being rolled into the world's longest aging warehouse – Castle & Key's own Warehouse B. In the case of this bottle I'm reviewing today, it matured for 5 years before being pulled and 90 barrels were batched. It was bottled at 99 proof and was left non-chill filtered.
Castle & Key Warehouse Design – A blessing or a curse?
Let's talk a little bit about Warehouse B. There is no doubt that the size and scale of it is impressive. It's 534 feet long and is able to hold 33,000 barrels inside. Its constructed of brick and has four floors. Each floor contains ricks with barrels stacked 3 high. Most distilleries rick their barrels 6 tiers high. Castle and Key also has a second warehouse made of concrete (Warehouse E) that is slightly more modern (1950s construction). It has recently been getting filled with barrels as well. Of note: a key part of Castle & Key's business model is contract distilling and leasing out space in their warehouses to age barrels in.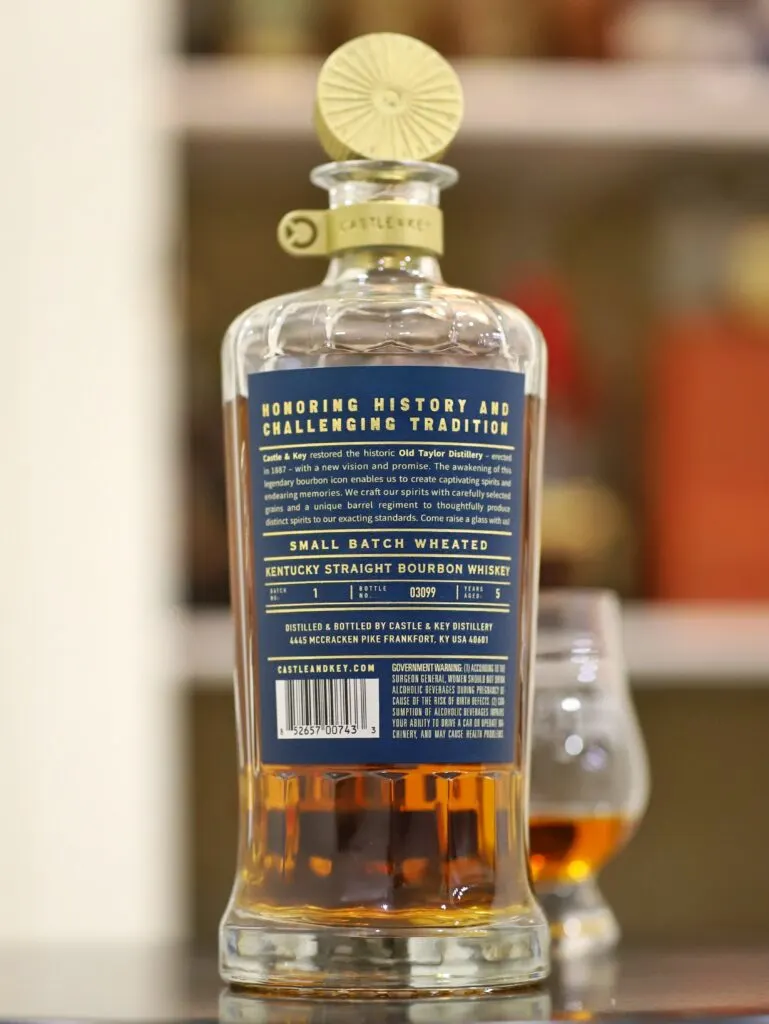 The only issue with these two warehouses seems to be that they're not very good at allowing higher temperatures to set in. That creates a cooler environment that may also trap more humidity. "So what?" you ask? That's the perfect recipe for barrels losing proof through more alcohol evaporation than water. Just look at the warehouses at MGP.
This theory becomes very noticeable when you look at Castle & Key's proof for their many bourbon releases. While they're not bottled at barrel proof, they claim they're not far from it. The batches of wheated bourbon have never been over 100 proof. Even the run of New Riff barrels that were contract-aged on site were known to have much lower proofs after maturation than they started with (most of those barrels averaged around 105 proof after being barreled at 120).
So why am I telling you all of this? Because the one thing I've learned about bourbon is that lower temperature aging conditions typically require a bourbon to be aged for longer to achieve proper maturation characteristics. In order to have higher temperatures, distilleries build warehouses with more floors and use materials that won't insulate against the rising summer temperatures as much (like wood). Castle & Key does not have warehouses like that.
The bottom line is Castle & Key might come to the realization that their 5 or 6 year old whiskies have the maturation characteristics of a much younger whiskey. Pay attention to this sentence as I'm going to bring it up at the end of the review.
Now it's time to get down to how the first wheated bourbon batch of 2023 tastes. There is a second batch that has been released, but this should show us how well it's coming along. A special thanks to Brad for sharing with me. I sampled this neat in a glencairn.
Tasting Notes
Nose: A gentle sweetness combines with some doughiness. This is somewhat typical of younger bourbons to smell like. Fruits come by way of berries and fresh pitted cherries. There's also Granny Apples – which combine with the dough to make a sort of "pie" scent. Cinnamon scents combine with caramel and buttery grits. The age seems young all the way around but thankfully I don't find any green wood notes. However, none of this is necessarily off-putting. Let's see how the flavors stack up.
Palate: Orchard fruits, raw dough and cinnamon seem to be a common theme in the profile. I've had these notes before in whiskies that I don't care for. However, this one does a little bit more to make me like it. A creamy mouthfeel combine with citrus rind to give the impression of lemon custard. Not bad. There is a sort of astringency that comes in and out, which deduct points.
Spices of all kind swirl around – some are good to find, some are prickly and obtrusive. They're red pepper flakes and black peppercorn. Cinnamon and allspice too. The sweetness comes from more of a "Sweet Tarts" note rather than caramel. In my experience, this indicates that the liquid has not had much interaction with the wood sugars, otherwise I'd be finding more caramel. The whole dram drinks a bit hotter than it's proof. If this was blind, I'd say it's around 108-110. Take that for what it's worth.
Finish: A smoother finish than most young bourbons, but I'm still able to tell the flavors don't seem fully developed. There's the smallest amount of caramel and nougat present. Cinnamon notes are also toned down. I'm still finding assorted berry flavors and the corn grits from the nose reemerge. The peppery heat exists but isn't that intrusive.
Score: 6.2/10
In my Forbidden review, which is basically the same as this bourbon, I rated it a 6.7/10. So what makes Castle & Key's drop by half a point? Primarily because the profile is a bit more plain overall. The fruit is still developing and the sweetness comes off more as "sugar" than "caramel." I also found the creamy mouthfeel – a thing I really liked in Forbidden – to be less pronounced here.
So why would Forbidden, a bourbon that contains 3 year old barrels in the blend, be noticeably better than Castle & Key's? I'm going to go back to the warehouse portion of this review to explain. Marianne had barrels that belonged to her (as part of a compensation package?) moved from Castle & Key to Bardstown Bourbon Company. They aged alongside barrels of the same mash bill she had contract distilled by BBC. And while I'm not sure which warehouse and floor they were aged on, BBC's warehouse construction is radically different. Most of them have between 6 to 7 stories and are constructed of wood (and glass). This allows for a lot more heat to impact the aging process. It also allowed for the barrels to experience a different climate compared to the campus at Frankfort.
Final Thoughts
The hype around Castle & Key has rapidly cooled off over the last 18 months since their first product was released. Honestly, the hype should have never been that big to begin with. "Early adopters" always confused me with how confident they were buying this bourbon. I don't think that the distilling process needs to be changed, but the age of the product needs to looked in to. A quicker solution may lie in Castle & Key finding a way to artificially heat the warehouses much like Brown-Forman and Michter's does. But I realize that is probably not realistic for them.
What this all boils down to is patience. As a distillery, Castle & Key needs to give their bourbon more time to age. As a consumer, you need to give Castle & Key's bourbon more time to age. Only then will it be worth picking up. Until they release an 8 year old product, there are much better bottles to spend your money on.
Featured Products
Description:

The Aged & Ore Neat Traveler is a complete travel kit for spirits. We combined our widely praised Neat Glass with one of our 3oz Flight Bottles and housed them together in a custom EVA travel case. Perfect for a night away with your favorite pour. The tie
Description:

The Aged & Ore Bottle Flight is a premium set of 4 custom silicone wrapped glass bottles designed to transport and share samples of your favorite spirits. The flight bottles come in a custom EVA travel case that fits perfectly in any small bag. An Aged &
Description:

This Bundle combines two of our crowd favorite products, creating the ultimate travel bundle to bring along your favorite spirits and glassware. Bundle Includes: Neat Traveler (Gray) Bottle Flight (Gray) Note: This bundle is only available in gray and col
*Bourbon Culture is reader-supported. When you buy through links on our site, we may earn an affiliate commission.