*Bourbon Culture is reader-supported. When you buy through links on our site, we may earn an affiliate commission.
During the very first year of High West's existence (2009), founder Dave Perkins had an epiphany of sorts when he blended together bourbon and rye whiskey. He would eventually trademark the term "Bourye" – a portmanteau of the words bourbon and rye – to describe this specific drink.
Bourye would have a bumpy ride initially before becoming a mainstay in the High West lineup. What I mean by that is the first three years, Dave and his team experimented with the components of the blend before putting it on hiatus for 3 years (2012 through 2014). During those three interim years, there was a release called "Son of Bourye" which saw a blend of much younger bourbon and rye whiskey mixed together.
In 2015, Bourye returned and with it came the older components that the fans desired. From 2015 to 2018, High West would list a breakdown of the whiskey components used in every batch of Bourye. But from 2019 to the present day, all they put out is that Bourye uses a blend of 10+ year old MGP-sourced rye whiskey (95/5) and two bourbons (the 75/21/4 and 60/36/4 versions). Gone are the days of Barton rye whiskey or Four Roses bourbon.
For years now, enthusiasts like myself have lamented the steep drop-off of whiskey quality at High West. A large part of that is due to the places they used to source aged whiskey from have all dried up. Barton no longer has a large cache of 16+ year old rye whiskey, Four Roses no longer sells their whiskey on the open market. And MGP's aged stocks have practically disappeared. High West has resorted to using their own pot-still rye whiskey in the rye blends and Dickel in their bourbon. Bourye remains the last bastion of the way it used to be. Nowadays it is said to be only blends of 10 year old MGP rye whiskey and bourbon.
2015 High West Bourye
Let's turn back to the clock to the good old days of 2015. High West had finished blending together stocks of whiskey that would make up that year's Bourye. It consisted of
9-year-old "low rye" MGP bourbon (75% corn, 21% rye, 4% malt)
10-year-old MGP rye whiskey (95% rye, 5% malt)
16-year-old MGP rye whiskey (95% rye, 5% malt)
16-year-old Barton rye whiskey (80% rye, 10% corn, 10% malt)
High West doesn't break down how much of each whiskey type was used, but I doubt it was equal ratios of each. I imagine there was a taste profile they were trying to nail down, one where the bourbon and the rye whiskey was not the dominant note.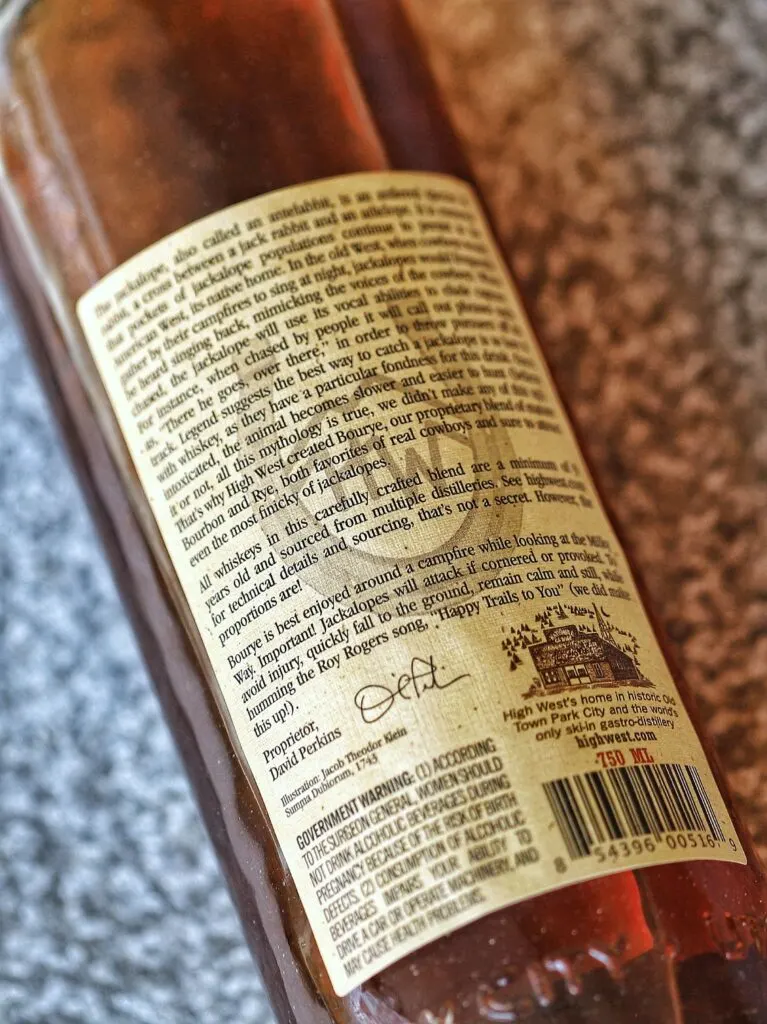 One interesting thing to note is that the 2015 release of Bourye was first released in December of 2014. It continued into January and February of 2015. The examples of Bourye bottled in late 2014 appear to be media releases or maybe bottles that were sold only in Utah. The example I'm reviewing today was bottled in February 2015 as is indicated by the Batch No. "15B05." The 15 denotes the year and the B corresponds with the month (a common industry trend for date stamps). The "05" is probably the number of the batch.
High West continued with the tradition of bottling their Bourye release at a rather low 46% ABV (92 Proof). To this day, this is one of the biggest complaints by enthusiasts. 92 Proof is a fine proof for a majority of people, but to not have the option of something higher-proofed seems criminal. Up until 2023, cask strength High West products were as rare of a sight as the mythical jackalope (which also happens to be the mascot of the Bourye label).
Considering the whiskies that went into the blend, maybe I'm making a big deal about nothing. Maybe this blend is something to celebrate. Luckily for me, some friends in Chicago saw many bottles of these still setting on the shelves in early 2022 for their original retail price – $79.99. They offered them to the group, so how could I say no? Let's see if it lives up to the hype. I sampled this neat in a glencairn.
Tasting Notes
Nose: With so many herbal rye scents (mint, oregano, marjoram) on the nose, I am compelled to believe that the rye whiskey components make up more than half of the final blend. There are other notes like seasoned oak, cinnamon and vanilla that no doubt are the result from all of the aged whiskey components. This certainly smells old, but also has some fruity notes like cooked orchard fruit. Citrus scents are lighter in that regard, but still maintain some of the character I would expect from MGP distillate.
Palate: There are a lot of flavors to unpack on the palate. Part of the reason why I think so many are noticeable is because the low proof isn't attacking my tongue with heat. Old notes like antique oak, cedar wood and old leather offer a nice depth. Spices (undoubtedly from the rye whiskies) come by way of anise, cinnamon, fennel and cardamom. Sweetness comes from toasted brown sugar, caramel and date syrup. Fruit notes match the nose, with various orchard fruits sticking out. The whole palate begs for more proof though.
Finish: Lingering notes of cooked orchard fruit and toasted citrus peel mix together with hints of baker's chocolate and vanilla. Tannins like oak and old leather give nice depth. The rye-forward flavors are still present too. Unfortunately the finish is short in length, probably due to the low proof. Sad.
Score: 7.4/10
The 2015 release of Bourye was an very pleasant experience… that suffers as a result of being low proofed. Much like a four cylinder version of a luxury car, it has the looks, it has the name but it doesn't have the feel. If you've read my other reviews of High West, I mention this same sentiment a lot.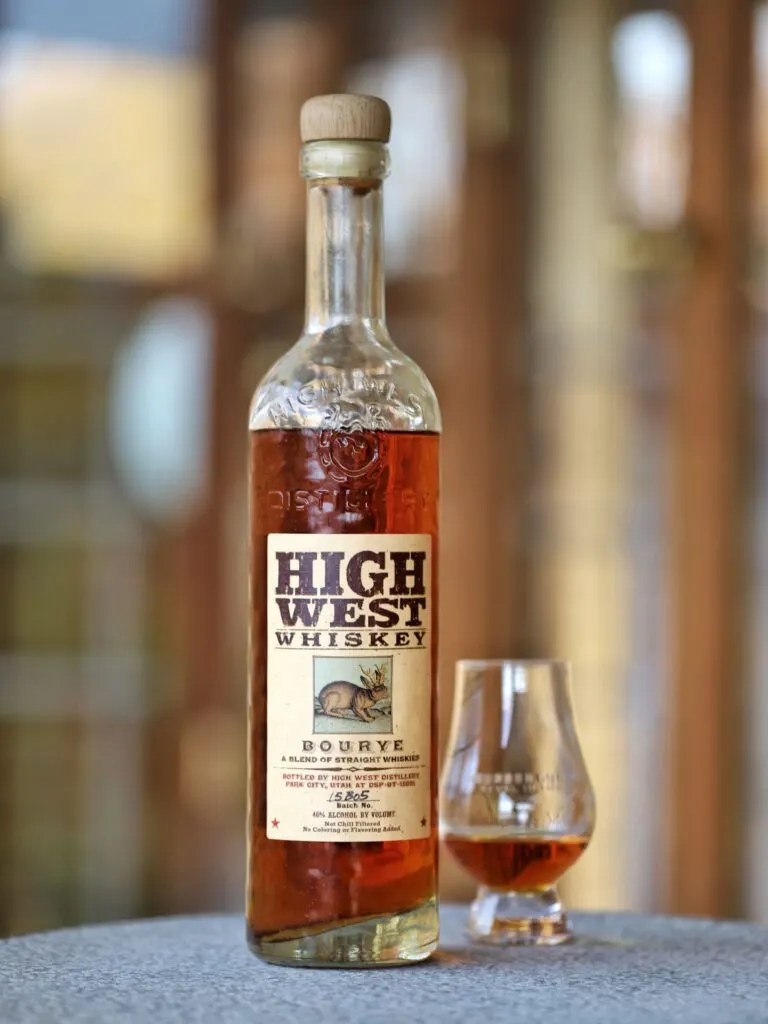 The one good thing going for this bottle is that it wasn't priced into the stratosphere. Even as the years passed by and other products like Midwinter Nights Dram keep climbing, High West seems to know the value of Bourye. It's not particularly sought after which keeps the prices low. Part of the reason is probably because enthusiasts know it has rye whiskey blended into it. And as much as I think this next part is crazy, not every bourbon enthusiast likes rye whiskey. This probably chases people away from pursuing it.
Final Thoughts
Finding older batches of Bourye can be a fun surprise on any liquor store shelf. Still, I would advise you to never pay over $100 for a bottle. It's fun to taste something from a bygone era, but it's not good enough to pay secondary prices for. This is especially true for modern batches which provide very little information on what's inside of them. When that happens, you can be almost sure that the components are lower quality.
The 2015 release of Bourye didn't impress me, but I'm glad to have gotten the chance to try it. There's something about collecting these older whiskies that allows a glimpse into a past where older whiskies flowed like water. But Bourye's lack of proof kind of takes away from its individual components, leaving me wondering if endeavors like this were a blunder on High West's behalf. I guess we'll never know. Now where can I find a bottle of Rocky Mountain Rye?
Featured Products
Description:

The Aged & Ore Neat Traveler is a complete travel kit for spirits. We combined our widely praised Neat Glass with one of our 3oz Flight Bottles and housed them together in a custom EVA travel case. Perfect for a night away with your favorite pour. The tie
Description:

The Aged & Ore Bottle Flight is a premium set of 4 custom silicone wrapped glass bottles designed to transport and share samples of your favorite spirits. The flight bottles come in a custom EVA travel case that fits perfectly in any small bag. An Aged &
Description:

This Bundle combines two of our crowd favorite products, creating the ultimate travel bundle to bring along your favorite spirits and glassware. Bundle Includes: Neat Traveler (Gray) Bottle Flight (Gray) Note: This bundle is only available in gray and col
*Bourbon Culture is reader-supported. When you buy through links on our site, we may earn an affiliate commission.