*Bourbon Culture is reader-supported. When you buy through links on our site, we may earn an affiliate commission.
I consider there to be 4 main bourbon hotspots in Kentucky where the distilleries are located and the liquor stores overfloweth: Louisville, Bardstown, Lexington and… Northern Kentucky across the river from Cincinnati. With tons of thirsty Ohioans ditching their state controlled liquor stores in favor of the land of milk and honey, a short drive across the Ohio River yields all kinds of fun finds.
Cork 'N Bottle Store Pick
Cork 'N Bottle is a liquor store that is situated in this area and has built a reputation for terrific barrel picks. I stopped in there recently to see if there was anything new and unique and they did not let me down. Out of 8 different single barrels, I decided to pick up a bottle of their Bone Snapper Rye because the age on the back shows that it's one of the oldest MGP aged ryes I've seen offered by the Bone Snapper brand (clocking in at 80 months and 121.6 proof).
Compared to the fantastic Rural Inn pick bought a few months back (76 months old and 120 proof), this was an easy decision to buy. With the Rural Inn pick, I concluded that it was roughly 4/5 the flavor and profile of a Whistlepig 13 year MGP Rye at almost half the price. So would the Cork 'N Bottle pick rank just as high? There's only one way to find out. I sat down and sampled this bottle neat and in a glencairn.
Tasting Notes
Nose: Toasted Graham Cracker Crust, Pine Needles, lemon and tangerine rinds, sweet hay, mint, an apple orchard on a fall day, brown sugar, spice box and Sandalwood (very fragrant)
Palate: Scoops of dark brown sugar, citrus oils, rose water, dark red fruits, oak, cinnamon, allspice and green cardamom
Finish: A terrific spicy finish that smolders all the way down your throat, never becoming overly harsh. There's sweet mint, more brown sugar goodness and some pipe tobacco and leather.
Score: 8.1/10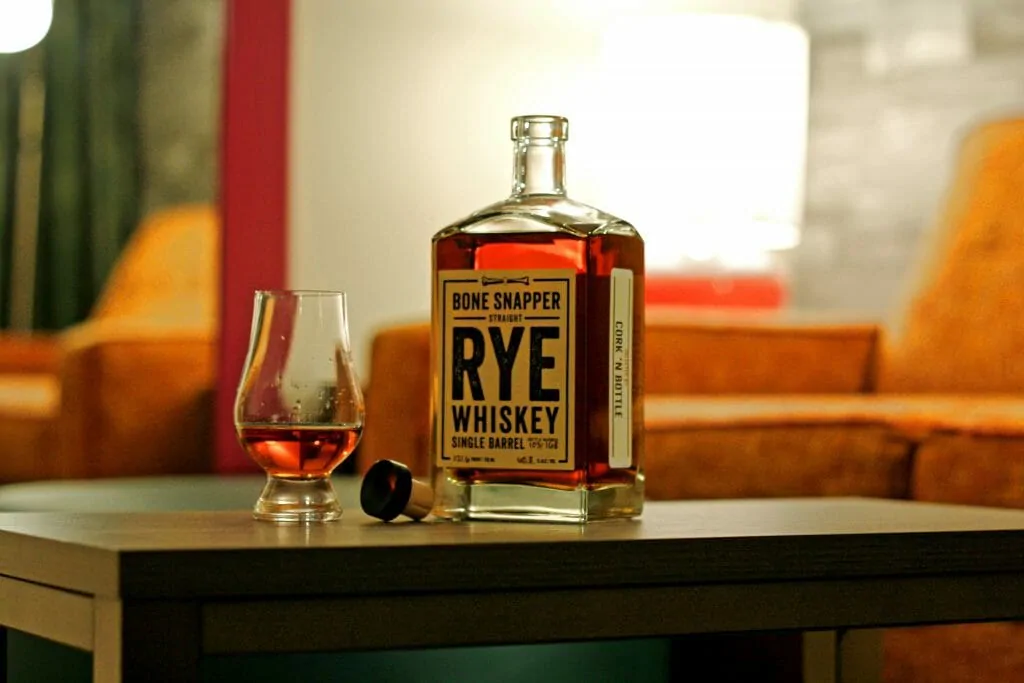 These MGP ryes are so good. At basically 8 years old, they're the perfect mix of having some young rye spice herbal traits, spicy traits and gobs of sweetness that happens at a very high age. I did get a chance to actually talk to one of the co-owners of Backbone Bourbon while he was in the store at Rural Inn a couple weeks ago and I asked him how many more of these 7-8 year old barrels of MGP rye he had left.
He told me "not much, maybe 6 to 10 barrels" which is somewhat alarming because these won't be around forever (however, his 4+ year old barrels will eventually gain that age and be released). Whereas most stores that carry Backbone products have 4-5 year old rye products, these 7+ year old ones are worth grabbing whenever you see them. And at the risk of pressing the "ACTIVATE TATERS" button, I'm going to declare that Backbone is right up there for the best value for mid-aged and well sourced MGP juice on the market right now.
Scoring Index:
1 | Disgusting | Drain pour (Example: Jeffers Creek)
2 | Poor | Forced myself to drink it
3 | Bad | Flawed (AD Laws 4 Grain BiB, Clyde Mays anything)
4 | Sub-par | Many things I'd rather have (Tincup 10 year)
5 | Good | Good, solid, ordinary (Larceny, Sazerac Rye)
6 | Very Good | Better than average (Buffalo Trace, OGD BiB)
7 | Great | Well above average (Old Ezra Barrel Proof, Old Weller Antique)
8 | Excellent | Exceptional (Michter's Barrel Proof Rye, Four Roses Barrel Strength)
9 | Incredible | Extraordinary (GTS, 13 Year MGP or Canadian Rye)
10 | Insurpassable | Nothing Else Comes Close (William Larue Weller)
Featured Products
Description:

The Aged & Ore Neat Traveler is a complete travel kit for spirits. We combined our widely praised Neat Glass with one of our 3oz Flight Bottles and housed them together in a custom EVA travel case. Perfect for a night away with your favorite pour. The tie
Description:

The Aged & Ore Bottle Flight is a premium set of 4 custom silicone wrapped glass bottles designed to transport and share samples of your favorite spirits. The flight bottles come in a custom EVA travel case that fits perfectly in any small bag. An Aged &
Description:

This Bundle combines two of our crowd favorite products, creating the ultimate travel bundle to bring along your favorite spirits and glassware. Bundle Includes: Neat Traveler (Gray) Bottle Flight (Gray) Note: This bundle is only available in gray and col
*Bourbon Culture is reader-supported. When you buy through links on our site, we may earn an affiliate commission.