*Bourbon Culture is reader-supported. When you buy through links on our site, we may earn an affiliate commission.
Barrell Bourbon Batch 021 is the second-to-last bourbon batch release of 2019. After a three month hiatus, Barrell quietly released this batch nationwide over just a few weeks. I mention this because most of the time, Barrell releases usually have a slow accordian-effect release with the coasts getting them first. Batch 021 also sees MGP distillate find its way back into the blend for the first time since Batch 017.
Batch 021 uses a mix of 10 and 14 year old barrels, which on paper looks just like what they blended together for Batch 020. Bottled at 106 proof (yes, that's barrel proof), it looks to be an easy sipper. So let's see how it holds up. I sampled this neat and in a Glencairn.
Tasting Notes
Nose: A sweet aroma of baking chocolate shavings, sweet fragrant wood (oak?), stewed stone fruits and sweet cream with wild berries. I know I already mentioned the stone fruits (which are typically not sweet), but then I find another layer and this time it's tropical fruits which gets me excited because it's just like Barrell Batch 017! An even further layer reveals a faint peanut scent which is somewhat typical for me to find in Dickel products these days.
Palate: If I thought the nose was complex and wonderful, the palate gets even better. Blackberries, raspberries, buttered cornbread and graham crackers make this bourbon almost taste like a meal. There is a little bit of graphite minerality (that's the Dickel vitamins showing up) and a peppery bite lurks around during the whole dram, but it adds a nice depth. Then there's birch beer soda and lemon rind, which add an exotic layer of sweetness that is very unique.
Finish: The finish really revels in showing off the age of the bourbons that were sourced for this blend. Semi-sweet chocolate, dry tobacco, musty WW2 bomber jacket leather, some black pepper and chili powder. But it also still retains the nose and palate's sweet fruity nature by offering up some tart cherries and semi-ripe summer berries as well. The finish is as complex and nuanced as the rest of the dram has been.
Score: 8.2/10
There is one theme I kept circling around as I drank this: This is like a "Sangria Bourbon." The fruit/berry juicy sweetness coupled with a nice thick liquid mouthfeel really dominates. Sure, I got lots of other flavors out of this, but wow, this is actually one of the more unique Barrell's I've had in a long time. Barrell's website description also lists a dominate Blackberry note and that is the very first thing I picked up on when I took my first sip…and every sip after that. It's really something unique.
There's no denying this is a premium bourbon because the complexity and layers revealed more and more with every sip. I believe that this batch could rack up a lot of awards at the next major spirits competition, but this batch has officially moved up near the top of my favorite Barrell Bourbons of all time.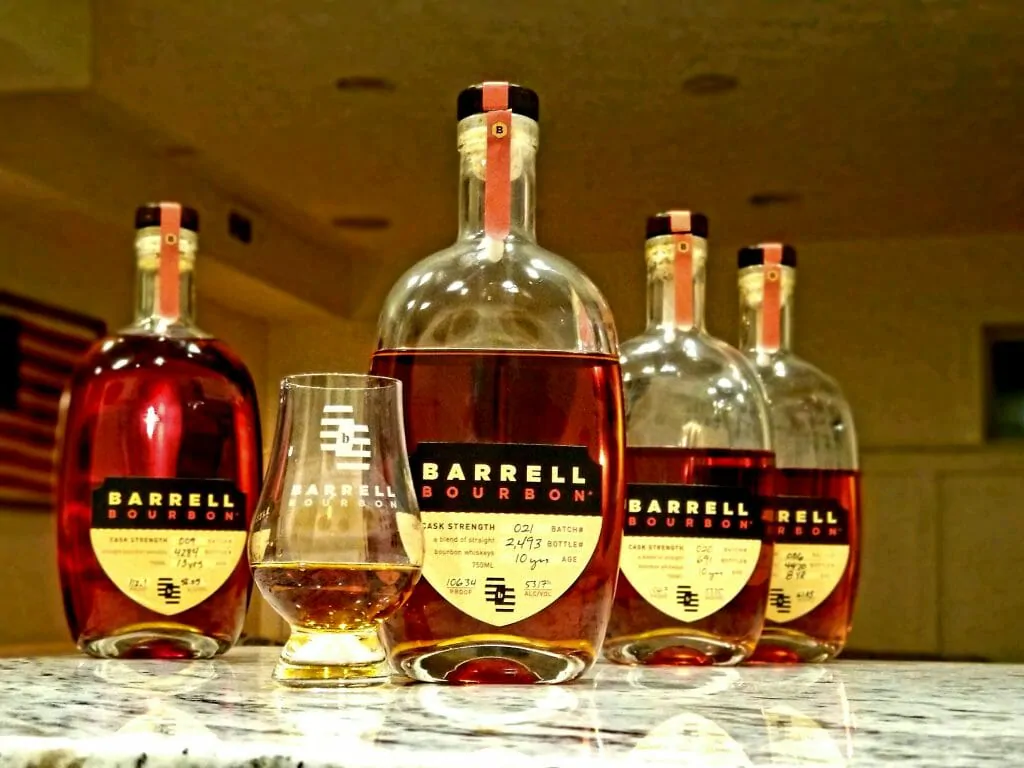 Scoring Index:
1 | Disgusting | Drain pour (Example: Jeffers Creek)
2 | Poor | Forced myself to drink it
3 | Bad | Flawed (AD Laws 4 Grain BiB, Clyde Mays anything)
4 | Sub-par | Many things I'd rather have (Tincup 10 year)
5 | Good | Good, solid, ordinary (Larceny, Sazerac Rye)
6 | Very Good | Better than average (Buffalo Trace, OGD BiB)
7 | Great | Well above average (Old Ezra Barrel Proof, Old Weller Antique)
8 | Excellent | Exceptional (Michter's Barrel Proof Rye, Four Roses Barrel Strength)
9 | Incredible | Extraordinary (GTS, 13 Year MGP or Canadian Rye)
10 | Insurpassable | Nothing Else Comes Close (William Larue Weller)
Featured Products
Description:

The Aged & Ore Neat Traveler is a complete travel kit for spirits. We combined our widely praised Neat Glass with one of our 3oz Flight Bottles and housed them together in a custom EVA travel case. Perfect for a night away with your favorite pour. The tie
Description:

The Aged & Ore Bottle Flight is a premium set of 4 custom silicone wrapped glass bottles designed to transport and share samples of your favorite spirits. The flight bottles come in a custom EVA travel case that fits perfectly in any small bag. An Aged &
Description:

This Bundle combines two of our crowd favorite products, creating the ultimate travel bundle to bring along your favorite spirits and glassware. Bundle Includes: Neat Traveler (Gray) Bottle Flight (Gray) Note: This bundle is only available in gray and col
*Bourbon Culture is reader-supported. When you buy through links on our site, we may earn an affiliate commission.