*Bourbon Culture is reader-supported. When you buy through links on our site, we may earn an affiliate commission.
Mammoth Distilling, from Traverse City in northern Michigan, is doing what most other new distilleries have done while they wait for their own products to come of age; source other whiskey to release under their name until theirs has finished aging. Today, I look at a bottling of their "Borrowed Time Rye" release with a sticker on the back of a dog named "Honey." I can't find much in regards to when this rye was released, but it appears that it is from a single barrel, Canadian sourced, aged at least 12 years and bottled at 131.3 proof.
The color of the liquid is an extremely light straw color, probably one of the lightest colors I've seen for any whiskey this age for quite some time. Does this indicate it was aged in a used barrel? I'm uncertain, but perhaps a nice pour from this bottle will clear some things up. I sample this neat and from a Glencairn.
Tasting Notes
Nose: The initial scents present a strong yet light aroma. There is no heavy caramel or heavy oak spices, but the light scents really pop and are easy to identify. There's a sharp scent of Mop & Glo floor cleaner initially. I also detect some wood barrel char, wood ash and wood varnish. But for what those characteristics may have you think, they're all pretty pleasant as they mix with the sweet aromas of honeycomb, citrus zest and candied oranges. In fact, there is yet an even sweeter layer you can find where it smells just like a fresh cinnamon and sugar donut. The sweetness keeps the whole nose very light and pleasant, which is a total opposite of the powerful caramels that a bourbon?! i should mention that a couple sips in that I'm really digging that the whole thing is layered and sweet, but not in your face caramel sweet like a bourbon.
Palate: The palate has all the traits of a Canadian Rye Whiskey. It's bright and vibrant with pine needles, tangerine oranges, cinnamon and Riccola cough drops. There is even a taste that is remarkably similar to absinthe (or maybe a little bit of jagermeister). There is a taste of mint, eucalyptus, black licorice, ginger and turmeric. Ultimately, it's a huge herbal and citrus forward pour that I'm really impressed by.
Finish: The finish retains more of the citrus flavors from the palate with naval oranges, pine needles, star anise and sweet mint. It's kind of medicinal, but very herbal overall. Some sweetness remains with the aftertaste of wildflower honey and peppermint ice cream. There's also some floral notes like rose petal tea w/ turmeric added in. Overall, it's a multi-layered bomb of herbs and floral notes that last for a long time.
Score: 8.2/10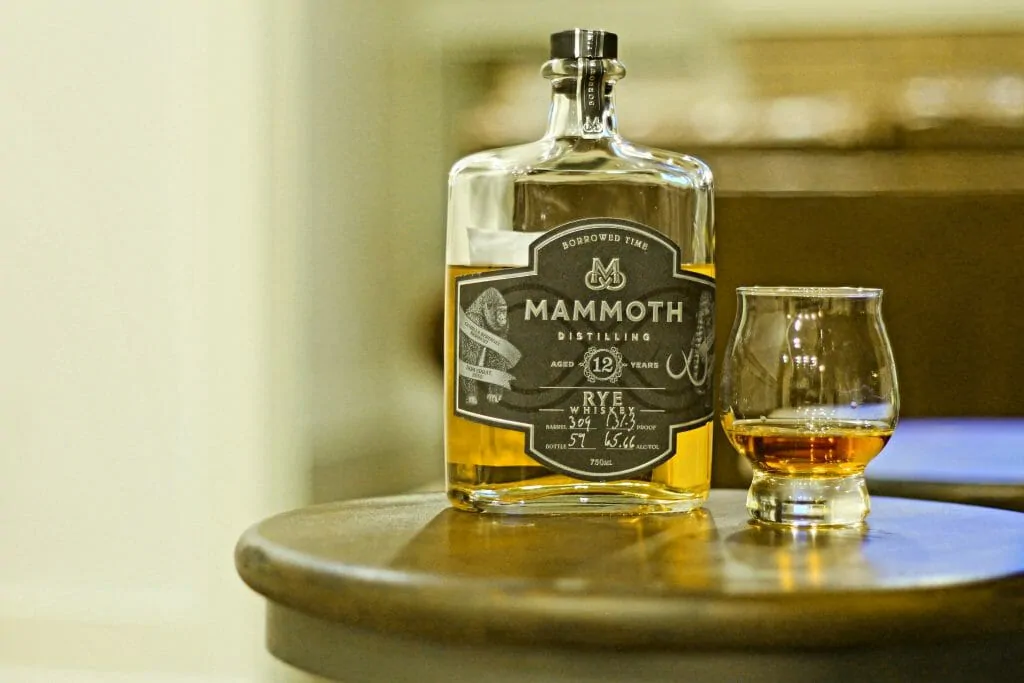 I really liked this rye whiskey. The body is kind of thin, but that doesn't stop it from packing a punch of fun flavors and scents to enjoy. Most will want a thicker mouthfeel and heavier notes, but Mammoth found and bottled the epitome of what a Canadian rye whiskey espouses, namely floral, herbal scents in a light body. My friend was not as impressed because he believed it was too hot, but if you're a high proof drinker, I think you'd be really happy with what you'd find in this whiskey.
Ratings Breakdown
1 | Disgusting | Drain pour (Example: Jeffers Creek)
2 | Poor | Forced myself to drink it
3 | Bad | Flawed (AD Laws 4 Grain BiB, Clyde Mays anything)
4 | Sub-par | Many things I'd rather have (Tincup 10 year)
5 | Good | Good, solid, ordinary (Larceny, Sazerac Rye)
6 | Very Good | Better than average (Buffalo Trace, OGD BiB)
7 | Great | Well above average (Old Ezra Barrel Proof, Old Weller Antique)
8 | Excellent | Exceptional (Michter's Barrel Proof Rye, Four Roses Barrel Strength)
9 | Incredible | Extraordinary (GTS, 13 Year MGP or Canadian Rye)
10 | Insurpassable | Nothing Else Comes Close (William Larue Weller)
Featured Products
Description:

The Aged & Ore Neat Traveler is a complete travel kit for spirits. We combined our widely praised Neat Glass with one of our 3oz Flight Bottles and housed them together in a custom EVA travel case. Perfect for a night away with your favorite pour. The tie
Description:

The Aged & Ore Bottle Flight is a premium set of 4 custom silicone wrapped glass bottles designed to transport and share samples of your favorite spirits. The flight bottles come in a custom EVA travel case that fits perfectly in any small bag. An Aged &
Description:

This Bundle combines two of our crowd favorite products, creating the ultimate travel bundle to bring along your favorite spirits and glassware. Bundle Includes: Neat Traveler (Gray) Bottle Flight (Gray) Note: This bundle is only available in gray and col
*Bourbon Culture is reader-supported. When you buy through links on our site, we may earn an affiliate commission.