*Bourbon Culture is reader-supported. When you buy through links on our site, we may earn an affiliate commission.
Buffalo Trace's flagship bourbon, Buffalo Trace Bourbon, has been one of my top recommendations for a long time now to new people getting into bourbon.
The low-ish proof (90) and decent age (no age statement given, but assumed to be 7 to 9 year old barrels) give the bourbon the perfect amount of aged character without coming off as too hot or young.
Relatively new bourbon drinkers should be able to enjoy the sweet characteristics of this bourbon while also finding surprises like cherry or orange fruit flavors. The only real fault I can find in their bourbon is that they decide to chill filter it before bottling, which seems like it would remove some of that terrific character that 7 to 9 years in a barrel have bestowed upon it.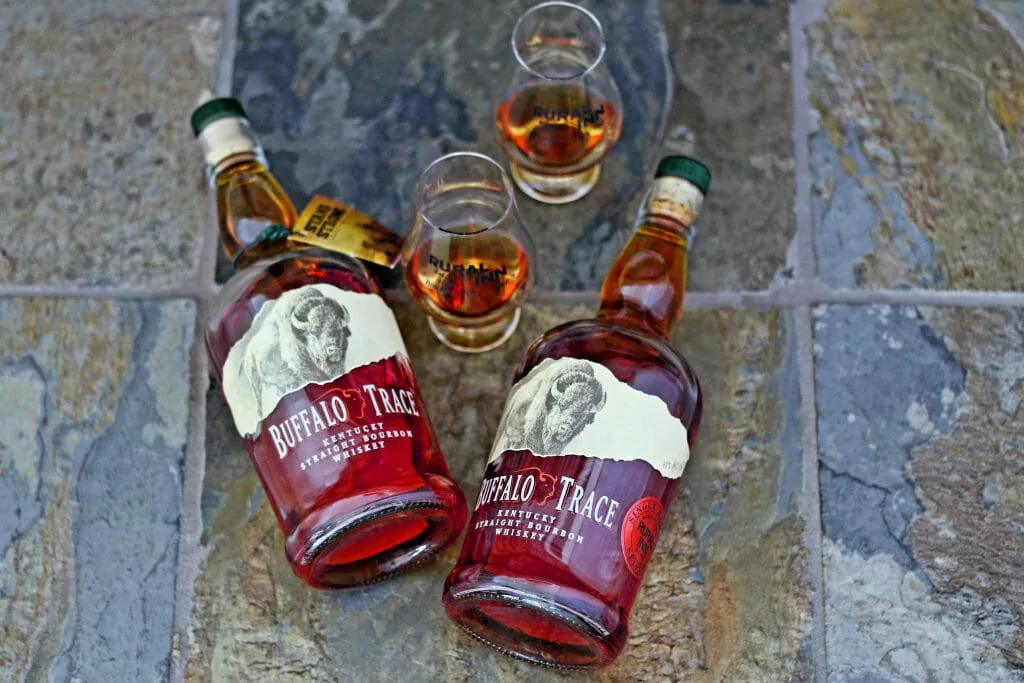 Buffalo Trace has had a single barrel program for a while now whereby some barrels have been set aside that focus on some of the more enticing flavors that drinkers really want. These have become more and more desirable in recent years as the popularity of the brand has grown. They are even viewed as having a slightly collectible nature in them, but are still inexpensive enough to not get crazy on the secondary market.
So with that being said, let's take a random single barrel bottle from Rural Inn's 2018 pick and put it up against a bottle of the regular batched product which was also bought in the same year. To make things a little more interesting, I am doing this comparison semi-blind while sampling each neat and from a glencairn.
Blind Glass #1
Nose: Scents of Fruit Roll-Ups, sweet and tart cherries and peaches show a huge concentration of fruit in this dram. There's also really pleasant vanilla, light brown sugar and a very small amount of cinnamon. All of these are things I would expect in an Buffalo Trace product and is what makes them so desirable.
Palate: A thick and sticky cherry juice coats my tongue along with citrus peel and some flat cola. For being non-chill filtered, it's really great how syrupy this tastes and I'm really digging all of this fruit.
Finish: After the sip is complete, I find there to be lingering orange zest and a little bit of black pepper flakes for heat. There's also a nice light touch of oak wood which shows this barrel's age.
Score: 6.5/10
Blind Glass #2
Nose: Sweet and fruity notes of cherry, raspberry and grenadine. There's a touch of vanilla and caramel as well making the nose pleasant and inviting to both inexperienced and experienced drinkers alike.
Palate: The sweet cherry effect dominates with a mouthful of maraschino cherries along with flat Faygo orange soda with a touch of creaminess. There is also a decent amount of caramel as well.
Finish: A sweet, lingering flavor of muddled cherries and oranges with a cube of sugar sticks around on the tongue, much like an Old Fashioned. There's very light oak and some vanilla. Overall a very pleasant finish.
Score: 6.2/10
Reveal:
Glass #1: Buffalo Trace Rural Inn Single Barrel
Glass #2: Buffalo Trace
Winner: Buffalo Trace Rural Inn Single Barrel!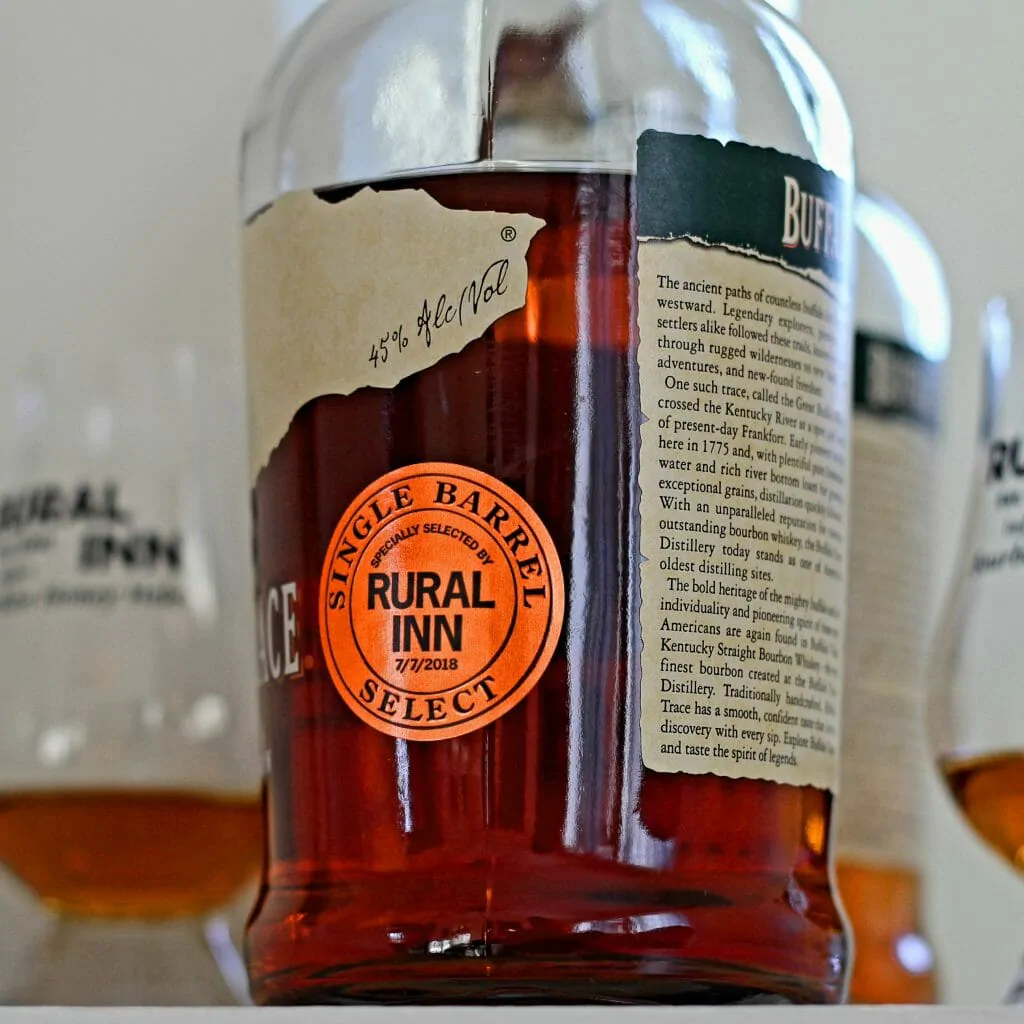 This single barrel of Buffalo Trace was a good one with more intensity in the nose and a fruitier all-around palate. I felt that both finishes were somewhat equal to each other as well.
This is a good example that a single barrel doesn't always mean that certain flavors are amped up while other flavors are non-existent, instead, the single barrel showed an increase across the board of all flavors and scents.
Final Thoughts
The most important thing about all single barrels that I highly recommend is that you try before you buy so that you can make sure they fit the profile that you like the best.
But the best part about these Buffalo Trace picks is that they are typically so inexpensive (often being the same price as the regular batched product) that you won't feel like you lost out on too much if you later to find them not to your liking.
To add in one final bit of info that I found out while doing this blind tasting, it was interesting to note that the single barrels of Buffalo Trace use a real cork stopper instead of the batched product which uses a synthetic cork. Not that there's anything wrong about either, but it's yet another way you can differentiate them. Cheers!
Ratings Breakdown
1 | Disgusting | Drain pour (Example: Jeffers Creek)
2 | Poor | Forced myself to drink it
3 | Bad | Flawed (AD Laws 4 Grain BiB, Clyde Mays anything)
4 | Sub-par | Many things I'd rather have (Tincup 10 year)
5 | Good | Good, solid, ordinary (Larceny, Sazerac Rye)
6 | Very Good | Better than average (Buffalo Trace, OGD BiB)
7 | Great | Well above average (Old Ezra Barrel Proof, Old Weller Antique)
8 | Excellent | Exceptional (Michter's Barrel Proof Rye, Four Roses Barrel Strength)
9 | Incredible | Extraordinary (GTS, 13 Year MGP or Canadian Rye)
10 | Insurpassable | Nothing Else Comes Close (William Larue Weller)
Featured Products
Description:

The Aged & Ore Neat Traveler is a complete travel kit for spirits. We combined our widely praised Neat Glass with one of our 3oz Flight Bottles and housed them together in a custom EVA travel case. Perfect for a night away with your favorite pour. The tie
Description:

The Aged & Ore Bottle Flight is a premium set of 4 custom silicone wrapped glass bottles designed to transport and share samples of your favorite spirits. The flight bottles come in a custom EVA travel case that fits perfectly in any small bag. An Aged &
Description:

This Bundle combines two of our crowd favorite products, creating the ultimate travel bundle to bring along your favorite spirits and glassware. Bundle Includes: Neat Traveler (Gray) Bottle Flight (Gray) Note: This bundle is only available in gray and col
*Bourbon Culture is reader-supported. When you buy through links on our site, we may earn an affiliate commission.