Are you looking forward to tasting Eagle Rare 25 soon? Yeah, neither am I. Buffalo Trace has released another bottle in their exclusive "Not For The Poors" lineup that includes Double Eagle Very Rare and O.F.C. With an age statement (and price) like this, I'm sure the comparison will be drawn to some of the best whiskies that Scotland produces.
Of course, aging any bourbon for 25 years doesn't magically happen. Out of every 100,000 barrels a distillery fills, maybe 20 would ever be worth drinking if they hit their silver anniversary. But what if there was a way for your bourbon to avoid becoming over-oaked as it sat in its original new-charred oak cask? There is – and we've already seen it happen on a large scale a few months ago with Maker's Mark Cellar Aged.
The secret to Maker's Mark allowing their bourbon to age past 7 years old is that they took the barrels out of the hot rickhouses and put them into their temperature controlled limestone cellar. Their cellar sees an average annual temperature of around 49 degrees (never letting it get above 55 degrees FYI). Maker's Mark is always worried about their bourbon becoming over-oaked, so they did this to essentially stall the liquid and wood interaction for around 5 extra years so that they could put a big age statement on the bottle without their bourbon tasting like a rickhouse floor.
Buffalo Trace must have been wire-tapping Maker's Mark headquarters (or maybe vice versa) because they landed on the same idea to ultra-aging their barrels. Only instead of creating a man-made cellar on the side of a hill, they built a refrigerated room inside of Warehouse P. Buffalo Trace seems coy to outright say this fact when they talk about Warehouse P, but there are many videos online showing the inside. Warehouse P stores 50,000 barrels within its 6 stories, but only 150 of them rest inside of the refrigerated room. The HVAC system ensures that the room stays between 45 and 47 degrees year-round. This way they can put barrels identified by their greatness inside to chill out (pun intended) for as long as they need.
So does that mean the barrels have spent their entire life in the refrigerated room? No. Typically they are allowed to age wherever they are and once they hit peak flavor, they'll get pulled and put into Warehouse P's special room. This preserves the state they were in and allows the years to pile on to their age statement. It is designed to limit evaporation and the oak-to-liquid interaction that results in additional tannins being absorbed. To put it simply: it preserves the bourbon in a sort of stasis.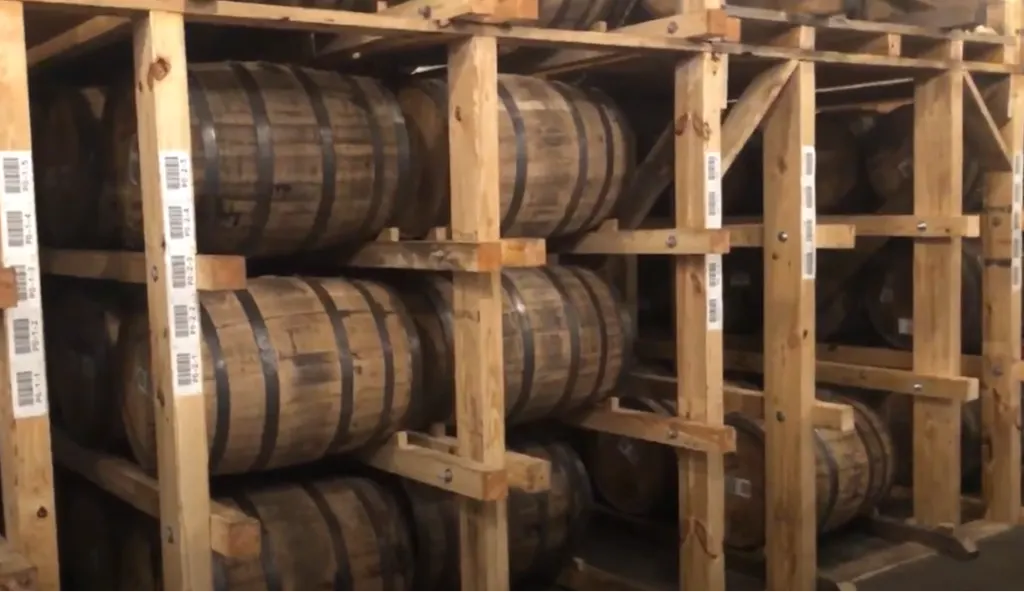 Is this cheating? In my opinion, yes. But I see why they're doing it. Scottish distilleries don't get to pick the climate they get to age their barrels in, it just so happens that it's naturally mild. Oh, also the fact that they can use previously-used barrels helps because they impart significantly less tannins. But Bourbon rules and regulations don't allow for the use of anything other than new charred oak to be used – so we're kind of stuck with what we have.
Mark my words, we haven't seen the last of refrigerated, ultra-aged American Whiskies. I'm sure other distilleries are creating similar structures with the same idea in mind. As the market has already shown us, there is always a wealthy buyer who will buy expensive bottles just to have. But now that you know the secret, I really don't see how this could be wildly different from a "standard" bottle of Eagle Rare 17 year (which is already very expensive). So cheer up, peasants. At least you might have a shot of owning that bottle one day.
** Contact your local retailer to see about getting your own bottle starting at $10,000 **
Featured Products
Description:

The Aged & Ore Neat Traveler is a complete travel kit for spirits. We combined our widely praised Neat Glass with one of our 3oz Flight Bottles and housed them together in a custom EVA travel case. Perfect for a night away with your favorite pour. The tie
Description:

The Aged & Ore Bottle Flight is a premium set of 4 custom silicone wrapped glass bottles designed to transport and share samples of your favorite spirits. The flight bottles come in a custom EVA travel case that fits perfectly in any small bag. An Aged &
Description:

This Bundle combines two of our crowd favorite products, creating the ultimate travel bundle to bring along your favorite spirits and glassware. Bundle Includes: Neat Traveler (Gray) Bottle Flight (Gray) Note: This bundle is only available in gray and col
*Bourbon Culture is reader-supported. When you buy through links on our site, we may earn an affiliate commission.