I cannot believe my eyes. Is this real? Are we really getting a 10 year old bourbon from Old Forester? According to this this TTB filing the answer seems to be yes! In celebration of the 100th year of Owsley Brown blending together barrels of different mash bills at his downtown Louisville location and bottling them under the Old Forester name, Old Forester has chosen to create a special bottling.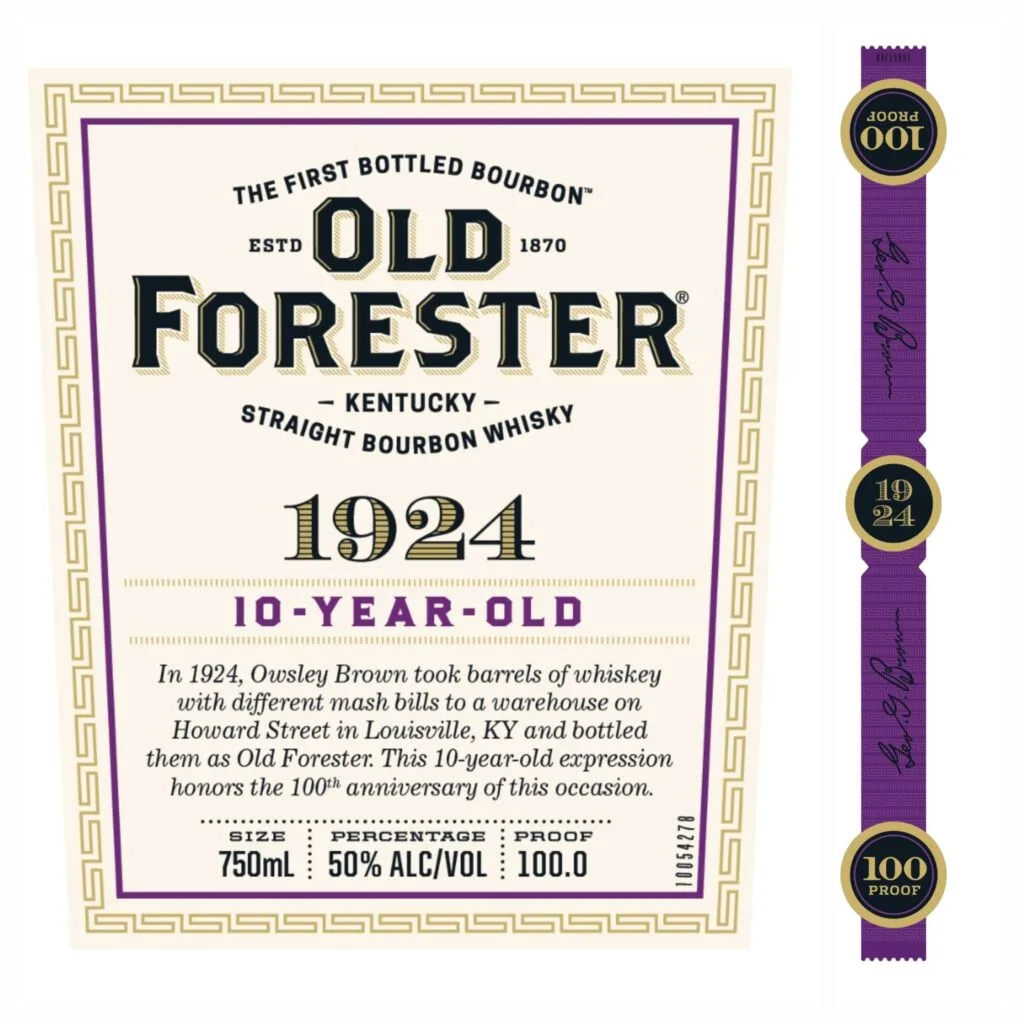 Based on the year that this happened (1924), we can only assume that we won't see this release until next year in 2024. I could be wrong about that as producers don't always have to wait on the exact date of a historical event to commemorate it. Lag in shipping and distribution make it this way.
Let's talk about that age statement
Old Forester is different from the other Kentucky distilleries. They have 7 brick warehouses (and an eighth that was torn down – the metal-clad Warehouse O) that are all heat cycled. Heat cycling is an expensive process that involves heating up lots of water into steam and piping it into the warehouses to maintain a set temperature. This will artificially mature the barrels even through winter – a time when other distillery's barrels typically go dormant.
What does that mean? The average age of an Old Forester barrel is around 4 to 6 years old. But they will taste like a 7 or 8 year old barrel from another distillery. This has been the way things have always been for decades.
Old Forester's Birthday Bourbon has bucked that tradition by identifying a select group of barrels that are allowed to age between 10 to 12 years old. King of Kentucky barrels were taken out of the heat-cycled warehouses at 7 years old and put into the non-heat cycled Warehouse O for 7 to 10 more (so all of the liquid wouldn't evaporate out) and President's Choice are somewhere between 6 to 10 years old.
So how did these barrels reach 10 years old? Chances are high that Old Forester identified them early on and either moved them to the lowest floor of their warehouses OR they were moved to a warehouse that wasn't heat cycled. It's still pretty miraculous that they allowed them to do this in the first place.
One final note: the label on this Old Forester product hints to the fact that Old Forester may be blending together barrels of Old Forester's mash bill (72/18/10) and the Early Times mash bill (79/11/10). Both use different yeast strains too and should bring different profiles to the final blend.
And to those of you who are wondering – yes – Brown Forman is still apparently making the Early Times mash bill albeit at a much lower rate now that the brand was sold to Sazerac. They gotta keep King of Kentucky going for the future!
Could increased age statements represent a cultural change at Old Forester?
For years now, Old Forester has skirted the issue of almost all of their products not wearing an age statement. I already stated the reason why (heat cycling matures them faster) but it's feared the general public wouldn't understand why they are paying the same amount for a bottle that's half the age of its competitors.
Could there be a change inside of Old Forester where they're now talking about pursuing lengthier age statements to get more customers to recognize them?
That's very possible. But since evaporation is the devil of those heated warehouses, Old Forester could elect to not heat cycle some of them. Rumor has it that's already taken place. This will be a subject I explore in the coming weeks.
The movement towards higher age statements is arriving sooner than we think
There's another label that's coming out in the next 2 months that shows us that Old Forester 1924 might not be some short-lived release of barrels that Old Forester just "forgot about" and allowed to age for 10 years.
Old Forester 117 Series looks like it'll have a 9 year old age stated (bottled-in-bond) label coming out in July. The 117 Series is a distillery-only release, so we can expect it to be a rather limited affair, but it still shows a trend in age statements.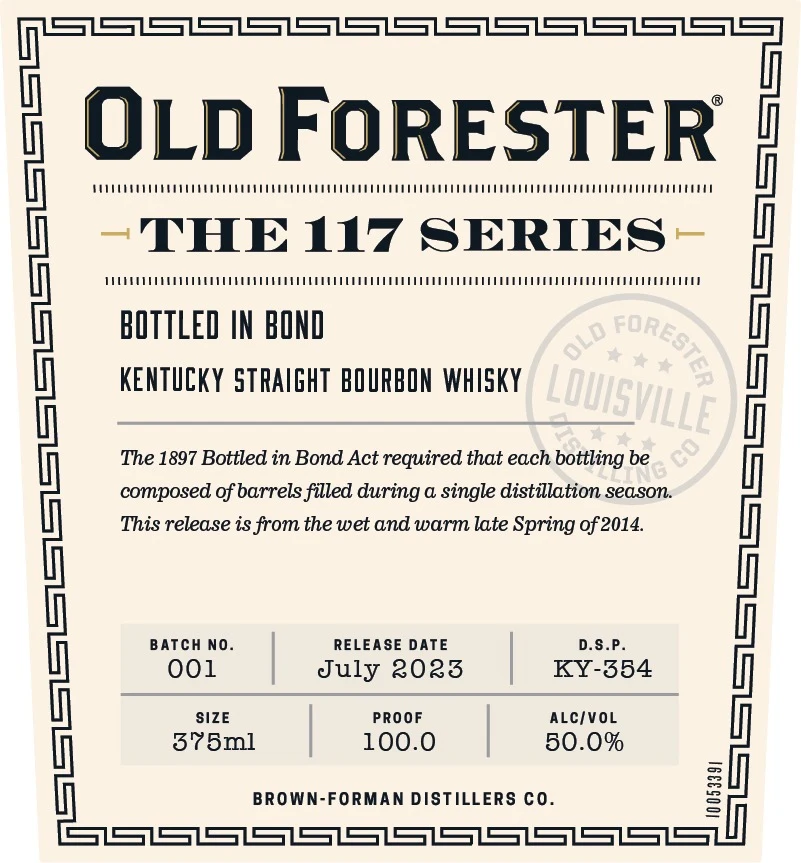 I personally can't wait to see some experimentation coming our way from Kentucky's most iconic distilleries. It's about time! Now let's just hope that 1924 won't be some super-allocated release so please, don't share this article with anyone else!
Featured Products
Description:

The Aged & Ore Neat Traveler is a complete travel kit for spirits. We combined our widely praised Neat Glass with one of our 3oz Flight Bottles and housed them together in a custom EVA travel case. Perfect for a night away with your favorite pour. The tie
Description:

The Aged & Ore Bottle Flight is a premium set of 4 custom silicone wrapped glass bottles designed to transport and share samples of your favorite spirits. The flight bottles come in a custom EVA travel case that fits perfectly in any small bag. An Aged &
Description:

This Bundle combines two of our crowd favorite products, creating the ultimate travel bundle to bring along your favorite spirits and glassware. Bundle Includes: Neat Traveler (Gray) Bottle Flight (Gray) Note: This bundle is only available in gray and col
*Bourbon Culture is reader-supported. When you buy through links on our site, we may earn an affiliate commission.