*Bourbon Culture is reader-supported. When you buy through links on our site, we may earn an affiliate commission.
Remus Repeal Reserve wasn't always as popular or well-known as it is these days. The first release in 2017 was bottled at a rather low 94 proof and given a pricetag of over $80. Those two factors made enthusiasts quick to ignore it. Who could blame them when there were dozens of 10+ year old, cask strength single barrel MGP expressions still available for the same amount of money? It wasn't until late 2019 when MGP finally began to turn off the tap to some of the smaller Non-Distiller Producers (NDPs) that those expressions dried up. That made MGP's Remus line one of the few left bottling bourbon over 9 years old.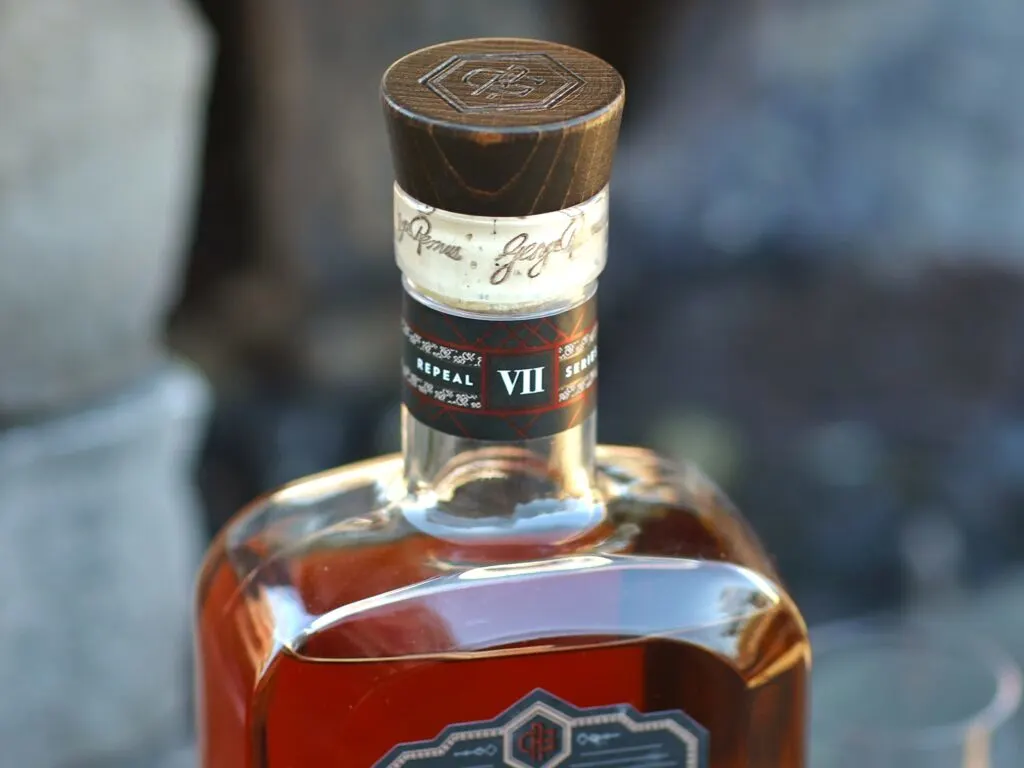 Still, enthusiasts did not immediately jump onto the Remus Repeal Reserve (RRR) bandwagon. It took until 2021 with the release of the fifth batch and its comparatively old blend of barrels to really get our attention. Seemingly overnight all of the previous versions that had been setting on the shelves were gobbled up by taters and collectors alike.
Remus Repeal Reserve
Remus Repeal Reserve's sixth batch was not as warmly received as the fifth batch, but it still sold quickly. Enthusiasts could do the math for themselves on the average age of the blend since all of the recipes and percentages are listed on the front. They noticed that Remus VI was the youngest Remus that had been released.
The blend's breakdown on the front label has been one of the hallmarks of this product since 2015. Back then, it was not yet known as Remus Repeal Reserve. Instead, it was named after the (then current) master distiller at MGP; Greg Metze. Metze's Select was the precursor to the modern-day Remus Series. It was also one of the first commercial releases by MGP for itself. It's amazing to think that ever since Seagram's dissolved in 2000 that the distillery had never bottled any of their own whiskey for themselves. A large part of this reasoning was because they did not want to directly compete with their customers.
So why does MGP put the full component breakdown on the front? It's actually because of an oft-ignored rule that requires whiskey labels that display multiple age statements of its components to also list the percentages of each one. The rule also states that if you don't want to list them all with their percentages, then you can only put the age of the youngest barrel used on the front. Examples abound of other brands not doing this and getting away with it like Calumet Farm and 15 Stars. Yeah, your blend may have teenage barrels in it, but how many?
Is there a quantitative reason why some Remus Series are better than others?
Back when Remus VII was announced, I set out to see if there was a consistent pattern in determining why some batches were more loved than others. Specifically, why was Series V so loved? Since they're all bottled at 100 proof (except for Batch 1), I could only use the metrics of age and mash bill. I want to point out that MGP has consistently used two bourbon mash bills in RRR. One is a "low rye" bourbon which uses 75% corn, 21% rye and 4% malted barley. The "high-rye" bourbon uses 60% corn, 36% rye and 4% malted barely. Before I present the batch breakdowns, I want to clarify that barrel selection makes a huge difference in the final taste profile of each batch. But since that is not something that can be quantified, this is all we have to go on.
With that in mind, let's see where RRR VII fits in with the other batches.
Remus Repeal Reserve Series VII Breakdown
6% Bourbon Distilled in 2007 (21% rye mash bill)
26% Bourbon Distilled in 2013 (21% rye mash bill)
21% Bourbon Distilled in 2014 (21% rye mash bill)
26% Bourbon Distilled in 2013 (36% rye mash bill)
21% Bourbon Distilled in 2014 (36% rye mash bill)
Average Age = 9.94 Years Old
Average Age of Each Series
Series V (2021) – Average Age 13.75 Years Old
Series IV (2020) – Average Age 12 Years Old
Series I (2017) – Average Age 11.5 Years Old
Series III (2019) – Average Age 11.12 Years Old
Series II (2018) – Average Age 10.25 Years Old
Series VII (2023) – Average Age 9.94 Years Old
Series VI (2022) – Average Age 9 Years Old
Average Rye Percentage in Each Series
*note: The lowest percentage possible is 21% and the highest percentage possible is 36%
Series V (2021) – 29.85%
Series VII (2023) – 28.5%
Series VI (2022) – 27.3%
Series II (2018) – 26.25%
Series IV (2020) – 24.45%
Series I (2017) – 23.25%
Series III (2019) – 22.5%
Deciphering the numbers
One thing that draws my attention is how RRR V tops the list as both the oldest and having the highest average rye content. Since it's generally the gold standard among enthusiasts, does that mean they were drawn to the age and the higher rye content? What if the higher rye content also has a lot to do with how much a batch is love?
If the rye content has anything to do with increased flavor – or at least a more favorable flavor profile – then RRR VII could come close to the magic of the fifth release. But the only way to know is to taste it. So let's find out now what the 7th installment of this series can do. I sampled this neat in a glencairn.
Tasting Notes
Nose: Toasted brown sugar scents meets well-seasoned oak. There's a heavy vanilla character permeating throughout – more like a dessert creme rather than light vanilla blossom. Cinnamon, toasted orange peel and herbal notes give way to the high-rye nature of this bourbon. I also find notes of chocolate and the trail-mix variety of stone fruits. All in all, it's everything in a nose that MGP is known for. Nothing is out of place.
Palate: Sipping this bourbon immediately conjures some spicier notes up front. Cinnamon, allspice and red pepper flakes give each sip a nice "zip" to it – and I'm not complaining. Aged notes can also be detected, far more than I thought they would be, with leather and oak. The fruits are also a standout with citrus zest, poached pear and apple and cherry licorice (must be that high-rye component talking). There's even a bit of bakers chocolate to add to the layers of complexity. Not bad!
Finish: Chocolate covered espresso beans starts out a finish which sees a lot of things going for it. Lingering flavors of vanilla, blackberry jam and brown sugar cookies settle down into a splendid aftertaste. As for tannins, there are plenty of oak, leather and cherry cigarillos. Some of the last flavors to remain before the finish tapers off are of the high-rye variety like mint and marjoram.
Score: 8/10
First, the good: There's a lot to like here. Sweetness is well-balanced with a good deal of high-rye traits and fruit. Tannins represent themselves well across the board. I even get chocolate every so often which is a profile note that instantly elevates any whiskey I drink. I would argue that the blend tastes a bit older than the sum of its barrels tells us it should.
Now for the bad. Actually, there is nothing "bad," I just needed a contrasting word. Nothing unique stood to me as I drank this. This is cut-and-dry MGP bourbon at its best. A high floor, but a (kind of) low ceiling. That's been my experience through years of drinking a hundred or so iterations of MGP's bourbon and I'm not trying to knock it. Maybe I'm too familiar with it, but there does seem to be a limit of what can truly surprise me.
Hearing that there is nothing bad with it will be welcome news for some, but I'm not going to elevate this batch to some mythical level. It sits comfortably in the middle of all the batches of Remus Repeal Reserve I've had; and that's ok with me.
Final Thoughts
You can tell that MGP's panel of tasters have done their homework on finding choice barrels to put into this blend. I was initially turned off to see the batch would be primarily made up of 9 and 10 year old barrels, but they have proven themselves well.
A friend of mine recently asked me I would have purchased this bottle if I was not a reviewer. That's a tough and honest question that I wasn't expecting. The truth is, I bought this bottle with 2 intentions: to review it for my website and then to trade it away when I was done. I had even lined the trade up before I bought it. What was being offered? An open bottled of Knob Creek 15 Year. If the bottle of Remus was good enough that I wanted to keep it, he would have accepted my open Remus III or IV.
I don't intend to rub my brothers-in-MGP the wrong way, but I feel that part deserves to be mentioned. I enjoyed my time with the Remus VII, but not to the extent where I felt like I needed to keep the bottle. Buy the 7th edition of Remus if you please, but don't get strung out that you're missing something huge. This is just as good as previous batches and nothing more.
Featured Products
Description:

The Aged & Ore Neat Traveler is a complete travel kit for spirits. We combined our widely praised Neat Glass with one of our 3oz Flight Bottles and housed them together in a custom EVA travel case. Perfect for a night away with your favorite pour. The tie
Description:

The Aged & Ore Bottle Flight is a premium set of 4 custom silicone wrapped glass bottles designed to transport and share samples of your favorite spirits. The flight bottles come in a custom EVA travel case that fits perfectly in any small bag. An Aged &
Description:

This Bundle combines two of our crowd favorite products, creating the ultimate travel bundle to bring along your favorite spirits and glassware. Bundle Includes: Neat Traveler (Gray) Bottle Flight (Gray) Note: This bundle is only available in gray and col
*Bourbon Culture is reader-supported. When you buy through links on our site, we may earn an affiliate commission.