*Bourbon Culture is reader-supported. When you buy through links on our site, we may earn an affiliate commission.
Calumet Farm went through a makeover in 2020 when their old, frumpy bottle design was ditched in favor of the wine bottle shape seen before you. As of 2023, all of their bourbon now comes in this style of glass with this style of label. They've definitely came a long way on the aesthetic front.
As for the bourbon inside, it's sourced from Barton Distillery. This is going to change soon because Western Spirits Beverage Company (the brand that owns Calumet Farm, Sam Houston, Bird Dog and Lexington Bourbon) is switching to Bardstown Bourbon Company for their future whiskey needs.
But for now, all you need to care about is the 16 year old bourbon in this bottle. Specifically, how is there a bourbon that old being sold for around $140 in today's market?
Western Spirits Beverage Company
Many years ago, Western Spirits Beverage Company purchased a large lot of very young barrels from Barton Distillery. They transported them to their facility in Bowling Green, Kentucky to continue aging. Western Spirits did not have a traditional, multi-story warehouse like other Kentucky distilleries, so these barrels were aged in a more industrial-looking building. Maturation of bourbon in this way will result in it tasting different compared to a similar barrel being aged in the wooden rickhouses at Barton.
Buying the barrels at a young age and maturing them at their own location cut a lot of costs for Western Spirits. This has allowed them to price labels like Calumet 14, 15 and 16 much lower than their competitors. For instance, the barrels of 13-year-old Barton bourbon found in Cream of Kentucky or Buckner's or the 14 year-old bourbon found in Blue Run or Lucky 7 were priced at or over $200. Calumet Farm 14 ($110) undercut the price of all of them by almost half. The fact that Calumet 16 is still available on most shelves for $150 also demonstrates a fantastic value.
But value only goes so far if the bourbon doesn't taste good. The one thing I have found out while reviewing other high age statement Barton bourbon is that it doesn't really mature into a more likeable and complex whiskey after a certain age. My notes show me that the ideal age for Barton bourbon is around 8 years old. I've had numerous examples of 12 to 15 year-old Barton that taste flat and one-dimensional. You'll find plenty of caramel, vanilla and oak, but there's not much in the way of a supporting cast.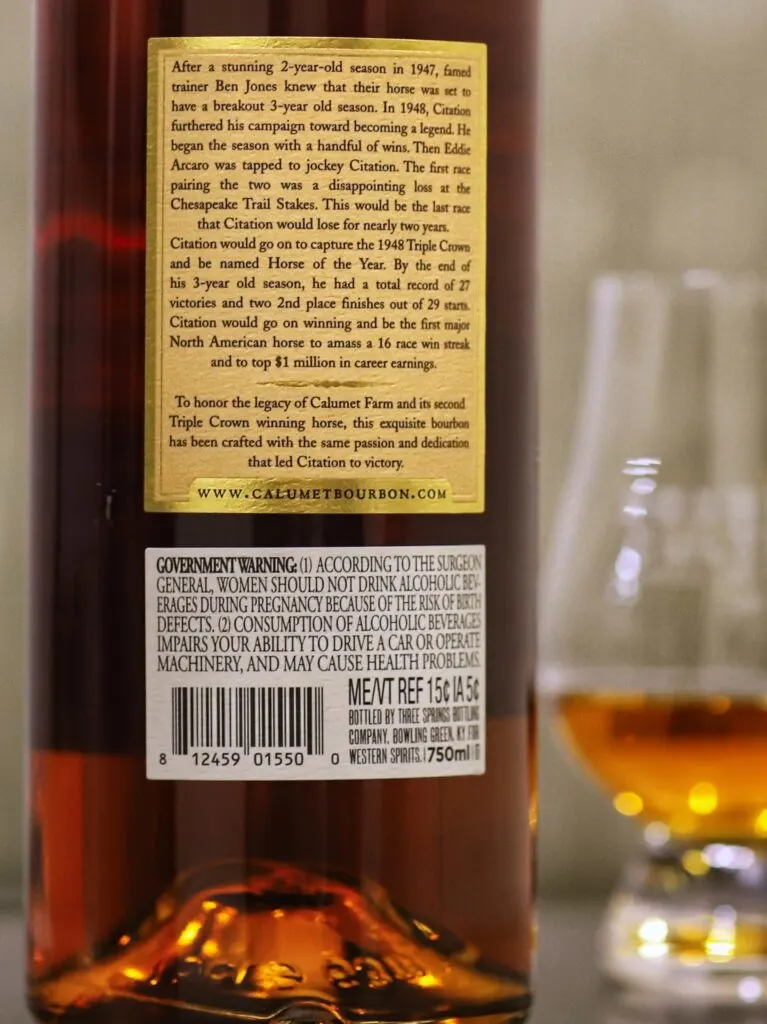 Sometimes the profile of a bourbon comes down to who blended them. So Calumet 16 still has a chance to be much better than its predecessors if the blend was adjusted by the right person. There's only one way to find out if it's a change for better or worse, so let's get to tasting. I sampled this neat in a glencairn.
Tasting Notes
Nose: The nose certainly smells all of 16 years old. There are great oak and cigar wrapper notes a-plenty. Spiced fruit (think of spiced cherry preserves) abound with hints of chocolate in between. The nose isn't all that sweet, as excessive maturation is bound to do. But it's also not a bitter smelling tannin bomb either. There are very sparse scents of vanilla and nutmeg if a really bury my nose in the glen too.
Palate: The opening salvo of flavors revolve around oak, spice and dried trail-mix fruit. The decent amount of rye in the mash bill (18%) is probably responsible for the non-descript orchard and stone fruit notes. I can definitely pick out some citrus zest notes and prickly peppercorn notes too. As for the sweetness, well, it kind of lacks just like it did on the nose. It shows me that this would not have lasted much longer in the barrel before being outright over-oaked.
Finish: The ending to the sip is dry and spicy. Bitterish oak and peppery spice linger on my tongue (and add a bit of warmth) while high-rye fruit notes like cherry and citrus also poke their heads out. I have an odd description for this next one: I'm finding notes of Dr. Pepper soda at the end that is mostly devoid of sweetness (if that makes sense). That's the bourbon's way of telling us "I need to be bottled NOW!"
Score: 7.5/10
Going through the motions of drinking this bourbon, I noticed a steady trend where it starts out enjoyable but quickly begins to show its over-oaked character underneath. It's not bad for what it is, but it's certainly no more than the score I'm giving it.
I liken Calumet 16 to some of the early examples of Old Forester Barrel Strength Single Barrels where – despite their young age – they had an astringent, oaky quality about them that seemed devoid of the sweetness that enthusiasts crave. I also find similarities in the way that both retain significant spice notes due to the high-rye nature of their mash bills. Normally this is in my wheelhouse, but with Calumet 16, it just doesn't do enough to pull it all together.
Final Thoughts
It's been a year and a half since the release of Calumet 16. I've been anxiously awaiting to see if a 17 year example will ever be launched. Sam Houston fans are still waiting to see if a 16 year version will come out for them. But the reality, I think, is that Western Spirits Beverage Company has realized that there was a limit to how much they could age their barrels. I believe I've found that limit when I look at the gradual score drop across each release. This just goes to prove my point about Barton's decline in quality as it ages.
If you're looking to buy your own bottle, but have others that you are considering instead, I challenge you to take a harder look at the other ones. Yes, I know that the age statement on this bottle seems like it would bring a certain amount of prestige to your liquor cabinet, but bourbon is all about how much you enjoy it. And to me, Calumet 16 just doesn't provide the same level of enjoyment that its stats tell me I should be getting.
Featured Products
Description:

The Aged & Ore Neat Traveler is a complete travel kit for spirits. We combined our widely praised Neat Glass with one of our 3oz Flight Bottles and housed them together in a custom EVA travel case. Perfect for a night away with your favorite pour. The tie
Description:

The Aged & Ore Bottle Flight is a premium set of 4 custom silicone wrapped glass bottles designed to transport and share samples of your favorite spirits. The flight bottles come in a custom EVA travel case that fits perfectly in any small bag. An Aged &
Description:

This Bundle combines two of our crowd favorite products, creating the ultimate travel bundle to bring along your favorite spirits and glassware. Bundle Includes: Neat Traveler (Gray) Bottle Flight (Gray) Note: This bundle is only available in gray and col
*Bourbon Culture is reader-supported. When you buy through links on our site, we may earn an affiliate commission.