*Bourbon Culture is reader-supported. When you buy through links on our site, we may earn an affiliate commission.
Jack Daniel's portfolio has grown in size over the last 10 years to include a wide range of new whiskies like rye and malt. The variations of each of these has grown as well. The big picture was that they wanted a whiskey style at every price point and for every set of tastebuds.
But there was one thing Jack has always shied away from – age stated whiskies. To most enthusiasts, we just assumed it was because the hot Tennessee climate restricted how long they could age their barrels for. After all, what sense would it make to age a barrel past 10 years if all the whiskey inside evaporated after 7?
Then, in 2021, Jack dropped a 10 year age stated whiskey out of nowhere. Most people were unaware that this was something Jack had been trying to do – myself included. Regardless, I bought one and found it to be… somewhat average.
To me, it didn't taste like it had spent 10 years in a barrel. I chalked it up to the low proof and the fact it gets charcoal mellowed prior to aging. What's significant about that last one? I think it strips out a lot of the fatty acids that absorb the tannic notes from the oak. Tannins are a key factor in what makes whiskey (or any aged liquid) taste "old." Without them, an old whiskey just doesn't hit the same.
Jack Daniel's pushes for more age – and more age statements
Little did we know that the 10 year old release in 2021 was only the beginning. There were some hints that Jack had more aged barrels lying in wait. Th same year, their Coy Hill Special Release showed off a ~9 year age statement – a fact a lot of enthusiasts seemed to miss because they were too busy looking at the proof.
That showed that they weren't just keeping a few dozen barrels around for a single release. Regardless, enthusiasts rejoiced to see Jack Daniel's entering a new era of age-stated products.
Then in early 2022, the public got a look at the planned timeline for Jack Daniel's over the next 7 years or so. In this picture sent out via press release (see below), it's observed that Jack Daniel's intends to release whiskies as high as 18 years old.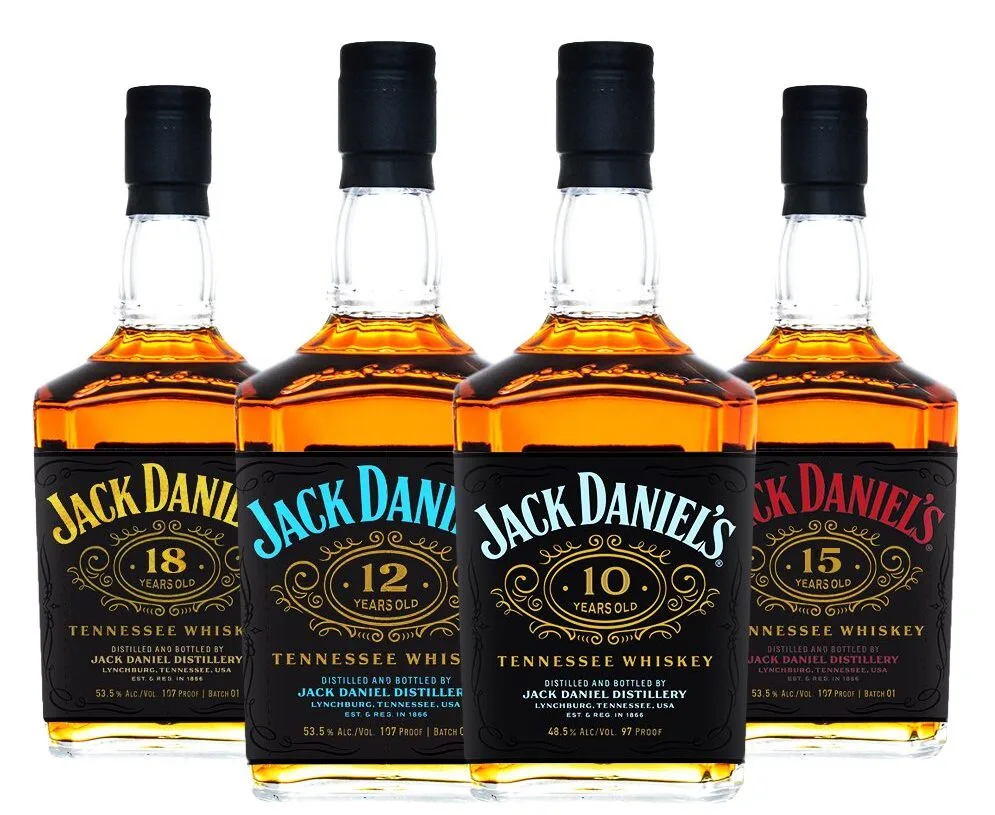 In the Spring of 2023, Jack Daniel's released the 12 year old version of their Tennessee Whiskey along with a second release of their 10 year bourbon. The 10 year old version would continue to be bottled at a rather tame 97 proof, but the 12 year old version would be bottled at 107 proof.
Would the extra 10 proof points and 2 year in the barrel be enough to change my mind that Jack Daniel's actually had something awesome on their hands? Or would the same problems that plagued the 10 year version persist? Thanks to my friend Mike, I'm going to get to find out. I sampled this neat in a glencairn.
Tasting Notes
Nose: Initial scents of brown sugar butter and maple syrup-drenched corn cakes start the nose off on the right foot. A slight nuttiness lurks about which is something I also experienced with the 10 year version too. I'm impressed with the sweet, seasoned oak scents because they become richer and more antiqued the longer my dram goes on.
This is the kind of wood note that I was hoping to find on the 10 year version, but didn't. The wood notes are accompanied by a nice array of ground brown spices. Finally, a light vanilla blossom note can be found underneath all of the heavier aromas. This is an impressive example of what Jack Daniel's is capable of.
Palate: Each sip is impressively mellow. The 107 proof points feel like they want to sting your tongue, but they're impressively restrained. Flavors of buttered grits combine with maple syrup (just like a Yankee would eat them, right Southerners?). Anyway, the baking spices are just as tame on the palate as they were on the nose with cinnamon being most dominant.
Velvety oak shows off the age while lighter flavors like a splash of vanilla coffee creamer and mashed bananas add a nice contrast. The one thing to take away from the palate is just how much more refined it tastes compared to almost every other Jack product I've had to date. Impressive.
Finish: Keeping with the theme thus far, the finish is very mellow. No burn exists and the sweetness is perfectly balanced. Brûlée'd bananas, caramel and a hint of butterscotch never get sickly sweet, but are delicious to find. The oak is present throughout the entire finish, but somewhat light. Overall, the finish is not complex, but it doesn't disappoint in any way.
Score: 8/10
I really like this 12 year version that Jack has given us. It's a big step up from the 10 year version which was likely hampered by the lack of proof. But after drinking this and the 10 year version, it hammered home just how much the Lincoln County Process holds back the potential that these age-stated Jack releases have.
Yes, I know it's a trademark thing Jack does, but it always feels like the age on the label doesn't match the age that it tastes like. I guess one positive thing to say about it is that the whiskey rarely – if ever – tastes over-oaked.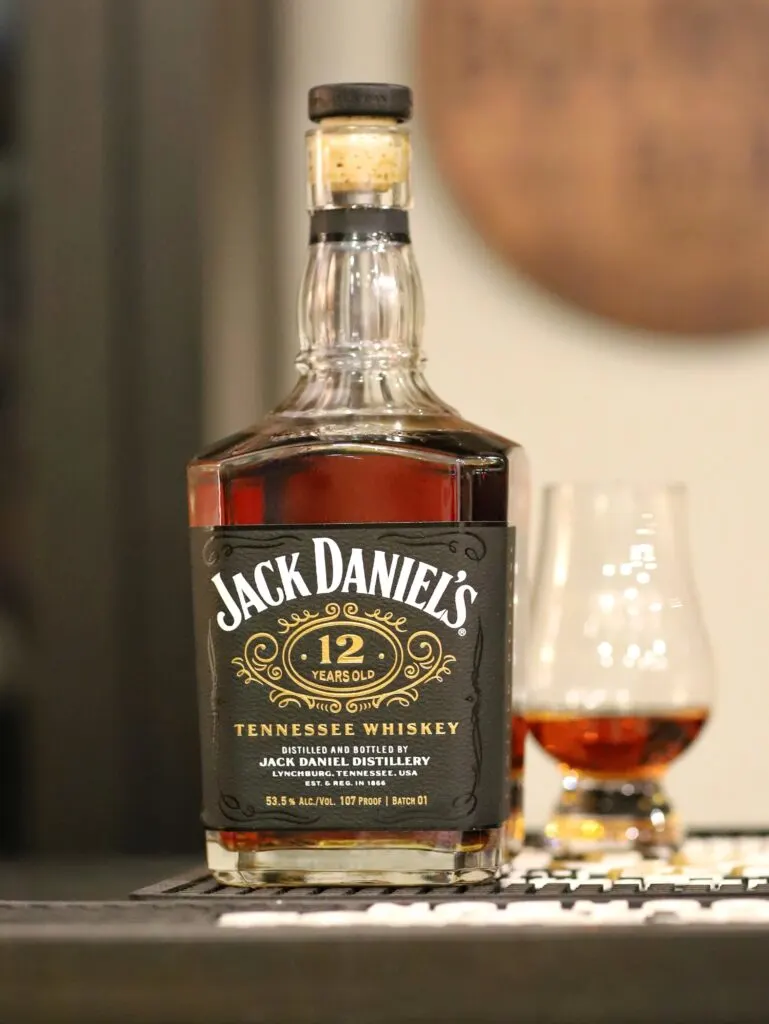 Final Thoughts
Rather than gaining more complexity throughout the years, JD12 simply mellows out more. The heat from the proof is almost non-existent and all of the flavors blend together harmoniously.
It's such an easy drinker that I could drink it every day – if it wasn't so damn allocated. There is just something so effortless about the way it goes down that I'd bet very few enthusiasts could ever find fault with it. Shame about the tannins though.
In this highly polarized world we live in, making a whiskey that does what the 12 year does is not easy to do. Every enthusiast deserves to treat themselves to a pour of this – if they can find one – just to savor one of the more unique whiskey experiences on the market today.
Featured Products
Description:

The Aged & Ore Neat Traveler is a complete travel kit for spirits. We combined our widely praised Neat Glass with one of our 3oz Flight Bottles and housed them together in a custom EVA travel case. Perfect for a night away with your favorite pour. The tie
Description:

The Aged & Ore Bottle Flight is a premium set of 4 custom silicone wrapped glass bottles designed to transport and share samples of your favorite spirits. The flight bottles come in a custom EVA travel case that fits perfectly in any small bag. An Aged &
Description:

This Bundle combines two of our crowd favorite products, creating the ultimate travel bundle to bring along your favorite spirits and glassware. Bundle Includes: Neat Traveler (Gray) Bottle Flight (Gray) Note: This bundle is only available in gray and col
*Bourbon Culture is reader-supported. When you buy through links on our site, we may earn an affiliate commission.