*Bourbon Culture is reader-supported. When you buy through links on our site, we may earn an affiliate commission.
Back in 2018, there was a liquor store close to my job that I would frequently shop at. I began to learn the staff's names and joke around with them. I had even managed to score a couple of Blanton's and a Stagg Jr from their glass case.
All of that patronage paid off when the store manager approached me in December of that year with a bottle of Four Roses 130th Anniversary Limited Edition Small Batch. She said it was mine if I wanted it… for $200. I balked. $200 was a lot of money to me back then. I also knew that the retail price was $130 and secondary prices were $250. Feeling like I could find it cheaper somewhere else, I turned it down.
I never did find it any cheaper and eventually spent over $300 to get my own bottle on the secondary market years later.
Fast forward five years to the 135th Anniversary Limited Edition release. The bottle design has changed a little bit while the price has changed a lot. What that store had it marked up to back in 2018 is what the bottle actually costs today – $200.
The secondary market has increased accordingly too. At the time of writing, the 2023 release has not dropped under $500. I don't expect they will either until around February. That's usually when every bottle has finally been sold. That causes the secondary market to become saturated enough to lower prices.
The makeup of the 2023 Four Roses Small Batch Limited Edition
I have been compiling data on every release of Small Batch Limited Edition to see if I can find any trends. Here's an interesting one: Among the batches of recipes each release is made up of, OESK has been used most frequently (a total of 16 times) while OBSO has never been used.
You get a sense for which recipes Four Roses favors based on how many times they have been used. Take a look at this graph I made that shows just how much each one has been utilized since 2008.
Luckily for us, the 2023 release uses the 3 most popular recipes. They are:
35% 12-year-old OESV recipe
20% 16-year-old OESV recipe
40% 14- year-old OESK recipe
5% 25-year-old OBSV recipe
There are more Four Roses SmBLE bottles being released – and more people looking to find one – than ever before
In 2013 (the 125th Anniversary Release), the bottle count effectively doubled from an average of 4,000 bottles to 8,000 bottles. It then jumped to over 12,000 bottles the following year and has been climbing ever since (with the exception of 2016 where it inexplicably dipped to 9,258 bottles).
Prices have generally rose at a similar pace. The previous 2 years saw the (suggested) retail price reach $180. As previously stated, this year it will hit $200. Secondary prices have also risen as well. As a rule of thumb, Four Roses SmBLE typically ends up being valued at twice its retail price on the secondary market.
I have a suspicion that since this is a special anniversary batch, it could settle into the $450-475 range. This is still lower than its main competitor – Old Forester Birthday Bourbon – which has a similar number of bottles released each year (~15,000). Yet OFBB commands a $700 secondary valuation. Why is that?
Four Roses Recipe Expectations
I won't get into the whole 10 recipe spiel here. If you're a Four Roses fan, you already know all about them. You probably even have a favorite. But if you're new to bourbon, my advice to you is to find a way to taste each one (trading for samples is a good start) so you'll know which ones you like.
When I look at the recipes found in the 135th release, my mind immediately tells me to expect the OESV barrels to provide a sweet "brown sugar" side with plenty of red fruit notes. The OESK recipe will bring along heaping amounts of baking spices. And the 25 year old OBSV should layer in some oak and other tannins too. These make up the notes that Four Roses enthusiasts really desire the most.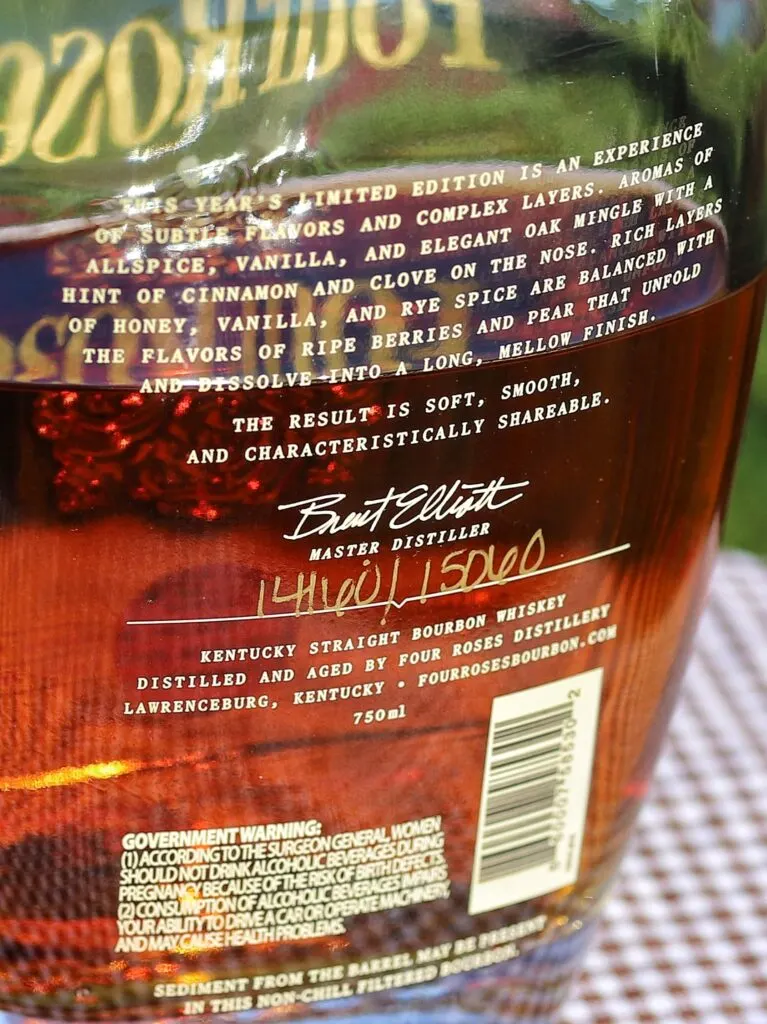 But the main question is will all of that actually translate onto the palate with this batch? Let's find out. I'm especially excited about this batch because the 25 year old component is oldest bourbon ever used in the Small Batch Limited Edition. Here's a shoutout to JC for making this review possible. As usual, I sampled this neat in a glencairn.
Tasting Notes
Nose: Holy moly, this dram smells super-old. The specs say that the 25 year old barrels only make up 5% of the total blend, but it smells more like 50%. Bountiful aromas of antiqued wood, orange-scented Pledge wood cleaner and leather upholstery drip with maturity.
Sweet scents remind me of Butter Brickle cake mix. Soft baking spices are present, but tend to get overshadowed by all of the tannins. And just as I was hoping for, there are still plenty of fruit notes to be found. Dried apricot and mango fruit pieces pair nicely with Cherry Cordials. This nose is mighty impressive, but the best is yet to come.
Palate: It's somewhat rare to me when I find a bourbon where the palate outshines the nose. Smell is such a powerful sense to me. But the 2023 SmBLE bucks the trend. Of course there are old tannic notes like antique oak, shoe leather and drying oak, but they aren't as front-and-center as they were on the nose.
Instead, it's the incredible bounty of fruit notes that you notice the most. Nectarines, black cherries, blackberries and peppery papaya all come together. They pair closely with notes that are similar to a rye whiskey like licorice and fennel.
Sweetness comes by way of toffee while baking spices like cinnamon, nutmeg, clove and allspice blend in seamlessly. There's even a whisp of smoke that can be detected on my tongue. Overall, each sip is thick, oily and absolutely memorable.
Finish: The finish becomes less dry and more lush than the palate. That's a nice counter-balance to find! Amazingly, the fruit notes continue to stack up with lingering flavors of blackberry jam, dehydrated blueberries, currants and nectarines.
Sweetness comes by way of wildflower honey and toffee (where was the honey on the palate?). Yes, some dry tannic notes remain like dry oak and leather, but they're very well contained. This finish lasts for days
Score: 9.5/10
Everything about this bourbon is amazing. Every part of it exceeded the expectations I had coming into it. It is one of the best Four Roses Small Batch Limited Editions I've had from 2016 to present day and I'm hearing many other reviewers feel the same way too.
The only reason why it didn't achieve a perfect score was that, at times, the dry notes became a little heavy-handed. Otherwise, the balance and precision of this bottle is unmatched. The blending team at Four Roses really went all out – and it shows.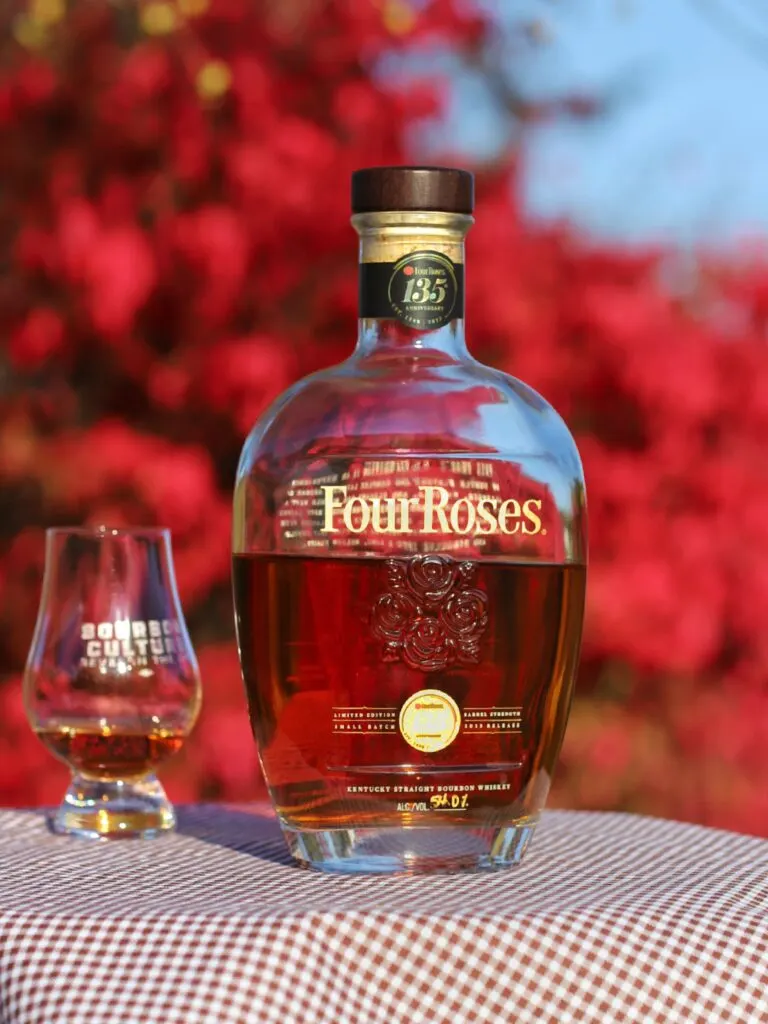 Final Thoughts
One of the key takeaways of any Small Batch Limited Edition release is how much those older barrels really matter. I'd never want to have a batch of strictly 20-25 year old barrels because the balance would probably be way off.
Some people may not agree, but I don't see many reviews of the 20 year old Gift Shop release that claimed it was the best they've ever tasted. This year's 2023 SmBLE, on the other hand, is some of the best I've ever tasted from Four Roses. Look back through all of my scores and you'll see that this ranks the highest.
Rarity and price are some of the biggest issues you'll have to contend with to get a bottle for yourself. But after seeing the field of allocated bourbons available this year, this one starts to look criminally undervalued. Four Roses really stepped up their game this year and I wouldn't be surprised to find it on top of many "Best Bourbons of 2023" lists. I know it'll be on mine.
Featured Products
Description:

The Aged & Ore Neat Traveler is a complete travel kit for spirits. We combined our widely praised Neat Glass with one of our 3oz Flight Bottles and housed them together in a custom EVA travel case. Perfect for a night away with your favorite pour. The tie
Description:

The Aged & Ore Bottle Flight is a premium set of 4 custom silicone wrapped glass bottles designed to transport and share samples of your favorite spirits. The flight bottles come in a custom EVA travel case that fits perfectly in any small bag. An Aged &
Description:

This Bundle combines two of our crowd favorite products, creating the ultimate travel bundle to bring along your favorite spirits and glassware. Bundle Includes: Neat Traveler (Gray) Bottle Flight (Gray) Note: This bundle is only available in gray and col
*Bourbon Culture is reader-supported. When you buy through links on our site, we may earn an affiliate commission.