I guess we should've seen this coming, but it looks like Buffalo Trace is stepping up its "Single Barrel Select" program by offering what appears to be Blanton's Gold store picks in the very near future.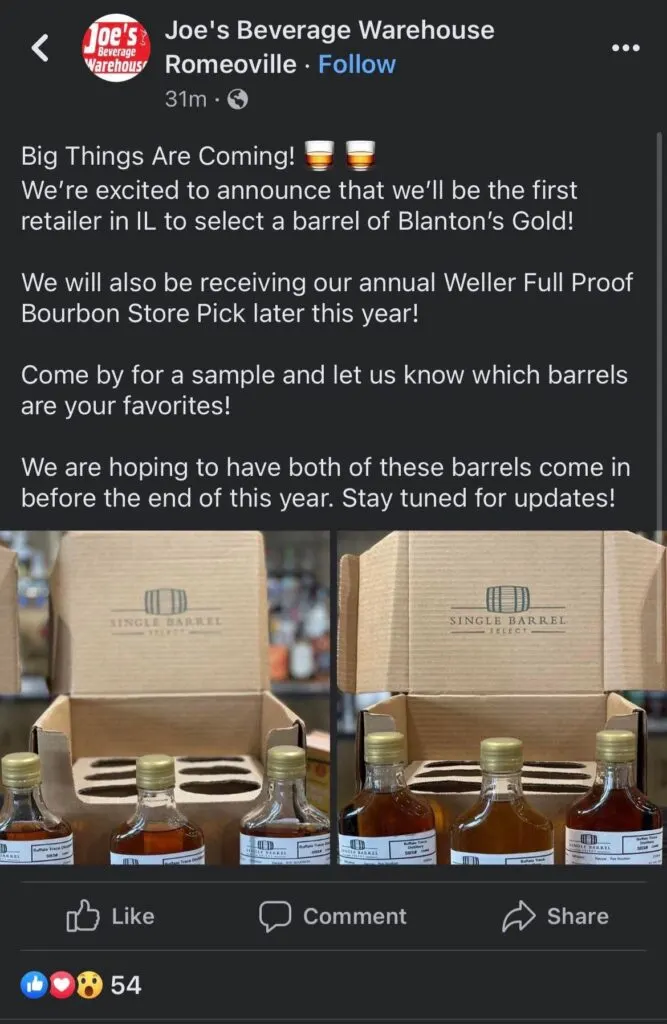 This picture is from Joe's Beverage Warehouse of Romeoville, Illinois (a suburb of Chicago). The first thing you'll notice about the picture is that the Single Barrel Select box contains 6 different barrels to choose from.
I haven't done a single barrel pick from Buffalo Trace in a while, but the last few times I recall only receiving 3 different barrels to choose from. More variety is definitely better!
A quick summary of what makes Blanton's unique
For those of you who may not know all of the nuances of Blanton's, here's the quick rundown. Blanton's is a brand that is technically owned by the company Age International, but is still distilled at Buffalo Trace, which has the exclusive distilling rights.
Blanton's, along with Ancient Age, Elmer T. Lee, Rock Hill Farm and Hancock's Reserve are all supposedly made from Buffalo Trace Mash Bill #2. This mash bill is undisclosed, but is purported to use a higher rye grain percentage than Buffalo Trace Mash Bill #1. Internet speculators think it's in the neighborhood of 12-15% while BT MB #1 is under 10%.
Over the last 5 years, there have been plenty of eyewitness accounts of Buffalo Trace products using barrels that have BT MB #2 marked on the barrel (I've seen Eagle Rare picks use this mash bill) and a lot of Blanton's Single Barrels that have BT MB #1 marked on the barrel.
What we can deduce from this is that Buffalo Trace master tasters are categorizing barrels based on actual flavor profile rather than on the recipe it started as.
Blanton's is also aged exclusively in the metal-clad Warehouse H. And while each barrel has no doubt spent time on the ricks within, there has been growing suspicion that they don't spend their entire life there.
However, they need to spend as much time as they can inside the hotter metal walls to mature faster because the average barrel life cycle has been reduced throughout the years from 8 to 10 years to slightly under 6. That's right, the majority of Blanton's barrels that I've seen the specs sheets for now averages around 5.5 years old.
Differences between the various Blanton's Labels
The amount of different Blanton's labels out there is much more vast than most of us realize. For the sake of brevity, let's just talk about the three main kind that are sold in the United States. They are standard Single Barrel, Gold and Straight From The Barrel.
The only differences between them are the proof. 93 proof for standard, 103 proof for Gold and then whatever the final barrel proof ends up being for SFTB.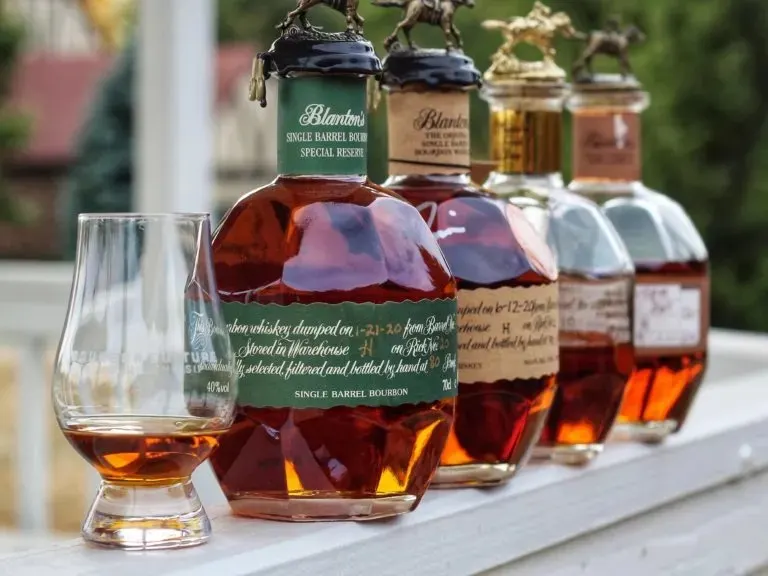 The thought on everyone's mind after reading that should be "when can we expect SFTB Single Barrel Selects?" If we look at this from a historical perspective, it took Buffalo Trace one full year after they decided to release Blanton's Gold for US distribution until they decided to distribute SFTB here. So expect store picks of SFTB in about a year!
A reason to celebrate?
If you're new to bourbon, you may be pumping your fist with anticipation about landing a bottle of Blanton's Gold in a few months. Not so fast. Enthusiasts that have been in the game for a while will already know that their chances of landing a bottle will be close to impossible.
Buffalo Trace has slowly been making everything into a store pick recently with EH Taylor, Stagg Jr, Sazerac Rye Whiskey and Weller Full Proof entering the fray. These haven't been easy to find either. When stores get a pick, they tend to hold onto them for their best customers.
And if you're willing to buy them on the secondary market, good luck! US versions of Blanton's Gold (which use the 750ml bottles) are still fetching north of $250. Most people prefer to buy their Blanton's Gold overseas.
This can be cheaper, but will also give them 50ml less per bottle. I fully expect the first store picks of Blanton's Gold Single Barrel to fetch prices of $600 or more. The first few Stagg Jr store picks were priced over $750 when they first came out, but have since cooled.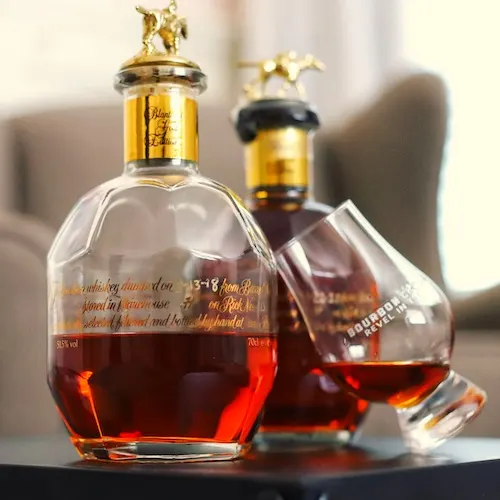 My recommendation to those of you who don't have that kind of money to spend, but might still want a bottle is to just wait for a year.
As soon as store picks of Blanton's Straight From The Barrel are announced, it'll make the Gold versions much less desirable – lowering their value exponentially.
In the end, remember, it's just Blanton's. Don't forget they're all technically single barrels too. There are still many better bottles out there for the price.
I get it, none have the instant desirability of its bottle shape or the horses on the top, but that doesn't mean you have to go crazy and drop big money on one when it comes out.
Featured Products
Description:

The Aged & Ore Neat Traveler is a complete travel kit for spirits. We combined our widely praised Neat Glass with one of our 3oz Flight Bottles and housed them together in a custom EVA travel case. Perfect for a night away with your favorite pour. The tie
Description:

The Aged & Ore Bottle Flight is a premium set of 4 custom silicone wrapped glass bottles designed to transport and share samples of your favorite spirits. The flight bottles come in a custom EVA travel case that fits perfectly in any small bag. An Aged &
Description:

This Bundle combines two of our crowd favorite products, creating the ultimate travel bundle to bring along your favorite spirits and glassware. Bundle Includes: Neat Traveler (Gray) Bottle Flight (Gray) Note: This bundle is only available in gray and col
*Bourbon Culture is reader-supported. When you buy through links on our site, we may earn an affiliate commission.