A (not-so) brief history of Cascade Hollow and George Dickel
Cascade Hollow Distillery had a famously rough go at distilling throughout its life. It's basically a story of production starting and stopping played on a loop. George A. Dickel, the man whose name is synonymous with the distillery, didn't actually found the distillery. So how did the two names ultimately become intertwined in the annals of history? It all starts with George and his fast-growing liquor store business based out of Nashville, Tennessee in the late 1860's.
As George Dickel's liquor business boomed, he brought on three men to help him run it. Maier Salzkotter and two brothers named Victor and Emile Shwab. Business continued to grow. In 1878, Cascade Hollow Distillery opened up in Coffee County. The whiskey distilled there became a favorite of George Dickel and he signed a contract a few years later to buy a large portion of their whiskey.
In 1888, Victor Shwab bought 2/3 ownership stake of Cascade Hollow. Over the next 6 years, all of the men I just mentioned, except for Victor, either retired or died. This left him as the owner of the Geo. A. Dickel & Co liquor store and as majority owner of the Cascade Hollow Distillery. When the Cascade Hollow Master Distiller died shortly thereafter, Victor grabbed up the remaining shares and became outright owner.
Prohibition happened early for the state of Tennessee – in 1910 to be exact. This meant that Victor had to either move the distillery out of state or shut the whole brand down. He chose the former and entered an agreement with Arthur Philip Stitzel to produce whiskey at his distillery in Louisville, Kentucky. Victor even had the charcoal filtering vat moved from Tennessee to Kentucky to ensure that the same charcoal filtering methods would be used.
National Prohibition didn't kill off the brand entirely after 1920. Since Stitzel had a license to produce medicinal alcohol during this period of time, Cascade Whiskey continued to be sold. Victor died in 1924 and his children inherited his shares of the brand. They eventually sold the shares to Schenley after Prohibition was repealed. Schenley had the brand distilled for a period of time at the George T. Stagg Distillery – which is now known as the Buffalo Trace Distillery. In the early 1950s, Schenley decided to move the operation back to Cascade Hollow in Tennessee. The new distillery was built only a mile away from the original one.
Production of whiskey resumed in 1958 and it was only 6 years later when the first bottles of whiskey produced at Cascade Hollow were released. One of the initial releases that came out in 1964 was put into a decanter that was in the shape of a powderhorn. The bottle I'm reviewing today is not that bottle. By the way, I encourage you to read this piece by Michael Veach to get the rest of the history of Cascade Hollow.
George Dickel Powderhorn – a throwback before throwbacks were a thing
Instead, the bottle I'm reviewing today was released in 1987 as part of a 110th Anniversary of the original Cascade Hollow Distillery being built. The iconic design was chosen due to the success of the 1964 version. Who knew they were making throwbacks in the 1980s? Identifying the differences between these two is easy. The 1964 bottle had a more yellowish center label and a golden sticker on the bottom which read "Souvenir Bottle Commemorating reopening of George Dickel Distillery." The 1987 bottle's main label is white and says that it's the "110th Anniversary Powderhorn Bottle" around the outside edge of the label.
As far as my research has taught me, very little has changed with the whiskey that goes into George Dickel Tennessee Whiskey over the years. The mash bill appears to be the same since it restarted in 1958 – 84% corn, 8% rye and 8% malted barley. After distillation, the whiskey is chilled down to 40 degrees and then dripped through a thick layer of sugar maple charcoal. When it comes out the other end, it's proofed down to 115 proof before entering the barrel. Then it spends its life in single-story rickhouses that are only 6 ricks tall (much like Four Roses).
Nothing that I have learned since then has convinced me that Dickel made in the 1970s/1980s was made any differently than Dickel made today. The Powderhorn carries no age statement, but since the whiskey glut was still ongoing in 1987, I'd wager that the barrels used for it were around 8 years old.
The Powderhorn is not a painted bottle, but rather an extremely tinted amber glass. The cork was a one-piece design (not compressed/pebbled) that is surprisingly prone to breaking. As bad luck would have it, my cork broke when I went to open mine. However, the opening is a pretty standard size and I was able to use the cork from an empty bottle of Noah's Mill to replace it.
Now that you know the history behind this bottle, join me as I take a taste of the past. As usual, I've sampled this neat in a glencairn.
Tasting Notes
Nose: I'm both surprised and happy to find that the age of this liquid has some wood varnish notes that I associate with many-a-dusty bourbons I've had in the past. It's almost like walking into an antique furniture store in some regards. We're off to a good start! Flavors of toffee, and Rolos add a sweet layer to other notes I was not expecting to find like plantains and chocolate. Spice, which is something I figured I wouldn't find much of, is present with each sniff too. It comes by way of cinnamon powder and fennel/anise. Overall, a simple nose with a few surprises if you take time to study it.
Palate: The wood varnish note from the nose transfers to the flavors I find in each sip. There is an aged quality about this whiskey that tries its best to make you not notice it. But I do and it's really nice. I can tell that some of these notes are the same as modern Dickel that few people pick up on. Strawberry creme, orange oil extract, Ferrero Roche Chocolate Hazelnut Balls and even marzipan (!) showcase a side of Dickel that makes it different from other whiskies. Eat your heart out, Jack Daniel's. Sweetness also comes by way of honey. This all sounds great, huh? However, the 90 proof comes off thinner than most "dusty" bourbons from Kentucky would. I'd give anything to have a bottle of this at cask strength.
Finish: Much like what I said in my notes on the palate, the flavors in the finish are hampered by the proof (at least that's what my theory is). There is a generic sweetness (is is caramel? honey?) that wraps around other flavors like milk chocolate, cinnamon, a tiny bit of lingering oak. I keep circling back to find anything else, but the finish keeps fading before my taste buds can zero in on anything new.
Score: 7.3/10
This bourbo… err, Tennessee Whiskey has a lot of great traits. The varnish notes by themselves make each pour an experience while the supporting cast of flavors are unique in a way that many dusty-whiskies don't always match. And as much as I want to give this a higher score, the lackluster finish and thin mouthfeel doesn't do this bottle many flavors.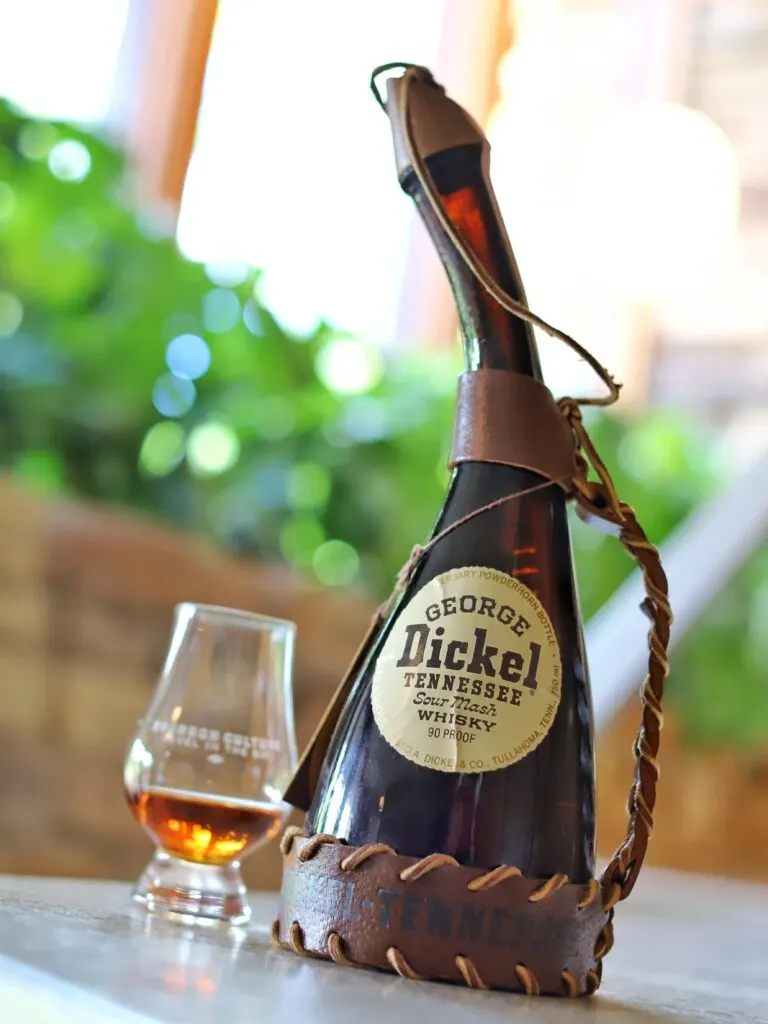 Still, this is a whiskey without a lot of faults. I'd happily sip it most days. It's different enough from the dusty bourbons that came out of Kentucky, but not enough that you should prioritize buying this bottle on the secondary market over them. I'd personally spend the extra money on dusty Wild Turkey or National Distillers from the same time period.
Final Thoughts
This is the bottle that launched a hundred phallus jokes from the brand whose namesake launched a thousand phallus jokes. Whipping one of these out at your next party or bottle share is guaranteed to elicit some snickers. Snobby bourbon drinkers and connoisseurs of dusty whiskey will reject your offers for a taste.
But you know what? Who cares. If you find yourself in possession of one of these, then enjoy it. Take your time with it and enjoy a taste of the past. Just don't pay big money for it. There were enough of these made that there's still plenty still floating around. It takes up a lot of shelf space, but it's always an interesting conversation piece. Just make sure you have a spare cork ready when you try to open it!
Featured Products
Description:

The Aged & Ore Neat Traveler is a complete travel kit for spirits. We combined our widely praised Neat Glass with one of our 3oz Flight Bottles and housed them together in a custom EVA travel case. Perfect for a night away with your favorite pour. The tie
Description:

The Aged & Ore Bottle Flight is a premium set of 4 custom silicone wrapped glass bottles designed to transport and share samples of your favorite spirits. The flight bottles come in a custom EVA travel case that fits perfectly in any small bag. An Aged &
Description:

This Bundle combines two of our crowd favorite products, creating the ultimate travel bundle to bring along your favorite spirits and glassware. Bundle Includes: Neat Traveler (Gray) Bottle Flight (Gray) Note: This bundle is only available in gray and col
*Bourbon Culture is reader-supported. When you buy through links on our site, we may earn an affiliate commission.