Joseph Magnus is a brand of bourbon that was resurrected from a lost history of distilling before the age of Prohibition. The story of how it came to be in its current form seems almost too fantastical for me to swallow. It is said that Jimmy Turner stumbled upon a bottle of the original Joseph A. Magnus bourbon in his mother's house in 2007 that was made by his Great Grandfather, Joseph A. Magnus. The bottle was unopened but he could tell it was incredibly old.
Using a complicated method of liquid extraction that left the cork in place, Jimmy was able to extract a few milliliters of the bourbon to be able to get a taste. I think the more interesting story would be to tell us how this technique works. I can only imagine took an extraordinarily thin and flexible syringe and a long time to draw out the liquid.
Moving on, the story becomes more convoluted. In the interviews and testimonials that came out after the brand was launched, it was said that Jimmy had various whiskey experts help him to understand the whiskey that was inside of the bottle and to recreate it. Dave Scheurich and Richard Wolf's name were thrown around in the literature of how the brand got restarted, but it's unclear what guidance or help they provided. Nancy "The Nose" Fraley was also involved in this project, but it's unclear if she was the main person responsible for recreating the blend that would eventually become Joseph Magnus Bourbon or if she just gave it her seal of approval.
As the story goes, Nancy was quoted as saying that one of the reproduction blends that was being tinkered with ended up tasting almost exactly like the bourbon in that bottle from the 1900s. What was that blend made up of? Bourbon sourced from MGP and finished in Sherry and Cognac casks. Who knew that they'd be so similar?! I guess we'll have to take their word on it, but the blend stuck and has become their flagship product ever since.
The makeup of Joseph Magnus Bourbon
Joseph Magnus was one of the last non-distiller producers (NDP) to secure a large contract with MGP for aged bourbon. Nowadays, MGP has trimmed the fat on who they source barrels to. They'll take on new customers, but only if they buy large quantities of new-fill barrels. Magnus still depends on a supply of bourbon that ranges from 8 years old all the way to 12. Older barrels have been sourced for special projects like Cigar Blend and J.A. Magnus Reserve in the past but now they are very scarce. Therefore, even though it's not explicitly stated on the label, Joseph Magnus "Triple Cask" Bourbon is often quoted as being between 8 and 12 years old.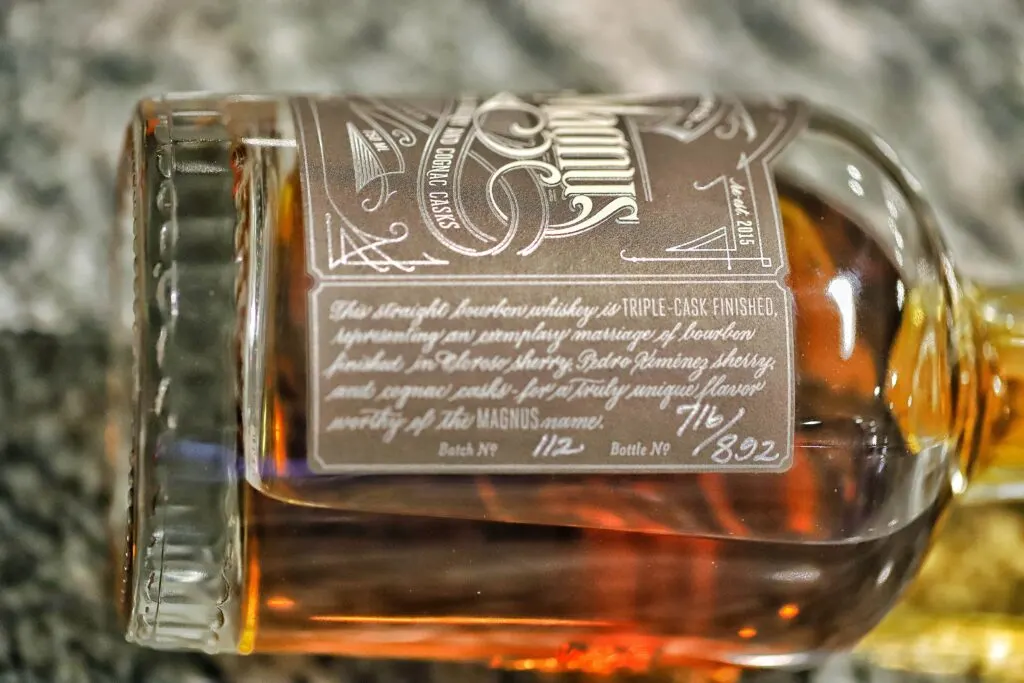 Those barrels, by the way, have been said to be rather low in proof once they are delivered to the distillery. MGP bourbon goes into the barrel at 120 proof and typically lose proof as they age. In fact, Nancy has said that the 100 proof that this is bottled at isn't too far off from the total barrel proof of the batch. Food for thought if you were disappointed they didn't bottle this at a higher proof.
From there, they finish the bourbon in Cognac, PX Sherry and Oloroso Sherry Casks. Nancy has been very vocal that she has pushed the owners of Magnus to source only the finest and freshest casks from Europe. She has stated that she does not like the practice of reviving (also called recharging) used barrels with low-quality bulk Sherries or Cognacs like other companies are known to do. This was her stance over 3 years ago, so either you can believe that they still do things this way or that they've changed.
Joseph Magnus' radical shift
Why would I speculate that the makeup of Joseph Magnus has changed? Because as of late 2020, Windquest Group (of which the DeVos family are primary owners of) decided to pick up the brand from their home in Washington D.C. and move it to Holland Township in Michigan to operate in the same footprint as Coopercraft Distillery. Both producers are owned by Windquest Group and the move was seen as a way to consolidate and reduce costs. A large amount of the staff (to include the master distiller) was laid off during this change.
Nancy has remained a steady hand for blending throughout these changes but even she can only have so much sway over the direction the brand goes. We know for a fact that Magnus' managers have ordered an exponential increase in production of Cigar Blend while simultaneously killing off the Murray Hill Special Release program. Triple Cask has also seen distribution increases to more states too. Does that mean corners are being cut to increase profits? I can't say for sure but historically that seems to happen to any business that decides to increase growth at a very quick pace.
Now with the backstory of this product out of the way, it's time to get down to tasting. Let's get started. A shoutout to Brad for making this happen! I tasted it neat in a glencairn.
Tasting Notes
Nose: I'm surprised to find the Cognac casks tickling my sniffer first. The whole thing is extremely wine and grape forward. Aromas like a raspberry/blackberry cobbler coupled with white chocolate, macadamia nuts and brown sugar. There's a good amount of sweet oak lurking behind every sweet scent too. What a beautiful opening to this dram.
Palate: The Sherry casks are like two boxers and my tongue is the ring. There are right hooks of peppery spice, jabs of cinnamon and uppercuts of sweet red wine. Meanwhile, white grape juice shows up from the Cognac casks. Heavy tobacco leaf tannins and well-rounded oak flavors show the maturity of the underlying bourbon. At some points, I swear this comes across as a Buffalo Trace product, so maybe there was some truth in Nancy Fraley believing that a finished bourbon could taste like an old-timey whiskey. The palate is a lot more put together than I thought it would be and I have to admit how much I'm loving it so far.
Finish: A finish that gets progressively drier and more tannic, but not necessarily to the point where it takes away from the sweetness. Peppery spice pockets itself in between your cheeks and gums, reminding you of the two Sherry wine finishes (or is it the high-rye content of the bourbon?). Also worth noting is a little hint of herbal flavors. Mainly though, lots of fruit remains behind. It's a very pleasant finish.
Score: 8/10
This bottle of Joseph Magnus Bourbon surprised me with sweet, fruity, and balanced flavors that made each sip a joy. I think the one thing that impressed me the most was that even with all of the finishing casks present, the bourbon never felt like it was washed away. This can happen with a lot of finished bourbons and I am happy to report that wasn't the case here.
I was also concerned that 100 proof wouldn't be as bold as I wanted it to be. This also turned out to be much ado about nothing. If anything, it tasted like there was more proof present than the label would indicate. Each sip was powerful and rich. Frankly, the $100 pricetag for a bottle makes a little more sense now.
Final Thoughts
For years I avoided Joseph Magnus Bourbon because I felt like it was more gimmick than substance. This wasn't helped by my early Joseph Magnus experiences involving substandard single barrel of Oloroso-finished bourbon and some of the 13 year old unfinished single barrels. I figured if the quality was substandard in those, there was no hope for their standard triple cask finished bourbon. I'm glad to find out I was wrong.
That leaves me with the question of "does it have good value?" I think it does now. For the age of the bourbon and the flavors found within, this checks all of my boxes. If you're gifting it to a special person, the bottle has a beautiful layout and should be well-received. So if you've been on the fence about buying one, I'd say do it. There aren't as many bottles out there that I'd recommend in the $100 range, but Joseph Magnus seems like it's worth it to me.
Featured Products
Description:

The Aged & Ore Neat Traveler is a complete travel kit for spirits. We combined our widely praised Neat Glass with one of our 3oz Flight Bottles and housed them together in a custom EVA travel case. Perfect for a night away with your favorite pour. The tie
Description:

The Aged & Ore Bottle Flight is a premium set of 4 custom silicone wrapped glass bottles designed to transport and share samples of your favorite spirits. The flight bottles come in a custom EVA travel case that fits perfectly in any small bag. An Aged &
Description:

This Bundle combines two of our crowd favorite products, creating the ultimate travel bundle to bring along your favorite spirits and glassware. Bundle Includes: Neat Traveler (Gray) Bottle Flight (Gray) Note: This bundle is only available in gray and col
*Bourbon Culture is reader-supported. When you buy through links on our site, we may earn an affiliate commission.