If you are new to the scene of American Whiskey, you may not be fully aware of just much we owe the Japanese for saving the brands we now take for granted. During the whiskey glut of the 1970s, 80s and 90s, demand in the United States continued to drop. Around the world, other markets also struggled to sell whiskey too. If there was demand for any kind of whiskey, it was generally for Scotch, not Bourbon.
But there was one market that embraced bourbon and had the money to pay a premium for it – Japan. This is why so many limited releases are released to this day specifically for that market. Additionally, Japanese brands were eager to invest in American distilleries to ensure a flow of whiskey in case of future volatility (there were many other reasons as well). This led to the Kirin Brewing Company buying Four Roses in 2002 and Suntory buying Beam in 2014. Since Beam owned Maker's Mark, that brand was included in the sale as well. This meant that 3 of the 9 largest distilleries in Kentucky were now owned by a Japanese enterprise.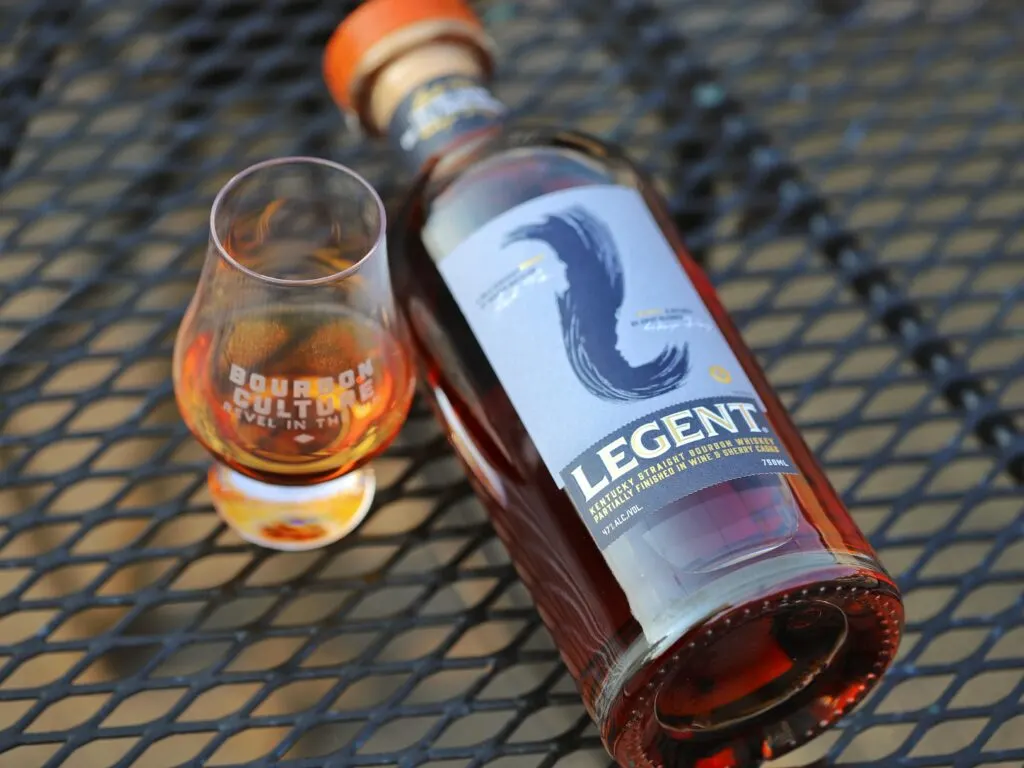 The powers-that-be at Beam-Suntory were eager to create a collaboration between the rich distilling history of their brands. Ultimately, Fred Noe came together with Suntory's Master Blender Shinji Fukuyo to work on a whiskey that would embody the spirit of their products. The result is the bottle you see before you: Legent.
What exactly is Legent?
Legent is a blend of 5 year old, unfinished bourbon from Jim Beam and bourbon that has been finished in ex-wine casks and ex-Sherry casks sourced from Spain. Sources tell me that the finished component is about 60% ex-wine and 40% ex-Sherry. Doing it this way ensures that the final product still allows the bourbon to shine through instead of getting covered up with the wine. If you're unfamiliar with what I'm talking about or why that would be an issue, it's because many times wine and Sherry finishes can get a bit "heavy handed" where it ends up being one of the only flavors you can taste.
Since Legent is a batched product, there's going to be some inconsistency with its color. This is common among almost all wine-finished whiskies. I think Angel's Envy is the worst offender with bottles ranging from pale copper to dark ruby. The bottle of Legent I have today appears much darker than earlier versions I have seen on the shelves – especially the first generation that did not have the new dark paper label on them. However, it should be said that the blenders at Legent blend to a consistent taste, not a consistent color.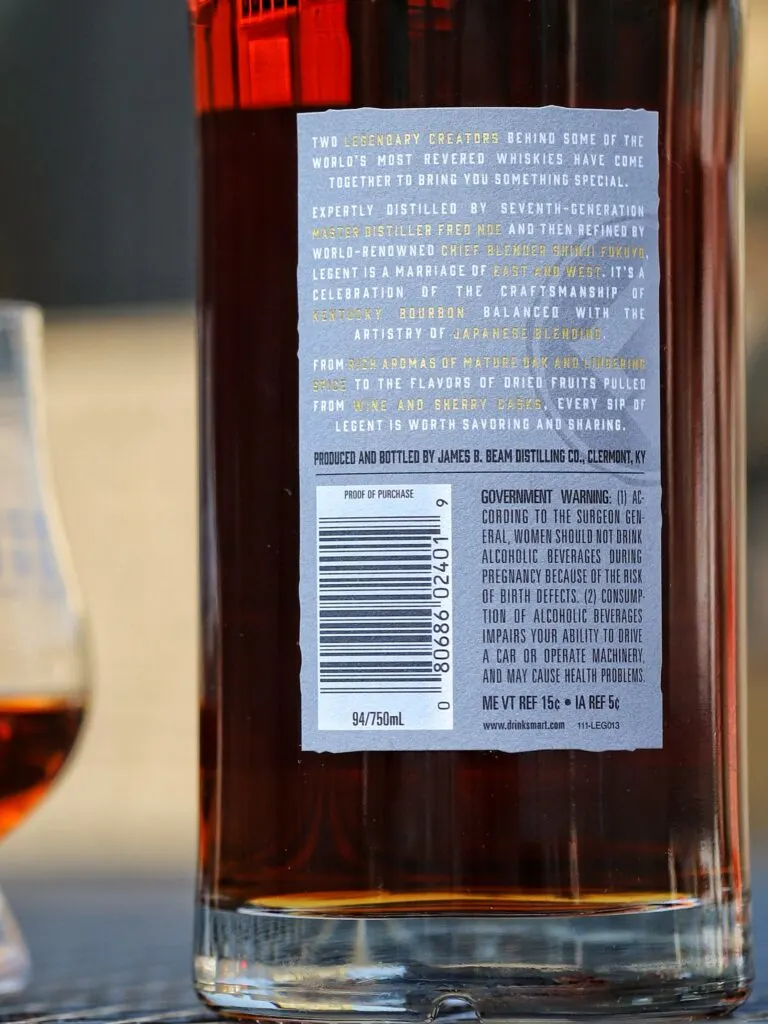 At 94 proof, this bottle promises to be an easy and smooth sipper. But what I'm hoping to find in this review is just how well integrated the bourbon is with the finishing casks. Was Beam-Suntory onto something big here? Or will the finishing casks smother the final blend? It's time to find out. I sampled this neat in a glencairn.
Tasting Notes
Nose: Well-rounded wine scents create a smooth and fruity character that is revealed with each sniff. What kinds of fruits? I'd describe them like cherries, citrus, wildberries and grape jelly. Older notes come through like leather and oak. The oak doesn't smell like a well-aged bourbon, instead it smells more like the gentle toasted oak of a wine cask. The nose is better than I expected.
Palate: Flavors of young bourbon and nicely oaked wine merge together. The young bourbon notes come off as barrel char and semi-burnt caramelized sugar. The wine notes lean more towards berry compote, lemon meringue and sweet citrus peel. There is also a level of peppery spice that gives each sip a bit of a "pop" as you drink. Overall, the wine casks smooth out the youthful bourbon notes leaving behind an easy-going sipping experience.
Finish: The finish lasts moderately long and is much more tannic overall than I expected. Leather and oak can be found long after the sip is complete. Wine and berry notes continue fruity sweetness that I got used to on the nose and palate. The sweetness that comes from caramel and nougat are pleasant and are probably from the bourbon itself.
Score: 6.5/10
If you're looking for a pour that is easy to sip and packs plenty of flavor, this bottle is for you. But if you're craving an outright bourbon, this may not have what you're looking for. For sure, the fact that this wasn't 100% finished has helped not drown out the essence of the bourbon underneath. But the Sherry and wine casks have unmistakably influenced the final product.
There could be worse things in life than sipping a whiskey that is packed full of fruit and wine notes. These are also notes that I think that regular Jim Beam products lack. So for that effort, the score gets bumped up because it has transformed the bourbon away from being all oak, caramel and nuts into something more.
Final Thoughts
I don't hide the fact that I enjoy most finished whiskies. A lot of other reviewers and friends of mine don't. Now that you know where I stand, it might not come as a surprise to hear me say that I fully recommend that you buy a bottle of Legent. It's one of the cheaper finished bourbons (this bottle was $39.99) on the market and is a great value too. I can't really think of any other major distillery putting out a finished bourbon for that price.
Most finished bourbons come from Non-Distiller Producers (NDPs) who take whatever bourbon they can source and then experiment on how to finish it. With Legent, the barrels are selected by a team of master tasters who vet them specifically for this program. Then Shinji Fukuyo applies his expertise at finishing and blending. This is what sets Legent apart from the others. It's made on purpose, not by happenchance. Craving a balanced, affordable whiskey with lots of fruit notes? Then Legent should be your next purchase.
Featured Products
Description:

The Aged & Ore Neat Traveler is a complete travel kit for spirits. We combined our widely praised Neat Glass with one of our 3oz Flight Bottles and housed them together in a custom EVA travel case. Perfect for a night away with your favorite pour. The tie
Description:

The Aged & Ore Bottle Flight is a premium set of 4 custom silicone wrapped glass bottles designed to transport and share samples of your favorite spirits. The flight bottles come in a custom EVA travel case that fits perfectly in any small bag. An Aged &
Description:

This Bundle combines two of our crowd favorite products, creating the ultimate travel bundle to bring along your favorite spirits and glassware. Bundle Includes: Neat Traveler (Gray) Bottle Flight (Gray) Note: This bundle is only available in gray and col
*Bourbon Culture is reader-supported. When you buy through links on our site, we may earn an affiliate commission.