Heaven Hill created quite the splash when they introduced their line of Old Fitzgerald decanters in early 2018. The premise was that they'd be filling this previously-neglected brand with higher-aged stocks of wheated bourbon and bottling it under the rules and regulations of the Bottled-in-Bond Act. Bernie Lubbers originally commented that there would be 10 total releases for the series – that equated to 2 releases each year (Spring and Fall). He failed to mention that there would be 2 special gift shop releases which would carry an easily recognizable red label.
I'm not sure when it happened, but sometime between 2018 and 2022, Heaven Hill changed their earlier stance and walked back the idea that the Old Fitzgerald decanter series ever had an end date. And as the Fall 2022 release (a 19 year old bourbon!) was coming out, there was no mention that it was the last one. However, Spring 2023 came and went with no mention of a new Old Fitzgerald release. Now that Fall 2023 is almost upon us it seemed as if the label really did cease – until this discovery was made.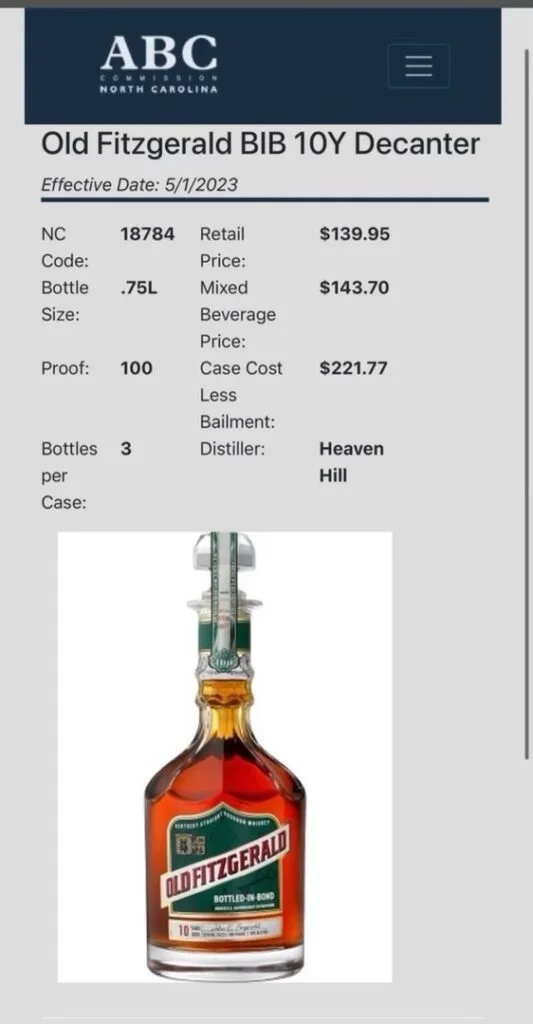 Recently, a friend of a friend uncovered what appears to be a yet-to-be-released version of the Old Fitzgerald Decanter line showing a 10 year age statement. Normally, I would brush this off as being a photoshopped picture designed to generate some hype and clicks – but this was found buried inside of the North Carolina ABC inventory system. See the link here.
I'm not saying that makes it all official, but being in the system of a giant state-run liquor agency seems much more valid than if it was found on a random person's Instagram account.
There are some points of contention that should be addressed before this is taken seriously. First off, why has there been no chatter about a new release anywhere else? Secondly, the label is green which denotes it is bottled for a Spring release. Seeing as how we're going into August in a week, that would make this one of the latest releases yet. If anything, the label should be black (which is the color the Fall releases wear). And lastly, if you zoom into the picture – which gets very grainy – you'll see that the season and year of the release appear even more blurry than the rest of the words. Could this be a fake?
And the final reason is one I've personally believed for a while… Heaven Hill won't release a 10 year old version strictly because it would step on the toes of Lux Row's Rebel 10 Year Single Barrels. Confused? Let me explain.
Before Lux Row joined forces with MGP, they were closely tied to Heaven Hill. They were never owned by them, but they had been sourcing ryed and wheated bourbon from them for a long time. They took advantage of a period of time where Heaven Hill still had some days out of the year where they'd contract distill for customers. It was during this time that Master Distiller John Rempe got his education from Danny Potter on how to make whiskey using the equipment at New Bernheim Distillery. This allowed John to guide Lux Row when they set out to build their own distillery in Bardstown in 2016.
Getting back on track, Lux Row still sourced many barrels of aged bourbon from Heaven Hill during this time as well. In 2016, they released a new single barrel line of Rebel Yell with a 10 Year age statement. They were all bottled at 10 years old. The release was such as hit that they followed it up in 2018 with even more barrels being released. It should be noted that based on the dates on the backs of the bottles, many of these were presumed to be much older. But the 10 Year age statement remained.
My theory was that Heaven Hill will never release a 10 Year Old version of Old Fitzgerald because it would directly compete with the Rebel (they dropped the "Yell" in 2020) Single Barrel line. And while the ties between Heaven Hill and Lux Row no longer bind them, there's lots of gentlemen's agreements in the land of bourbon that we never hear of. Directly competing with your customers is probably one of them. But now that Lux Row and Heaven Hill no longer work together, would it still stand?
In the end, the whole Old Fitzgerald Decanter thing is very confusing. Has Heaven Hill killed it off or not? Will they continue to make it a bi-annual release or make it a once-a-year release? And will they keep the same bottle shape? Rumors had also circulated that the glass shortages of 2021 and 2022 were affecting Heaven Hills ability to source more of them. All of this and more are going to be speculated on in the coming months. But one thing's for sure: keep your eye on the North Carolina ABC website to see if anything changes.
Featured Products
Description:

The Aged & Ore Neat Traveler is a complete travel kit for spirits. We combined our widely praised Neat Glass with one of our 3oz Flight Bottles and housed them together in a custom EVA travel case. Perfect for a night away with your favorite pour. The tie
Description:

The Aged & Ore Bottle Flight is a premium set of 4 custom silicone wrapped glass bottles designed to transport and share samples of your favorite spirits. The flight bottles come in a custom EVA travel case that fits perfectly in any small bag. An Aged &
Description:

This Bundle combines two of our crowd favorite products, creating the ultimate travel bundle to bring along your favorite spirits and glassware. Bundle Includes: Neat Traveler (Gray) Bottle Flight (Gray) Note: This bundle is only available in gray and col
*Bourbon Culture is reader-supported. When you buy through links on our site, we may earn an affiliate commission.