*Bourbon Culture is reader-supported. When you buy through links on our site, we may earn an affiliate commission.
If there is one bottle that gets the most hate from enthusiasts from coast to coast, it's got to be Willett Pot Still Bourbon (and here I thought it was Angel's Envy Rye!).
For years, this gigantic bong masquerading as a bottle of bourbon has been a staple of bourbon memes on every Facebook page. YouTube Reviewers love to give edgy takes about how they like it to increase the clicks.
New bourbon drinkers will say it's not bad (with a big cube, of course) but we know they really just bought the bottle because of how it looks.
Is all of this commotion and outright hatred for the product justified? The answer to that question is rooted in the past.
Willett introduced Pot Still originally as a single barrel product back in 2008. Back then, the bourbon inside was undeniably sourced (probably from Heaven Hill) and was around 8 to 10 years old. I imagine it was similar to the modern-day Elijah Craig Single Barrels that are bottled at 94 proof. Who doesn't love those?
But Willett dropped the single barrel designation in 2015. Instead, it was now branded as a "Small Batch Bourbon." Unlike most products that carry the label of Small Batch, this one actually seems like it is. Willett has said that around 12 barrels are used per batch.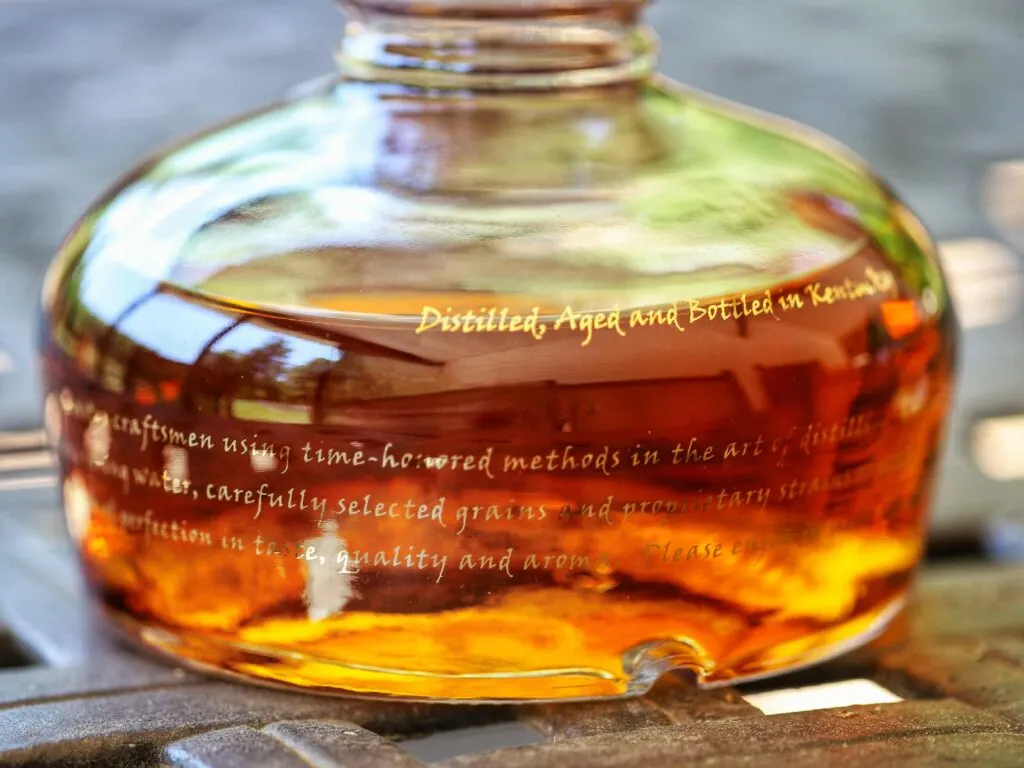 Since Willett only started producing their own distillate in 2012, it's doubtful that Willett Small Batch Pot Still Bourbon immediately started to use their own bourbon (it also carried a Straight designation, meaning it had to be a minimum of 4 years old).
But batches from 2016 to 2020 probably did. These were the years that were universally disliked by enthusiasts. Descriptions like "grassy," "young" and "full of unripe orchard fruit" were common.
Batches may have also been blended with a barrel or two of Heaven Hill bourbon because many reviewers noted a peanut taste during this period of time too.
Willett Pot Still quietly changes between 2021 and 2022
After years of pulverizing reviews, many enthusiasts began to sing a different tune about Willett Pot Still towards the end of 2021. The new rumor on the street has been that Willett Pot Still now uses Willett's own wheated bourbon recipe.
After checking through multiple websites, it doesn't seem as if there was a particular press release announcing this, but it's something that everyone is now quoting.
I don't have a reason to believe this isn't true. Willett produces a total of 6 mash bills. 2 of those are rye whiskey and 4 of them are bourbon. For the sake of simplicity, here's a quick breakdown of just the bourbon ones and which product they go into.
Of note, only the Johnny Drum and Willett Pot Still mash bills have been verified somewhere along the line from employees at Willett. The rest are speculation based on profile traits.
52/38/10 "High Rye" Bourbon – Johnny Drum, Old Bardstown BiB/Estate
72/13/15 "Original Recipe" Bourbon – Pure Kentucky, Noah's Mill
79/7/14 "High Corn" Bourbon – Kentucky Vintage, Rowan's Creek
65/20/15 "Wheated" Bourbon – Willett Pot Still
In the middle of last year, I reviewed Willett Wheated 8 Year Bourbon. Willett priced it well beyond its actual value ($250!) and it has since landed with a resounding *thud* on the secondary market. Why am I bringing up Willett Wheated Bourbon?
Because it is technically the big brother to Willett Pot Still. I do not believe that Willett Pot Still is a true 4 year old bourbon – instead I choose to believe it's probably in the neighborhood of 5. It's also just 10 proof points less than last year's limited release.
All of this makes the specs for both products to be very similar despite Pot Still costing 1/5 the price of the Wheated 8 Year. I was curious to see if this bottle could be the budget alternative to that very overpriced release.
The batch I am reviewing today is labeled "22G01" which probably means it's the first batch made in July, 2022. Being relatively recent should guarantee that the wheated recipe is inside. It also probably means that it's not the very first batch of wheated, so this should be a bit more refined and probably taste like how they intended.
At least that's what I'm hoping anyway. Now it's time to find out for real! So let's dive in. As usual, I'm tasting this neat in a glencairn.
Tasting Notes
Nose: Soft and delicate. Vanilla, rose water, caramel, puff pastry and whipping cream. For being a wheated bourbon, the fruit notes are kind of hard to come by. Just like the 8 Year Wheated version, the fruits are confusingly ambiguous. I'm picking up a hint of poached pear and quince but they're very light.
Palate: Cornbread notes demonstrate that this is still relatively young. I can't escape this soft wave of perfume-y flavors either like jasmine, eucalyptus and breakfast tea with honey. Cinnamon does exist, but it's light and delicate. There's some licorice and unbaked dough flavors too. Overall, there is a youthful dynamic to each sip, but it's not that offensive. The perfume-like character to each sip is something I was not expecting for a young wheated bourbon.
The mouthfeel is creamy. If you were expecting a big, bold bourbon with lots of oak and spice, look elsewhere. This thing is a baby kitten compared to any competitor at this proof and age. It makes me wonder if a #1 char level was used for the barrels (I know it wasn't, but still).
I say this because it seems like there wasn't a hint of interaction between distillate and barrel char which has resulted in a lack of deep, caramelized notes found in almost every bourbon. Strange.
Finish: Soft and quickly fleeting. The finish has no off-putting notes but it also has very little to contribute overall. The light notes disappear in short order – leaving behind a memory of a semi-sweet and floral affair.
Score: 6/10
I had suspected this might be the case. Willett Pot Still is not a bad bourbon at all… at least as far as the more modern batches are concerned. I hate to be one of those edgy YouTubers that claims that Willett Pot Still is good, but that's exactly what I've decided it should be rated as – the bare minimum score of "good."
While my harshest criticism of it might be "it doesn't taste like a traditional bourbon" my highest praise would be "it's unique enough that you should try it if you're getting bored with traditional bourbons." I'm not sure how a young wheated bourbon became so soft and light.
I was bracing myself to find some harsh petrochemical tastes that I've noticed other young wheated bourbons can have – but I was happy to report there are none.
Final Thoughts
One of the most common stereotypes I see of people who post pictures on social media drinking Willett Pot Still is how they all seem to drink it on ice – usually with a caption about how "smooth" it is. I can totally see that being true after sipping this.
Willett Pot Still is the definition of smooth no matter how much I hate using that word. If you're one of those people reading this review, I'll offer this one takeaway – Willett Pot Still is already smooth before any ice is added, so you don't really need to use it.
I'm hereby labeling this as the "Japanese Whisky" of American bourbons considering how soft and perfume-y it is.
Before I wrap up this review, I must address the question that has been on most people's minds after hearing that Willett Pot Still now uses a wheated bourbon. How does it compare to the 2022 release of Willett Wheated 8 Year Bourbon?
The answer is – there are some similarities but both are still very distinct from each other. For instance, the finish on both bottles is entirely too short. Honey'ed sweetness and cinnamon flavors are found in both. But that's where the similarities stop.
Pot Still turns decidedly more aromatic and floral while Willett Wheated 8 Year finds depth in chocolate and fruit notes.
Unfortunately, you're not getting a Willett Wheated 8 Year "Jr." version from Willett Pot Still, but that's not an excuse not to try a taste of this at some point to see how you like it.
It wouldn't be something I'd want to routinely drink and the bottle takes up way too much real estate on my shelves, but it's no longer a bourbon that should be avoided like the plague.
Featured Products
Description:

The Aged & Ore Neat Traveler is a complete travel kit for spirits. We combined our widely praised Neat Glass with one of our 3oz Flight Bottles and housed them together in a custom EVA travel case. Perfect for a night away with your favorite pour. The tie
Description:

The Aged & Ore Bottle Flight is a premium set of 4 custom silicone wrapped glass bottles designed to transport and share samples of your favorite spirits. The flight bottles come in a custom EVA travel case that fits perfectly in any small bag. An Aged &
Description:

This Bundle combines two of our crowd favorite products, creating the ultimate travel bundle to bring along your favorite spirits and glassware. Bundle Includes: Neat Traveler (Gray) Bottle Flight (Gray) Note: This bundle is only available in gray and col
*Bourbon Culture is reader-supported. When you buy through links on our site, we may earn an affiliate commission.