Penelope Bourbon has been on my list of brands to try for about a year now. Several members from the New Jersey Bourbon and Yacht Club, whose opinions I respect on whiskies of all types, have admitted to being surprised with how well-rounded the bourbon being blended there has been. This caught my attention because I know that those same members generally lean towards bourbon with significantly more age and prestige. With my curiosity piqued, I began to investigate this brand more.
Penelope Bourbon at a glance
Digging into the numbers behind Penelope's bourbon, I found that they are using a "Four Grain" bourbon for the base of their blends. This consists of 3 separate MGP/Ross & Squibb mash bills that are blended together. This is somewhat interesting because the term "Four Grain" typically means that the whiskey contains four different types of grain during the fermentation process. The term is not regulated or defined by the TTB, so their interpretation is still accurate. Penelope uses three different mash bills that, combined, contain corn, wheat, rye and malted barley.
What are those mash bill again?
LFSV – 51% Corn, 45% Wheat, 4% Malted Barley
LESV – 75% Corn, 21% Rye, 4% Malted Barley
LDSV – 99% Corn, 1% Malted Barley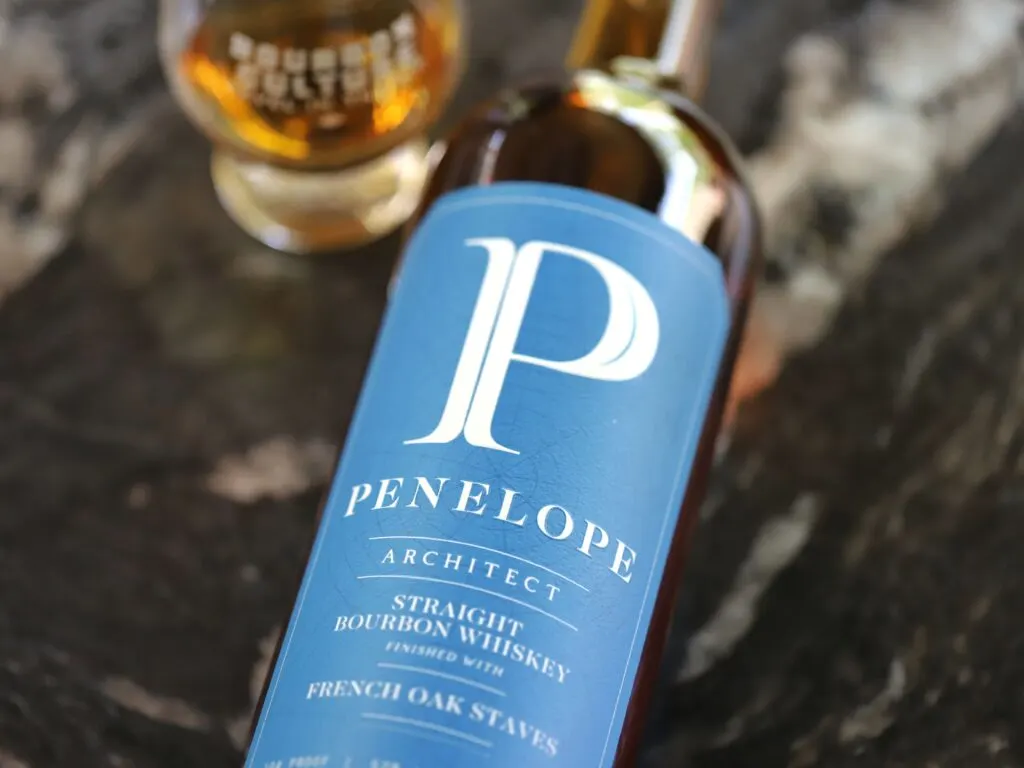 I didn't find information saying the exact ratio of each mash bill used in the blend, but the website Breaking Bourbon quotes the 3rd release of Penelope Architect having a mash bill of 75% Corn, 15% Wheat, 7% Rye and 3% Malted Barley. I think this is incorrect because those numbers add up to each mash bill being exactly 1/3 of the blend – something that would be miraculous if that was the exact ratio that Master Blender Danny Polise settled upon with all of his blending expertise. The real ratio is probably a well-guarded secret.
EDIT: It has been brought to my attention that Penelope Architect Batch 6 does not use their Four Grain Mash Bill. Previous batches did, but this one does not. It is said to use only the 21% bourbon mash bill from MGP
What is Penelope Architect?
Penelope knows that in order to stand out in a field of hundreds of labels that source MGP bourbon, that they'd have to make theirs unique. They had already went down the path of a toasted barrel finish along with some more unique ones like Rosé Cask finish. But Architect takes a different approach.
Instead of a barrel finish, Architect uses French Oak finishing staves. "So what? Maker's Mark does too," you might say. But Penelope takes it one step further and has teamed up with the French company Tonnellerie Radoux to use science as a means to improve the bourbon. Together with researchers of INRA and CEMAGREF, the company developed a technology called Oakscan® which instantly scans and measures the polyphenols content in the wood. Why does that matter? Because as liquid matures while being in contact with oak, producers don't have many tools outside of their tongues and noses to detect how much tannins have been absorbed. Too little and the liquid will taste young and raw. Too much and the liquid will be harsh and bitter.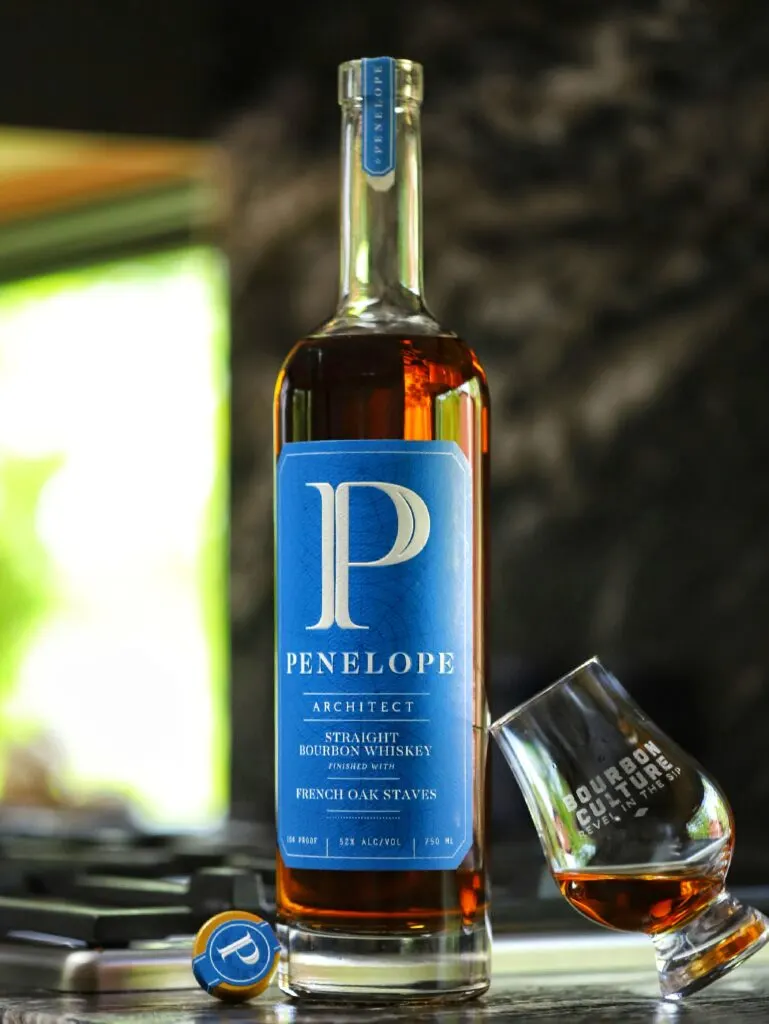 Oakscan works by having each piece of trimmed oak pass in front of a light ray (near infra-red) which analyzes the tannin content of each stave. It sends back an index which helps set a classification for the selection. A barcode is then printed on each stave together with a letter which corresponds to its classification of tannin content. Knowing this information allows Danny and his team to introduce only what is needed to fully round out the bourbon blend into something fuller, more mature and more balanced. It's a concept that could see wider use among bourbon brands in the coming years. This is because bourbon distilleries are one of the largest consumers of new oak barrels in the world.
A quick review dedication
I can't do a review about a bourbon with the word "Architect" in the title without thinking about my sister, Lauren. She's an accomplished licensed architect who works for San Francisco-based STUDY Architects. She's spent the last 14 years of her life living the dream in Jackson Wyoming designing and managing projects for clients in that region. But there is one project that stands above the rest – a full redesign of the house our mom now lives in back in Ohio. Once Penelope sent me this bottle to review, I knew that I had to photograph it the now-completed house. Her thoughtfulness in the design she created makes me even more proud of her than I already am. Plus, it will ensure my mom and her new husband will be able to live in comfort during their retirement years. Here's to you, sis!
So without further ado, it's time to sample what Penelope Architect is all about. As usual, I've sampled this in a glencairn.
Tasting Notes
Nose: Melted custard scents combine with vanilla bean and a hint of coffee grounds. A light dusting of cinnamon can be found too. There is a green note that I can smell, but it's not coming across as youthful oak/sapling. Instead, it's more like the green herbal/floral note from the rye grain in the blend. There's also a sweetness that's like a cross between caramel and butterscotch. The more I smell it, the more it becomes what I would describe as a French Vanilla Bean Latte.
Palate: Coming in at 104 proof, it actually tastes just a tad bit higher on the tongue. I can taste a bit of the underlying youthfulness in the blend but the French Oak is doing a good job of blanketing it. It's bold and somewhat spicy at times. I'm finding waves of cinnamon, oak, leather and a bit of cigar wrapper. Surprisingly, floral notes are present while a blend of vanilla bean and cacao nibs play nicely together. I'm going to be honest, the floral aspect really changes my whole opinion about whether or not this is a one-trick pony or a more complex bourbon. I choose the latter. French Oak is a beautiful wood to taste, but I will admit there's something more about the addition of it to this bourbon.
Finish: Darker notes roughly follow the same notes as the palate. Coffee Bean, Nilla Bean and Cacao Nibs. The tannins aren't as drying as I would've thought, allowing the full spectrum of French Oak to be experienced. Oak and cigar wrapper linger the longest while a pleasant, smoldering cinnamon oil taste also reminds you of how punchy each sip was.
Score: 7.5/10
Penelope's Architect strikes a nice balance between robust tannins and sweet creaminess. It's a bourbon that's more complex than its age would suggest. At the $60 price point, it does enough to make a name for itself in a crowded field of competitors using toasted barrel or secondary charred oak barrel finishes.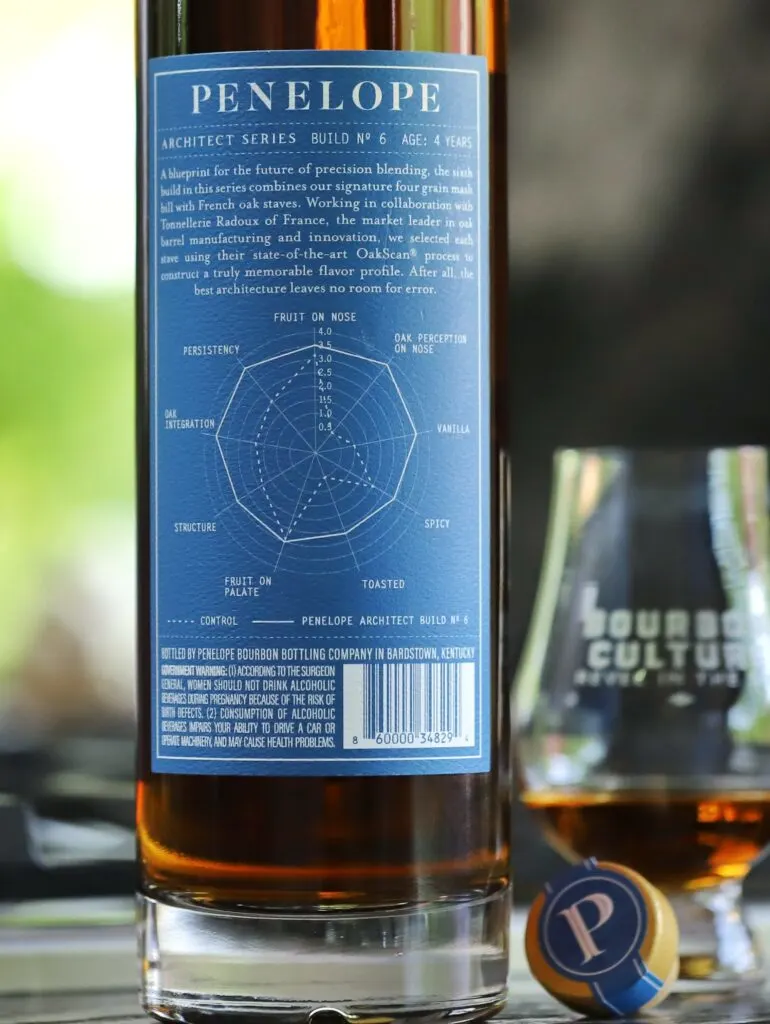 A question I'd love to ask the producers is how they managed to allow the floral/herbal note to shine through those beastly French Oak staves. Is it because of the Oakscan technology? Could they dial in a lighter tannin effect? This is a mystery to me that I wish could be explained. But I like it.
Final Thoughts
Penelope Architect is an impressive introduction to the brand. I feel like it's unfair to start close to the top, but if this is how the remaining labels present themselves, then I'm going to have fun exploring each one. I'd be interested to see how the other Architects (this is a Batch 6) are different from each other. Surely there is a goal of imparting additional tannins into the bourbon, but what other surprises would the previous batches hold?
If you're a bourbon enthusiast who has been on the fence about purchasing a Penelope product so far, let me recommend that you start with this one first. It's a great way to get your feet wet with a brand that's one of the hottest on the market – and for good reason too.
Featured Products
Description:

The Aged & Ore Neat Traveler is a complete travel kit for spirits. We combined our widely praised Neat Glass with one of our 3oz Flight Bottles and housed them together in a custom EVA travel case. Perfect for a night away with your favorite pour. The tie
Description:

The Aged & Ore Bottle Flight is a premium set of 4 custom silicone wrapped glass bottles designed to transport and share samples of your favorite spirits. The flight bottles come in a custom EVA travel case that fits perfectly in any small bag. An Aged &
Description:

This Bundle combines two of our crowd favorite products, creating the ultimate travel bundle to bring along your favorite spirits and glassware. Bundle Includes: Neat Traveler (Gray) Bottle Flight (Gray) Note: This bundle is only available in gray and col
*Bourbon Culture is reader-supported. When you buy through links on our site, we may earn an affiliate commission.