*Bourbon Culture is reader-supported. When you buy through links on our site, we may earn an affiliate commission.
In 2022, I received two bottles from Whiskey del Bac, a malt whiskey distiller located in Tucson, AZ. Both of them (Frontera and Normandie) surprised me with their intense flavors and amazing depth. In fact, I even listed Normandie as one of my most memorable bottles of 2022. I'm a fan.
I am well aware of the giant chasm between enthusiasts of American bourbon & rye whiskey and enthusiasts that are into American Single Malt Whiskey. It's hard to appreciate the differences between the two especially when American Single Malt is so diverse in how it is made because there still isn't a defined set of rules governing that term (as of the time of this writing).
American Single Malt producers also find themselves in a difficult spot when they try to entice Scotch and Irish Whiskey drinkers. Those kinds of drinkers are turned off by the use of new charred oak casks, shorter aging times and climates where heat plays a role in how a whiskey matures.
Whiskey del Bac "Ode to Islay"
But distilleries like Whiskey del Bac press on. They even go as far as to champion their "mesquited-not-peated" process which sees the soon-to-sprout barley heated with a mesquite wood fire to stop the germination process.
This leaves the grain impregnated with a smokey character that follows through the fermentation, distillation and maturation process. Not every product that WDB puts out receives this treatment. For reference, my first two experiences with the Normandie and Frontera labels used the un-smoked distillate as a base.
I'm no stranger to mesquite being used in a whiskey. My first experience was with Wild Turkey Longbranch, which I'm sure was the case with many of you who are reading this now. The low-proof of the liquid and the fact it was filtered through mesquite charcoal made the effect subdued.
I was similarly unimpressed with Old Forester King Ranch. For that bottle, the increase in proof made the mesquite more noticeable. And by noticeable, I mean that the dry, acrid and creosote characteristics were much more recognizable… and not in a good way.
Then there are whiskies like Warbringer's Warmaster which feels like UFC fighter Josh Barnett shoved a pile of mesquite wood chips in your mouth and then put you in a choke-hold. Last year's Arby's Smoked Bourbon used 3 different kinds of wood smoke yet the only one you can really taste or smell is the mesquite. All of these bourbons had me cautiously anticipating what WDB's version would taste like.
According to their website, Ode to Islay is a blend of three different 100% malted barley mash bills and three different finishing casks.
Ratios are not given, but their website tells us that a 100% "Mesquited-not-Peated" malted barley recipe was used along with their standard 60% unsmoked/40% mesquited mash bill and a 100% unsmoked mash bill. That fuzzy math hints that 60% of the liquid used in this bottle of Ode to Islay is mesquite-infused.
As for the aging, WDB traditionally uses quarter casks which hold around 13 gallons of whiskey in them. However, for special releases like this, I've noticed they typically batch a number of the quarter casks into a larger-sized barrel.
WDB indicates that this Ode to Islay release was finished in three separate kinds of casks to include ex-bourbon, tequila, and second-use Whiskey Del Bac Dorado barrels (which is their 100% Mesquited whiskey variety). These three finishing casks were brought together and allowed to marry for three months before being proofed down to 110 proof.
What's interesting is that WDB claims that the blend was slow-proofed down, a technique that Old Elk champions and one that Nancy Fraley also talks extensively about in her interviews.
The tequila barrel finishing caught me off-guard and I only learned about it after completing my tasting notes and reading more about it on their website. Otherwise, the back of the label on this release makes no mention of it.
That's probably a good thing too as tequila finishes have typically not been well-received by whiskey enthusiasts. Some may view it as a bait and switch, but there is a little bit of truth in the old tactic of letting your audience decide if they like it or not before revealing what is inside.
I'm inexperienced with tequila, but the ones I've had have given some earthy, herbal and fruity characteristics. Would those be noticeable with this bottle?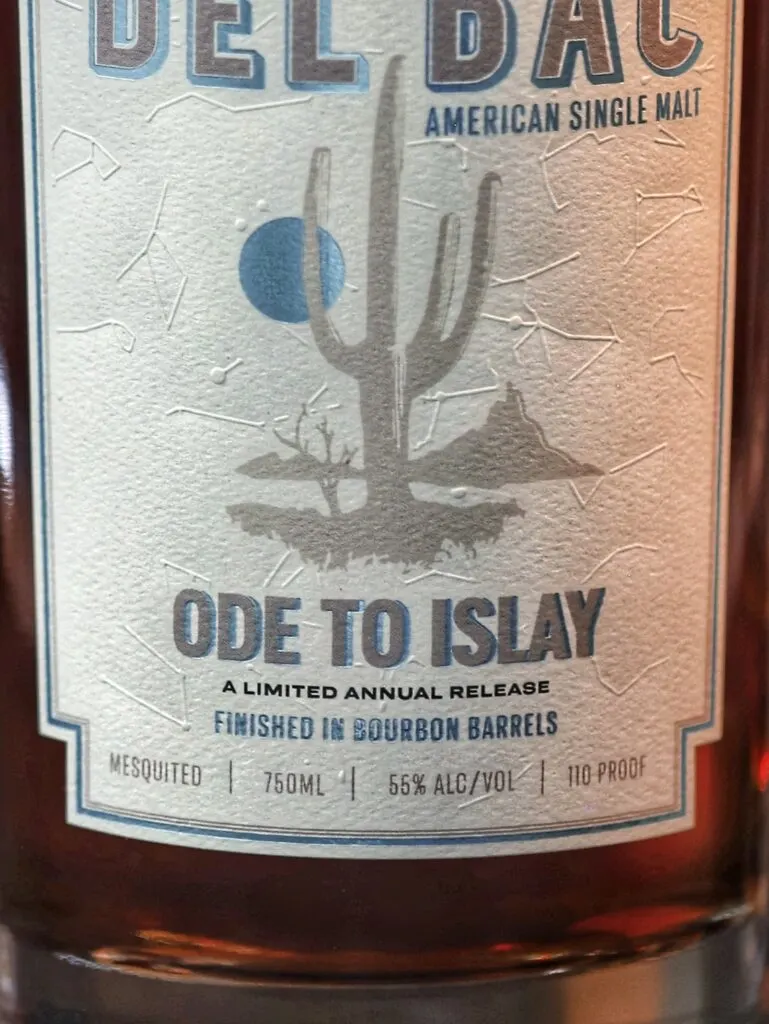 With all of the backstory covered, it's time to get down to tasting. I've taken my time on this bottle because there is a lot to explore since this is not your typical whiskey. As always, I drank this neat in a glencairn.
Tasting Notes
Nose: Smoked meat from a barbecue dominates the scents found on the nose. This is very reminiscent of some of the more "meaty" Scotches I've had. It is a scent I enjoy though (Ben Nevis comes to mind). Sure enough, the smoke triggers familiar memories of Islay and other peated Scotches in my mind.
I was anticipating more of a sharp Caol Ila smoke but felt it settled somewhere along the lines of Ledaig. I also expected that mesquite smoke would be worlds apart from peat smoke. As I came to find out, they are much closer than I thought they'd be.
Despite being hundred of miles away from a large body of water, I find it strange that I pick up a sort of "savory/brininess" to the nose. Is this the tequila barrels making themselves known? Finally, Dulce de Leche cake gives it a sweet sensation on the nose that seems perfectly matched to the aforementioned brininess.
Palate: The mesquite wood notes carry over to the tongue but not in the way of my previous experience. Instead of a mouthful of creosote, it's more easygoing and doesn't leave a drying sensation or bitterness. Poached orchard fruits offer a sweet contrast along with more caramel/Brittle notes.
I can't help but wonder if the tequila barrels had something to do with my fruit findings. Finding vanilla flavors later on surprises me because I was not expecting something so light and delicate being able to shine through in the morass of heavy flavors, but there it is.
In fact, I'd say that the vanilla flavors are far more recognizable than the cinnamon and pepper notes I find, which is strange. Overall, there is a lot to like about the depth of flavors on the tongue
Finish: The finish can best be summed up with the words sweet and savory. On the sweet side, all of the caramel/Brittle/Dulce De Leche notes are pleasant reminders of how pleasing the session has been.
On the savory side, the barbecue notes still stick around and add that additional "oomph" that bourbon's will never have. Grilled fruit notes seem to be the perfect combination of both and are a treat to find all the way until the moderately long finish comes to an end.
Score: 8/10
Each sip of this "Ode to Islay" had me enjoying it more and more. As a somewhat-recent Scotch convert, I felt better equipped to understand what I was tasting. As for my first experience with WDB's "Mesquited-not-Peated" approach to the distillate?
Bottom line: It works. However, I can see novices to the whiskey realm, especially those that have only had experience with bourbon and maybe some rye whiskies, as not being ready to fully enjoy all this has to offer. It's a complex sip that feels more like you're drinking a meal than its corn and rye based American counterparts.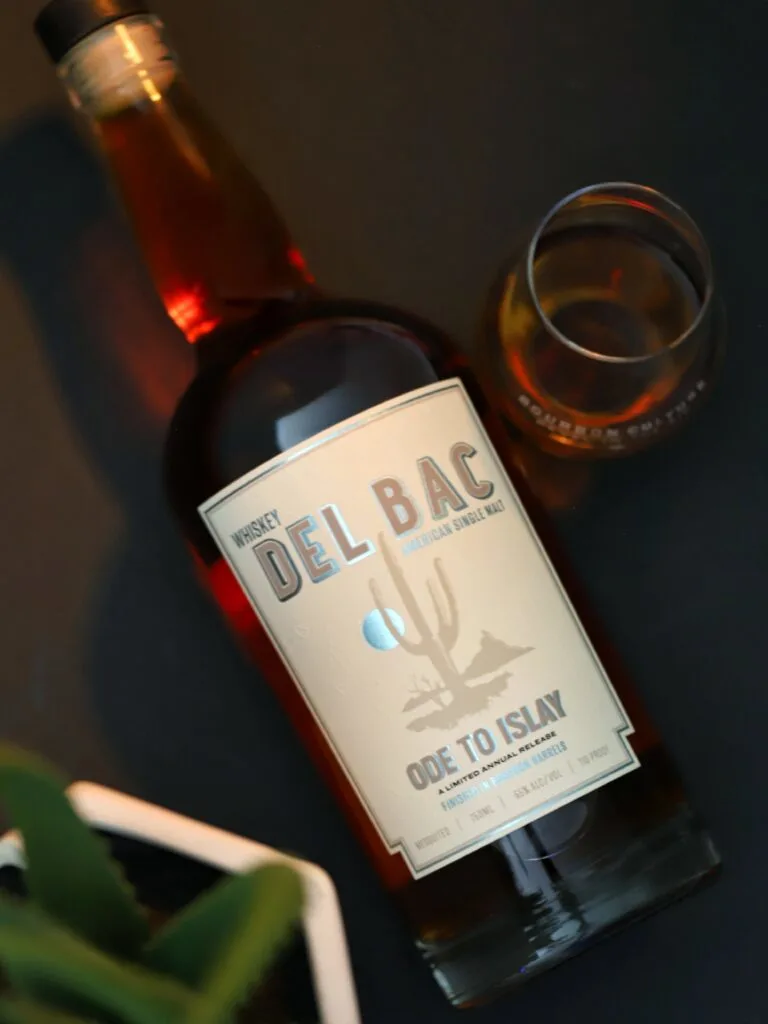 Final Thoughts
My journey with malt started with regular shelfers of Scotch and has now progressed to a wide range of Independent Bottlers and their cask strength offerings. It's been eye-opening to see how much character those distilleries have once you branch out a bit.
I feel like it's that way with American Single Malts too. A lot of people will get introduced to them through popular brands like Stranahan's or Westward/Westland. But when you branch out, you start to find profiles that open your eyes to all of the possibilities there are.
That's what Whiskey del Bac is doing with these limited releases. They're creating a whole new way to experience American malt and I personally believe they're nailing it every time. So if you're looking for something new and unique, Ode to Islay should be your next bottle.
Featured Products
Description:

The Aged & Ore Neat Traveler is a complete travel kit for spirits. We combined our widely praised Neat Glass with one of our 3oz Flight Bottles and housed them together in a custom EVA travel case. Perfect for a night away with your favorite pour. The tie
Description:

The Aged & Ore Bottle Flight is a premium set of 4 custom silicone wrapped glass bottles designed to transport and share samples of your favorite spirits. The flight bottles come in a custom EVA travel case that fits perfectly in any small bag. An Aged &
Description:

This Bundle combines two of our crowd favorite products, creating the ultimate travel bundle to bring along your favorite spirits and glassware. Bundle Includes: Neat Traveler (Gray) Bottle Flight (Gray) Note: This bundle is only available in gray and col
*Bourbon Culture is reader-supported. When you buy through links on our site, we may earn an affiliate commission.