When enthusiasts talk about American rye whiskies, only a few distilleries come to mind. MGP in Indiana is perhaps the most well known but honorable mentions go to Michter's, Heaven Hill and Buffalo Trace. But there is another company who lurks in the background – quietly owning the crown for most rye whiskey recipes produced over the last 10 years. That's even if you ignore the fact that they produced rye whiskey for 2 other major distilleries. Which company am I talking about? It's Brown-Forman. They are responsible for producing Rittenhouse for Heaven Hill in the late 90's/early 2000s and Michter's up until 2015.
Brown Forman's 3 main distilleries: Early Times (now called Brown-Forman Distillery), Woodford Reserve and Jack Daniel's, each produce their own version of rye whiskey. Old Forester's rye whiskey uses a mash bill of 65% rye, 15% corn and 20% malted barley. Woodford uses a 53/37/10 mash bill (and experimented with a 100% rye grain mash bill at one point). But it's Jack Daniel's, surprisingly, that has the highest rye grain content of all 3, coming in at 70% rye, 18% corn and 12% malted barley. All three distilleries use different distilling techniques and yeasts which is why they're all going to taste different.
One of the main differences that separates Jack Daniel's Rye Whiskey from its cousins is that it gets filtered through a 10-foot stack of sugar maple charcoal to filter out the impurities before being put into a barrel for aging. All Brown-Forman base products are aged between 4 to 6 years, but Jack Daniel's is the only one to not use heat-cycled warehouses.
At the time of this writing, Jack Daniel's produces 3 versions of their rye whiskey. The most common would be the bottle I'm reviewing today, Jack Daniel's Straight Tennessee Rye Whiskey. This rye whiskey is bottled at 90 proof, which puts it in the same proof range as Woodford's base rye whiskey. Old Forester's base version is bottled at 100 proof. But Jack's Straight Rye is priced closer to Old Forester's at around $25.
I have already reviewed the 2020 Limited Release of Jack Daniel's Barrel Proof Rye (and loved it), but I can't believe it's taken me this long to review the base form of that whiskey. This rye whiskey is bottled in Jack's iconic "Old No. 7" bottle, complete with screw cap. There'll be no mistaking this for the more expensive single barrel variety, which is 94 proof and comes in a very different bottle. So how is it? What corners have been cut? Let's find out. I sampled it neat in a glencairn.
Tasting Notes
Nose: Aromas of sweet caramel, pepper and mint (but strangely, it does not equate to "peppermint") join together with honey, oak and a tiny bit of ripe banana. The nose shows power and depth that a rye whiskey this cheap and available should not have. It's very well done.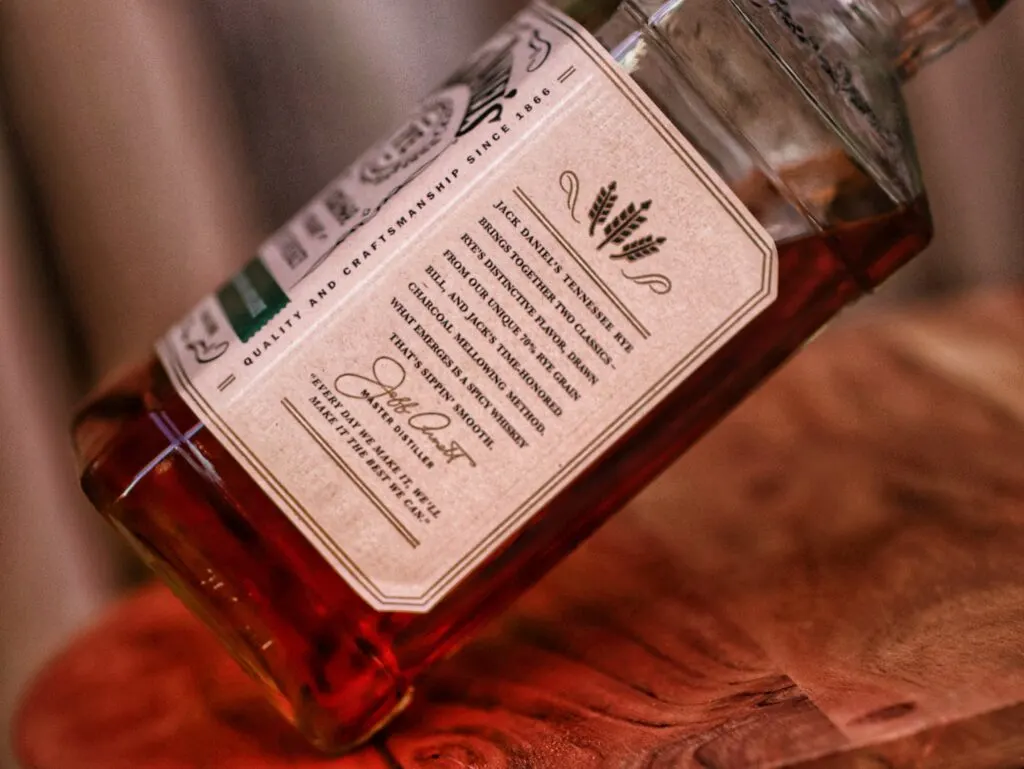 Palate: Candy cane flavors mingle with more traditional rye notes like botanical flavors and baking spices. Finding cinnamon, anise and ground clove is a treat. Spiced honey adds sweetness, but some youthful elements do pop out from time to time. Honestly, it's not enough to make me want to drop its rating, but it did temper my expectations. There is some barrel char present, but as for oak notes, they're not that complex.
Finish: It's nice finding a bit of wood influence on the end, but it's mostly a a sweet and spicy affair that lingers the most. Peppermint candy cane and generic brown spices stick will be the most memorable part about this dram.
Score: 6.5/10
Jack Daniel's Tennessee Rye is another respectable addition to the arsenal of rye whiskies in Brown-Forman's portfolio. It comes off as noticeably sweeter than the ones that Old Forester or Woodford Reserve produce – despite having a higher percentage of rye grain in the mash bill. I wasn't expecting that. I would assume this has something to do with the charcoal filtering it goes through..
Final Thoughts
There are lots of cheap rye whiskies out there. These are mainly meant more for cocktail duty rather than straight up sipping, but it's always a treat to find one that can do both. Jack Daniel's Straight Rye can do both. So however you're drinking this, you'll be rewarded by a competent rye whiskey that leans more towards the sweeter end of the spectrum. I would even go as far as to say this is the superior choice over other brand's entry-level rye whiskies like Sazerac Rye (aka Baby Saz), Rittenhouse Rye or ones from the Jim Beam family.
I have yet to come across a rye whiskey product made by a Brown Forman owned company that didn't exceed my expectations. Jack Daniel's Straight Rye Whiskey continues with that legacy.
Featured Products
Description:

The Aged & Ore Neat Traveler is a complete travel kit for spirits. We combined our widely praised Neat Glass with one of our 3oz Flight Bottles and housed them together in a custom EVA travel case. Perfect for a night away with your favorite pour. The tie
Description:

The Aged & Ore Bottle Flight is a premium set of 4 custom silicone wrapped glass bottles designed to transport and share samples of your favorite spirits. The flight bottles come in a custom EVA travel case that fits perfectly in any small bag. An Aged &
Description:

This Bundle combines two of our crowd favorite products, creating the ultimate travel bundle to bring along your favorite spirits and glassware. Bundle Includes: Neat Traveler (Gray) Bottle Flight (Gray) Note: This bundle is only available in gray and col
*Bourbon Culture is reader-supported. When you buy through links on our site, we may earn an affiliate commission.