*Bourbon Culture is reader-supported. When you buy through links on our site, we may earn an affiliate commission.
If you haven't observed this by now, the whiskey business is full of people switching distilleries, opening new ones or collaborating with famous people. To be a true startup and not have the assistance of an insider or otherwise big name is a rare thing these days, especially if you plan on your label making it to national distribution. It just so happens that the Blackened whiskey brand has an element of all three, which is probably why it continues to grow each year since it began in 2019.
Blackened is perhaps most known for its involvement of Metallica in the creation of the company. Some members of the band wanted to put their legacy into a bottle, so they enlisted the help of Dave Pickerell (RIP) and Rob Deitrich (former Master Distiller of Stranahan's) to help get them going. For the time being, Rob has moved away from the responsibilities of distilling whiskey and into the role of a Master Blender. Everything that Blackened has put out so far has been sourced from other distilleries.
Blackened x Wes Henderson
For the last few years, Blackened's whiskey have been a blend of straight whiskies which I've heard as being sourced mainly from MGP. You might think it was just MGP's bourbon, but it has also been hinted that it's their rye whiskey too. When blended together, they can't technically label it as a bourbon or a rye anymore which is why it's just called "Whiskey." They also collaborated with Willett by sourcing 4 to 8 year old barrels of their rye whiskey and finishing it in Madeira and Rum casks. Today, we'll be focusing on their newest release called "Blackened x Wes Henderson" (the "x" symbolizes a collaboration) which claims to use all Kentucky-sourced barrels of bourbon that are 6 years old and finishing them in White Port casks while blasting low-frequency Metallica songs at the barrels for a period of time.
As I'm known to do, I love to speculate on where the sourced bourbon comes from. As usual, there are no leads in the form of a media release. With a suggested price point of $100, that begins to narrow it down a bit more (meaning it's extremely unlikely to be Buffalo Trace, Four Roses, Heaven Hill or Wild Turkey). Most people might be inclined to think this is from Barton or even Willett (since we've been seeing a decent amount of Willett bourbon popping up in other NDP's products lately) but after looking through my tasting notes (spoiler!), I couldn't place my finger on any one distillery's trademark profile coming through. Perhaps this is because of the White Port casks covering it up, but I happen to think that the bourbon used here was possibly a bit of a generic product to begin with. Also, for the record I don't think that these White Port casks add that much cost to the overall product. That's because I reckon that a ton of them must have been shipped over from Portugal over the last 18 months seeing as how that finishing barrel keeps popping up among other producers.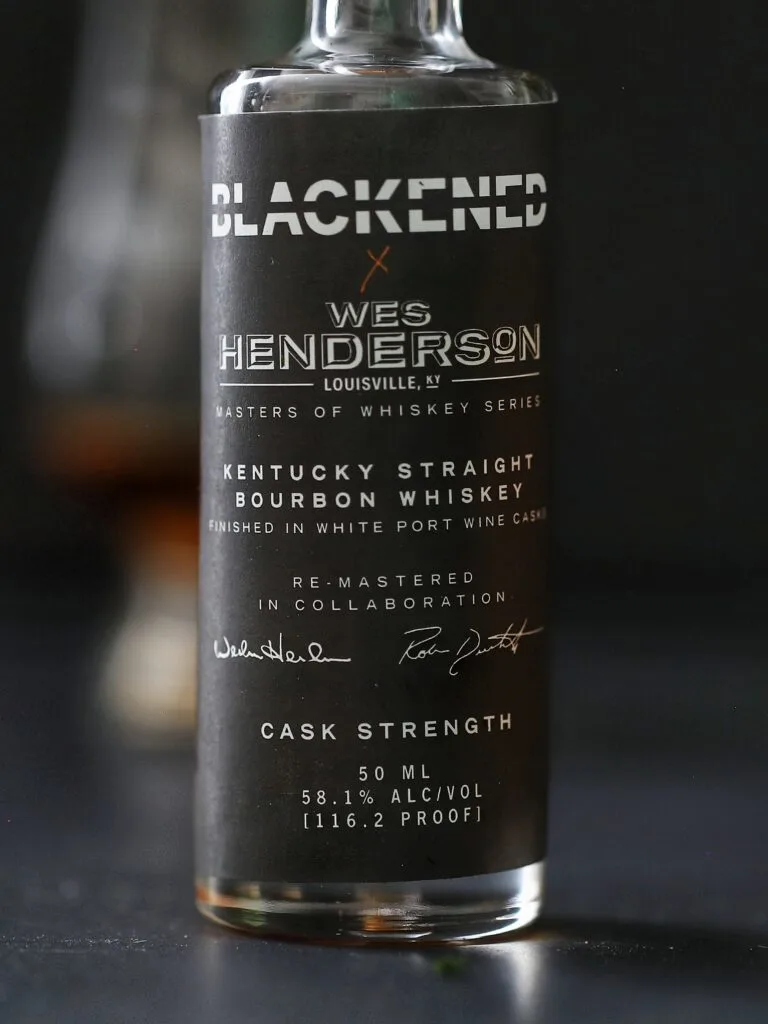 So I'm going to throw out a wild guess. Because this product was a collaboration with Wes Henderson of Angel's Envy fame (he was a co-founder), I'm wondering if the bourbon wasn't from some of the initial barrels that they produced when their downtown Louisville distillery opened in 2016. The age would check out (I received this sample at the end of 2022) and since none of us really know what AE's own distillate tastes like, maybe that's why I'm drawing a blank on what distillery this came from. Alternatively, after drinking this I guess I could also see it being Willett distillate since I do end up finding a decent amount of cinnamon and spice (which is a hallmark of theirs). But why would they not credit Willett for the bourbon if it was from them? They did it for the Blackened x Willett collaboration after all.
Now that I'm done with the overview of this bottle, let's get down to tasting it. I sampled it neat in a glenciarn.
Tasting Notes
Nose: The nose begins with a tone like I just poured a snifter of Brandy. The only difference is this is much stronger and sharper smelling than Brandy. Believe it or not, I can almost smell the acidity within. The grape must mixes with raisins and really dominates the nose overall. There is one weird note I just can't seem to shake though… in the 3 sessions I've had with this whiskey, I keep finding a hint of soap. It's strange and I swear I've cleaned my glencairns correctly, but it keeps popping up. There is also a slight minerality that is able to be smelled. But as for the underlying bourbon notes, I'm only finding vanilla pound cake.
Palate: A peppery spice flavor really takes over and it fights with sweet wine notes the whole time. I'm still getting (golden) raisins along with lots of berry notes and a sort of mango custard (pudding?). These are the highlights of the palate for sure. The wood doesn't remind me of oak as much as it does a fragrant cedar wood (strange!) but there is also a good amount of cigar wrapper in here too. I also find more of the vanilla from the nose as well as some honey that tastes a bit artificial – much like the cereal Honey Nut Cheerios (except without the cereal grain notes)
Finish: The finish is still really sweet, yet also peculiarly sharp and full of pepper or a fruit-based vinegar. I can't tell which it is. Honestly, the heat on the finish comes off as a bit untamed. I know this is cask strength and I'm a lover of cask strength whiskey, but the finish feels like it's in the 130+ proof realm. It's very strange. I can still find fruit (berry jam and tropical nectars) which help the finish some, but the lack of tannins and other notes make me realize that it might be the somewhat youthful bourbon underneath which could be the culprit.
Score: 6.8/10
To begin with, I must admit that I compiled my tasting notes before I started to do any research into my review. Like a dummy, I completely spaced on seeing the "Kentucky Bourbon" part on the label. I went into this figuring it was MGP bourbon the whole time. This is both a good and a bad thing though. It's good because I was wondering where all of the heavy oak, brown sugar and buttery mouthfeel went and now I understand why (it was never there to begin with). It's bad though because I would assume that MGP bourbon might have been a better fit for whatever peppery/acidic profile these White Port casks thrust upon this unassuming Kentucky bourbon.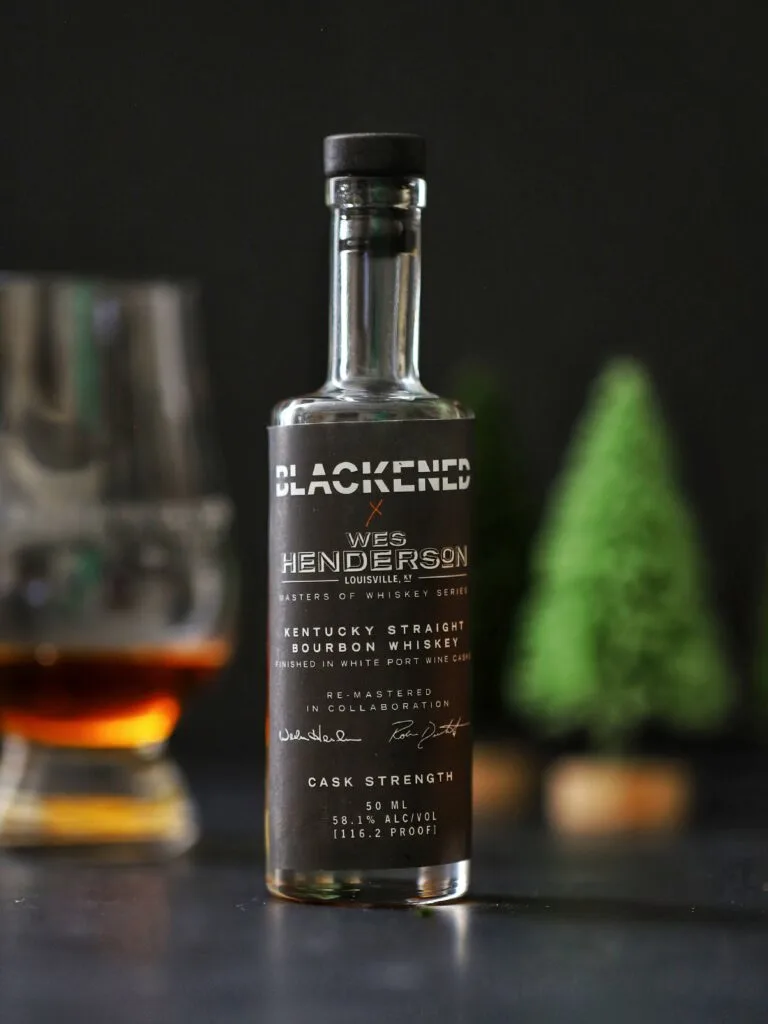 Final Thoughts
Overall, while I did find more than a couple flavors and scents I really enjoyed, the experience was kind of unrefined. The heat was more unchecked than I would have liked and the bourbon (wherever it may have came from) was not strong enough to show itself through. But Blackened has never fully been about the experience of an unfinished whiskey as much as it is about making you appreciate their unique cask finishes. Mission accomplished in that sense.
At $100 (I've seen some online store selling this for $150!), this is a bottle that I would really hesitate on purchasing. There are flavors and uniqueness inside that are rare among finished whiskies. Conversely, there are also much better finished bourbons out there (Barrell Dovetail or Hugh Hamer for instance) for less. And if you aren't a fan of secondary barrel finishes, the value proposition becomes even harder to see. I appreciate Blackened's creativity and the level of detail they seem to give into their products (except revealing the source, ugh) but for me, this is one collaboration that isn't quite worth the money for a score like this.
Featured Products
Description:

The Aged & Ore Neat Traveler is a complete travel kit for spirits. We combined our widely praised Neat Glass with one of our 3oz Flight Bottles and housed them together in a custom EVA travel case. Perfect for a night away with your favorite pour. The tie
Description:

The Aged & Ore Bottle Flight is a premium set of 4 custom silicone wrapped glass bottles designed to transport and share samples of your favorite spirits. The flight bottles come in a custom EVA travel case that fits perfectly in any small bag. An Aged &
Description:

This Bundle combines two of our crowd favorite products, creating the ultimate travel bundle to bring along your favorite spirits and glassware. Bundle Includes: Neat Traveler (Gray) Bottle Flight (Gray) Note: This bundle is only available in gray and col
*Bourbon Culture is reader-supported. When you buy through links on our site, we may earn an affiliate commission.