*Bourbon Culture is reader-supported. When you buy through links on our site, we may earn an affiliate commission.
Each bourbon release season (which spans from September to December) is marked by the major distilleries around the country releasing limited amounts of special edition whiskey. You know all of their names by now, but chances are low that we'll ever find one for ourselves.
There are lesser-known limited editions that are easier to find, though. For example, the subject of today's review: the 2022 release of Yellowstone Limited Edition.
Yellowstone is a distillery that, in terms of production, is still very small. It hasn't been until recently that they have bottled anything made by master distiller Steve Beam. Instead, the business model relied heavily on sourcing to fill their standard bottles. The annual limited editions are no exception. It is also no secret that a majority of the bourbon sourced for them is from Barton.
I have no doubt that the bourbon used in this bottle of 2022 Limited Edition is Barton. This makes sense because in 2022, there were more than a few brands that were using the same 16 year old Kentucky Straight Bourbon from an "unknown distillery in Kentucky."
The 2022 Yellowstone LE lists that as one of the components as well as some 15 year old Kentucky Straight Bourbon and a 7 year old kind too. Blending together multiple ages of bourbon is typical of Yellowstone's previous releases.
What was also typical was that the final blend would be finished in a secondary finishing barrel for additional flavors. As an aside, I wonder if Steve Beam has managed to source any bourbon from his family's namesake distillery to blend with as needed. You'll see why I mention this when you read my tasting notes.
Speaking of secondary barrel finishes, the 2022 release uses Marsala wine casks to impart additional flavors and enhance the overall experience. Marsala seem like an odd choice and one that many people are only familiar with the cooking variety of.
However, it relies on the same principles as Sherry or Port in terms of it being a fortified wine which made it an ideal candidate for barrel aging. Fortified wine involves distilling some of the wine and then adding it back in to increase the amount of total alcohol.
Fortified wines typically contain ABVs in the 17-20% range in order to stop fermentation and stabilize the liquid so it could be preserved for longer. Over time, fortified wines became more commonly used as dessert wines or for cooking since the average person didn't have to worry about surviving months-long overseas voyages while sober.
Anyway, if you've never tasted true Marsala straight before, you're missing out on a wine that is both sweet and tangy. There are many descriptors for what the description of "tangy" should taste and smell like, but the one foodstuff that I most closely associated it with was Tamarind. Apple Cider is also kind of close in profile.
Of note, I have a local Asian fusion restaurant that makes a killer Tamarind Chicken dish that I love. It's worth your time to see if your local Asian eatery has it too. Getting back on track, I can't think of a single American Whiskey that has used Marsala as a finishing cask, but it just so happens that I was recently smitten by a 19 year old Ledaig Scotch that was finished in it.
I enjoyed the sweet tangy flavors so much that I had to track some more whiskies (which I did in the form of Blair Athol and Bunnahabain) just to experience it again.
All of that is to say that I was no stranger to Scotch whiskey finished in Marsala casks. But I was curious how such a potent whiskey like Bourbon would react to the sweet, savory and tangy flavors that came with Marsala. Which one would dominate the tastes and scents? Or would they be a perfect compliment to each other? Let's find out. I sampled this neat in a glencairn.
Tasting Notes
Nose: The nose is quite "grape-y" with a musty smell that adds a bit of age to it overall. I'm not going to lie, there is a lingering scent in the background that smells like a Dry Erase Marker.
Thankfully, sweeter fruit notes like poached pears, melted Rolos candies and buttercream frosting keep the bourbon notes front and center. That doesn't mean that other strange notes don't exist. Take for instance the Mexican Mole sauce or Tamarind. Both add scents I've never really experienced in a bourbon before.
Palate: Flavors of caramel and (almond) nut butter fight for taste bud recognition with the sweet taste of wine. Orchard fruits of all kinds (fresh and cooked) add sweetness and depth while leather, the telltale sign of Barton bourbon, adds an aged dimension.
Wondering if there is any oak too? Yes of course there is and it shines through very well. That's gotta be those 15 and 16 year old barrels talking. Overall, while I don't find the tangy component that the nose had, there are lots of prickly spices that ping your tongue throughout the drink. This helps keep the somewhat low 101 proof from feeling like it's not enough.
Finish: Chocolate comes to the forefront but the overall finish becomes a bit more bitter than the palate suggested. Sweetness can still be found in the form of tangy wine though. But I'm happy to report that there is enough bourbon flavors to round it all out. Leather and salty peanut brittle make me question if there isn't a bit of Beam distillate mixed in with the Barton.
Score: 7.7/10
If there is one thing I can compliment this bottle of 2022 Yellowstone LE with, it's that it certainly is unique. And while I'm a guy who loves a unique experience when I'm drinking whiskey, this seemed to be lacking a certain "wow" factor that would've pushed it over the top into the "8's".
This could be because of the semi-low proof or it could just be that my taste buds weren't ready for what was being served up inside of this bottle.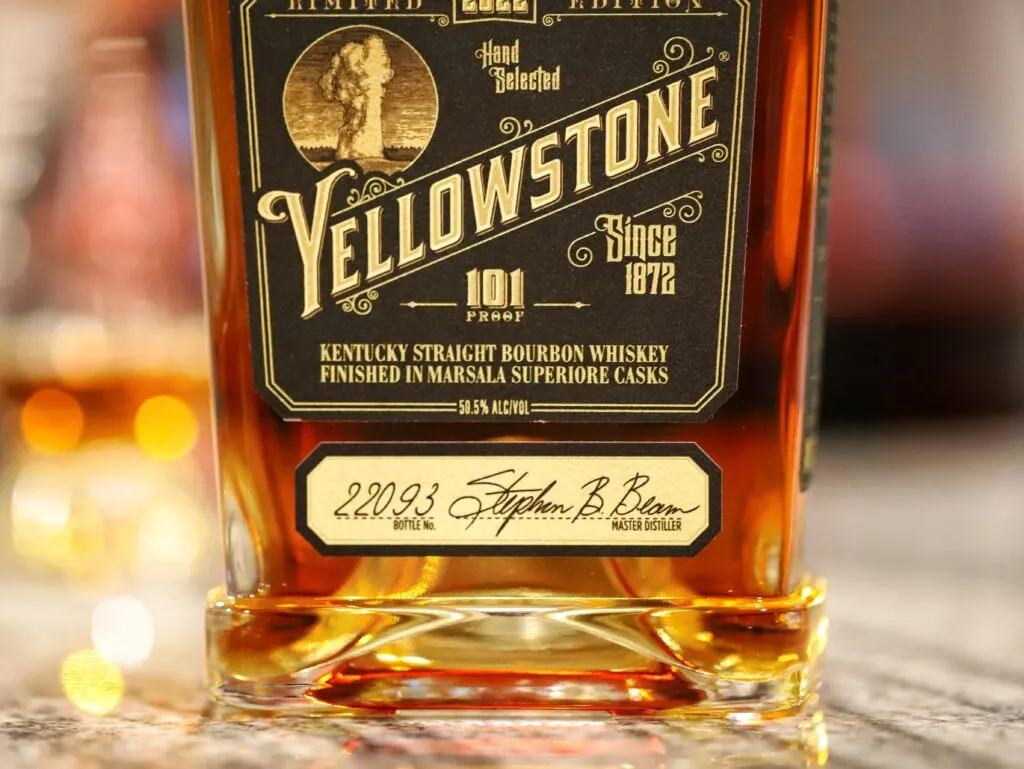 I can't help but to think what this finishing cask may have tasted like when applied to a rye whiskey. It seems as if it's looking for a partner to Tango with, not one who was forced to play nice with. The spicy and herbal nature of rye seems like it needs a dose of sweet tanginess to become truly inspired.
Yellowstone is not known for releasing any rye whiskey though, so it's likely going to fall to some obscure NDP to produce something like that. Conversely, the bourbon used in this 2022 LE wasn't missing much to begin with, which might be why it felt like the Marsala wasn't helping it as much as it could have.
Final Thoughts
After tasting a few of these Yellowstone releases over the years (with the 2018 being my favorite), I've come to realize that the magic is fading from this label a bit. In a way, I think the 101 proof requirement that seems to be mandated by Steve is holding back additional flavors or scents.
Also, there is something that just doesn't work for me concerning the clunky bottle and the general flow of the label. It's different, but it doesn't speak to me in the same way that the old 2015-2019 releases did with their tall bottle and black cardboard tubes.
All of this doesn't seem like it should persuade me to like the liquid inside more or less, but if it's going to cost me $100 and be hard to find on the shelves, then at least make it worth my time. Otherwise, I would say that Yellowstone LE is one of those brands you don't have to go chasing every year.
Featured Products
Description:

The Aged & Ore Neat Traveler is a complete travel kit for spirits. We combined our widely praised Neat Glass with one of our 3oz Flight Bottles and housed them together in a custom EVA travel case. Perfect for a night away with your favorite pour. The tie
Description:

The Aged & Ore Bottle Flight is a premium set of 4 custom silicone wrapped glass bottles designed to transport and share samples of your favorite spirits. The flight bottles come in a custom EVA travel case that fits perfectly in any small bag. An Aged &
Description:

This Bundle combines two of our crowd favorite products, creating the ultimate travel bundle to bring along your favorite spirits and glassware. Bundle Includes: Neat Traveler (Gray) Bottle Flight (Gray) Note: This bundle is only available in gray and col
*Bourbon Culture is reader-supported. When you buy through links on our site, we may earn an affiliate commission.