*Bourbon Culture is reader-supported. When you buy through links on our site, we may earn an affiliate commission.
The Pappy Van Winkle frenzy has it roots starting all the way back to 1996 when it scored a 99 out of 100 from the Beverage Tasting Institute. Since then, it has racked up more awards with more prestigious competitions and has become one of the most coveted labels in all of bourbon.
The internet is a main reason that "Pappymania" – as it came to be called – became a thing. With online forums about bourbon, the information was out there with which bourbon was winning which awards and where you could find them. The secret was out and as a result, Pappy got more and more scarce to find on store shelves. Once people couldn't find any Van Winkle bottles anymore, the legions of fans and fanboys looked for an alternative.
That alternative came by way of Buffalo Trace's Weller line. Weller and Pappy Van Winkle start out as the same barrel. The only difference is, as they continue to age, a team from the Van Winkle family samples each barrel to see if it's special enough to become a barrel of theirs. If it's not, it will become a Weller product.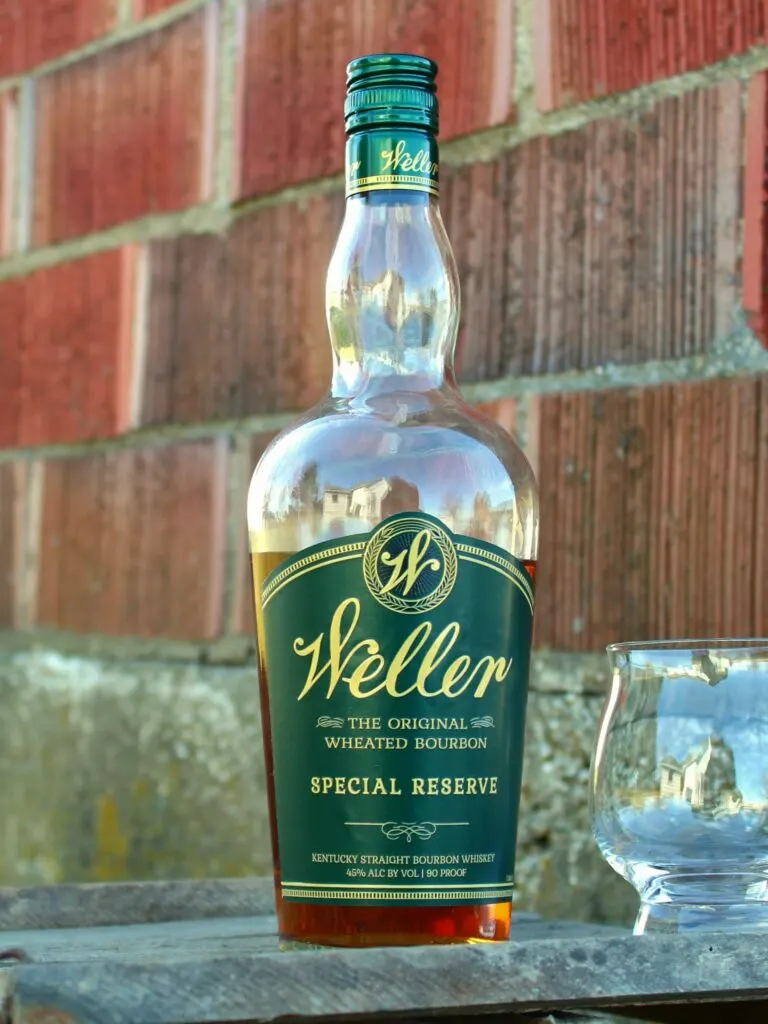 By 2014-15, Weller 12 was officially on allocation. Weller Antique quickly followed. It wasn't long after that (probably 2017) that not even Weller Special Reserve could be found anymore. But did these Weller labels even deserve to be hyped and hoarded like their Pappy brethren?
Weller Special Reserve Bourbon
Weller Special Reserve doesn't necessarily have any special characteristics on paper. It's made with a wheated bourbon mashbill, whereas a majority of bourbon on the shelves today uses rye as its flavoring grain (also called small grain). Weller Special Reserve is aged anywhere from 4 to 7 years. It is then chill-filtered and cut down to 90 proof before being bottled.
Weller Special Reserve has been around for quite a while. Once upon a time it even wore a 7 year age statement on the label. It was always considered bottom-shelf bourbon and was the primary competitor to Maker's Mark (both shared remarkably similar stats). Older Weller (even Special Reserve) is seen as a collectors item these days if it was made at the old Stitzel Weller Distillery in Louisville/Shively. Modern day bottles don't carry the same clout but are still sought after due to the flood of new enthusiasts looking for their first taste.
So let's see if Weller Special Reserve is really worth the hype. To do that, I sat down with my trusty glencairn and a bottle to see if this bourbon is worth stocking up on or letting it set on the shelf.
Weller Bourbon Tasting Notes
Nose: A fairly basic nose for bourbon consisting of caramel and cherries. The scents lean towards the sweet side with other notes like vanilla, baked apple and a hint of cinnamon. You can tell it's young because the oak has not developed enough to really be noticed, but it's not harsh either. There are no strange off-notes. Instead, I just find a very straightforward experience. Let's see what I taste next.
Palate: Initial flavors of sweet cherries and a bit of orange zest hint to a fruitier side of this bourbon. I like the sweetness that comes from the caramel and vanilla and how it plays with the spice of the cinnamon. There are also chocolate notes within if you concentrate hard enough. The depth is lacking, but it's still a very pleasant sip.
Finish: The finish is short and sweet. Lingering notes of caramel-dipped apples share the stage with a faint hint of oak. The cinnamon spice is the most dominant portion of the finish, but it's neither overwhelming or distracting. I like it.
Score: 6/10
Weller Special Reserve shows me why so many people rush to buy one when they see it: it is a very competent entry-level bourbon. It also continues to be an amazing value when you can find it at its retail price ($23-25). It's unfortunate that it's so hard to find a bottle, but after Sazerac has withdrawn from its contract with their main distributor, RNDC, perhaps this will get easier to find.
Final Thoughts
If you feel excited getting your first bottle of Weller SR, you're not alone. I was just like you too. But after I had a couple glasses, a friend offered me a pour of Weller Antique. I felt that was miles ahead of it. I won't even get into the other labels of Weller and their various single barrel store picks that are out there. Just know this, Weller SR is great to keep on hand for guests or parties but if you want the real treats from this label, you must keep climbing the ladder. Where does it end? Check out my ranking of the best Weller labels here.
Rating Breakdown
1 | Disgusting | Drain pour (Example: Jeffers Creek)
2 | Poor | Forced myself to drink it
3 | Bad | Flawed (AD Laws 4 Grain BiB, Clyde Mays anything)
4 | Sub-par | Many things I'd rather have (Tincup 10 year)
5 | Good | Good, solid, ordinary (Larceny, Sazerac Rye)
6 | Very Good | Better than average (Buffalo Trace, OGD BiB)
7 | Great | Well above average (Old Ezra Barrel Proof, Old Weller Antique)
8 | Excellent | Exceptional (Michter's Barrel Proof Rye, Four Roses Barrel Strength)
9 | Incredible | Extraordinary (GTS, 13 Year MGP or Canadian Rye)
10 | Insurpassable | Nothing Else Comes Close (William Larue Weller)
Featured Products
Description:

The Aged & Ore Neat Traveler is a complete travel kit for spirits. We combined our widely praised Neat Glass with one of our 3oz Flight Bottles and housed them together in a custom EVA travel case. Perfect for a night away with your favorite pour. The tie
Description:

The Aged & Ore Bottle Flight is a premium set of 4 custom silicone wrapped glass bottles designed to transport and share samples of your favorite spirits. The flight bottles come in a custom EVA travel case that fits perfectly in any small bag. An Aged &
Description:

This Bundle combines two of our crowd favorite products, creating the ultimate travel bundle to bring along your favorite spirits and glassware. Bundle Includes: Neat Traveler (Gray) Bottle Flight (Gray) Note: This bundle is only available in gray and col
*Bourbon Culture is reader-supported. When you buy through links on our site, we may earn an affiliate commission.