*Bourbon Culture is reader-supported. When you buy through links on our site, we may earn an affiliate commission.
Here at The Bourbon Culture, we love to do side by side comparison reviews. I usually try to pick two (or three) bottles that share similar characteristics and see which one is superior. I had a surprisingly hard time with finding a comparable bourbon to Henry McKenna.
It seems as its competitors are higher in price, lower in age or have a proof that is separated by at least 10 proof points. EH Taylor Single Barrel may have made the most sense, but at the moment, it's $120+ secondary value are about 3 times what Henry McKenna is going for.
Henry McKenna Bottled In Bond Comparison
So why did I end up choosing to compare it against itself? Because after Henry McKenna's 2019 San Francisco World Spirits Competition victory, everyone automatically assumes that every bottle is a Double Gold winning copycat.
That's simply not true. In fact, after the victory, these bottles sold so quickly that it seems as if Heaven Hill cranked up the output even more to meet demand. And when you crank up the output on anything, quality seems to fall.
There is an opinion out there that after barrel #6000, that the quality begins to fall off. These bottles are numbered sequentially, so you'll know if you have a bottle that is from barrel #5500 or higher, it was bottled sometime in early/mid 2019 and beyond.
Today I am looking at Barrel #4933 and Barrel #6101. Surprisingly, the span between the two being put in a barrel is not even a full 8 months according to the dump dates on the front label. But even if 1 hour separated these two, they should probably vary noticeably in terms of flavors and profiles.
So let's blind taste them to see which one is better and if there are any similarities as well. For this comparison, I'll be tasting these both blind and in a glencairn.
Blind Glass #1
Nose: The scent of Little Debby "Nutty Bars." Chocolate, peanuts, vanilla wafers and caramel. Then, a layer of dark red summer fruits and the tiniest hint of peach pokes through.
Palate: Sweet and savory salted caramel along with some musty peanuts. The complexity and depth of bakers chocolate is also present while a tiny bit of cinnamon and oak add depth.
Finish: Notes of burnt toffee and coffee grounds showcase the sweet and tannic side of this dram while black pepper, cardamom and dry roasted peanuts add lasting spice and oiliness. There's also a decent amount of tannins that stick around like drying oak and tobacco.
Score: 7/10
Blind Glass #2
Nose: This nose is noticeably lighter and fruitier than Glass #1. Fully ripened strawberries and cherries combined with cinnamon and light brown sugar make it a sweet treat to smell every time you go in for a sip.
Palate: The fruitiness continues on this one as Hawaiian punch, maraschino cherry liquid and phyllo dough combine for an almost cherry-turnover like taste. Cinnamon and pipe tobacco add some complexity and spice to the dram as well.
Finish: Cherry and oak spice combined with some pepper flakes remind me of a finish much like the kind in Buffalo Trace Products. It's rye mashbill is given away with a strong sensation of cooling menthol moments later.
Score: 6.7/10
Blind Reveal
Glass #1: HMK10 Barrel #4933
Glass #2: HMK10 Barrel #6101
Winner: HMK10 Barrel #4933!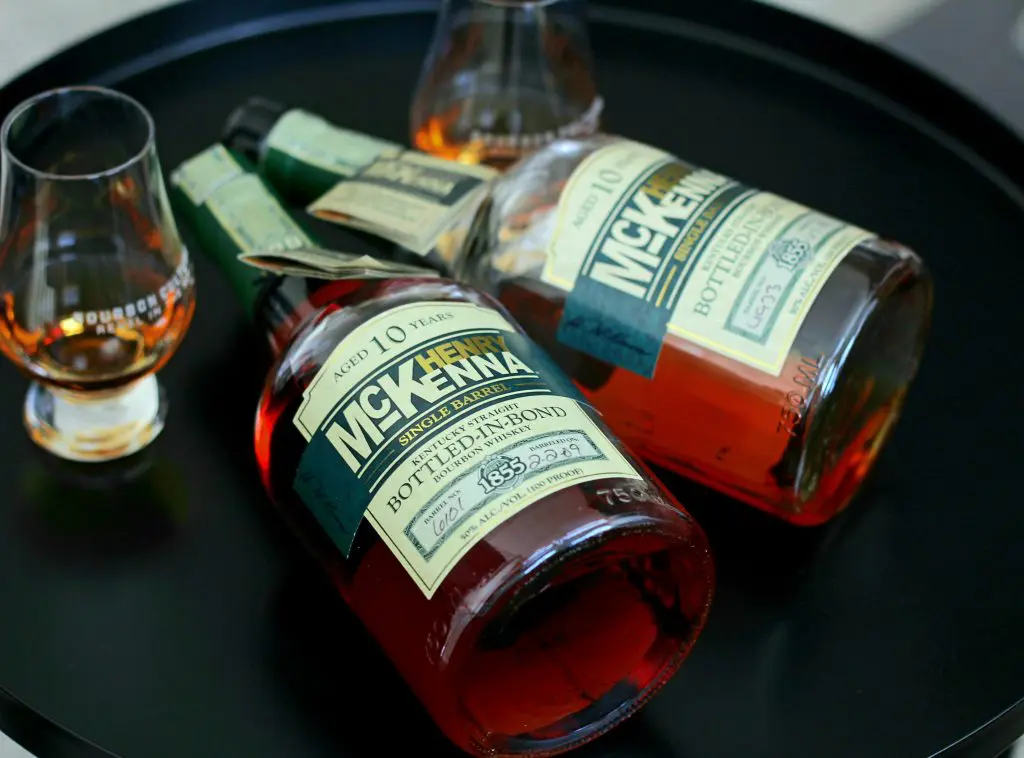 These two were definitely as different as they come! Barrel #4933 had a heavy, rich rewarding nose, an above average palate and a more tannic/burnt finish. Barrel #6101 could've easily fooled me for an EHT Single Barrel or Small Batch because it was sweeter and fruitier.
It was also absent of the Heaven Hill peanut funk that I've come to identify on almost everything they do, but it lacked the depth and richness of barrel #4933.
Final Thoughts
A quick look at the scores that these were rating should hopefully quell any sense that these are absolutely bottles that you should go out and find right now.
They're not. They're perfectly acceptable and flavorful bourbons that are designed to be enjoyed and not hoarded. So if you find one, be happy but don't keep them all for yourself.
Rating Breakdown
1 | Disgusting | Drain pour (Example: Jeffers Creek)
2 | Poor | Forced myself to drink it
3 | Bad | Flawed (AD Laws 4 Grain BiB, Clyde Mays anything)
4 | Sub-par | Many things I'd rather have (Tincup 10 year)
5 | Good | Good, solid, ordinary (Larceny, Sazerac Rye)
6 | Very Good | Better than average (Buffalo Trace, OGD BiB)
7 | Great | Well above average (Old Ezra Barrel Proof, Old Weller Antique)
8 | Excellent | Exceptional (Michter's Barrel Proof Rye, Four Roses Barrel Strength)
9 | Incredible | Extraordinary (GTS, 13 Year MGP or Canadian Rye)
10 | Insurpassable | Nothing Else Comes Close (William Larue Weller)
Featured Products
Description:

The Aged & Ore Neat Traveler is a complete travel kit for spirits. We combined our widely praised Neat Glass with one of our 3oz Flight Bottles and housed them together in a custom EVA travel case. Perfect for a night away with your favorite pour. The tie
Description:

The Aged & Ore Bottle Flight is a premium set of 4 custom silicone wrapped glass bottles designed to transport and share samples of your favorite spirits. The flight bottles come in a custom EVA travel case that fits perfectly in any small bag. An Aged &
Description:

This Bundle combines two of our crowd favorite products, creating the ultimate travel bundle to bring along your favorite spirits and glassware. Bundle Includes: Neat Traveler (Gray) Bottle Flight (Gray) Note: This bundle is only available in gray and col
*Bourbon Culture is reader-supported. When you buy through links on our site, we may earn an affiliate commission.