*Bourbon Culture is reader-supported. When you buy through links on our site, we may earn an affiliate commission.
Bourbon Release Season is always predicated by the release of two important bourbons in early September: Old Forester Birthday Bourbon and Four Roses Limited Edition Small Batch.
Before the BTACs and the Pappy's come out towards the end of the year, these two maintain a cult following to thirsty fans who love the history of the brands.
For years now, Old Forester's Birthday Bourbon has attracted much more attention among enthusiasts likely because of its signature packaging.
But for the Four Roses crowd, they quietly await in anticipation for their Limited Editions to become available. Whereas the Birthday Bourbon slightly fluctuates in age, proof and taste profile, the simple truth is that there have been many years where it is considered a let down by those that can look past the hype.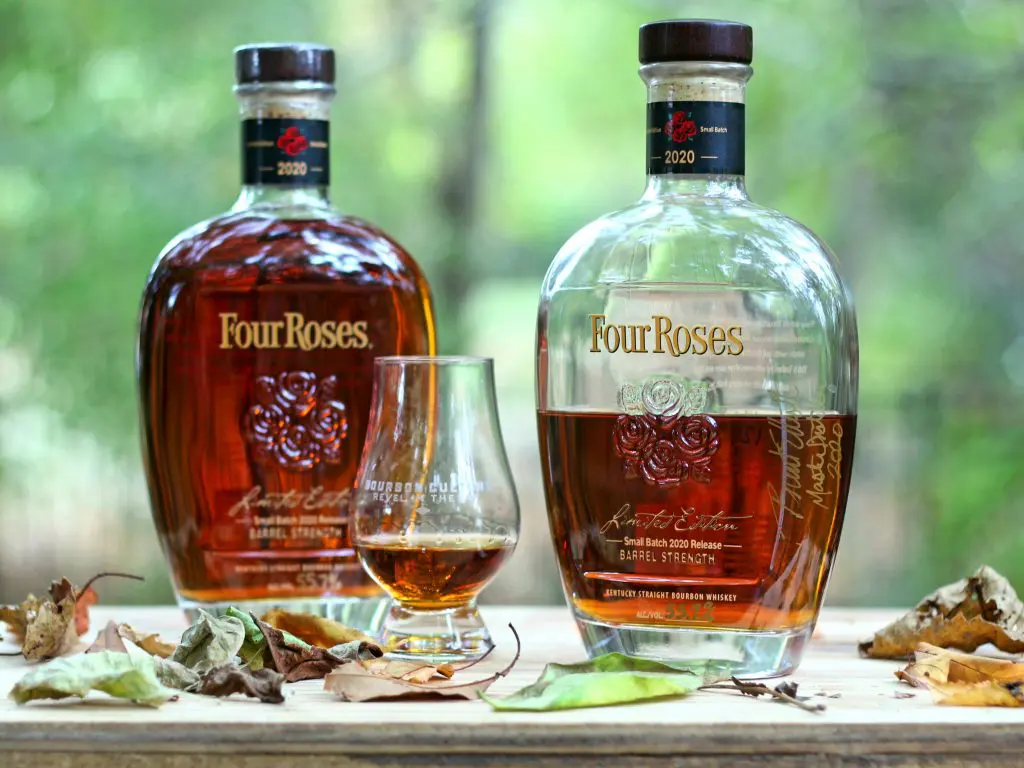 Four Roses, on the other hand, continues to improve on their batches by incorporating some ultra-aged barrels into the blend. One of the most obsessed-over details of the Four Roses Limited Editions is the group of barrels with the highest age. I
n 2019, fans went crazy over a group of 21 year old OBSV barrels (which is a fairly common recipe). But this year, not only do we get a group of 19 year old barrels, but the recipe that was chosen is the ultra-rare OBSK recipe.
The 2020 SmBLE uses 12 year old OBSV and OESV barrels as well as 16 year old OESK barrels and those extra spicy (literally and figuratively) 19 year old OBSK barrels.
For those of you who are still new to Four Roses, just by looking at these 4 recipes, we're probably going to be in for a treat of lots of fruits and spices because that is what those yeast strains are known for.
I was able to lay my hands on a bottle recently, so let's take a look at how well they've done. I sampled this neat and in a Glencairn.
Tasting Notes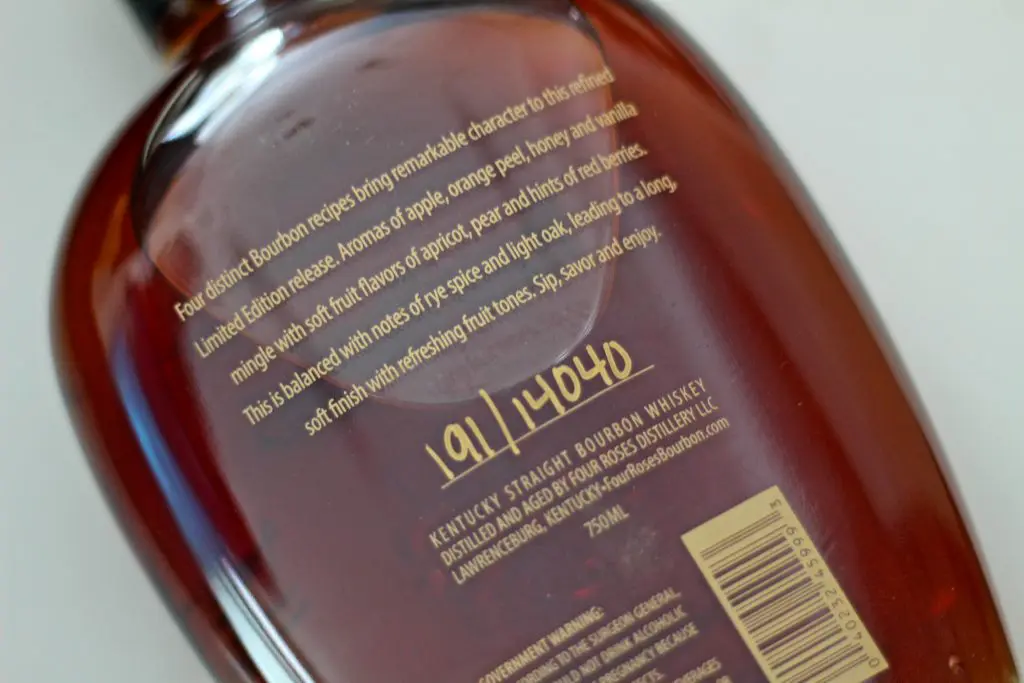 Nose: I have smelled many fruity bourbons in the past, but very few live up to this level of fruit that envelopes my nose. There are black cherries, slices of oranges, fig spread, dried stone fruits and baked apples.
All of the fruit smells are amplified in sweetness by an even sweeter, syrupy scent as well. The levels of vanilla are intense and are not easily hidden by the most extraordinary amount of sweet oak I've yet to encounter in a bourbon.
Palate: One sip of this and you know it's different from other bourbon immediately. This liquid personifies the words "dark" and "old." There is damp tobacco, worn leather, dark red fruits, fruit leathers and a tinge of wood and furniture polish (which is a note I find a lot in highly oaked/aged bourbons).
But with these well-aged barrels, I noticed that the liquid must have extracted every last bit of vanillin out of the staves because this thing is also a crème brulee bomb. The K yeast strains are also at their finest with large amounts of mulled wine spices adding an enjoyable level of spice throughout.
Finish: The fruit and furniture polish notes on the palate now transform into a sort of musty Christmas fruitcake aftertaste.
There's syrupy sweetness enveloping everything as oak spice, baked pears and more aged leather mingle on the back of your tongue. The baking spices are unique and really highlight this lingering old mustiness that transpires throughout the whole sip. The finish lasts a pleasantly long time.
Score: 9.2/10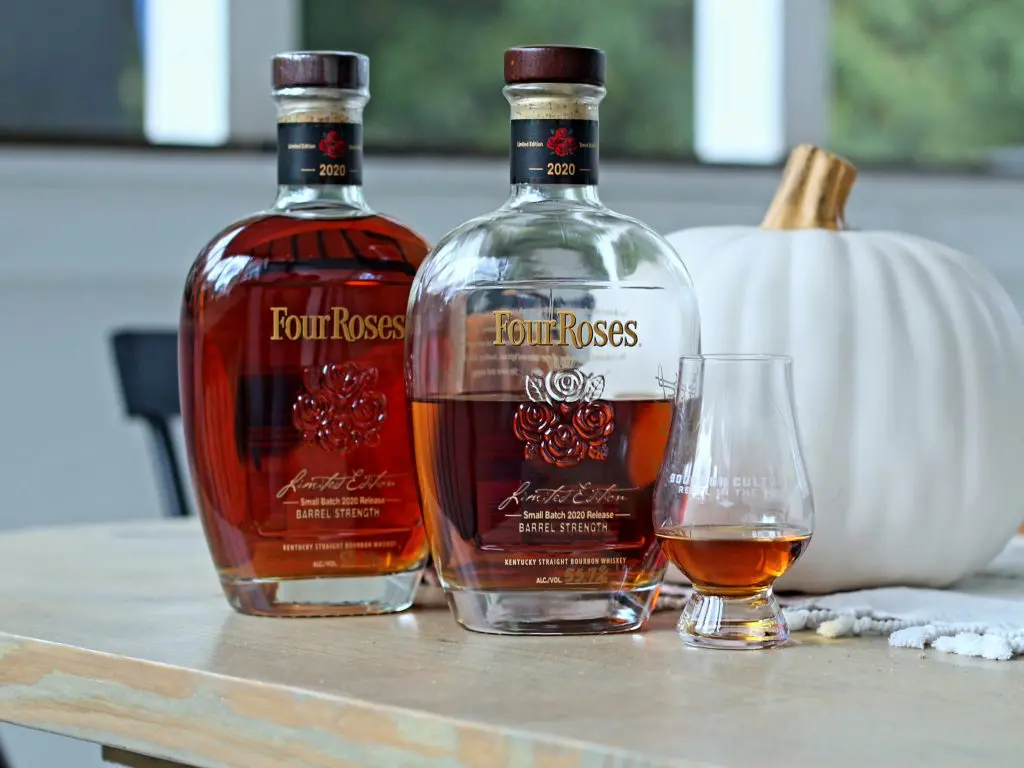 For many Four Roses enthusiasts, the 2019 SmBLE was the pinnacle of the LE's. That bottle seemed to have the respect and admiration of all online reviewers as well as having great word-of-mouth reach. The 2020 bottle was always going to be hard to pressed to equal the 2019s success.
But in a way, that's not what these Limited Editions are all about.Four Roses has 10 different recipes in their arsenal and each year they are trying to make something unique and refined that amplifies the sum of its parts.
Does the 2020 beat the 2019? That's hard to say right now. But is it excellent in its own right? Absolutely.
Final Thoughts
This is a bottle that is worth its secondary pricing to seek out and, dare I say, is a better drinker than the Old Forester Birthday Bourbon. Four Roses doesn't really compete with bottles like the Buffalo Trace Antique Collection or other high-proofed limited releases, but that's not what it's all about.
For Four Roses, it's all about achieving that perfect balance and complexity that lets you discover something new every time you put the glass to your lips. This could be the best allocated release of 2020.
Rating Breakdown
1 | Disgusting | Drain pour (Example: Jeffers Creek)
2 | Poor | Forced myself to drink it
3 | Bad | Flawed (AD Laws 4 Grain BiB, Clyde Mays anything)
4 | Sub-par | Many things I'd rather have (Tincup 10 year)
5 | Good | Good, solid, ordinary (Larceny, Sazerac Rye)
6 | Very Good | Better than average (Buffalo Trace, OGD BiB)
7 | Great | Well above average (Old Ezra Barrel Proof, Old Weller Antique)
8 | Excellent | Exceptional (Michter's Barrel Proof Rye, Four Roses Barrel Strength)
9 | Incredible | Extraordinary (GTS, 13 Year MGP or Canadian Rye)
10 | Insurpassable | Nothing Else Comes Close (William Larue Weller)
Featured Products
Description:

The Aged & Ore Neat Traveler is a complete travel kit for spirits. We combined our widely praised Neat Glass with one of our 3oz Flight Bottles and housed them together in a custom EVA travel case. Perfect for a night away with your favorite pour. The tie
Description:

The Aged & Ore Bottle Flight is a premium set of 4 custom silicone wrapped glass bottles designed to transport and share samples of your favorite spirits. The flight bottles come in a custom EVA travel case that fits perfectly in any small bag. An Aged &
Description:

This Bundle combines two of our crowd favorite products, creating the ultimate travel bundle to bring along your favorite spirits and glassware. Bundle Includes: Neat Traveler (Gray) Bottle Flight (Gray) Note: This bundle is only available in gray and col
*Bourbon Culture is reader-supported. When you buy through links on our site, we may earn an affiliate commission.