*Bourbon Culture is reader-supported. When you buy through links on our site, we may earn an affiliate commission.
For the last few years, Sazerac has surprised the bourbon community by expanding the kinds of whiskey that they offer in their single barrel program. Most people have only seen Buffalo Trace, 3 different labels of Weller, Eagle Rare and the occasional Blanton's pick come out of Frankfort, Kentucky.
These days it seems like it's Buffalo Trace's destiny to offer a single barrel selection for all of their labels. Sazerac Rye, EH Taylor and Stagg Jr. have all been added into the single barrel program recently too. That last one in particular draws considerable attention from the enthusiast community because it is the only barrel pick they offer at barrel proof.
Stagg Jr single barrels are incredibly difficult to come by, mainly because Buffalo Trace limits how many are released each year. This ensures their rarity and keeps their value up. Ever since these have been released, the secondary market has shown that enthusiasts are willing to pay up to four digits to get their hands on one.
The Allure of Buffalo Trace Mash Bill #1
As far as we know, Stagg Jr single barrels continue to use Buffalo Trace's Mash Bill #1 (aka "MB #1," a low-rye recipe). As an aside, most people are unaware that Buffalo Trace/Ancient Age mashbills are being products continue to have their lines blurred with many barrel picking crews noticing that their Blanton's picks were MB #1 or that their Eagle Rare picks were MB #2. If you know much about how Buffalo Trace differentiates between these two, you'd say that shouldn't be possible, but yet it continues to happen.
Binny's is one of the largest volume retailers of spirits in the United States and was given the opportunity to select one of these vaunted Stagg Jr picks. If you're unfamiliar with them or don't think that the greater Chicago area has that much buying power, then let this fact sink in; Binny's picks more Four Roses Private Selection barrels per year than any other retailer in the nation (in 2019 they selected 38 barrels!).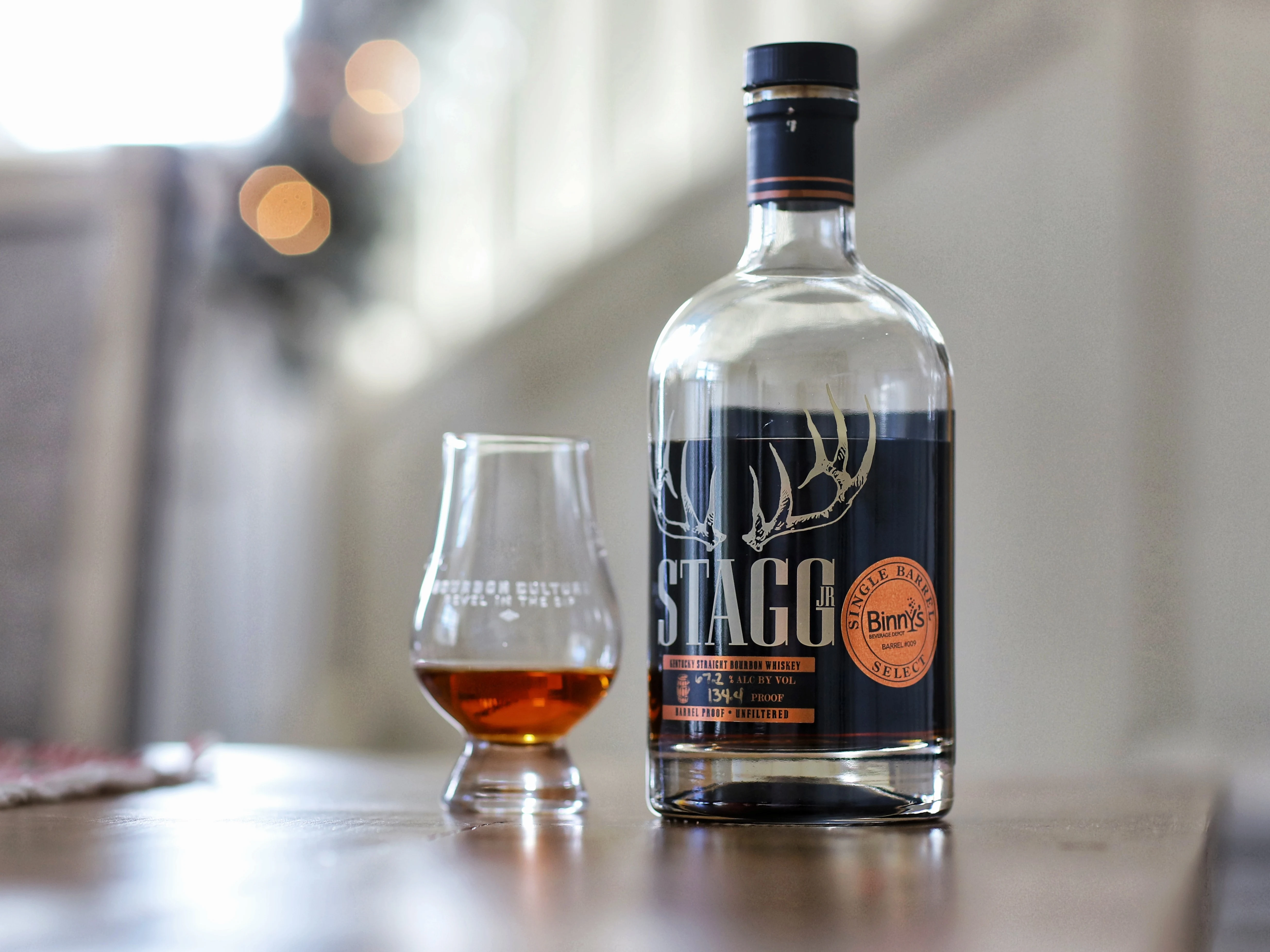 So when it became known that Binny's would receive a Stagg Jr pic, the biggest question on many people's minds was what would it taste like? Do barrel proof Stagg Jr barrels all taste the same as a typical batch of Stagg Jr (cherries, oak, caramel) or would off-profile barrels make it into the program too?
With the help of a great friend, I was able to experience my first single barrel of Stagg Jr. What would it be like? Is it just overhyped Stagg or something completely different? There's only one way to find out. I sampled this neat in a
glencairn
.
Tasting Notes
Nose:
The
nose
immediately smells unlike any other Stagg Jr I've ever experienced. I expected cherries and oak, but the first scent is an overwhelming scent of nougat and chocolate
(think: Three Musketeers Bar).
It also smells incredibly floral, like a mix of blooming flowers and vanilla blossoms.
These floral notes are responsible for making the whole experience so much lighter than what you'd typically experience with Stagg Jr. "A lighter Stagg Jr profile?" you ask. Yes, but hold on because that's not a bad thing. It actually allows you to experience way more of its character outside of the normal heavy scents that would be dominating right now. The rest of the scents showcase wood polish and melted toffee.
Palate: Loads of fruit wash over your tongue to include raspberries, strawberries and peaches. There's even a cherry pipe tobacco flavor that familiarizes my mouth with the tastes I was looking for. Cinnamon Red Hots and peppercorns amp up the heat along with other baking spices like cardamom, allspice and clove.
I must admit, baking spices is not on the list of what I typically find inside of my Stagg Jr. Notes of Christmas Fruitcake, Creme Brule and bitter oak bring me back closer to the classic profile of Stagg Jr but it's this odd sensation of rye spice notes that really confuse me.
This tastes less sweet and more spicy, kind of like an Old Forester product, yet it's still absolutely delicious inside and out. Honestly, this tastes like somebody added a few drops of Thomas H. Handy rye whiskey into my glass when I wasn't looking.
Finish: Cinnamon-flavored gum, Laffy Taffy, a touch of potpourri and then a tannic assault of wood polish, seasoned oak, dry oak and pipe tobacco. The oak is held in check by a small amount of burnt brown sugar sweetness and a small amount of gingerbread. More rye characteristics on the finish are confusing yet entirely welcome.
Score: 8.7/10
Wow! What a rush! This was the most unique and off-profile Stagg Jr I have ever tasted. But that's what makes a bottle like this so memorable. I was expecting the typical notes of cherries and oak with a little bit of chocolate sprinkled in. What I got were rye spice and floral notes that are totally unlike anything other bourbon from Buffalo Trace. The wood polish notes came off like an Old Forester product while the rye notes made me instantly wonder if I had accidently poured a glass of Thomas H Handy by mistake. This was easily one of the most memorable bottles I've had in a while.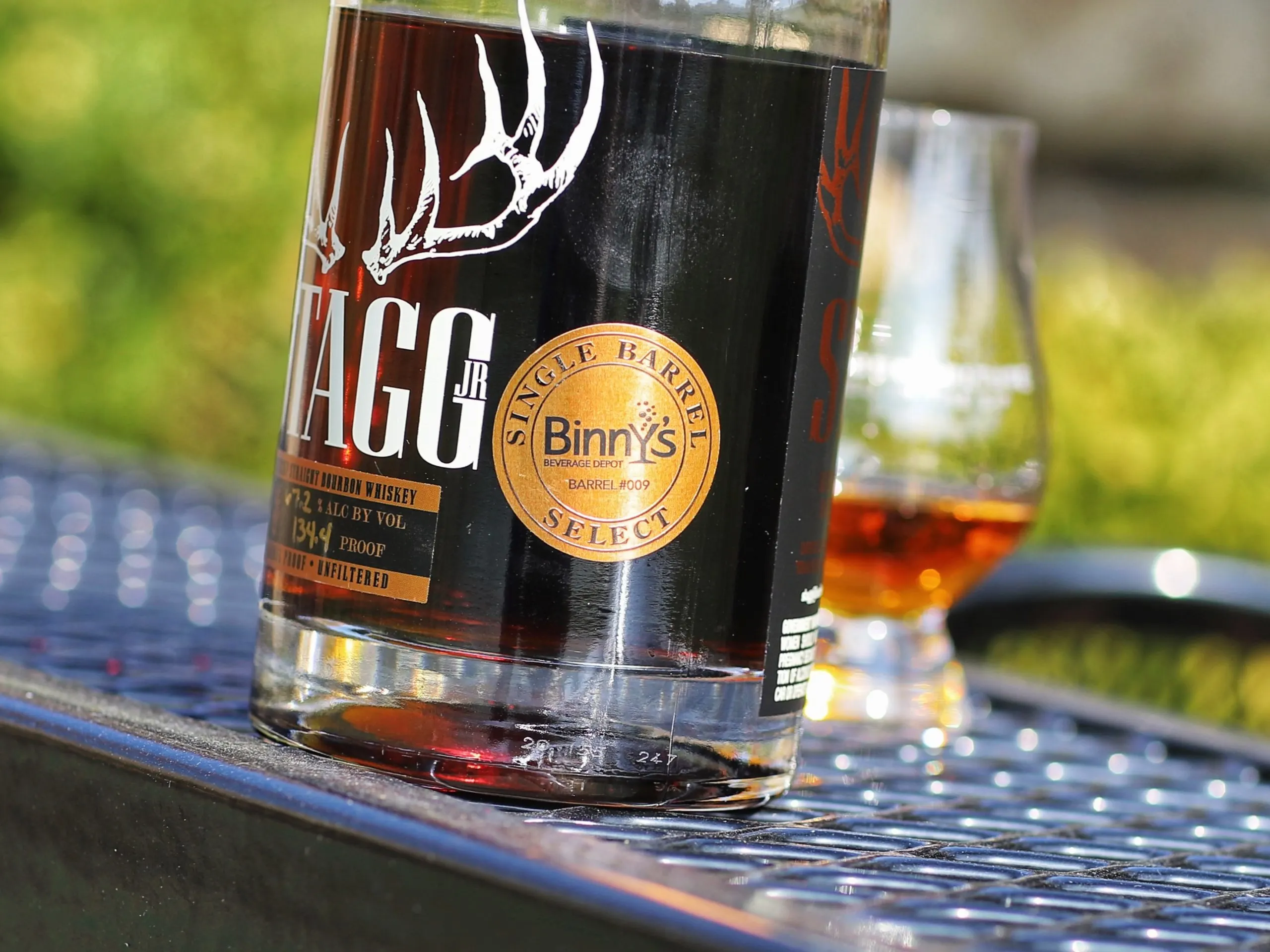 Standard Stagg Jr (soon to be named just "Stagg") is always high on my list of really great pours. Finding a bottle at retail gives even seasoned drinkers like me a rush of excitement. But single barrels like this show that there is just so much more we could be experiencing from Buffalo Trace if only they'd expand their single barrel program.
Final Thoughts
Buffalo Trace takes great pride in creating their system of allocations and brand recognition. They know what they have setting on the racks of their warehouses but still refuse to give us any more. It's a shame really because after a taste of this amazing single barrel I was struck with a sinking feeling that I'll never taste anything like this again.
What I mean is that most Buffalo Trace products are blended together to achieve the same profile. This single barrel showed a side of BT that I have never experienced and probably never will again. Something like this should be made available to the masses so that everyone can taste, if for one fleeting moment, just how good Buffalo Trace's cask strength products can be.
Ratings Breakdown
1 | Disgusting | Drain pour (Example: Jeffers Creek)
2 | Poor | Forced myself to drink it
3 | Bad | Flawed (AD Laws 4 Grain BiB, Clyde Mays anything)
4 | Sub-par | Many things I'd rather have (Tincup 10 year)
5 | Good | Good, solid, ordinary (Larceny, Sazerac Rye)
6 | Very Good | Better than average (Buffalo Trace, OGD BiB)
7 | Great | Well above average (Old Ezra Barrel Proof, Old Weller Antique)
8 | Excellent | Exceptional (Michter's Barrel Proof Rye, Four Roses Barrel Strength)
9 | Incredible | Extraordinary (GTS, 13 Year MGP or Canadian Rye)
10 | Insurpassable | Nothing Else Comes Close (William Larue Weller)
Featured Products
Description:

The Aged & Ore Neat Traveler is a complete travel kit for spirits. We combined our widely praised Neat Glass with one of our 3oz Flight Bottles and housed them together in a custom EVA travel case. Perfect for a night away with your favorite pour. The tie
Description:

The Aged & Ore Bottle Flight is a premium set of 4 custom silicone wrapped glass bottles designed to transport and share samples of your favorite spirits. The flight bottles come in a custom EVA travel case that fits perfectly in any small bag. An Aged &
Description:

This Bundle combines two of our crowd favorite products, creating the ultimate travel bundle to bring along your favorite spirits and glassware. Bundle Includes: Neat Traveler (Gray) Bottle Flight (Gray) Note: This bundle is only available in gray and col
*Bourbon Culture is reader-supported. When you buy through links on our site, we may earn an affiliate commission.