*Bourbon Culture is reader-supported. When you buy through links on our site, we may earn an affiliate commission.
This Four Roses review has been a long time coming. Shortly after I participated in my own Four Roses pick with Mid Valley Wine and Liquor in July, 2020, I found out that a friend of mine was participating in Rural Inn's own barrel pick. Ray (the owner of Rural Inn) and his crew went down to Cox's Creek one month later than I did.
When the pick was done, the whole team was sworn to secrecy as to which recipe they selected. It wasn't until early 2021 that Ray revealed what they picked: An OESO from the same run of barrels that my group had picked (Perilous Journey Review) .
In previous years, Ray had conducted a lottery for his Four Roses picks because they were very coveted among enthusiasts around town. But since he had only received one barrel pick for 2020, he wanted to make sure that these bottles ended up in the hands of his most valued customers. Like it or not, it's the way that many stores now proceed with allocated picks around the city, so it was kind of expected that he wouldn't let it be a free for all.
Rural Inn, 2020 Pick
2020's run of Tier 5 OESO picks from Warehouse M are considered to be one of the most desired runs from that year. OESO is considered one of the most rare recipes from the Four Roses Private Selection program anyway, so the hype only intensifies whenever a store announces that they have selected one.
Ray chose to not sell it immediately upon receiving the cases mainly because single barrel allocations from Four Roses were undergoing huge changes. Many states and distributors watched their normal allotment vanish almost overnight from what it had been. In previous years, Ray had access to more single barrels than he could sell but then saw those allocations drop to 2 barrels in 2019 and just 1 barrel in 2020.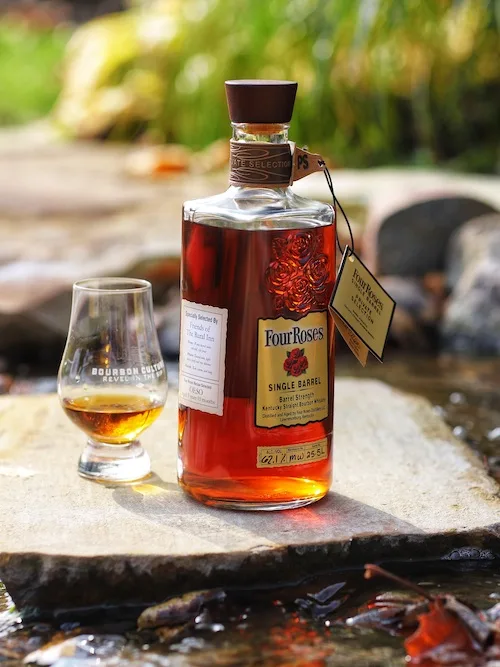 There was also the sticker fiasco of 2020 where Four Roses announced that any entity selling their Private Selections with a sticker attached would be banned from future picks. Rural Inn hadn't put stickers on any previous picks, but it was turmoil among the brand that made Ray pause and carefully consider how he would release what could be his last barrel pick from Four Roses. Nothing seems guaranteed in the bourbon business these days.
When I was notified I made the list to receive this bottle, I was overjoyed. Four Roses Private Selections are the gold standard of single barrel picks among any group or store and I was excited to see what the crew had picked out. I sampled this neat in a glencairn.
Tasting Notes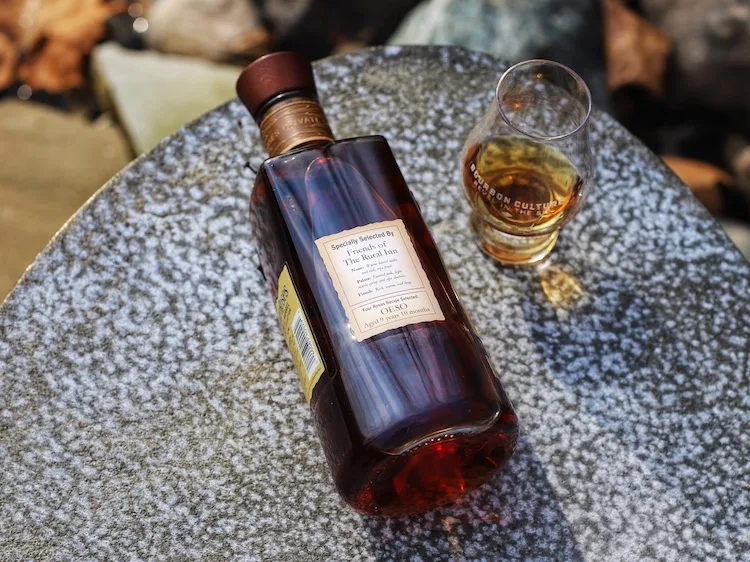 Nose: Sweet notes of cherry pie covered with crushed Oreo cookies. Vanilla whipped cream, toasted brown sugar and French Toast with syrup really multiply the sweetness found on the nose too. There are some nice complimentary baking spices such as cinnamon, nutmeg and oak spice that wrap your nose in the rich notes normally found in a bakery.
Palate: Cherry pie continues to be a theme with each sip along with the corresponding chocolate notes (this time in the form of a bar of dark chocolate). The oily mouthfeel gives a fantastic texture that compliments all of the flavors I'm finding such as Golden Grahams cereal, New York Cheesecake, cinnamon, allspice and peppermint candies. Although this bourbon hasn't quite reached double digits, the amount of barrel char and leather flavors give the impression that this is a bit older than what the label says.
Finish: No surprise here; more chocolate and cherry notes on the finish. A nice subdued peppermint flavor remains, giving the lingering conclusion a nice "pop." Oak and tobacco leaf give this a high-quality ending fit for a bourbon with easily 5 more years of age. Rye spice peaks through and is accompanied by some distance notes of cooked stone fruit.
Score: 8.5/10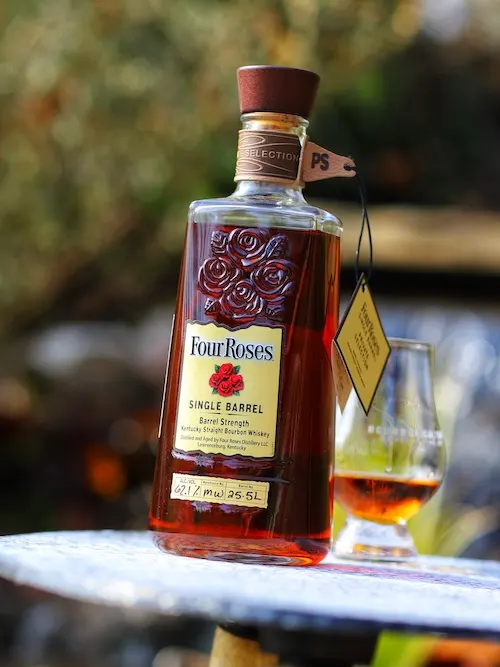 It's a shame that Four Roses OESO recipe is in such short supply whenever barrel picks come around. Its profile delivers the exact flavors most bourbon drinkers are looking for. The chocolate and cherry notes that I usually pick up on with both of the "O" yeast strain recipes (the other one being OBSO) are reminiscent of an aged, high proof wheated mashbill bourbon (think: William Larue Weller Bourbon).
Obviously the high rye percentage of Four Roses' two mashbills would seem miles apart from a recipe used by another distillery that doesn't even contain rye in it, but they're way closer than you'd think.
Final Thoughts
I think the strength of the O yeast strain is that it transforms the typical rye grain traits from something grassy and spicy to something that is fruity and chocolatey. There aren't many other bourbons out there that can deliver both of those in the same sip.
Rural Inn's barrel pick crew definitely had their noses and tongues on point that day as they managed to pull this barrel out of a group of all 10 recipes. The wait was totally worth it and Rural Inn managed to pick a helluva barrel. Now the only question that remains is: can lightning strike twice for their next pick?
Ratings Breakdown
1 | Disgusting | Drain pour (Example: Jeffers Creek)
2 | Poor | Forced myself to drink it
3 | Bad | Flawed (AD Laws 4 Grain BiB, Clyde Mays anything)
4 | Sub-par | Many things I'd rather have (Tincup 10 year)
5 | Good | Good, solid, ordinary (Larceny, Sazerac Rye)
6 | Very Good | Better than average (Buffalo Trace, OGD BiB)
7 | Great | Well above average (Old Ezra Barrel Proof, Old Weller Antique)
8 | Excellent | Exceptional (Michter's Barrel Proof Rye, Four Roses Barrel Strength)
9 | Incredible | Extraordinary (GTS, 13 Year MGP or Canadian Rye)
10 | Insurpassable | Nothing Else Comes Close (William Larue Weller)
Featured Products
Description:

The Aged & Ore Neat Traveler is a complete travel kit for spirits. We combined our widely praised Neat Glass with one of our 3oz Flight Bottles and housed them together in a custom EVA travel case. Perfect for a night away with your favorite pour. The tie
Description:

The Aged & Ore Bottle Flight is a premium set of 4 custom silicone wrapped glass bottles designed to transport and share samples of your favorite spirits. The flight bottles come in a custom EVA travel case that fits perfectly in any small bag. An Aged &
Description:

This Bundle combines two of our crowd favorite products, creating the ultimate travel bundle to bring along your favorite spirits and glassware. Bundle Includes: Neat Traveler (Gray) Bottle Flight (Gray) Note: This bundle is only available in gray and col
*Bourbon Culture is reader-supported. When you buy through links on our site, we may earn an affiliate commission.