*Bourbon Culture is reader-supported. When you buy through links on our site, we may earn an affiliate commission.
Distilled & Bottled by Worthy Park
Region: Jamaica
Type: Rum
ABV: 52%
Age: 6yrs
Color: Copper
This special release from Worthy Park is 100% pot still rum initially aged in Jamaica for 4yrs before traveling to Denmark where it aged for an additional 2 years. When it arrived in Denmark, it was split into four different batches and finished in wine casks, hence the name: Quatre Vins. It was then bottled at 52% ABV.
Tasting Notes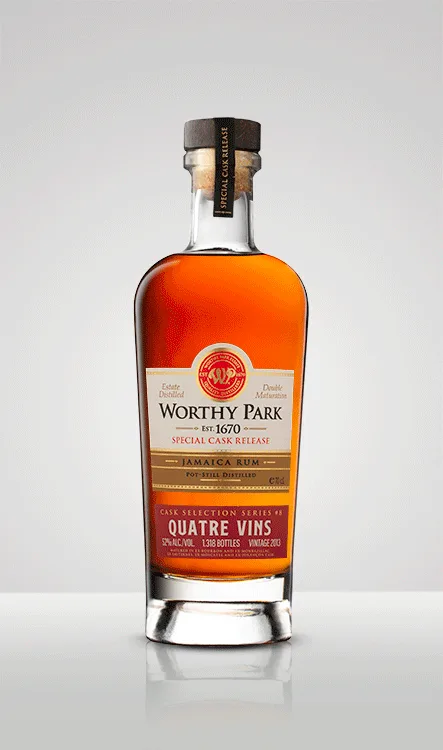 Nose: This is initially very wine-forward for me with some tannic character. Aside from the cooked red fruit, there are many notes that remind me of sherried scotches. I find fig and toasted nuts and even some smokey barrel char. The rum makes itself known with a wallop of molasses and fresh pineapple.
Palate: There is a medium weight viscosity for the liquid on the palate. Overall the taste is much more rum forward with lots of green bananas, more molasses and a hint of burnt rubber.
Finish: The ending has a nice length to it with more molasses flavors coupled with ginger snaps (which I find in a lot of the Worthy Park rums I've had). Each sip also ends with more wine character showing through again in the form of cooked red fruit.
Rating: 7/10, Very Good
Conclusion: This is a very enjoyable rum, but I believe I would struggle nosing this blind to not guess it is a sherried Scotch. The wine casks impart a lot of sherry-like scents and only on the palate and finish do I finally find the rum notes. Overall, I like the balance between the rum notes and the wine and think they pair well. This is a delicious and reasonably priced rum (in today's market) that any fan of Jamaican rum should pick up if you can find it.
Ratings|Description
1 | Undrinkable
2 | Bad
3 | Poor
4 | Below Average
5 | Average
6 | Above Average
7 | Very Good
8 | Great
9 | Excellent
10| Perfect
Featured Products
Description:

The Aged & Ore Neat Traveler is a complete travel kit for spirits. We combined our widely praised Neat Glass with one of our 3oz Flight Bottles and housed them together in a custom EVA travel case. Perfect for a night away with your favorite pour. The tie
Description:

The Aged & Ore Bottle Flight is a premium set of 4 custom silicone wrapped glass bottles designed to transport and share samples of your favorite spirits. The flight bottles come in a custom EVA travel case that fits perfectly in any small bag. An Aged &
Description:

This Bundle combines two of our crowd favorite products, creating the ultimate travel bundle to bring along your favorite spirits and glassware. Bundle Includes: Neat Traveler (Gray) Bottle Flight (Gray) Note: This bundle is only available in gray and col
*Bourbon Culture is reader-supported. When you buy through links on our site, we may earn an affiliate commission.